Any wedding is a cause for celebration for the family but when triplets decide to walk down the aisle on the same day wearing almost similar outfits, celebration gives way to news.
Brazilian identical triplets – Rafaela, Rochele and Tagiane Bini – decided to get married on the same day, at the same time, in the same venue.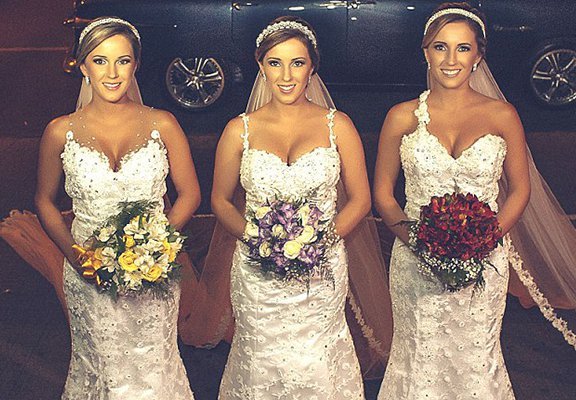 The sisters were asked why they chose to dress the same on their wedding day. Here's what Rochele replied –
We tried a number of styles, but we all liked the same one. It's not even worth trying, it always ends up like that.
Obviously, it's not a big deal for the triplets to figure out which one's which, but if you were one of the many guests, or one of the three grooms, you might think otherwise.
Ironically Rafaela's fiance's name is Rafael. He joked –
There was a time when we were all in the kitchen making dinner. So Rochele, who is Gabriel's, was doing stuff at the sink, and Rafaela was at the stove.
We were there chatting and they changed places. I went behind to hug her, and said "oops" when I realized I'd got the wrong girl.
Here's a small clip from the wedding.
Here's to hoping that the grooms don't get confused during the honeymoon.
h/t – Unilad