BYJU'S witnessed rapid growth and became one of India's leading ed-tech giants. It is India's highest-valued startup. But as the company grew rapidly, multiple stories of its employees alleging a toxic work culture and an exploitative environment came to light. These stories from the ex-staffers aren't dying down. There are a plethora of them on the internet where ex-BYJU'S employees have come forward to share their ordeal.
As BYJU'S pulls down the shutters on its offices across multiple cities, let's take a look at these accounts shared by the ex BYJU'S employees where they have alleged harassment, exploitation, and everything else.
1. When this employee was asked to resign despite being "available 24×7."
Arpit Singh worked as a retention manager at BYJU'S. In a LinkedIn post, he revealed that one day the ed-tech firm asked him to resign immediately without any prior notice. He added that while he "never experienced a 10-to-8 work culture", he was "available 24/7" for BYJU'S.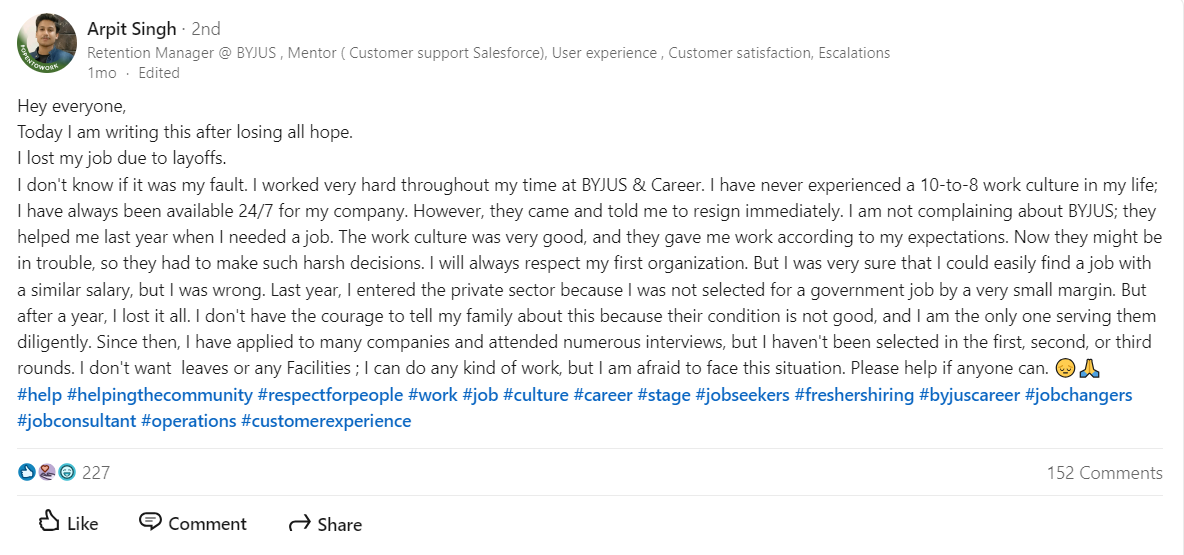 2. When a viral video showed an alleged BYJU'S employee in a heated argument with seniors over remuneration.
A viral video showed a woman standing up to her seniors about remuneration and general mistreatment. She expressed her frustration over the lack of incentives and support. The employee voiced her frustration in front of everyone and refused to have a private conversation with her superior. "We have not received incentives for 12 months," the employee shouted and alleged that settlements were done in small amounts of ₹2000.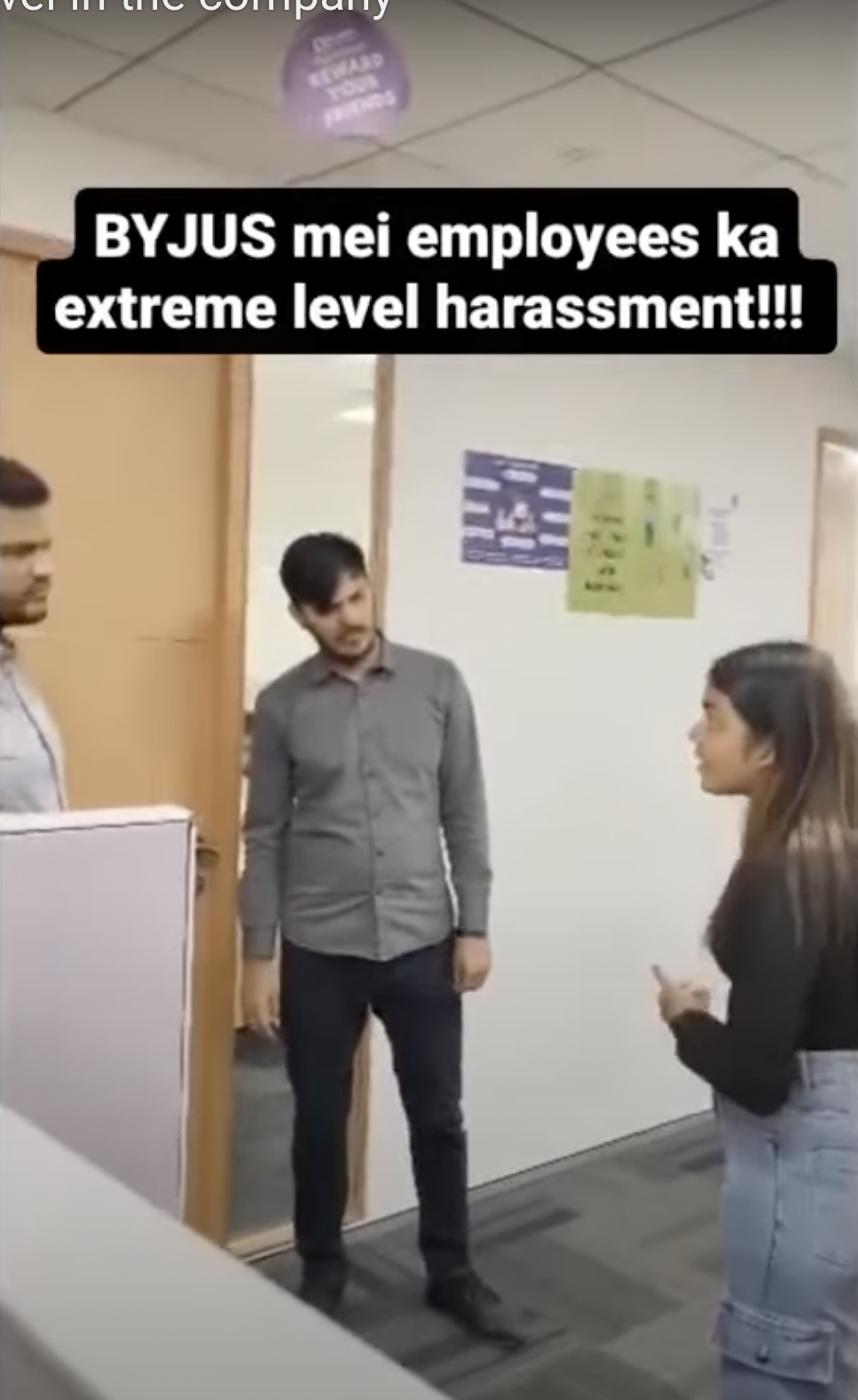 3. When ex-BYJU'S employees alleged that their provident fund dues were not credited.
In a report by The Times Of India, multiple ex-employees of BYJU'S alleged that their provident funds were not cleared. Many alleged that their dues were delayed. One such employee who was a product specialist at the ed-tech giant said, "I have been banging my head to all the HR requesting to make it fast because now it is becoming a major issue, all I get to hear is wait for 30 days."
4. Another employee said that the company forced them to resign and treated them like "robots."
BYJU'S is always in the news with its massive layoffs. Speaking to NDTV, a sacked employee said, "I never got a chance to ask why were they forcing me to resign. We were treated like robots. Byju Raveendran's letter of apology was sent to current employees, but not the ones fired." The employee added that she was fired over Zoom.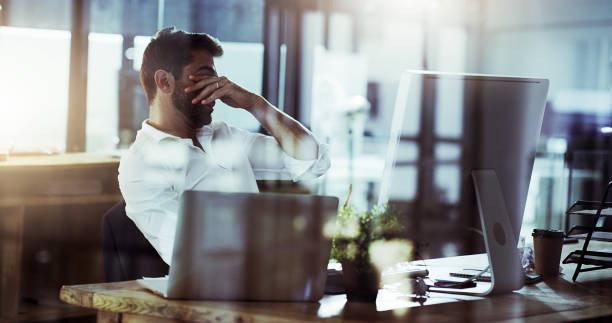 5. When an ex-employee said that BYJU'S forced them to sign pre-drafted resignation letters.
Multiple reports state that BYJU'S allegedly forced its employees to sign pre-drafted resignation letters to make mass layoffs look like voluntary resignations. Many ex-staffers have come forward and said that these layoffs were conducted online and no formal e-mail was sent to them. According to this report, those employees who refused to quit by themselves were threatened with termination and no end-of-service benefits. If that's not all, the company allegedly hired bouncers to deal with any untoward incidents.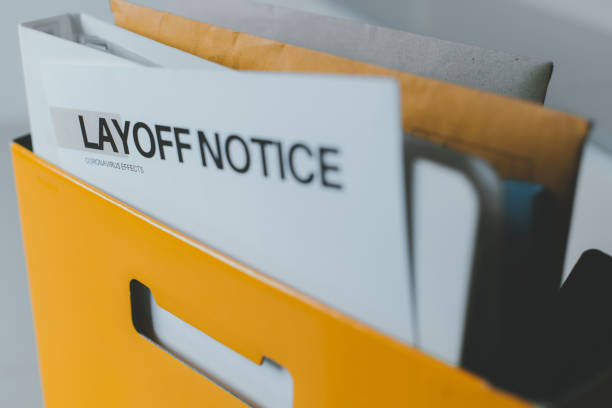 6. When an employee shed light on BYJU's exploitative practices.
Speaking to The Wire, Pratik Makhija – a former salesperson at BYJU'S said, "You feel like you're in a bubble or trapped at the bottom of a well, with no way to climb out and enjoy the outside world. There is no work-life balance. Zero. We are treated like slaves. At what cost are they making their revenue, their valuation? By crushing us. It got so bad that I had to seek professional help, and eventually got diagnosed with anxiety. I get terrible flashbacks".
7. When BYJU'S employees in Kerala alleged that they were forced to resign.
A group of BYJU'S employees from Thiruvananthapuram, Kerala came forward and claimed that the ed-tech giant was forcing more than 170 staff to resign as it was looking forward to discontinuing operations in the city. The employees reached out to a welfare organization with their woes. The welfare organization secretary said, "Employees were given two options. They were told to resign and if they don't, they were told their contracts would be terminated." The employees took the matter to the Kerala government.
BYJU'S has not responded to any of these allegations. Earlier this year in April, the Directorate of Enforcement conducted massive search operations across its various premises over alleged violation of forex rules.
Also Read- 14 Subtle Signs That Prove You Are Working In A Toxic Workspace