Patience, perseverance and dedication are essential for achieving success in life. You might have come across many success stories of people who defied all odds to achieve a milestone be it opening a startup or becoming an IAS. Speaking of which, the Union Public Service Commission recently announced the results of 2022 UPSC Civil Service Examination. While Ishita Kishore grabbed the AIR 1, Garima Lohia and Uma Harathi N secured the second and third ranks respectively.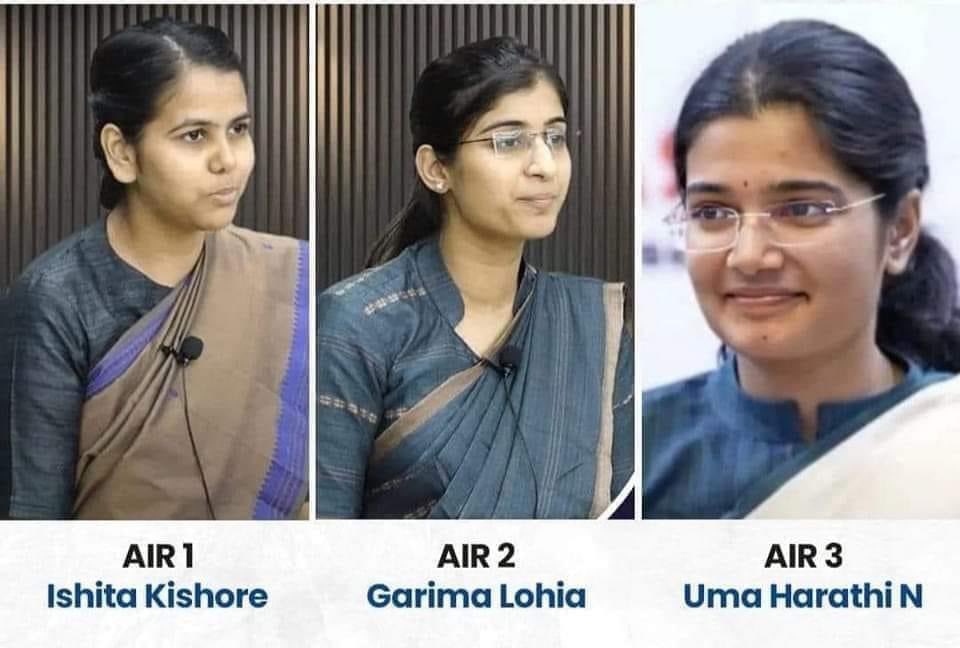 Here are seven inspiring stories that will motivate you:
1. Kerala woman who lost her right arm during childhood
Despite losing her right arm in a bus accident, Akhila BS, who hails from Trivandrum, cracked the UPSC exam with AIR 760. The accident took place when she was five years old. Akhila attempted the UPSC exam for the first time in 2020, however, she made it to the merit list in 2023.
"My aim is to become an IAS officer and with this rank (760), I will not be able to get that service. I will prepare for the upcoming exam," Akhila told ANI.
2. A Delhi Police cop who made it big
Delhi Police head constable Ram Bhajan Kumar is one of the candidates who cleared the UPSC exam this time. Ram, who is reportedly the son of a daily labourer in Rajasthan, secured the 667th rank in his during his eighth attempt of the competitive exam. He is, in fact, the first member of his family to have a graduate degree.
"I was surprised when I saw the results. This was my second-last attempt. I have never been happier. My phone keeps ringing and everyone is congratulating me. My father cried. I think I did too," Ram told Indian Express.
3. Farmer's son from UP village who was hit by a family tragedy
Bajrang Yadav, who hails from Guddi village in Basti district in Uttar Pradesh, also cracked the UPSC exam this year. Bajrang is the son of a farmer and his journey to clear the exam was not an easy one. According to an India Today report, his father, who also dedicated his life to help the poor and disadvantaged in their village, was allegedly murdered in 2020. And since then, Bajrang aspired to become an IAS.
"After the death of my father, I decided that I have to pass the UPSC exam and become an IAS officer," he told Aaj Tak.
4. A differently-abled man who didn't give up
Suraj Tiwari, who resides in Mainpuri, UP, reportedly met with a train accident in 2017. He lost both his legs along with right arm and two fingers of his left hand. Cut to 2023, Suraj cracked the UPSC CSE 2022 while securing 917th rank.
"I am very happy today, my son has made me proud. He is very brave. His three fingers are enough to succeed," Suraj's father, who works as a tailor told ANI.
5. A woman who fulfilled her late father's wish
Garima Lohia, who has secured AIR 2 in UPSC exam this time, fulfilled her late father's wish to become an IAS. Garima, who hails from Bihar's Buxar, studied in Delhi University's Kirori Mal College. She took to Twitter to share a picture of herself and her mom while acknowledging her support. "My mother supported me a lot after my father's death. If father was with us today, he would have been very happy. He had a big dream of making me IAS," @GarimaLohia01 tweeted.
However, in an interview with Print, Garima shared that her success defines her more than her loss. "I want to tell you that despite the hardship, I had a family to support me and don't want my father's death to define me," she told the portal.
6. The 'Slum boy' from Mumbai who taught other UPSC aspirants
Mohammed Husain, who is a resident of a Wadi Bunder slums in Mumbai, also cleared the UPSC CSE 2022 among 933 candidates, Free Press Journal reported. Despite less space and conducive atmosphere for studying at home, the 27-year-old man secured the 570th rank in his fifth attempt of the exam. He is the son of Ramzan Sayed, a dock worker who works as a labour supervisor.
As per the report, Husain also had to earn money to sustain himself. He would teach other UPSC aspirants in the city while preparing for the competitive exam. 
7. Maharashtra man whose father runs a tea stall
Maharashtra-based Mangesh Khilari, who hails from Sukewadi village in Sangamner taluka of Ahmednagar, also cracked UPSC CSE 2022 this year. Mangesh, the son of a tea seller and factory labourer, secured the 396th rank in his third attempt. As per the Hindustan Times, the man would help his father at their tea stall after completing his college studies.
"My parents knew that I would get a government job, but did not know how important this exam was until media persons arrived at my house after the result," he told The Better India.
Congratulations, you all!
Also Read: 10 Tips That Will Help You With Your UPSC Exam Preparation