Shraadh is a ritual in Hindu culture that is performed to pay homage to ancestors and late parents. An Instagram influencer recently turned her father's shraadh into a publicity stunt on social media. And it is nothing but a shameful act that no one would ever think of.
The influencer, who goes by the name, Rowhi Rai, recorded a diet vlog on her father's death anniversary. Not just that, she also rated her meals on the basis of their tastes. The clip, originally shared on her YouTube channel, has gone viral on Twitter.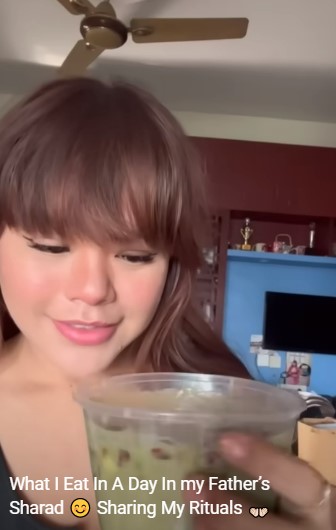 The video reposted by @dearchappal is captioned as 'What I Eat In A Day In My Father's Sharad (shraadh)- Sharing My Rituals.' "Aaj mere papa ka shraadh hai jo ki hum har saal karte hain, toh aaj hum sirf ek meal hi kha sakte hain, jismein aap namak aur oil ek baar hi kha sakte ho, but aap bich mein kuch bhi meetha kha sakte ho," Rowhi says in her vlog.
Then, Rowhi gives a glimpse of her breakfast as she holds a bowl of macha oatmeal and takes a bite from it. "It's very yummy, mujhe bahot acha laga. I will rate this 8 out of 10," the woman adds.
Rowhi later goes out with her friend to enjoy a beverage. The clip shows her pointing towards the menu as she orders pink lemonade. "Mujhe pink lemonade peena pada jiska taste bahot hi bekaar tha, so I rated it 2 out of 10," Rowhi concludes.
"I'm traumatised," the Twitter user wrote.
And just like the Twitter user, others are traumatised too.
Here's the original video on her YouTube channel. It has got over 1 million views.
Kaun hain ye log? Kahan se aate hain ye log?