With directors and writers like Adoor Gopalakrishnan, Sibi Malayil, Kamal, Priyadarshan, Lohitha Das, the late 80s and the 90s was the time when the gap between art films and commercial films was bridged. From comedy to serious cinema, the directors, writers, and actors in Kerala all worked in tandem to make world-class cinema. And they did a stellar job. 
So here is a list of the best of Malayalam cinema from the 90s:
1. Vanaprastham 
Kunhikuttan is Subhadra's object of desire. Every time he puts on his Kathakali attire, Subhadra falls in love with his character. In a night of passion, they make love but theirs is a union that is inconceivable. With beautiful aesthetics and shots that will transport you to another era, Vanaprastham is more than just a movie.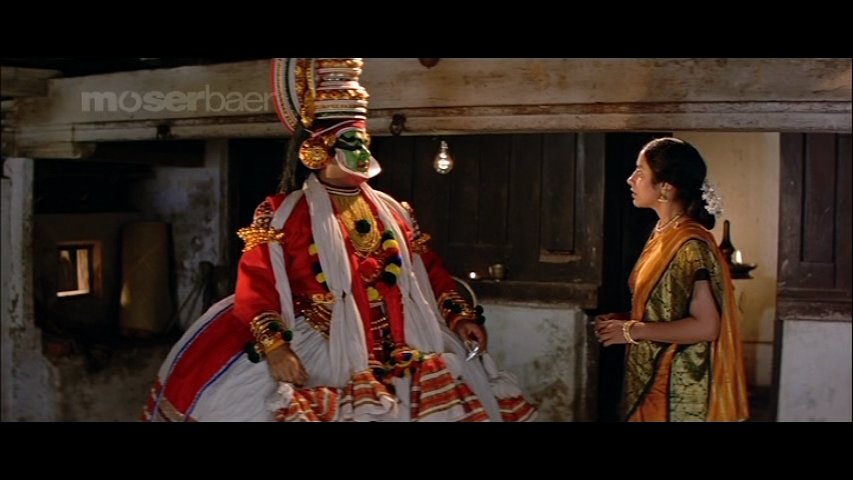 2. Sandesham 
Written by none other than Sreenivasan, this political satire is one of the best movies in Malayalam cinema. Starring Jairam and Sreenivasan, it's the story of two brothers who belong to rival political parties in their area. They take turns to pull each other down and their fights are never-ending. In between all of this, their poor parents have to bear the brunt of their actions.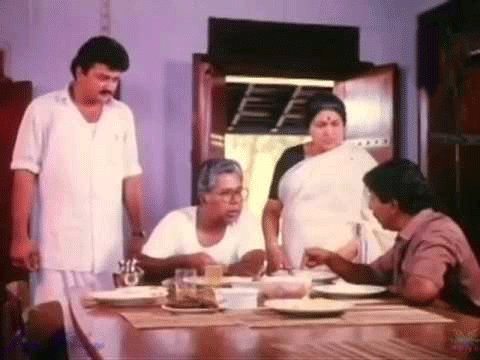 3. Manichithrathazhu 
With the movie being remade in Tamil, Telugu, and Hindi, we'd say the original is definitely worth a watch. With elements of black magic and psychology, the movie is every Malayalis all-time favourite. Shobhana, Suresh Gopi and Mohanlal play the lead characters in a story that is equal parts thrilling and exciting.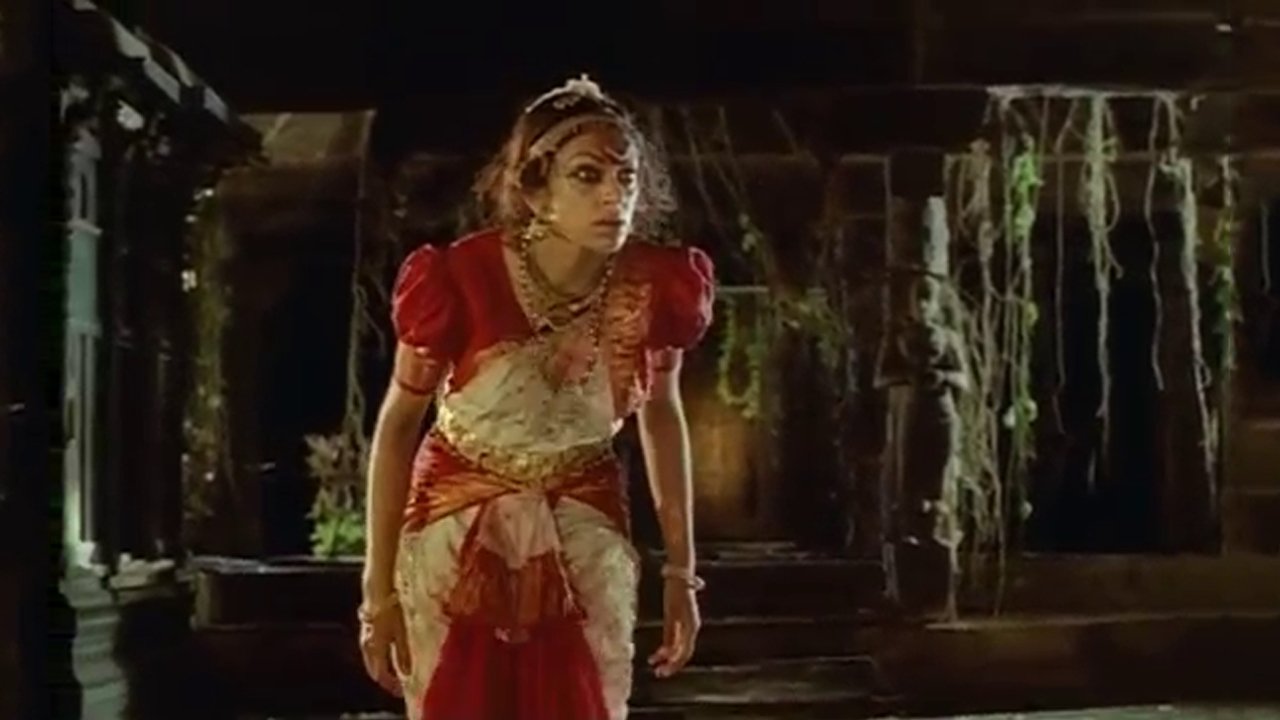 4. Kaalapani 
One of the many classic movies in Malayalam, Kaalapani tells the story of a doctor who is falsely accused of bombing a train and is sent to jail in Port Blair. A parallel story runs in a flashback that tells us the story of the doctor and his life. With Mohanlal, Amrish Puri, Tabu, Sreenivasan and Prabhu in the cast, this movie is a definite watch.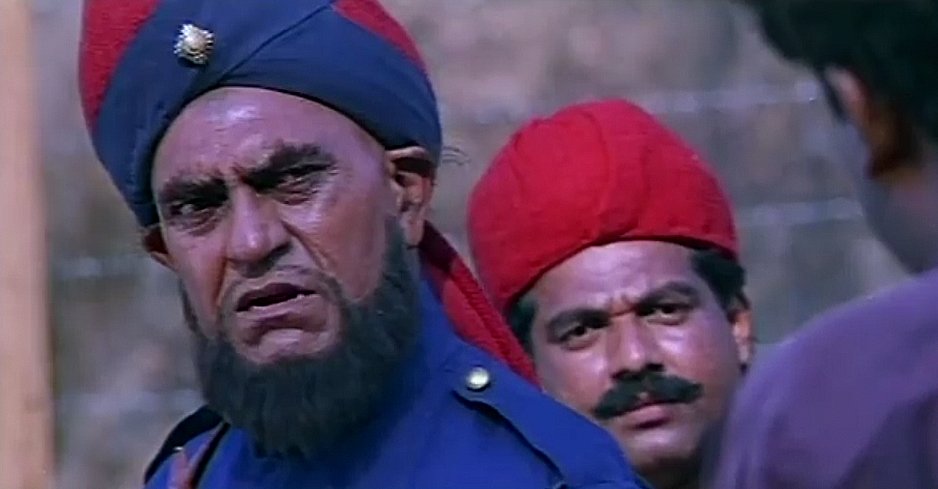 5. Parinayam 
Parinayam is based on the Namboodiri ritual of Smarthivicharam. It is the trial where a Namboodiri woman and male adulterers are questioned and punished for having illegitimate sexual affairs. The movie is set in a time when Namboodiris ruled the land and followed practices that banished widowed women. It tells the story of Unnimaya, who conceives and delivers a child after her husband's death. She not only stands up to the utterly patriarchal society but also denies anyone the right over the child she birthed.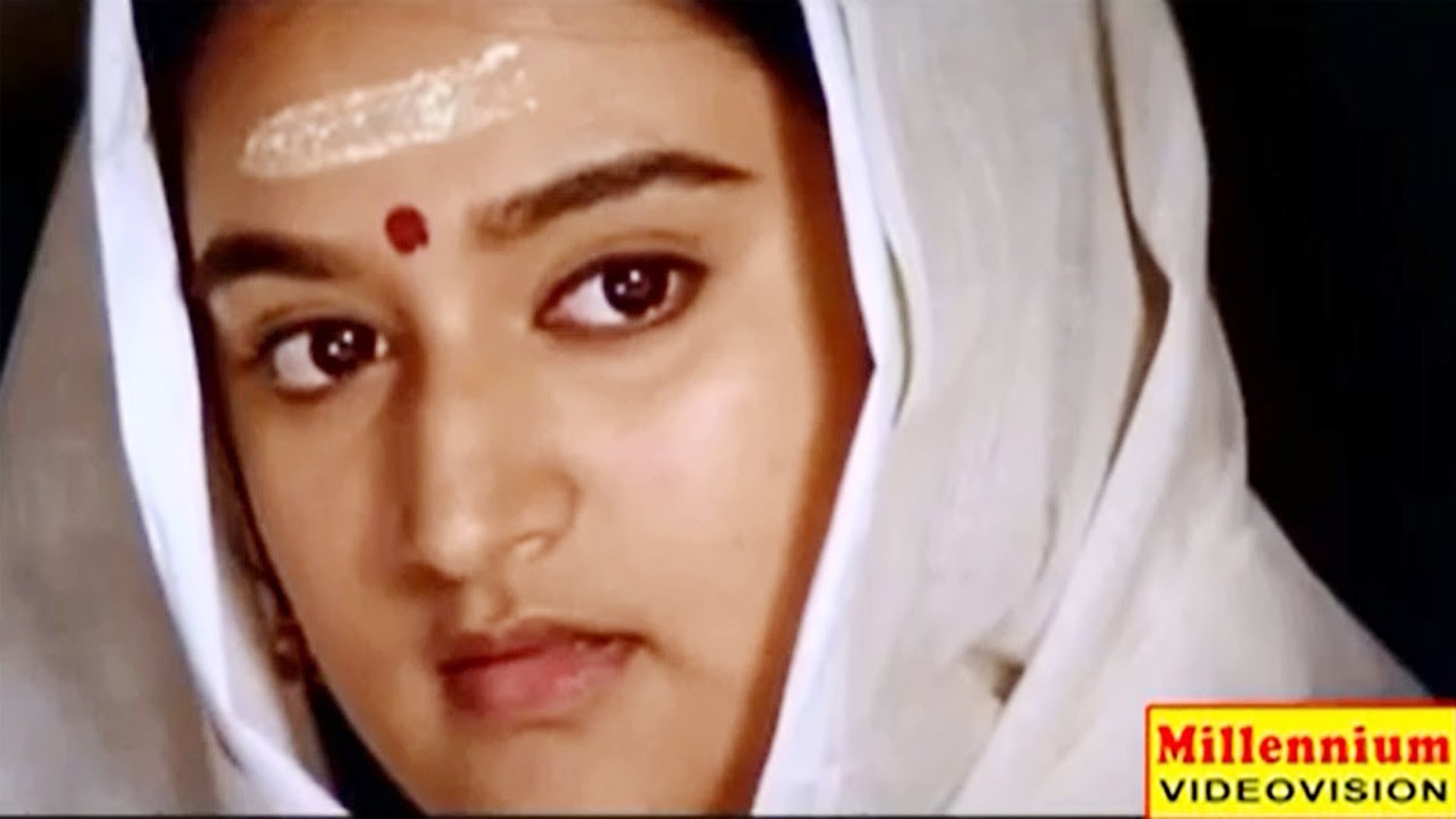 6. Perumthachan 
One of the artsy movies made in the 90s, Perumthachan is the story of a father-son duo. The father is the master sculptor who is highly praised for his expertise. However, his grown up son shines brighter. The father, afraid that his glory days are over, resents the fact and admonishes his son's rebellious ways.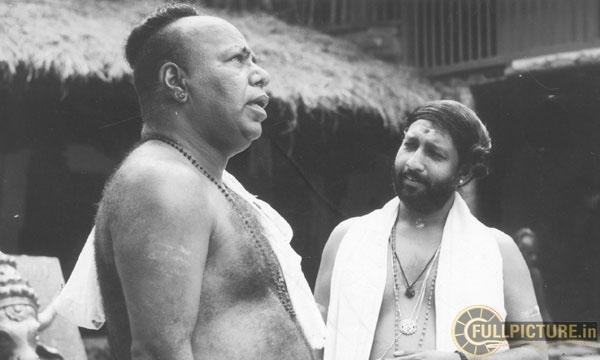 7. Kamaladalam 
This is the story of a man who loses his wife and with it, his sense of purpose. A dance teacher by profession, he wastes away his talent by binge drinking after her death. This is until a pupil, Monisha, asks him to revive his dance project. He agrees to it, but Monisha has a heavy price to pay.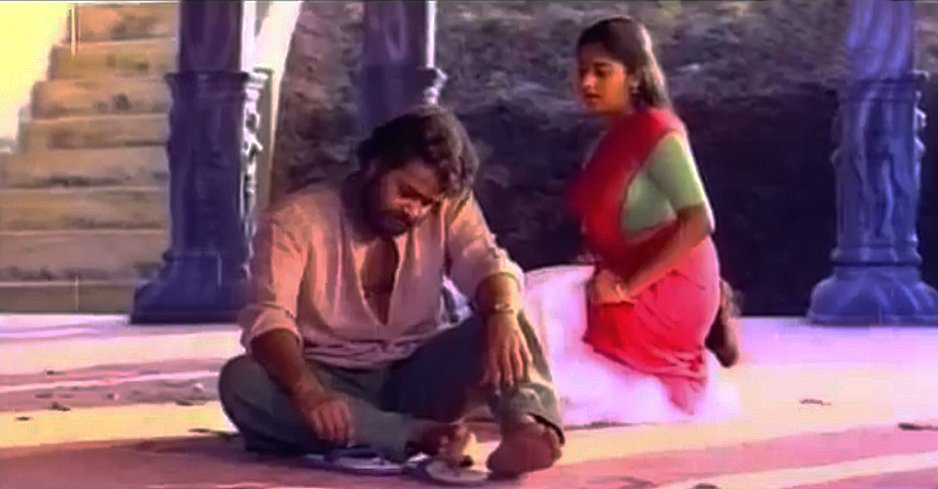 8. Akkare Akkare Akkare 
The third part to the hilarious Nadodikattu and Pattanapravesham, Akkare Akkare Akkare is just as rib-tickling as the first two. In the third installment, the Vijay-Dasan duo is sent to the US to retrieve a gold crown that has been stolen from India. This movie will definitely have you in splits.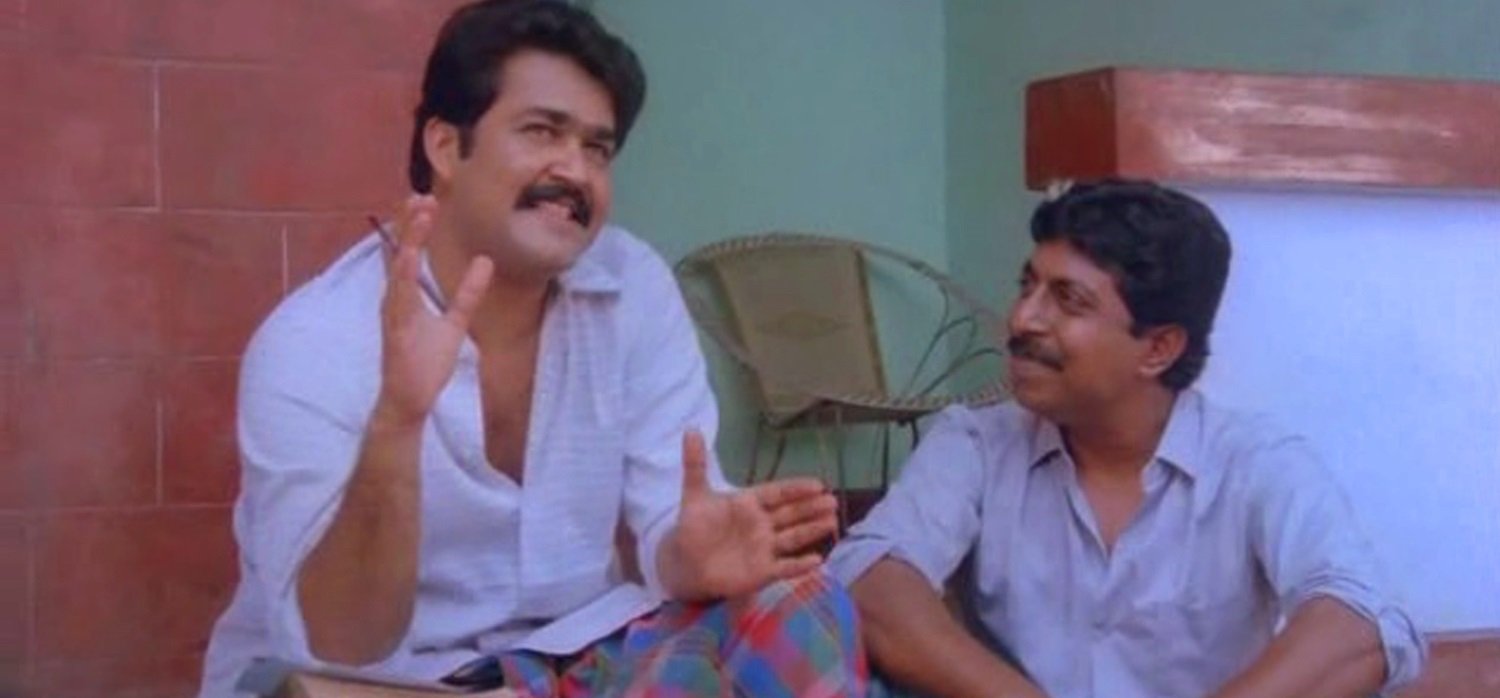 9. Thenmavin Kombath
A love triangle story, this movie has everything in the right amount. Sreekrishnan falls in love with Karuthambi. But she is in love with Manikan. When Sreekrishnan finds out, he jeopardizes his brother-like friend and even plots to kill him. With Shobhana, Mohanlal and Nedumudi Venu in the lead, this movie makes for a great watch.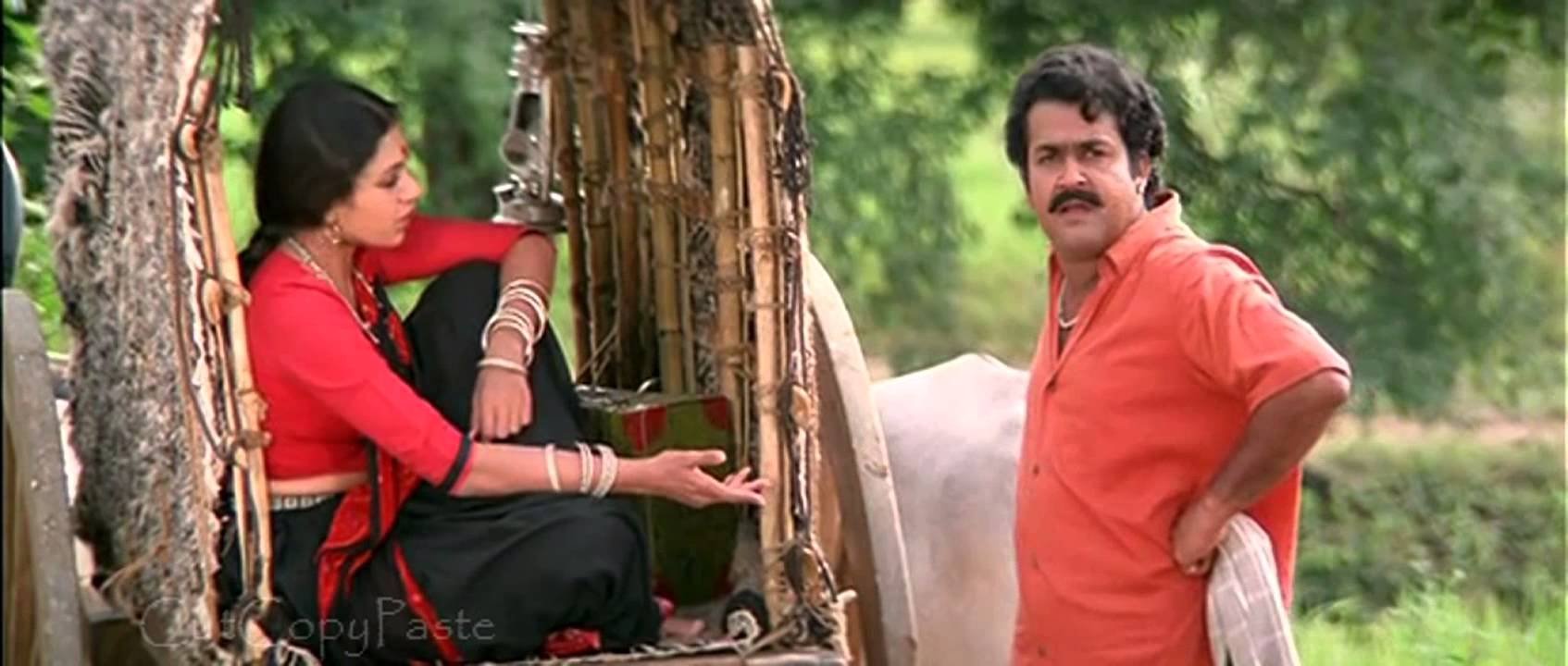 10. Mathilukal 
Adapted from Vaikkom Mohammed Basheer's novel with the same title, this movie is a must watch. It is the story of a man who is serving a life sentence at the Trivandrum Central Jail. In the larger scheme of things, he plans to break free from prison. However, his plans are impeded when he falls for a woman's voice from the female block of the jail.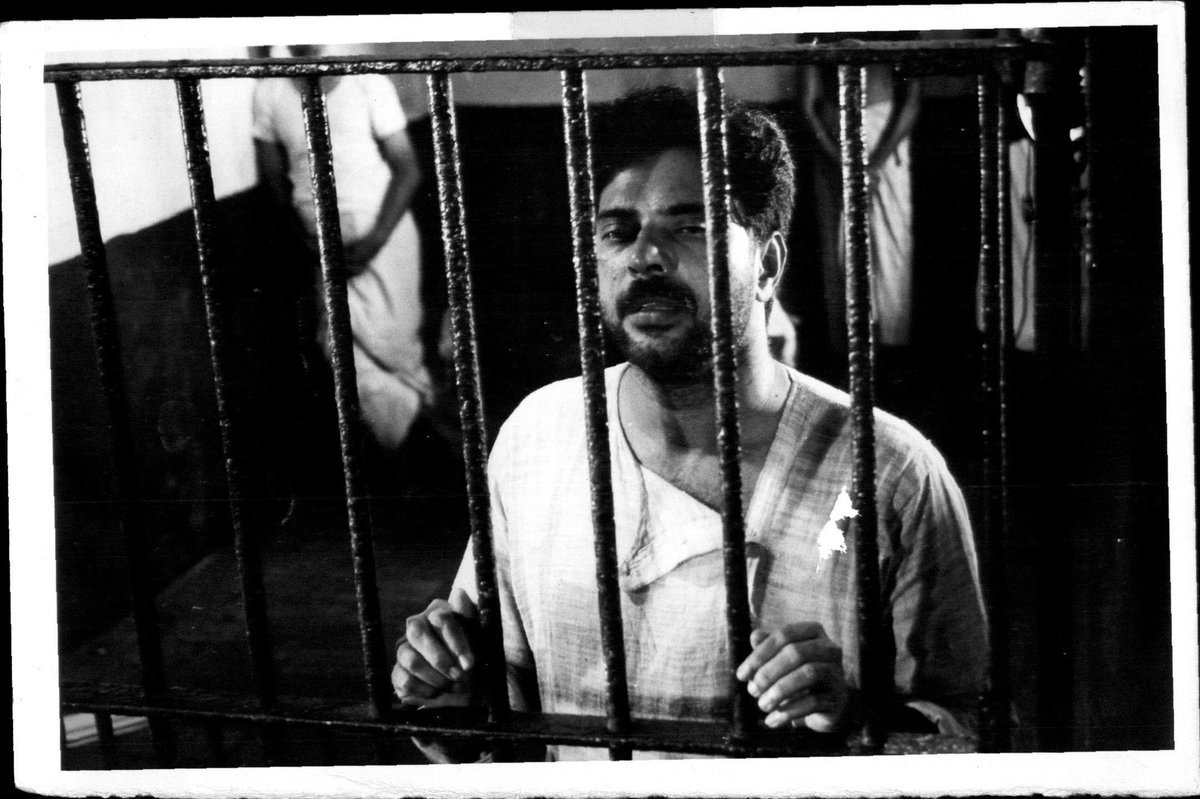 11. Guru 
Guru was the first Malayalam film to get nominated for the Oscars in the Best Foreign Language Film category. The movie tells a rather weird story of the God of Death, Yamraj, and Chitragupt who come to Earth in order to retrieve a holy book. However, things don't go their way. Full of fantastical elements, the movie uses a lot of imagery to comment on social issues like communal violence, hatred etc.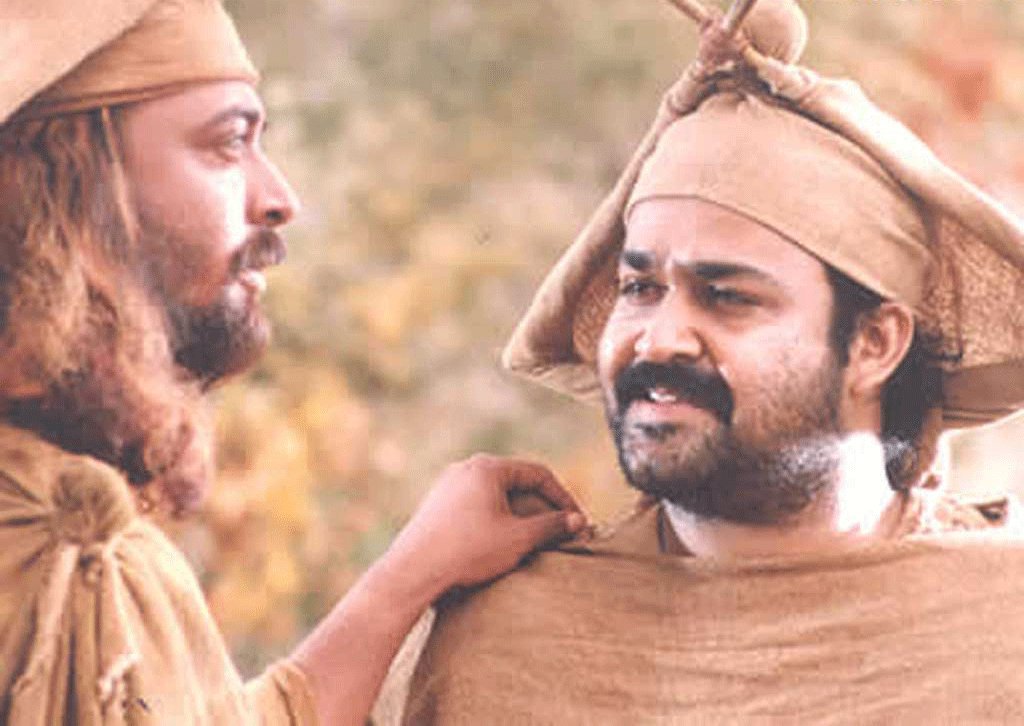 12. Amaram
Set in a fishermen's village, Amaram is the tale of Achooty who has a young daughter. He wants to give her the opportunities he couldn't get. He wants to educate her and dreams of her becoming a doctor. But more importantly, he doesn't want his daughter to get married to a fisherman and live a life like his. However, she falls in love, elopes and gets married to a local fisherman. Though Achooty is unhappy with her decision, he doesn't have a choice.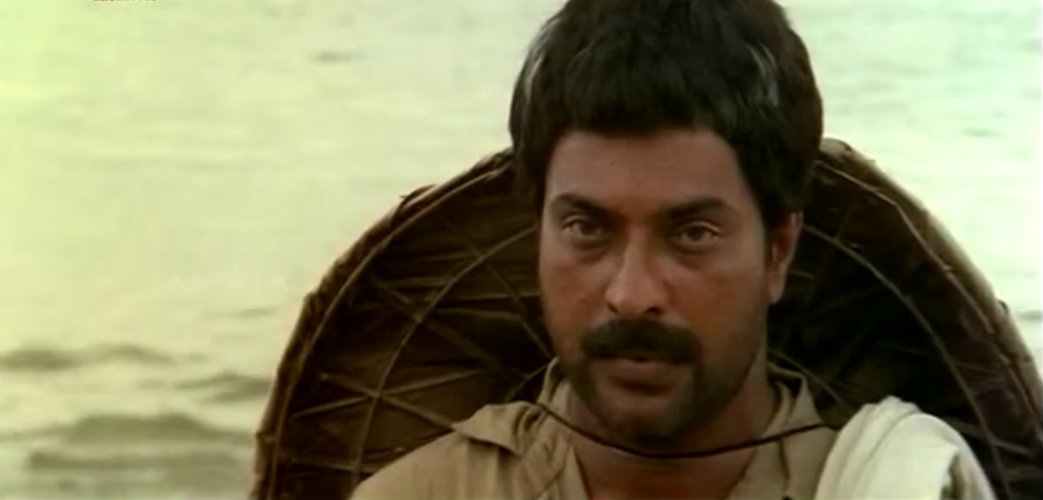 13. Kilukkam 
Hilarious comedy sequences, unimaginable twist (for that time), a wonderful love story and to top it all, the perfect cast. This movie had everything it needed to make it an excellent cinematic experience, as well as a commercial success. Kilukkam is the story of a lost girl, a tour guide, his friend, and their adventurous journey to find her father.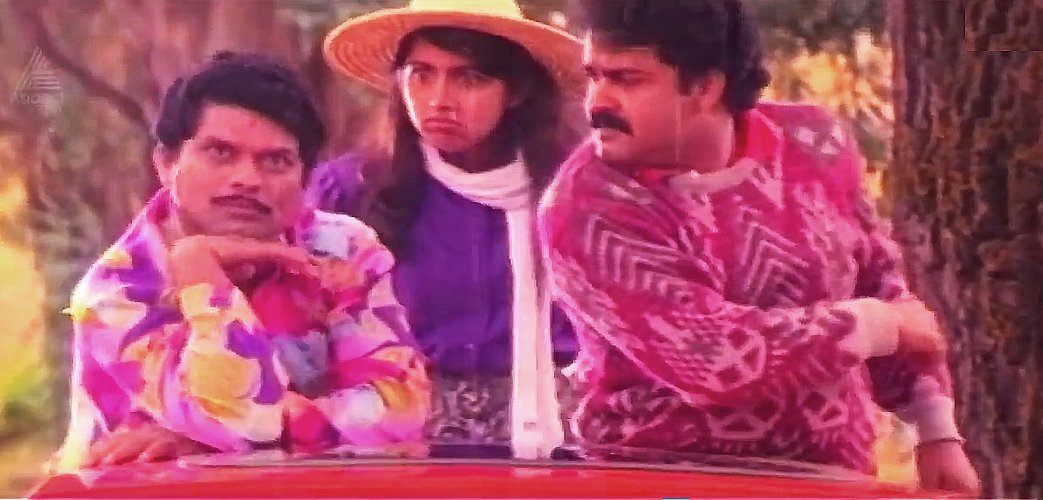 14. Kaliyattam 
Adapted from Othello, Kaliyattam is the story of a Theyyam dancer, Perumalyam, who falls in love with Thamara. His protégé, Kaanthan, who shows great skill in the art form becomes his confidante. However, another junior artist, Paniyan, makes him believe that Kaanthan has plans to usurp him and take his wife. This throws Perumalyan into a fit and he starts doubting his wife's loyalty.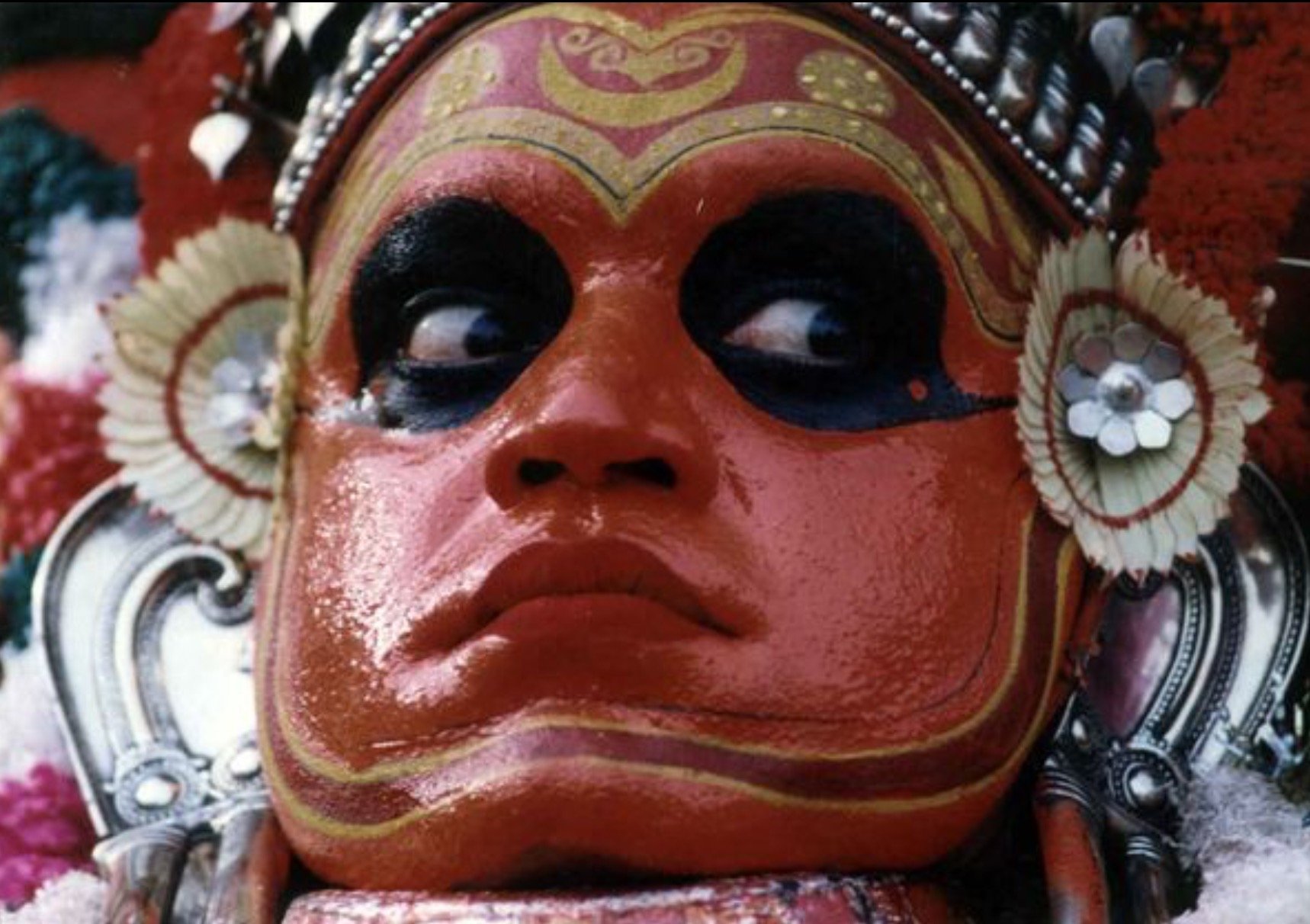 15. Bharatham 
The story of Bharatham revolves around the relationship of two brothers, Ramanathan and Gopinathan. They belong to a reputed family of Carnatic singers. While Ramanathan is the star of the family, doing concerts and whatnot, Gopi is still his elder brother's pupil. But Ramanathan starts drinking heavily. So much, that his drunken stupor interrupts one of his concerts. The audience hurls abuses at him and boos him away. Trying to salvage the situation, Gopi steps in and saves the day. But this does not sit well with Ramanathan and he becomes jealous of his brother's newfound popularity.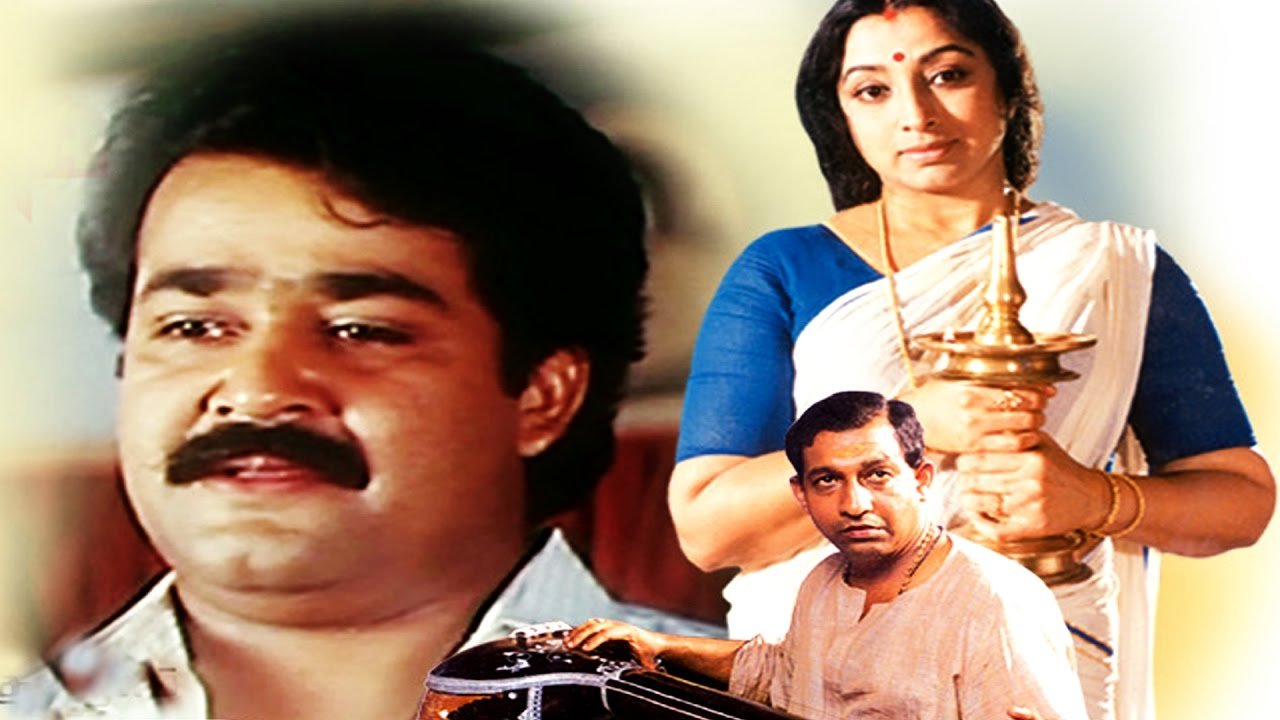 16. Mazhayethum Munpe 
Written by Sreenivasan, Mazhayethum Munpe is yet another beautiful story. It tells the story of a professor who has recently started teaching at a girls college. Being new to the college, a gang of girls starts playing pranks on him. He ignores it all. But soon, one of the main girls start falling for him. However, the professor has a secret life in his native village. With Mammootty, Shobhana and Annie in the lead, this movie makes for a very interesting watch.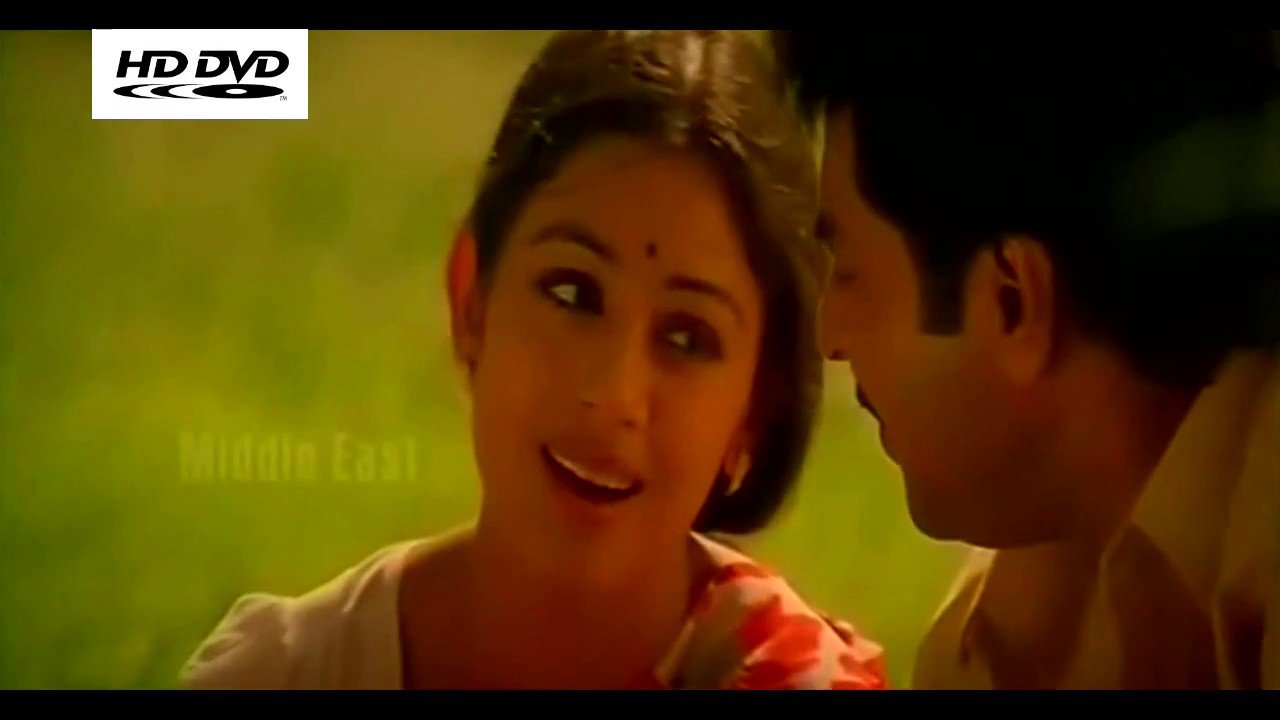 17. No. 20 Madras Mail 
The story revolves around a train journey, namely, the train journey from Trivandrum to Madras. On the train, we're introduced to a man who's travelling with his wife and his young daughter, Devi. Tony and his friends also come into the picture, so does a ticket collector. In the course of their journey, Tony spots Devi and flirts with her. When the train reaches Madras in the morning, Devi is found dead in the toilet. Everyone, including Tony and his friends, become prime suspects in her murder.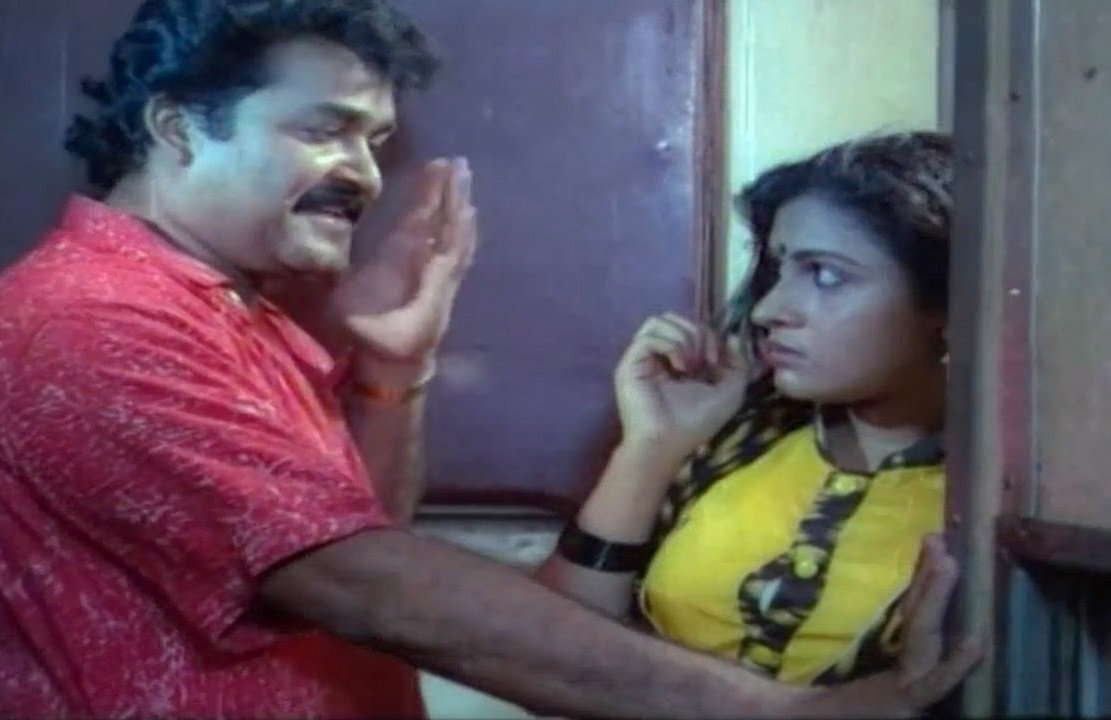 18. Yoddha 
A rather unusual story, Yoddha is about a young Buddhist monk who ends up meeting Appukuttan, while fleeing from people trying to kidnap him. All of this happens in Nepal. Now Appukuttan is in the country because he's trying to win the hand of a woman in the hopes of her father's riches. With perfect comedy timing, a great cast and a rather different story, this movie can be re-watched a million times. Bonus: A.R. Rahman's music.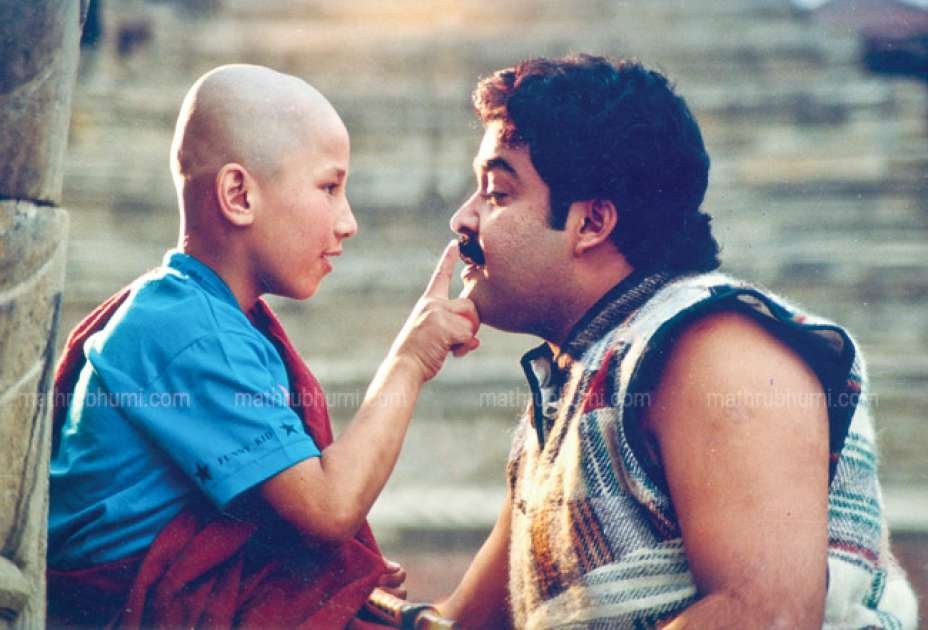 19. Mannar Mathai Speaking 
The sequel to Ramji Rao Speaking, this movie still reverberates in audience's hearts. And why shouldn't it? The trio of Mukesh, Innocent and Saikumar makes it impossible to watch the movie without bursting into laughter. In the second part, Mannar Mathai's theatre group needs a female lead, and it is up to the two lads to find a perfect match. When they do find the woman, something seems rather fishy.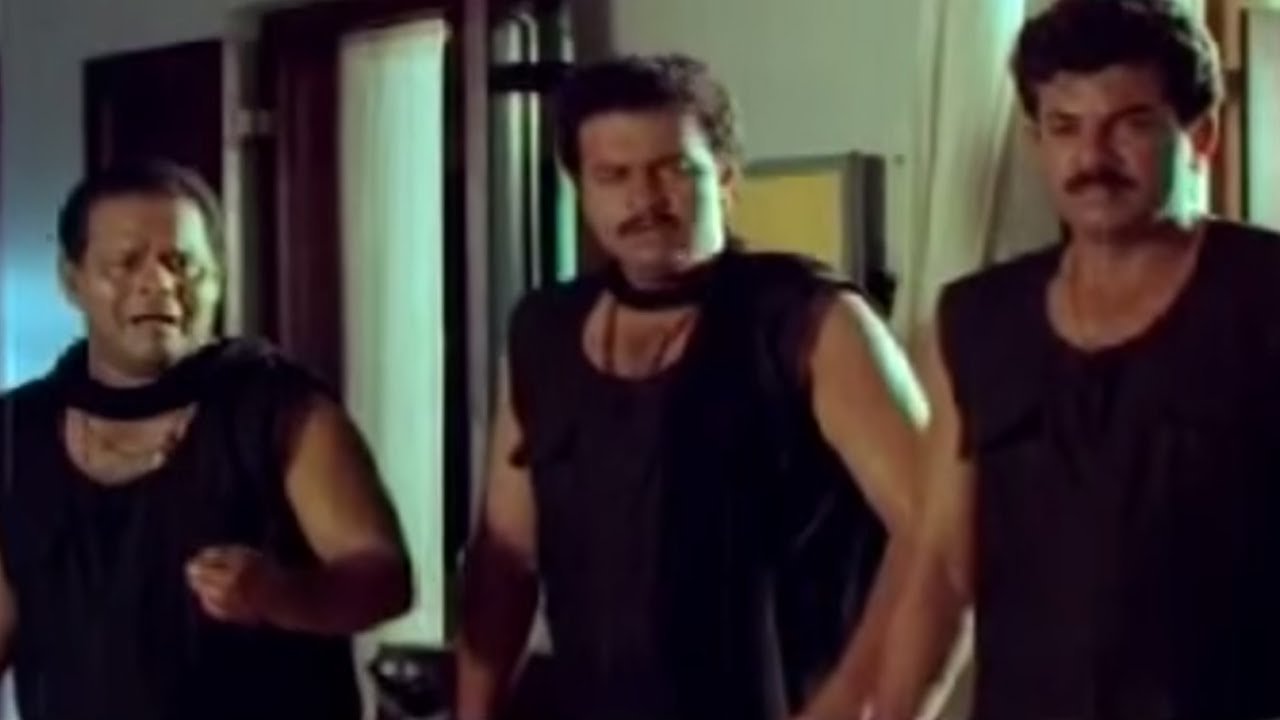 20. Ulladakkam 
A beautiful movie that deals very sensitively with the issue of PTSD, Ulladakkam tells the story of a girl who becomes obsessed with her doctor. During the course of her treatment, she transfers all the feelings she had for her deceased boyfriend onto her doctor. This puts the doctor in a rather tricky situation because anything he does might affect her treatment.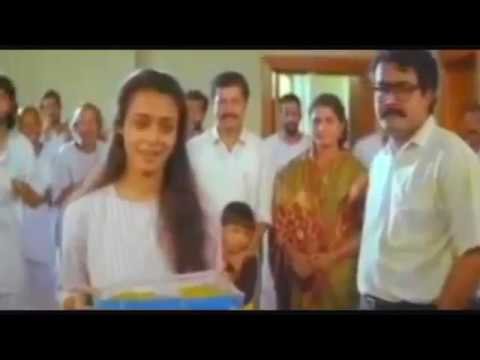 So, which one are you going to watch first?