Aishwarya Rai is famous for not taking snide remarks and controversy sitting down. From her earlier interviews to now, the queen of Bollywood has made it clear that her clap-backs are iconic. 
Here are some of our favourites that we still think about. 
1. When she shut shit down and told David Letterman exactly what he needed to hear, when he asked her if 'Indian' parents live with their children.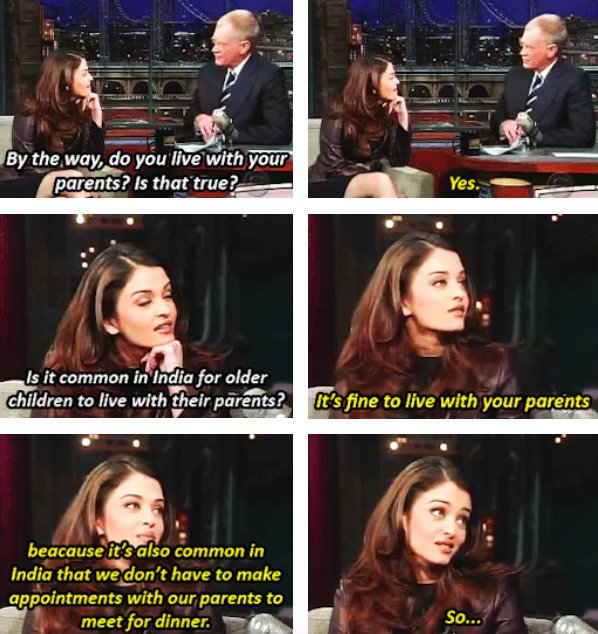 This interview does get better though, because when she was asked how old she was when she got into modelling, she responded by asking David how old he was when he started doing talk shows. 
2. When she was clear about not taking any bullshit, not even from Karan Johar. 

3. And she did it again.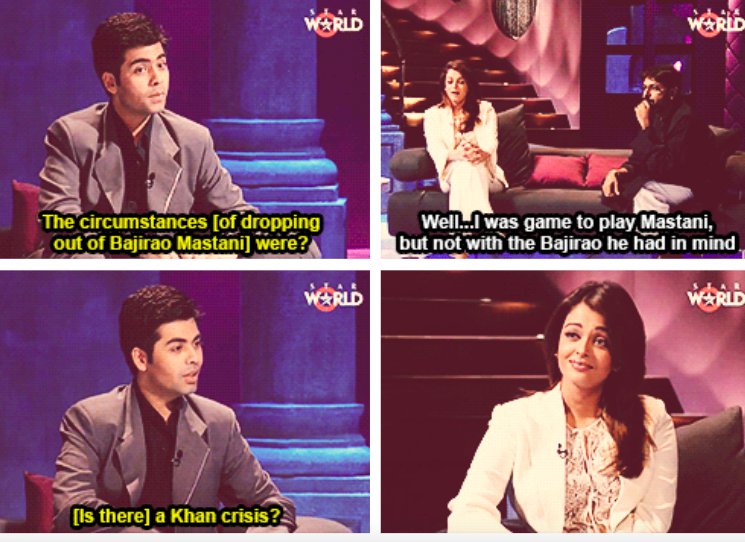 4. Till he got the point.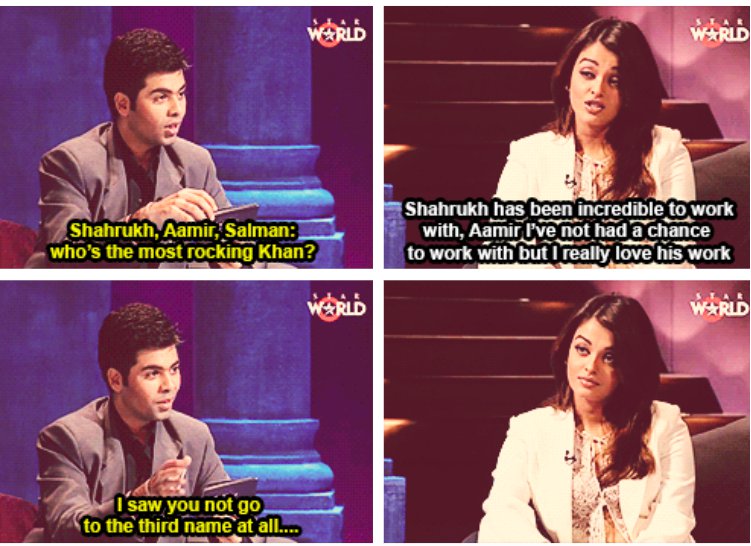 5. When Tyra Banks said that being the most beautiful woman might get Aishwarya hate from the women around her. But Aishwarya, who didn't believe in bringing other women down, said this instead. 
No, they're smiling. We're feeling each other. There is a good vibe going. 
6. When someone asked her if she was missing Abhishek Bachchan at an event, she said this. 
Aapko mujhse bas sawaal poochna hi tha na. Main kya bolu? Aadhe ghante mein ghar jaa rahi hu, milenge phirse. 
-Aishwarya Rai
7. When Aishwarya was asked during an interview, why she hasn't been able to strike a chord with the 'Khans' in the industry and she just couldn't hold back from speaking her mind. 
You guys enjoy all this drama so I think you can keep this going, it keeps you all entertained. 
8. While talking to a magazine at the beginning of her career, Aishwarya made it clear that her looks aren't the only thing people need to talk to her about. 
Look, I can't fight the looks I've been born with. If I'm blessed with good looks, so be it. But for Pete's sake, don't knock my hard work, my professionalism. I'm only three-films-old. I haven't given any of my directors any reason to complain.
-Aishwarya Rai
9. When she was asked this by Oprah and had a spontaneous answer that we love!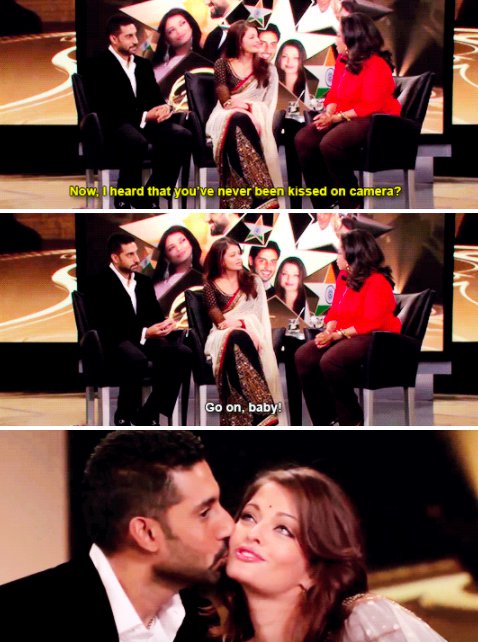 10. When she was asked about her outfit and responded to a reporter at the Royal Ascot Races, with this.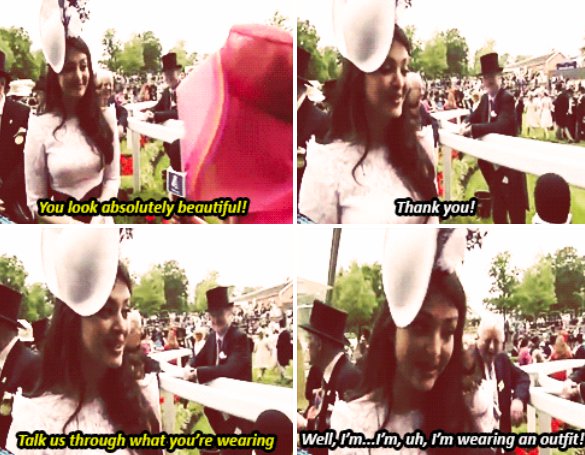 11. When she was on Koffee With Karan once again, and didn't hold back from saying exactly what she was thinking.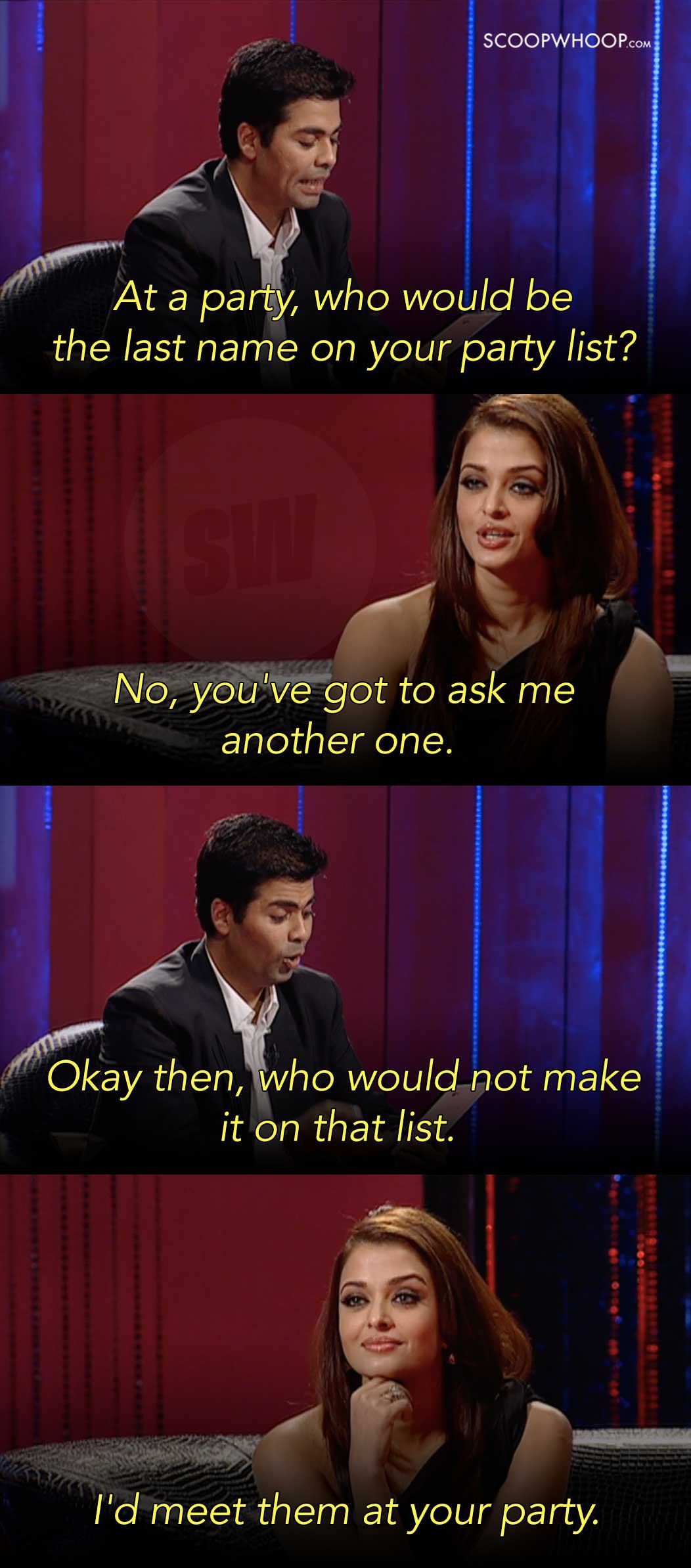 12. This one isn't a clapback, but proof that she isn't afraid to be equally savage towards herself when necessary. In an interview, Aishwarya openly stated that she and Abhishek sit down and make fun of their first film together, Dhai Akshar Prem Ke. We love a self-aware woman. 
That film was a riot. OMG Abhishek and I have hammed through that movie. We keep saying what are we doing here? Some of the scenes were so way out. Over the years, whenever we watched the movie we used to be like, really? Now you can watch it as a comedy if you do. 
-Aishwarya Rai
Which one's your favourite?