Do you remember the 'first English song' that you listened to? Was it Vengaboys' track, To Brazil, Bryan Adams' Summer of 69, or a Bollywood song featuring English lyrics? While some tracks were easily understood, a few of them had difficult lyrics that each time we tried to lip-sync them, we would end up singing gibberish. 'Shining in the setting sun like a pearl upon the ocean. Come and feel me.' Remember how you sang these lines of Tera Hone Laga Hoon back then? (Most of us are still crooning it wrong).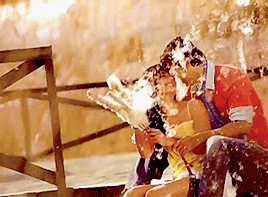 Desis on Twitter are reminiscing the 'first English song' that they heard in their lives. Mahiya from film Awarapan (2007), Dhoom Dhoom from film Dhoom (2004), and Smack That by Akon are some of them.
A Twitter user shared the video of the song, Mahiya and wrote, "Not Baby by Justin Bieber, this was my first English song."
Here's what others are sharing:
Something Something by Mika Singh.
Dhoom Dhoom by Tata Young.
Tera Hone Laga Hoon from Ajab Prem Ki Ghazab Kahani.
Barbie Girl by Aqua.
To Brazil by Vengaboys.
Tennu Le from Jai Veeru.
Never Say Never by Justin Bieber.
Smack That by Akon.
Beat It by Michael Jackson.
Temperature by Sean Paul.
Daddy Cool by Boney M. and Everything I Do by Bryan Adams.
Stereo Love by Edward Maya and Vika Jigulina.
Hall of Fame by The Script.
Which track was your first English song that you remember till date?