This is what a banjo looks like: 
But the film Banjo has nothing to do with it. It is about an instrument that looks like this: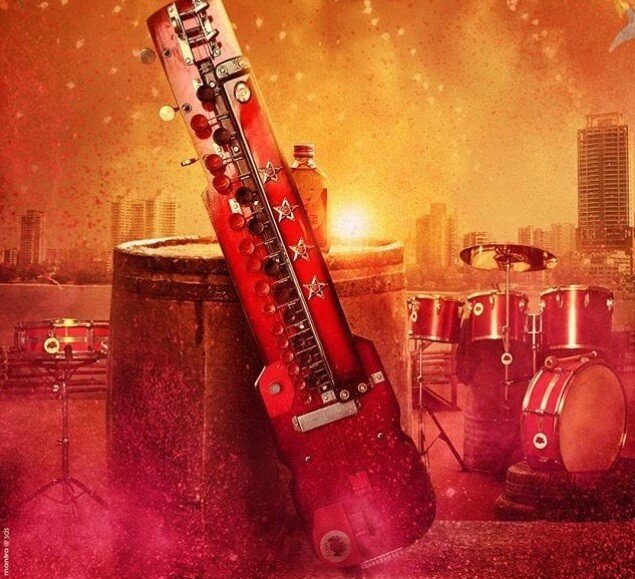 Extortionist Tarat (Riteish Deshmukh) plays this 'banjo', supported by accomplices called Grease (a mechanic), Paper (a newspaper distribution agent) and Vaja (a drum player) – all of whom play different types of drums. They're awesome, because he's high on country alcohol and artistic spirit. 
New York-based musician Chrisitina aka Chris (Nargis Fakhri) hears a recording thanks to a friend in Mumbai and does what any sensible musician on the lookout for a fresh sound would. She flies down to Mumbai determined to find the mysterious 'banjo' player. 
Aided by a weirdly lecherous uncle, Christina goes to the slums and is assigned a guide who happens to be none other than Tarat. But Tarat doesn't admit that he's a banjo player (because Grease convinced him it wasn't respectable), so she keeps hunting for the creator of what she's heard. 
After listening to almost every other 'banjo band' in the city, Christina dramatically discovers Tarat's band and then decides to cut two singles with them, perform at a competition in Mumbai and generally make them superstars. As all right-thinking musicians would.
There's a dramatic twist, some moments where you will laugh (like when Tarat wears a shirt and tie and walks around with everyone staring at him as Navrai Majhi plays in the background) and two token fight scenes to show how tough the hero is. There's also a light-hearted insight into slum life, a song almost every 15 minutes and a lot of dramatic dialogues. 
And yet, none of it is impressive. Which is in keeping with most other films which Riteish Deshmukh has starred in. The film is directed by Ravi Jadhav who has directed exceptional Marathi films like Timepass, Balak-Palak, Balgandharva & Natarang, which were all hits and critically acclaimed. But this film, while looking great, lacks soul and you don't feel for any of the characters at any point.
Riteish Deshmukh emotes his heart out as Tarat and is at least watchable. Nargis Fakhri looks great but can't emote beyond wiping token tears in emotional scenes. Mohan Kapoor and Luke Kenny are truly supporting cast, because they don't seem to do much in the film. 
But the biggest let-down is perhaps the music. In a film that is all about discovering music and an instrument that is used on the streets, the music just doesn't leave you feeling like the 'banjo' is the next big thing or that a 'banjo player' can ever really become a global rockstar. Watch this if you've got Ganesh Visarjan hangover, are a Riteish Deshmukh fan or if your reaction to looking at Nargis Fakhri is this (just like almost every male character in the film):