Kangana Ranaut has once again caused a stir on social media. This time for fat-shaming and disrespecting a Twitter user's mental health. 
Priyanka Paul, an illustrator and writer shared a tweet about once contemplating suicide, lying about how she felt and having breakdowns in a public washroom. And soon after, found herself attacked by Kangana's Twitter account.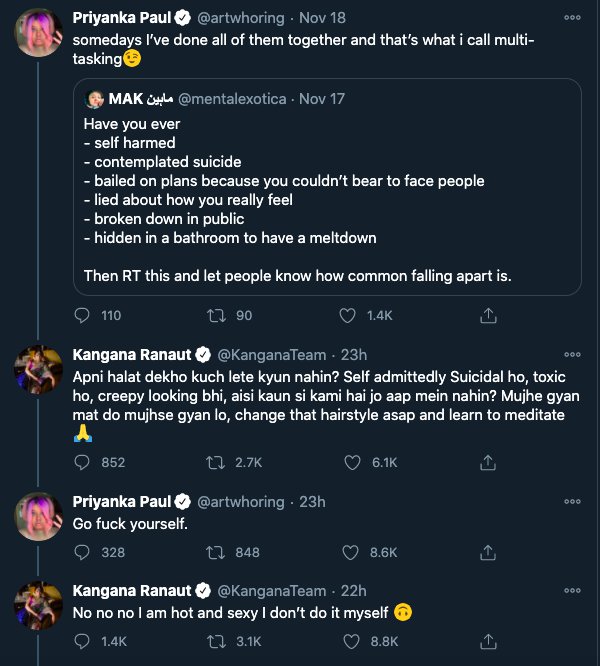 Kangana responded to the tweet calling Priyanka 'toxic' and 'creepy looking' but that's not all. She took her ignorance a step further by asking Priyanka to change her hairstyle and meditate. Which only seems to be a reflection of how much this 'mental health advocate' actually knows about mental health. She also shamed people for their opinions on sex, but that seems right up her alley. 
Obviously, this conversation did not sit well with other Twitter users and celebs who were outraged by Kangana's snarky and insensitive remarks. 
While Kangana continues to spew hate towards those who actually talk about mental health, it is heartwarming to see others stand up against her. Her ignorance will not be taken sitting down, and maybe this will force her to just google what depression actually means and not just what it is supposed to 'look like'. P.S. Kangana did block Priyanka Paul after the conversation.