Bollywood has a reputation for churning out some of the most entertaining movies around the globe, complete with dance, music and action sequences. But, sadly a lot of those masala , and some non-masala movies too, are either ripped off or 'inspired'.
It is not to say that all of them are embarrassingly bad – there have been remakes that live up to the original too. But don't you just wish that we had thought of these plots first?
We have a list of 35 popular Bollywood movies whose originals you must watch, whether you liked the remake or not. Can you think of any we may have missed?
1. Sarkar (2005) – The Godfather (1972)
If you liked Sarkar , and haven't watched The Godfather then stop whatever you are doing and watch it now! If Sarkar finally offered Amitabh Bachchan a character as indomitable as his own personality, then The Godfather sort of made the world take notice of the magic Al Pacino is.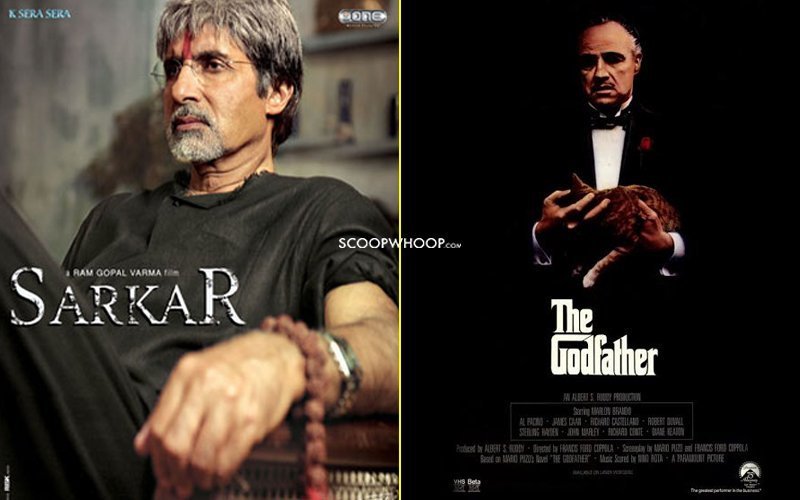 2.
Ghajini (2008) – Memento (2000)
Aamir Khan's blockbuster hit is one of his best movies where he also showed that a movie does not really need a plethora of characters to keep the audience glued. But then again, it is just a simplified version of the complex and non-linear plotline of Memento . The inspiration behind Ghajini is a movie everyone must watch and not blink while at it.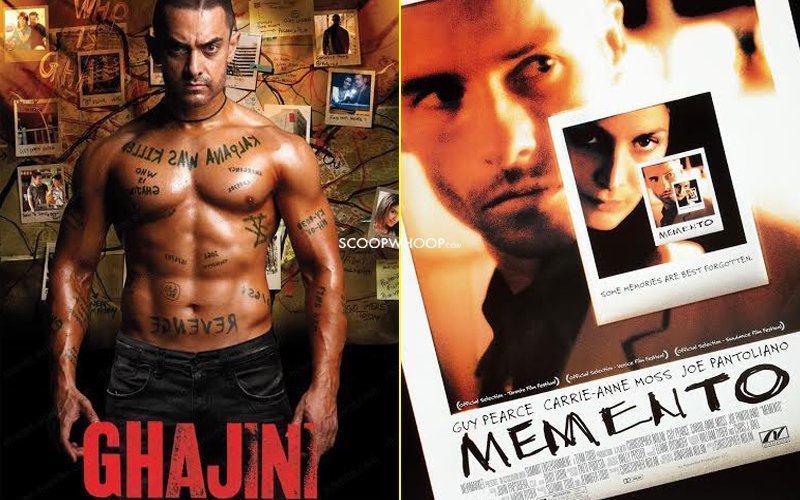 3.
Koi…Mil Gaya (2003) – E.T. (1982)
Both the movies are heartwarming to say the least. Koi…Mil Gaya is an immensely popular movie but E.T. has reached cult status. While we are glad that the remake was attempted allowing us to lay claim on our very own alien, E.T. will always remain a step ahead as the original movie.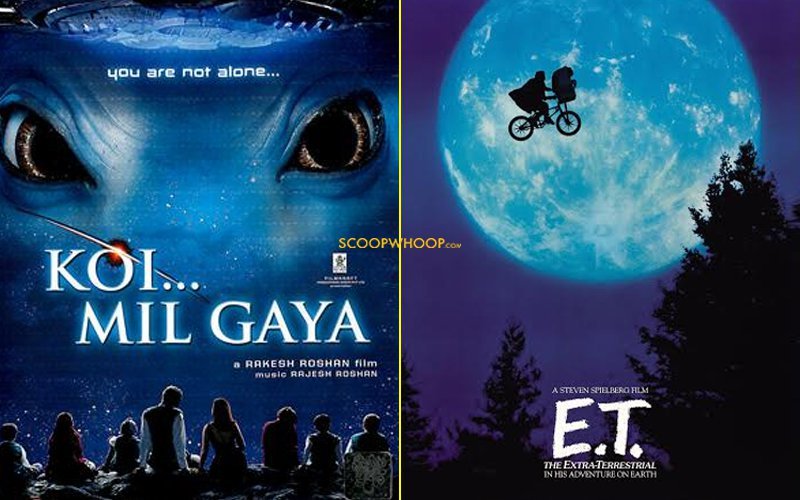 4.
Main Aisa Hi Hoon (2005) – I Am Sam (2002)
There are stories that deserve to be told, irrespective of how many times and in what language. I Am Sam is one of those. To remake it as brilliantly, would be to expect too much. Even though Main Aisa Hi Hoon will hit you right in the feels, it falls a bit short compared to the father-daughter duo of Sean Penn and Dakota Fanning.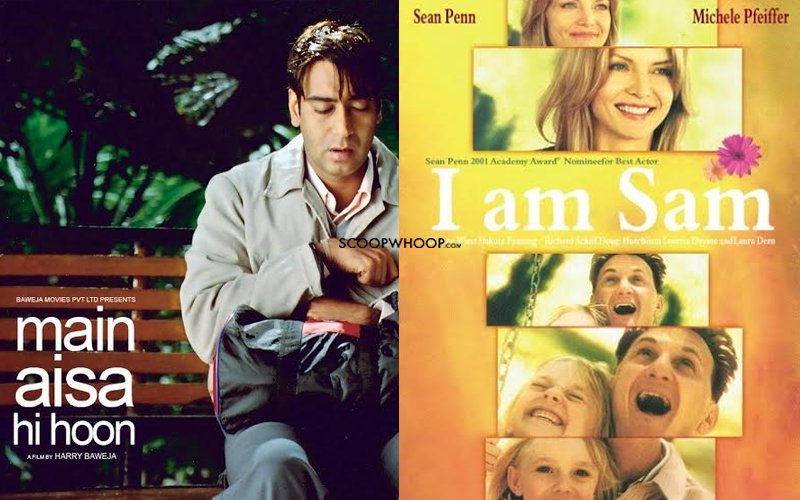 5.
Chachi 420 (1997) – Mrs Doubtfire (1993)
Both movies hit the right chord with the audience and are as entertaining. Robin Williams' inimitable brilliance could have only been matched by Kamal Haasan and he did. The incarnation of Chachi is the right mix of clumsy and awesome, much like Mrs Doubtfire. No wonder both the movies remain popular even now. If you love Chachi 420, then do not miss Mrs Doubtfire at any cost.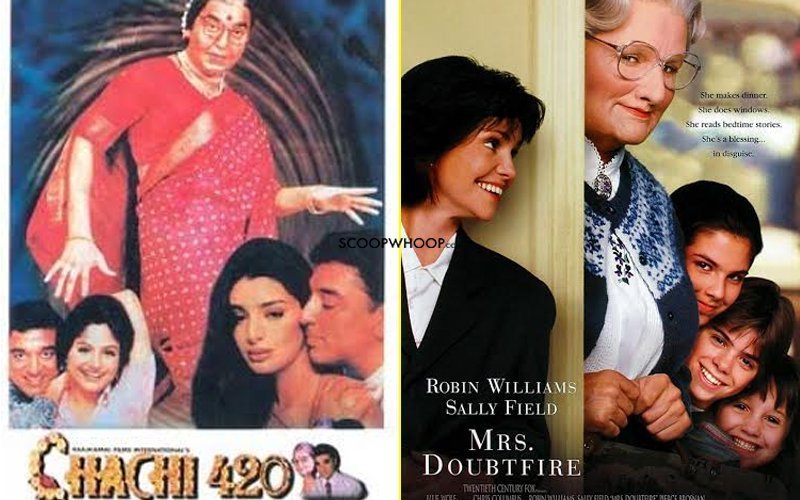 6.
Hum Tum (2004) – When Harry Met Sally (1989)
The unusual couple of Billy Crystal and Meg Ryan will make you fall in love with love. If you like Hum Tum , which is only as good as a spoof of the original, then When Harry Met Sally is a must-watch.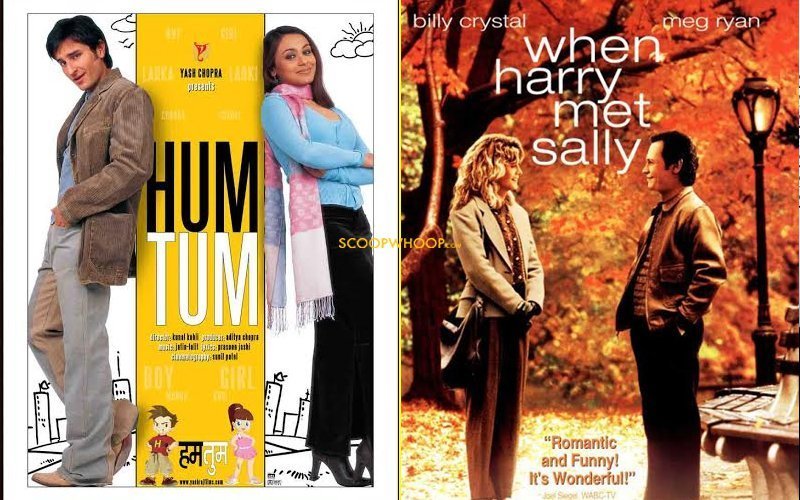 7.
Black (2005) – The Miracle Worker

(1962)

Black is a marvelous movie. Something that could inspire such cinematic brilliance could only be as good or superior. Based on her autobiography, The Miracle Worker is the heart-wrenching story of deaf and blind author, lecturer and activist Helen Keller.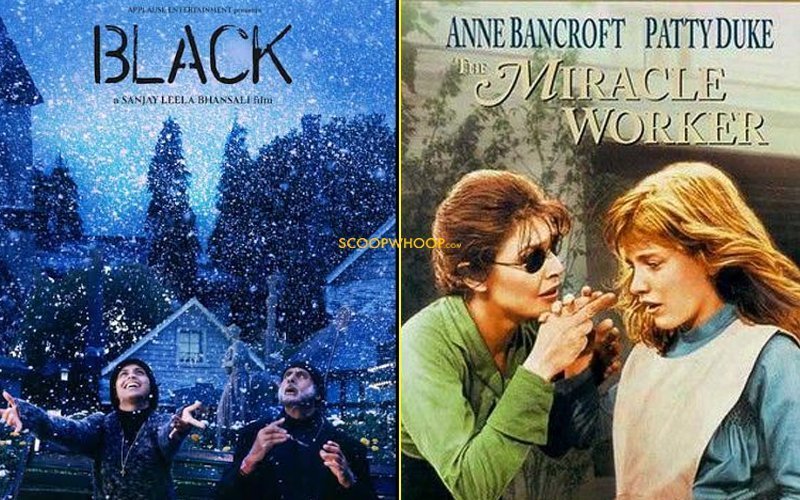 8.
Guzaarish (2010) – The Sea Inside (2004)
Sanjay Leela Bhansali's brand of movies are grandiose and are a spectacular sight. Guzaarish is all of that and a great movie that is high on the emotion quotient. There is probably no one who has watched this movie and not wept. Now, keep that in mind and watch the Spanish original, The Sea Inside . It tells the same story but in a highly controlled narrative, which actually rips your heart apart. It is also a masterclass on the type of film-making our directors must acquaint themselves with.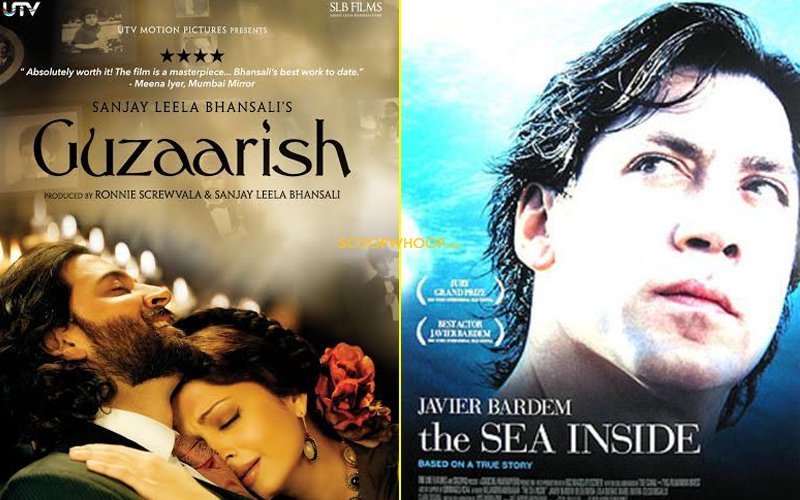 9.
Satte Pe Satta (1982) – Seven Brides For Seven Brothers (1954)
Satte Pe Satta is such a great movie that we sort of want it to be an original and not a remake. It is everything Bollywood is popular for and scores full points for entertainment. So, it is only fair that one watches the original movie, which will not disappoint.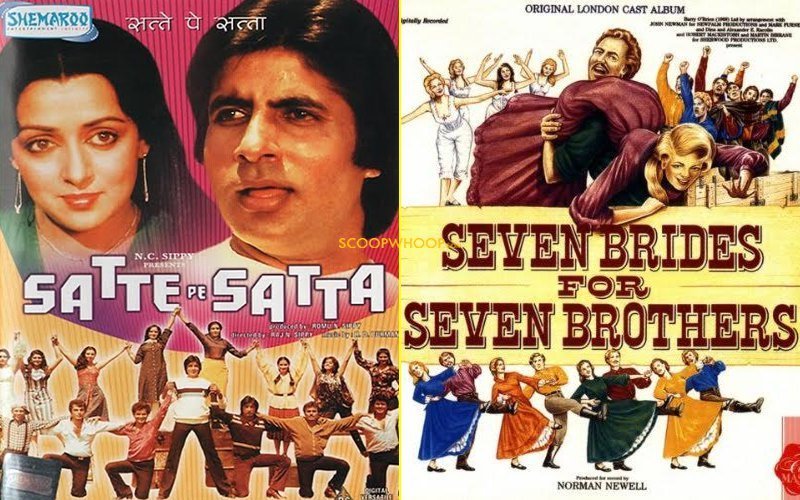 10.
Parichay (1972) – The Sound Of Music (1965)
The remake of The Sound Of Music , Parichay , is also one of the most beautiful films Hindi cinema has ever seen. Like the remake, the original too is probably one of the greatest movies ever made. And to top it all, it has Julie Andrews! We are just thankful that both these movies ever got made.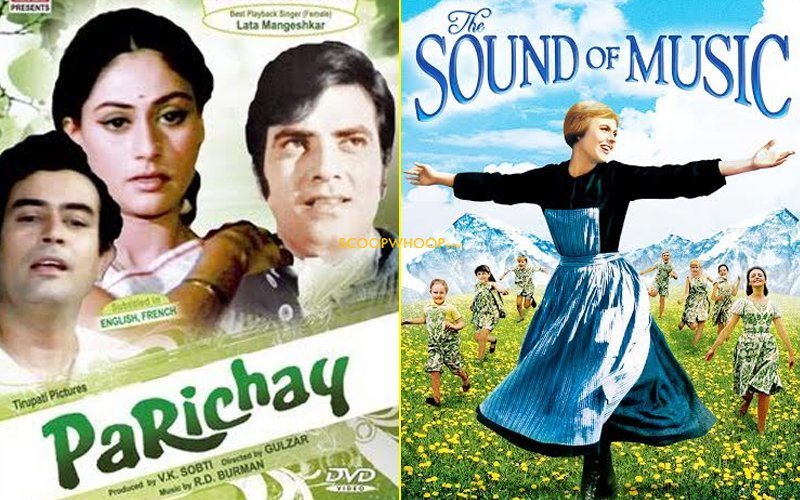 11.
Akele Hum Akele Tum (1995) – Kramer vs Kramer (1979)
On one hand we have Dustin Hoffman and Meryl Streep and on the other, Aamir Khan and Manisha Koirala. Akele Hum Akele Tum might have won quite a few hearts but Kramer vs Kramer won the Academy Award for Best Motion Picture. Need one say more?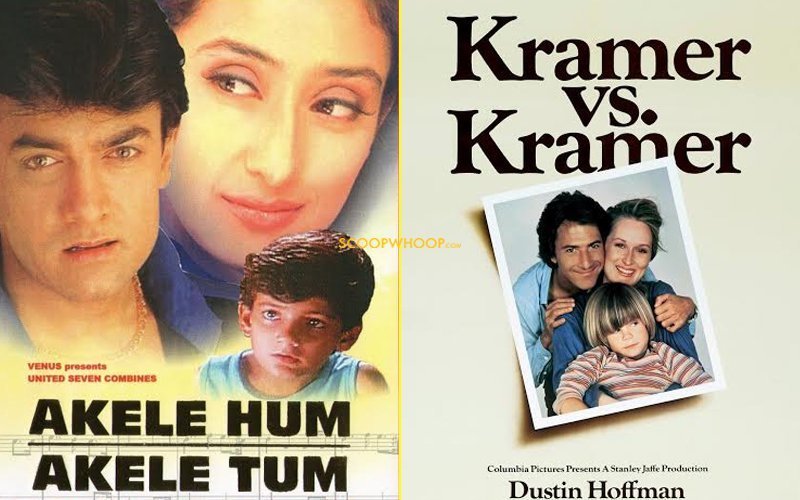 12.
Kaante (2002) – Reservoir Dogs (1992)
Reservoir Dogs has garnered quite a fandom in all these years and for all the right reasons, something that Kaante has spectacularly failed at. In fact, nobody even remembers the movie. Kaante is quite a waste considering its talented cast. But then if you liked Kaante , then you must watch Reservoir Dogs and more so if you hated it.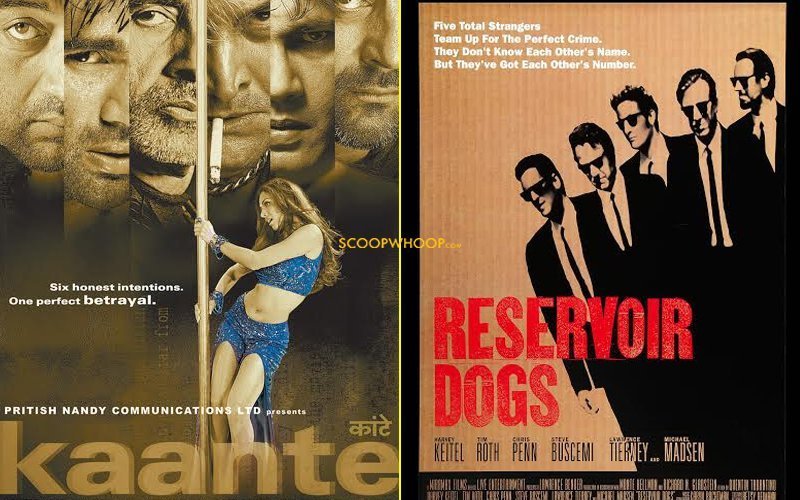 13.
Sangharsh (1999) – The Silence Of The Lambs (1991)
Sangharsh , is a scarring, disturbing and an equally brilliant film, mostly for Ashutosh Rana's stellar and unparalleled performance. It has been inspired from the second installment of the Hannibal Lecter film series – The Silence Of The Lambs , also a cult movie. A more intense, terrifying and gritty movie might not be found.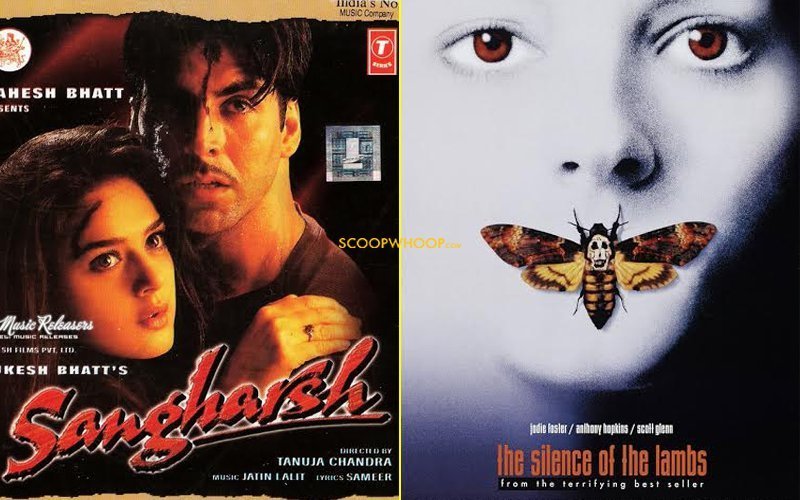 14.
Chori Chori (1956) – It Happened One Night (1934)
The Raj Kapoor and Nargis-starrer is quite a delight. It is another of those movies we wish was a Bollywood original. And Chori Chori is as good as Frank Capra's original starring Clark Gable and Claudette Colbert. Hence, a must-watch!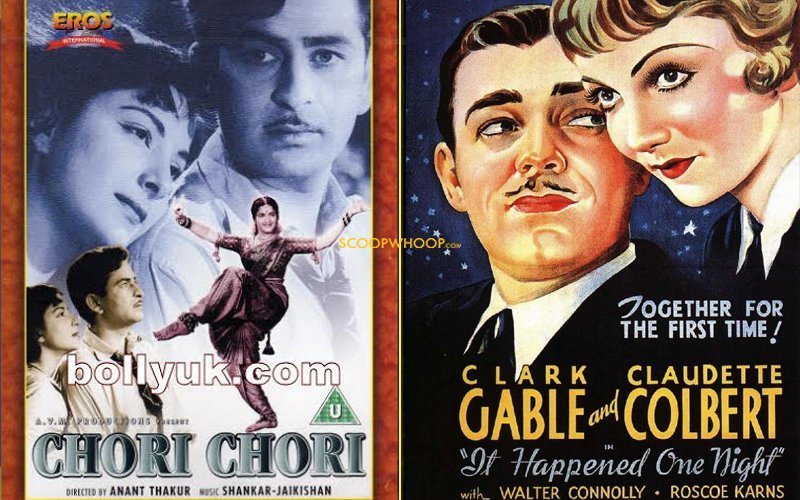 15.
Dil Hai Ke Manta Nahin (1991) – It Happened One Night (1934)
Two of the most adorable actors of those times, Aamir Khan and Pooja Bhatt star in yet another remake of It Happened One Night . Dil Hai Ke Manta Nahin is also quite a delightful watch. There is, perhaps, something in the story that makes for great movies.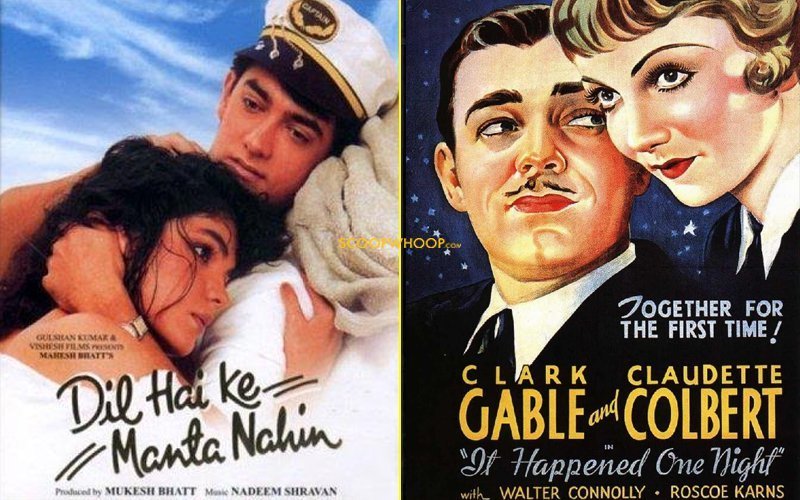 16.
Saawariya (2005) – Le Notti Bianche (1957)
Saawariya might not be to everyone's taste but its beauty is indisputable. Quite a lot of people were left confused with the treatment of the movie. It is inspired by Fyodor Dostoevsky's White Nights , a short story that inspired Le Notti Bianche . If you liked the story, then you must watch the Italian version and try to forget Bhansali's.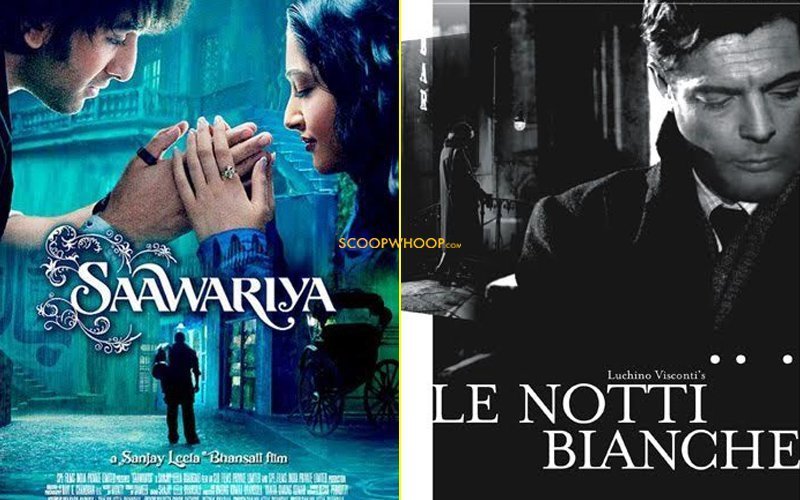 17.
Ek Ruka Hua Faisla (1986) – 12 Angry Men (1957)
Whether you appreciate art films or not, whether you have watched Ek Ruka Hua Faisla or not, you must watch 12 Angry Men . Both these movies are masterpieces and narrate a story that would do a disservice if not told.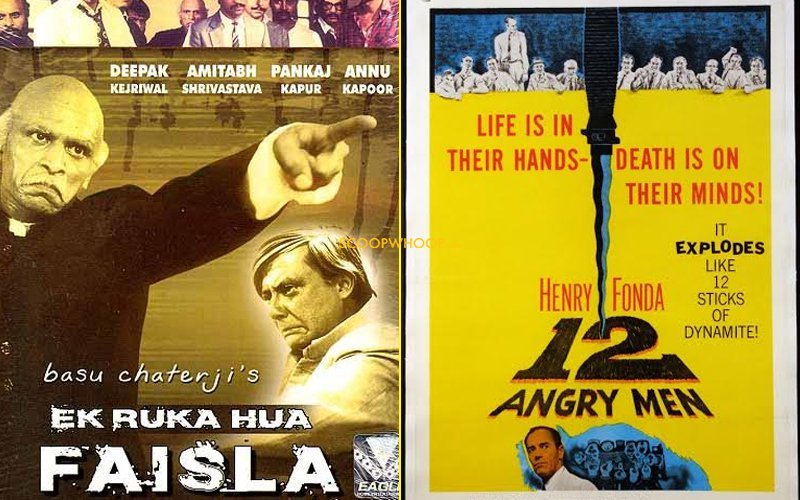 18.
Malamaal Weekly (2006) – Waking Ned Devine (1998)
Malamaal Weekly was a surprise hit and in the process might have surprised the film critics. And if you liked the movie, then you must watch Waking Ned Devine , the hilarity of which has been lost in translation and is a movie far more hilarious than Malamaal Weekly .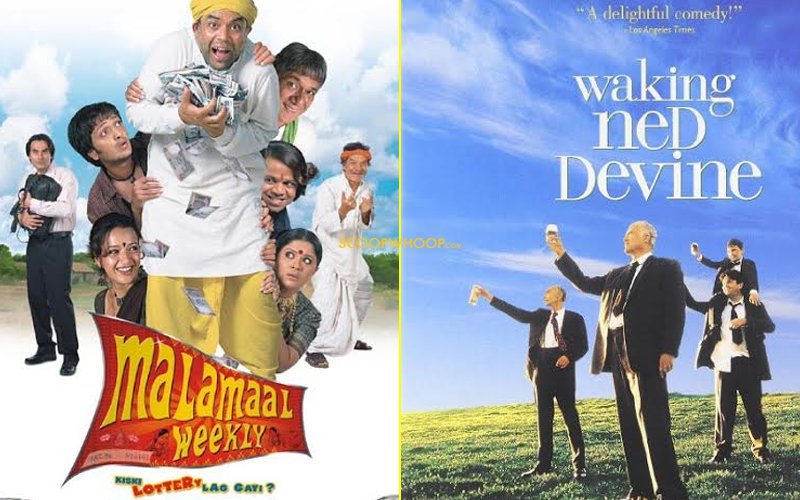 19.
Zinda (2006) – Oldboy (2003)
Oldboy is a disturbing movie, so, the squeamish might want to stay away from it. Its remake, Zinda , however, is the epitome of bad movie making and is a train wreck. Watch the Korean original if you want to watch a gripping movie.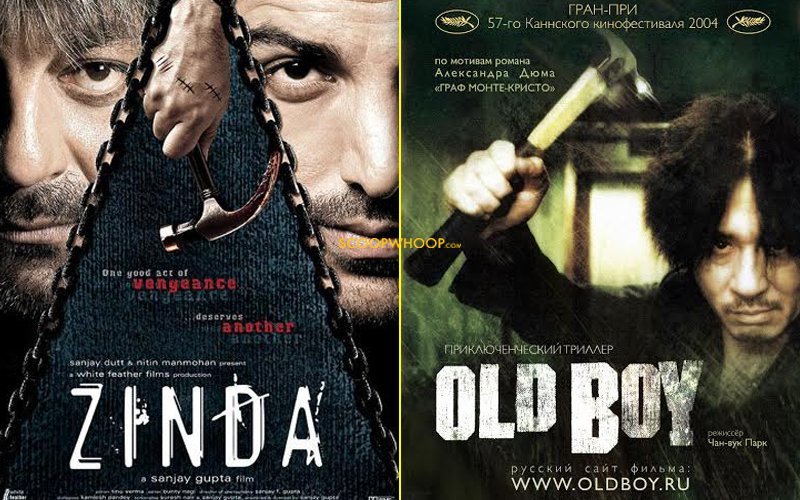 20.
We Are Family (2010) – Stepmom (1998)
Stepmom could have Julia Roberts and Susan Sarandon but its remake also boasts Kajol and Kareena Kapoor. But did that save We Are Family from being a flop? No, it didn't. Blame it on the director who is a big fan of cliches. Stepmom , on the other hand will take you on a tear-filled, emotional ride.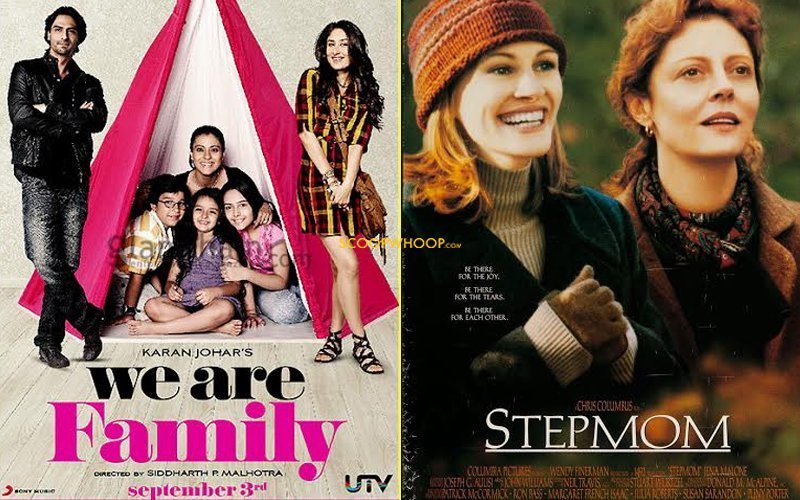 21.
Shaurya (2008) – A Few Good Men (1992)
We are just glad that both these movies got made. The sincerity and earnestness of A Few Good Men is perfectly captured in Shaurya . It just makes it all a bit better that both the movies have stellar casts. A Few Good Men can also be touted as one of Tom Cruise's finest movies and is not to be missed.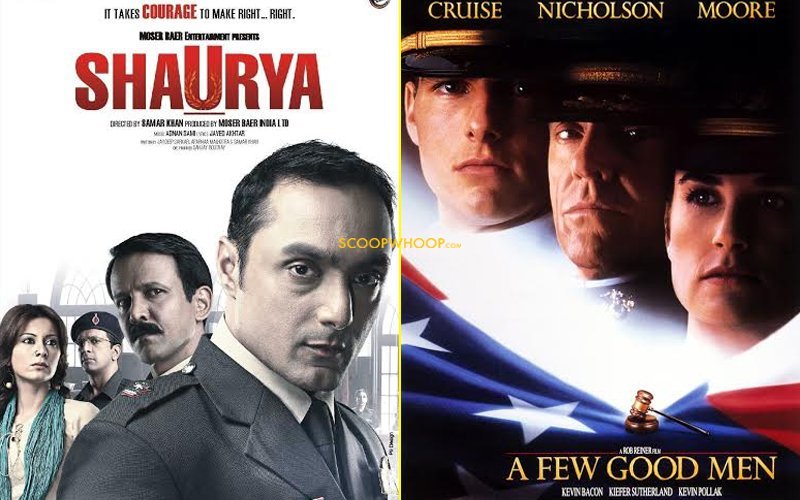 22.
Kati Patang (1970) – No Man Of Her Own (1932)
Both No Man Of Her Own and Kati Patang only add to the ever-increasing collection of good movies. The Rajesh Khanna and Asha Parekh starrer is quite the cinematic gem. But one must definitely watch the original, which has been forgotten in time.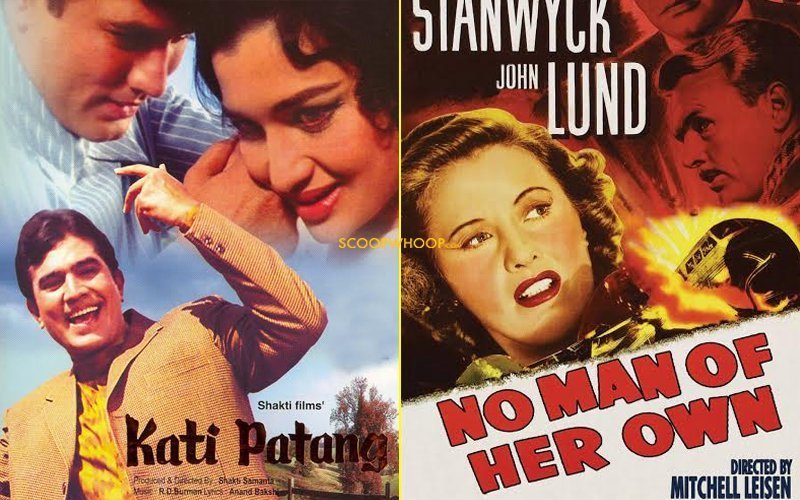 23.
Chocolate (2005) – The Usual Suspects (1995)
If you have watched Chocolate , then you probably hated it. But trust us, The Usual Suspects is nothing like that. It is a neo-noir crime mystery thriller with a stellar cast and an expert screenplay.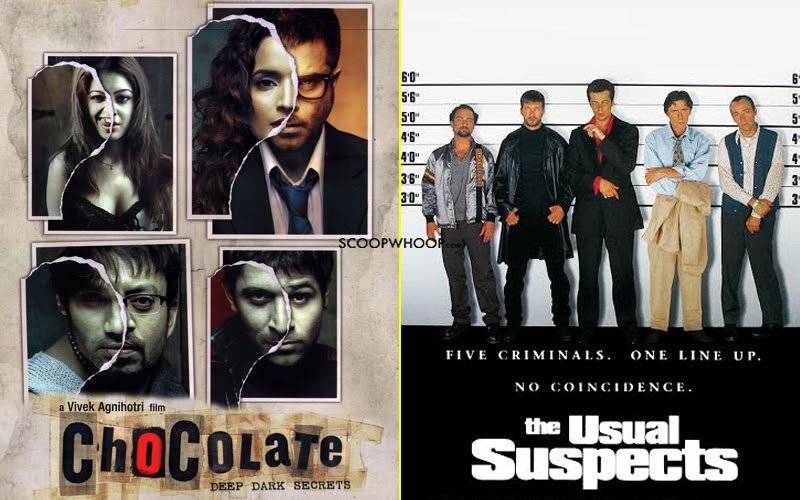 24.
Bheja Fry (2007) – The Dinner Game
Bheja Fry is still considered to be one of the funniest Hindi films of modern times. The Dinner Game is all that and slightly better. Both the films will tickle your funny bone to no end.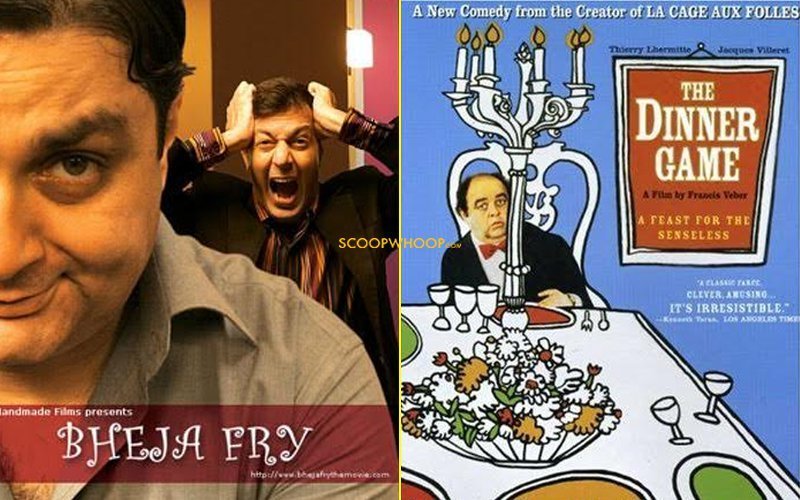 25.
Bumm Bumm Bole (2010) – Children Of Heaven (1997)
Bumm Bumm Bole is an authorised remake of the beautiful Iranian movie, Children of Heaven . A more simplistic, yet perfect and innocent movie probably hasn't been made. Whether you liked Bumm Bumm Bole or not, Children Of Heaven is a movie you cannot afford to miss.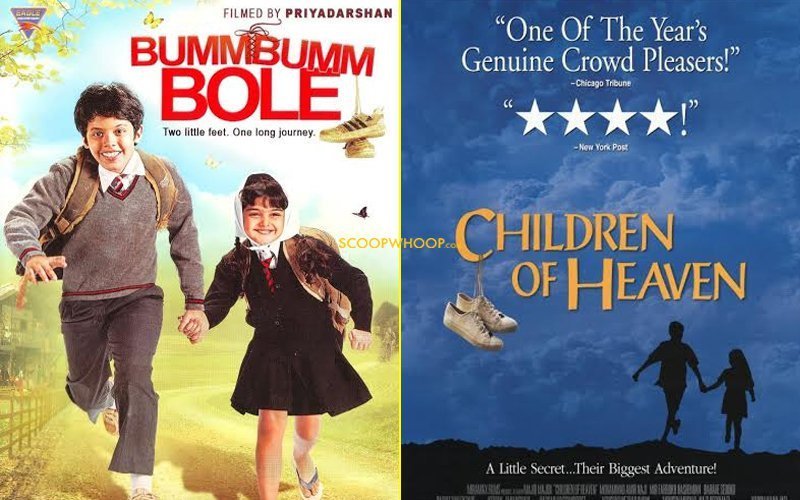 26.
Life In A… Metro (2007) – The Apartment (1960)
Life In A… Metro was a hit and was received well because of its treatment of real-life issues. The movie also has a great cast. Its inspiration, The Apartment , however, is a comedy drama. It is also an Academy Award winning movie.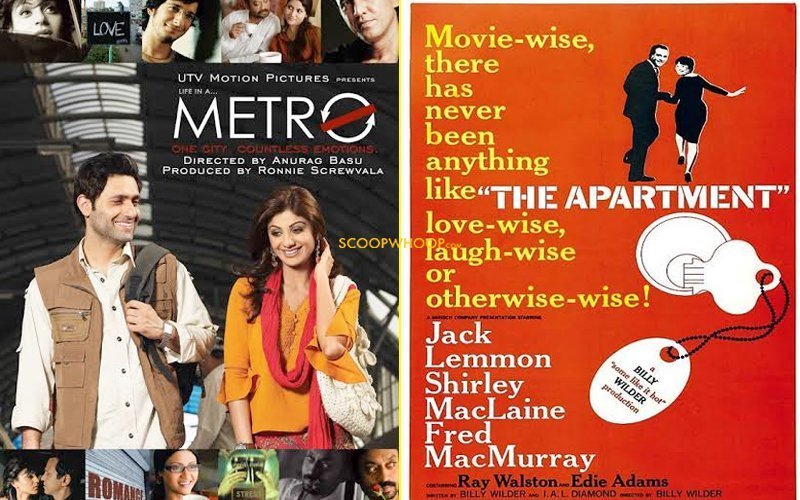 27.
Taxi No. 9211 (2006) – Changing Lanes (2002)
The loose remake of Changing Lanes was a surprise hit – the movie focuses on the unusual chemistry between John Abraham and Nana Patekar. Both Changing Lanes and Taxi No. 9211 were well received.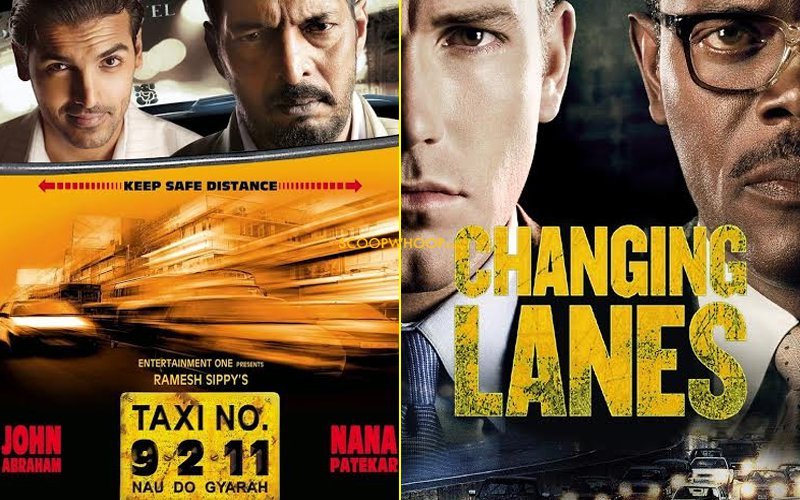 28.
Awara Paagal Deewana (2002) – The Whole Nine Yards (2000)
Both these movies will make you laugh and for all the right reasons. Bruce Willis and Akshay Kumar play their parts with equal hilarity and you will feel equally sad for Matthew Perry and Aftab Shivdasani.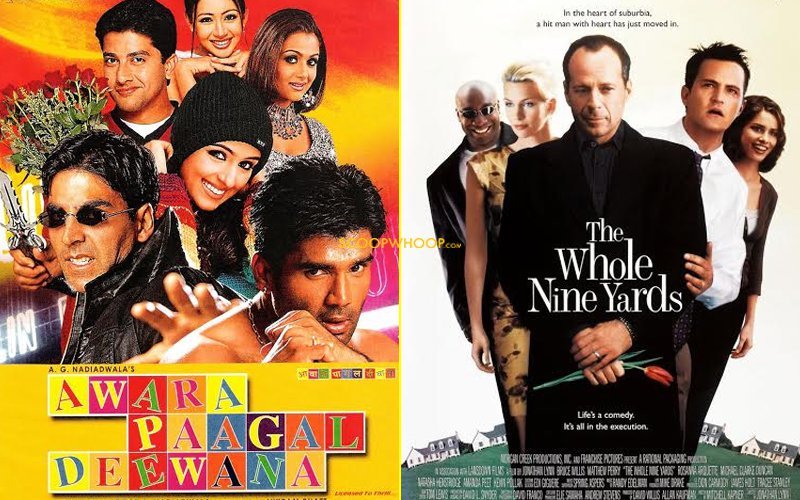 29.
Pyaar Tune Kya Kiya (2001) – Fatal Attraction (1987)
Pyaar Tune Kya Kiya has Urmila Matondkar in her finest element, playing an obsessed lover. The inspiration behind this movie is the much, much popular Fatal Attraction with Glenn Close playing the American counterpart.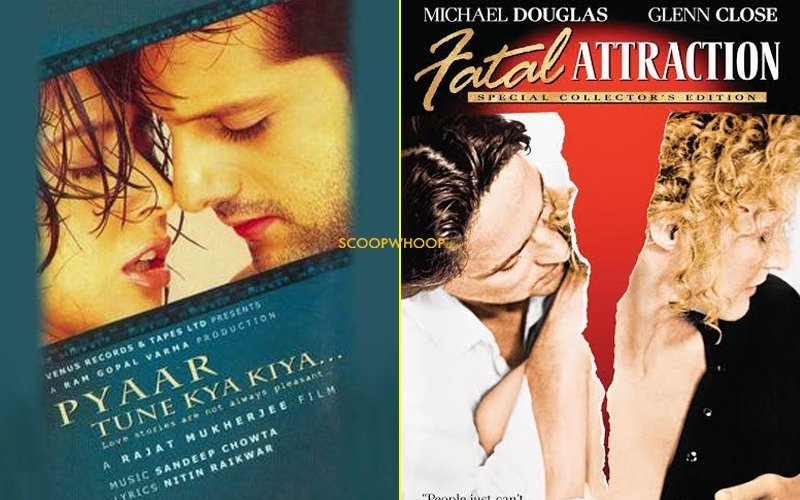 30.
Milenge Milenge (2010) – Serendipity (2001)
If you love romantic movies, then you must watch Serendipity . If you loved Milenge Milenge , then you must watch Serendipity . If you hated Milenge Milenge , then you just must watch Serendipity . Basically, you must watch Serendipity .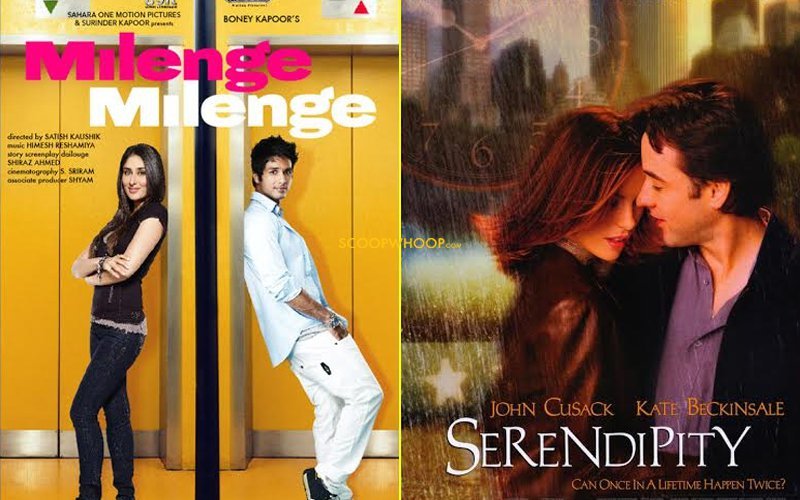 31.
Heyy Babyy (2007) – Trois Homme Et Un Couffin (1985)
Heyy Babyy is a typical Bollywood comedy complete with masala and emotion. The original, Trois Homme Et Un Couffin is a French comedy complete with unending confusion and chaos. It is a highly entertaining movie that was nominated for the Best Foreign Film for the 58th Academy Awards.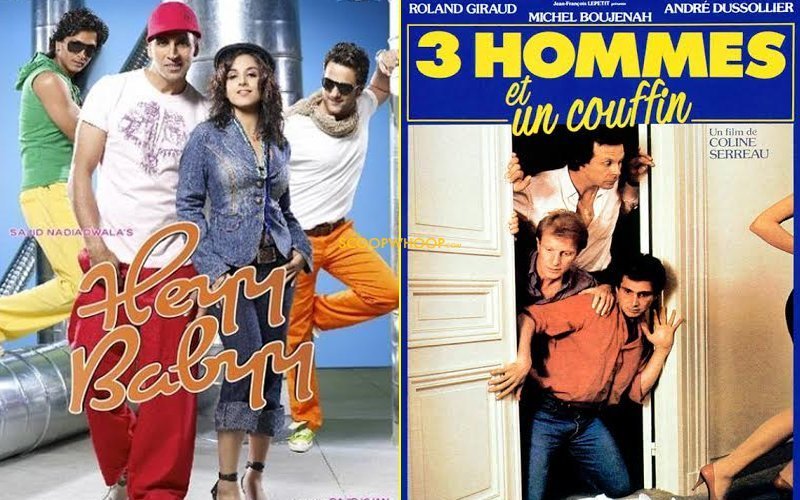 32. Ugly Aur Pagli (2008) – My Sassy Girl (2001)
No one is quite sure what Ugly Aur Pagli is about and it is only advisable to let it be that way. My Sassy Girl , on the other hand is a highly successful romantic comedy about Gyeon-woo who falls in love with The Girl. Prepare to fall in love with her as you watch this epic movie.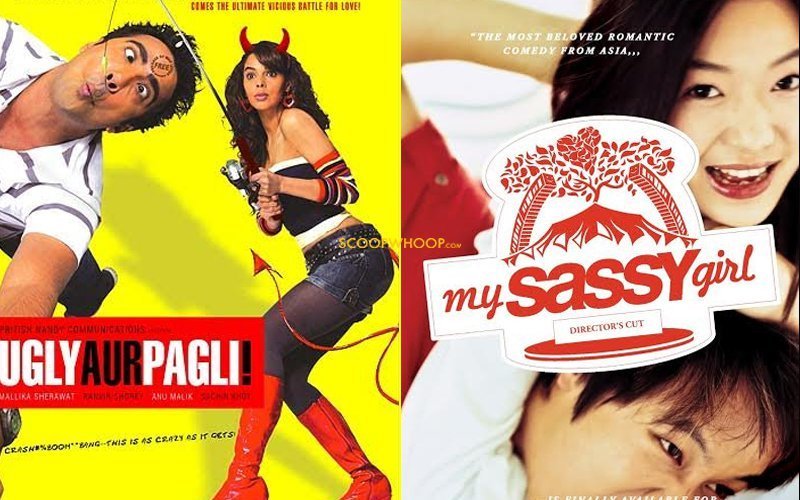 33. Manoranjan (1974) – Irma la Douce (1963)
Manoranjan is a revolutionary movie because it was perhaps the first time that prostitution was shown without showing the lead as a fallen woman. The inspiration comes from a French comedy called Irma la Douce . Both the movies are path-breaking and must not be missed.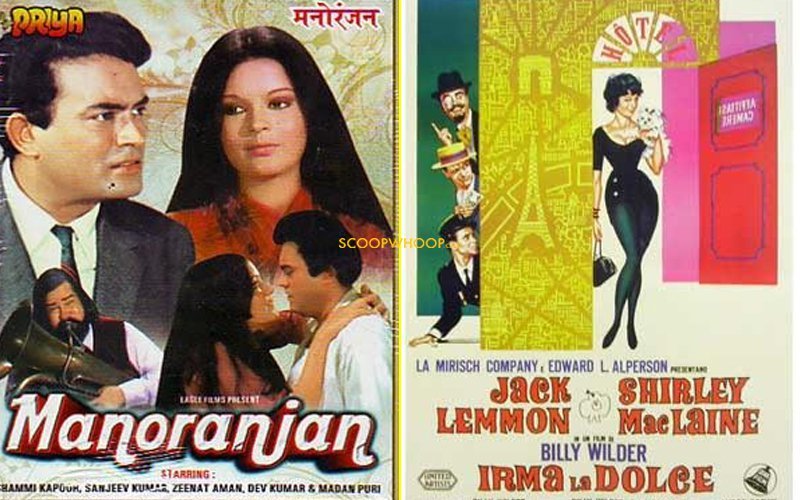 34. Kartoos (1999) – La Femme Nikita (1990)
Kartoos and Le Femme Nikita are about a criminal, trained by the police to take down a gangster. But one must watch these movies together and not because both are such great films but because Bollywood could not come up with a woman lead like Nikita. Even though they remade the movie, the genders had to be swapped. Did it help though? No. The movie was rejected anyway. Sigh, Bollywood.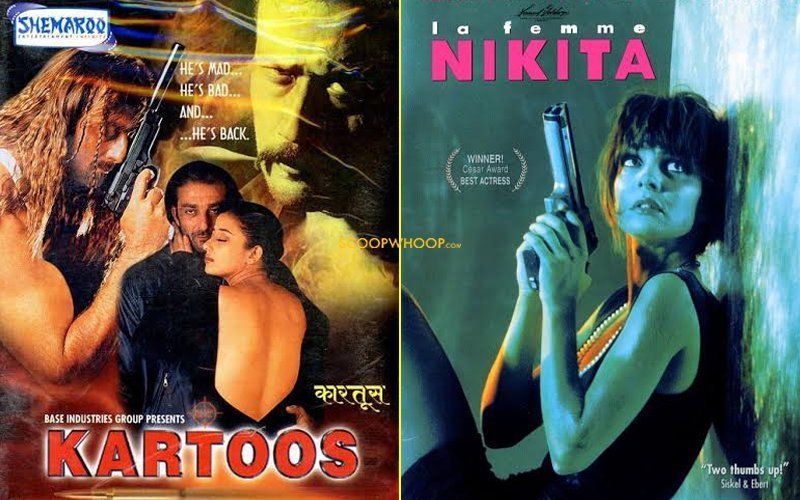 35. Mere Yaar Ki Shaadi Hai (2002) – My Best Friend's Wedding (1997)
Mere Yaar Ki Shaadi Hai is a movie reeling under the hopelessness of cliches. It would have ended so much better had it ended the way My Best Friend's Wedding did. Or maybe not. It was doomed to be a disaster from the beginning. My Best Friend's Wedding with Julia Roberts along with Dermot Mulroney is just the dream but its remake is kind of a nightmare.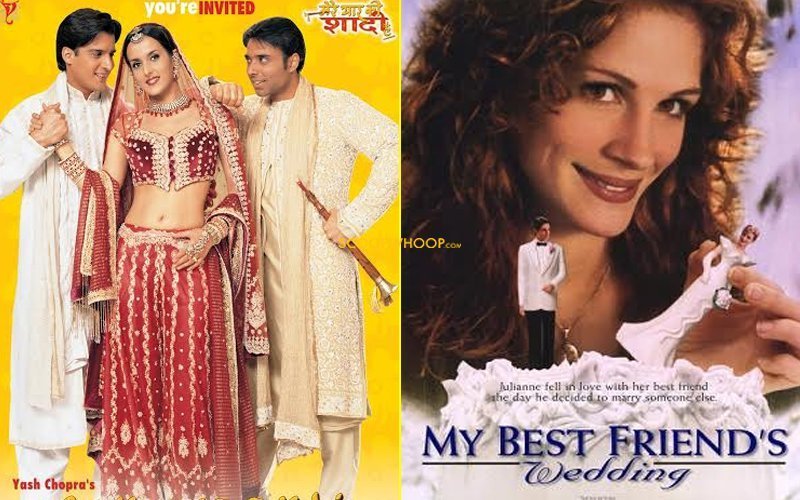 Design Credit: Lakshya Vij