India's musician extraordinaire AR Rahman was performing at Wembley stadium last week, and he must have felt things went pretty well. As he performed some of his finest hits, a section of the audience weren't prepared for the onslaught of Tamil songs. And they left the concert with a bad taste, tweeting about their disappointment.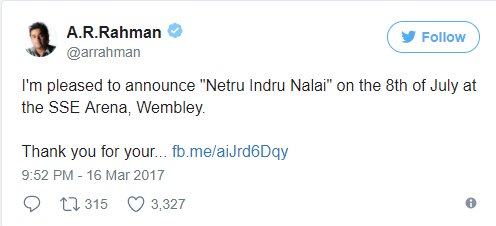 The social media universe quickly reacted to the situation as people took their stance. Apparently Bollywood-goers and the Hindi-speaking audience were not very pleased with Rahman singing Tamil songs. And soon took their disappointment to Twitter. 
There were those who were surprised at having unintentionally attended their first 'Tamil concert' as they put it. And there were those who expected Rahman to play more of his mainstream Bollywood songs, who thought out loud whether they should ask for a refund.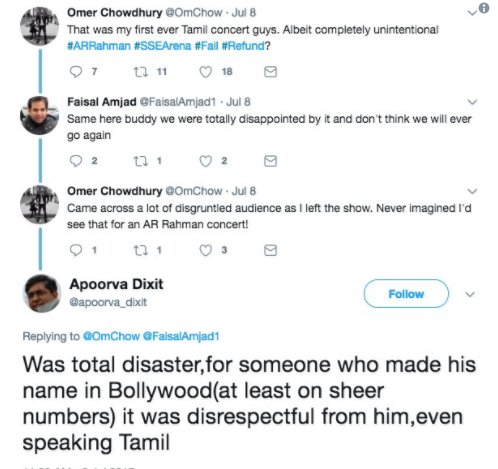 There was some exaggeration too.
The contrary stance soon began trending, as many fans of his Tamil songs addressed the problem for the evening. Some of the Twitterati said how the situation resembles the fact of how Hindi is shoved down the throat of those, who haven't been privy to learning the language.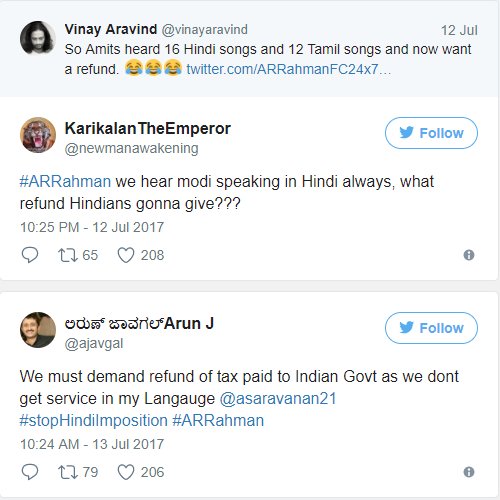 It was later clarified that the concert had 12 Tamil songs and 16 Hindi songs, including a medley in both Tamil and Hindi.
It is important to note that while Rahman has done some great work in Bollywood and Hindi films, his repertoire of work stretches beyond one language. He has made excellent music in more than one language and especially Tamil. 
Rahman made his debut in the Tamil film industry before his songs got dubbed into Hindi. 
Any Rahman fan follows his work irrespective of the language. As one of Rahman's most famous fans, Amit Trivedi will tell you: he considers Thiruda Thiruda his best work.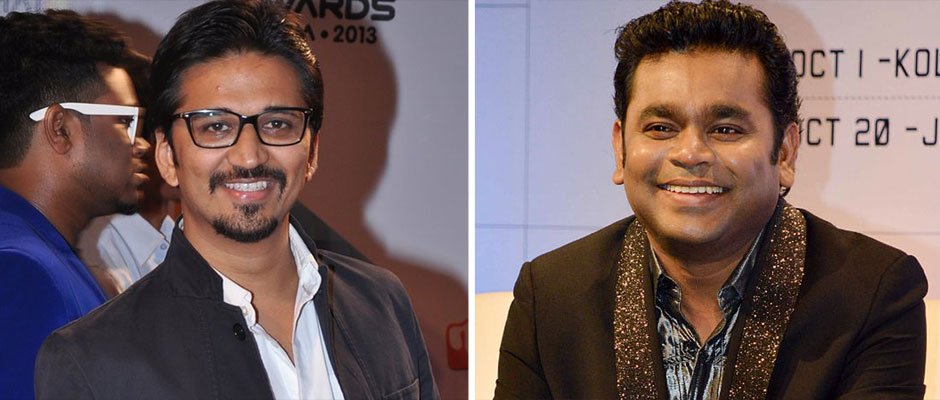 As for me, I think it's a sin for any Rahman fan to not have heard the songs of Vinnaithandi Varuvaaya, Kadal or as recent as the soundtrack of Kaatru Veliyidai. 
Music has no language, does it?