Chhatriwali is an upcoming film that revolves around sex education and the need to talk about safe sex, or sex in general. While there's a growing discussion about such topics in films and shows, it's still refreshing when we find content that manages to bring the entire family together. From the trailer, it's quite evident that this is one of those films.
Set to release on January 20, the comedy-drama is directed by Tejas Deoskar. The Zee5 film stars Rakul Preet Singh, Sumeet Vyas, Satish Kaushik, Dolly Ahluwalia and Rajesh Tailang in pivotal roles. However, the good part is that this story that talks a lot about sexual health of women, is also led by a woman.
We spoke to Rakul Preet Singh about this upcoming educational drama, that is laced with humour.
Sex education and sexual health are hush-hush topics and we're well aware of the state. So, we asked the actress if there was a realization that hit her differently through the filming.
According to her, the numbers and the lack of awareness associated with unsafe sex is something that left her thinking. She also mentioned that we talk about safe sex, but people hardly talk about the ill effects of the lack of it; which is exactly what Chhatriwali focuses on.
"The facts and the surveys that were done were really alarming figures, when I heard the stats. The extremely high number of teenage pregnancies are due to unsafe sex, and we hardly talk about it. So, it's very important to impart right education at the right age."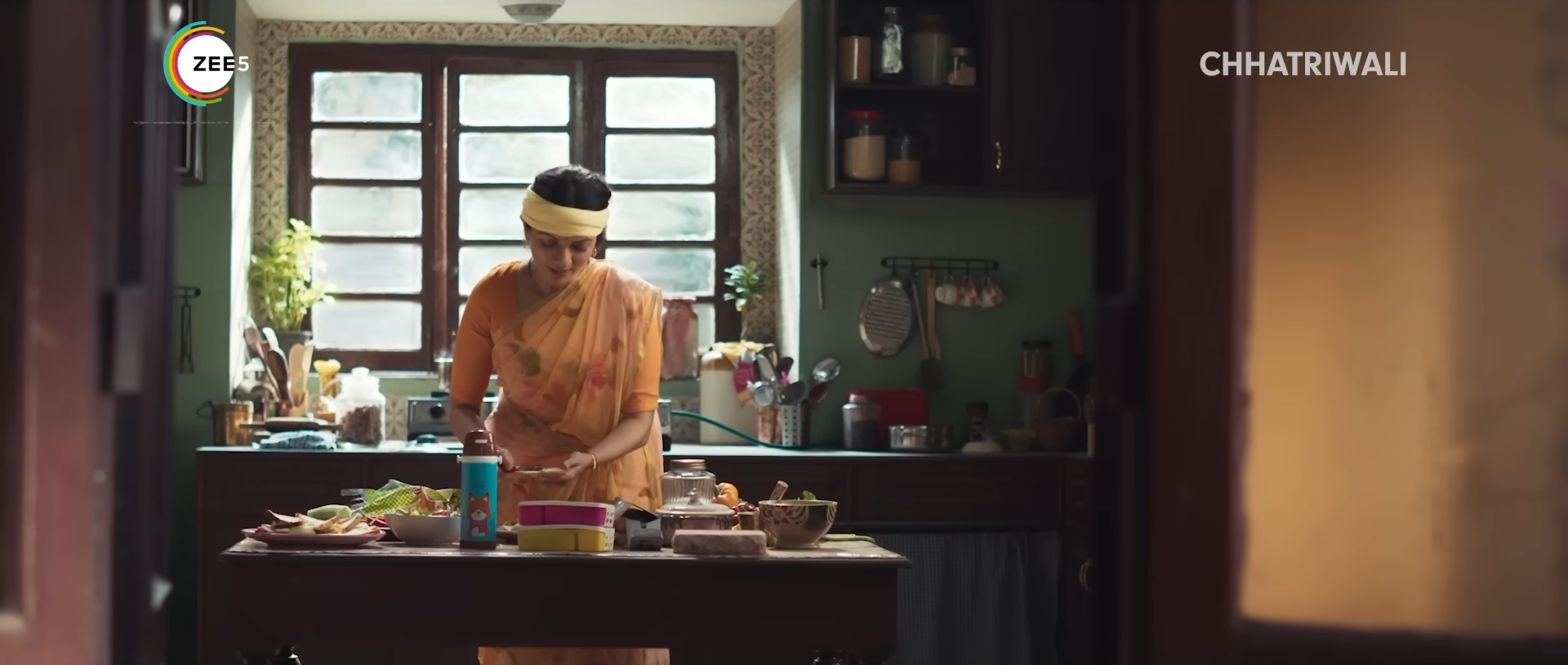 Chhatriwali is a family-drama that focuses on educating people while also entertaining them. We asked Rakul about the need for messaging in a film as an actor.
The actress shared that it's special if films manage to educate people via entertainment. However, she always tries to keep her filmography versatile.
"As an actor my focus is on trying to do entertaining films, and a variety of those. I want to do everything – films that are message-driven and more. But it's rarely that you get a script which has good messaging and is sensitively written, and I think Chhatriwali is one of those."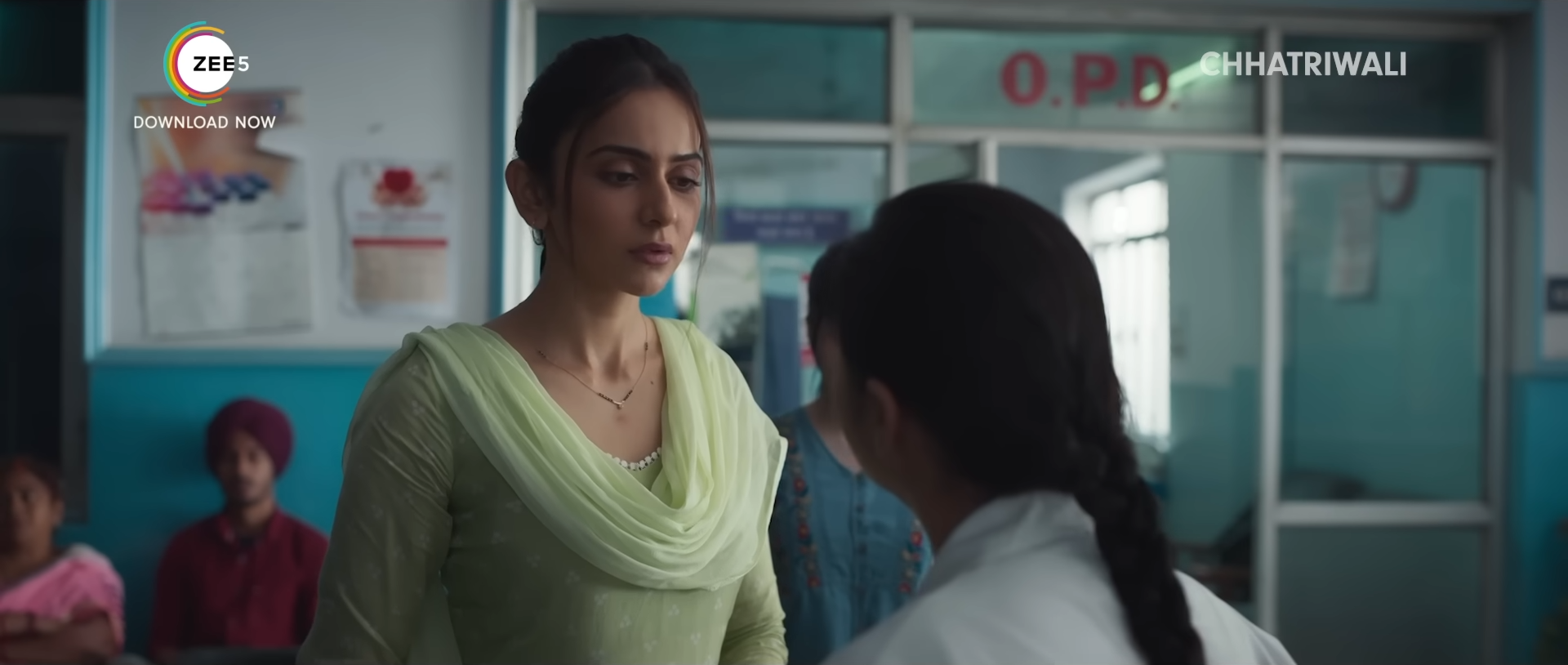 Following up on that, we asked her about the effort associated with keeping the entertainment intact when the film is focused on a sensitive topic.
Rakul Preet Singh believes that most of the credit goes to the story and the people associated with creating that story. They surely focus on entertainment as a foundation, and it is through things and incidents that take place in the film, that make people question the truth.
"The credit goes to the writers and the director, because they're made a script that is entertainment driven. I just had to believe in the subject and be the character."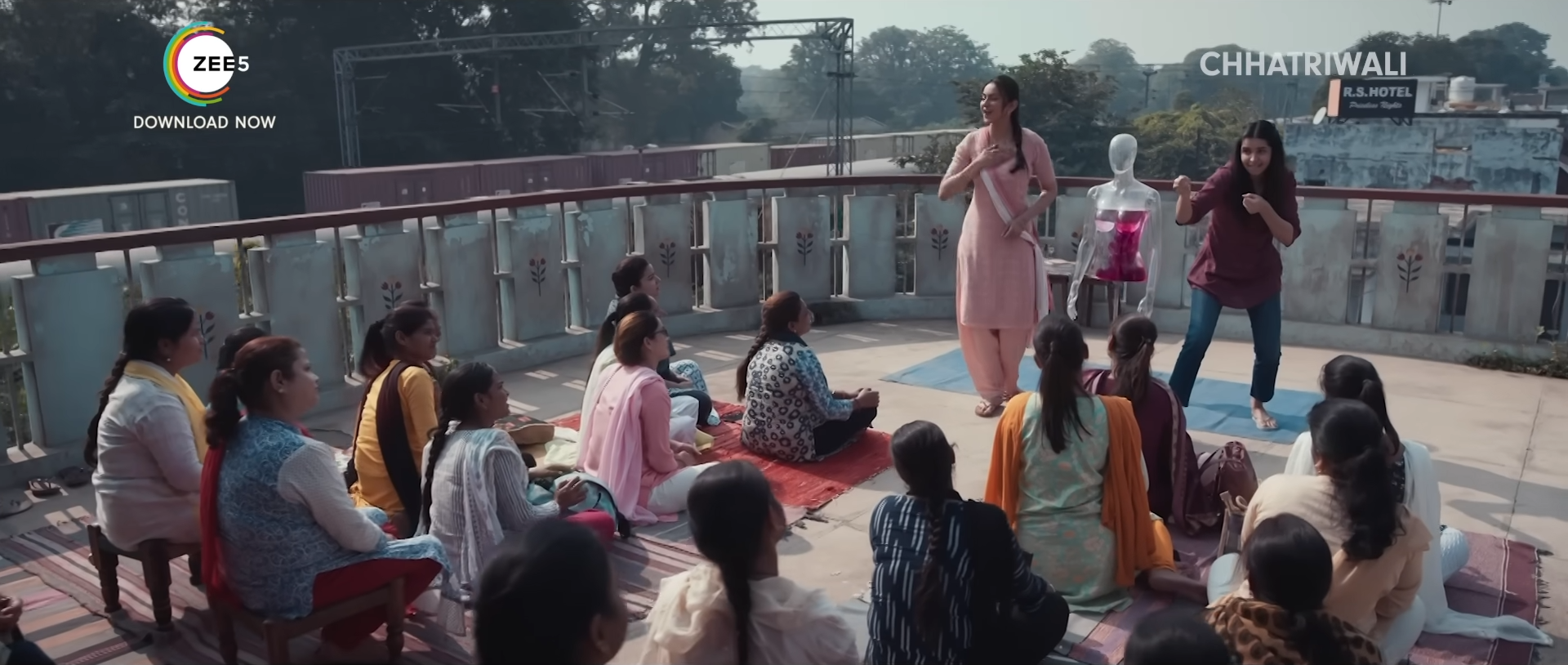 Given that the film revolves around an important topic and an even more important discussion. So, Rakul Preet Singh talked about her takeaway from the film and her character.
She believes that Chhatriwali's theme is one of the most important, yet simple discussions that should exist. It shouldn't be treated as something sensitive, which is what she learned through this film.
"It's the truth of our existence. If we can call the heart, a heart – why can't we call the uterus, a uterus? I feel that my biggest takeaway is that the more normal we treat it, the more normal it will become."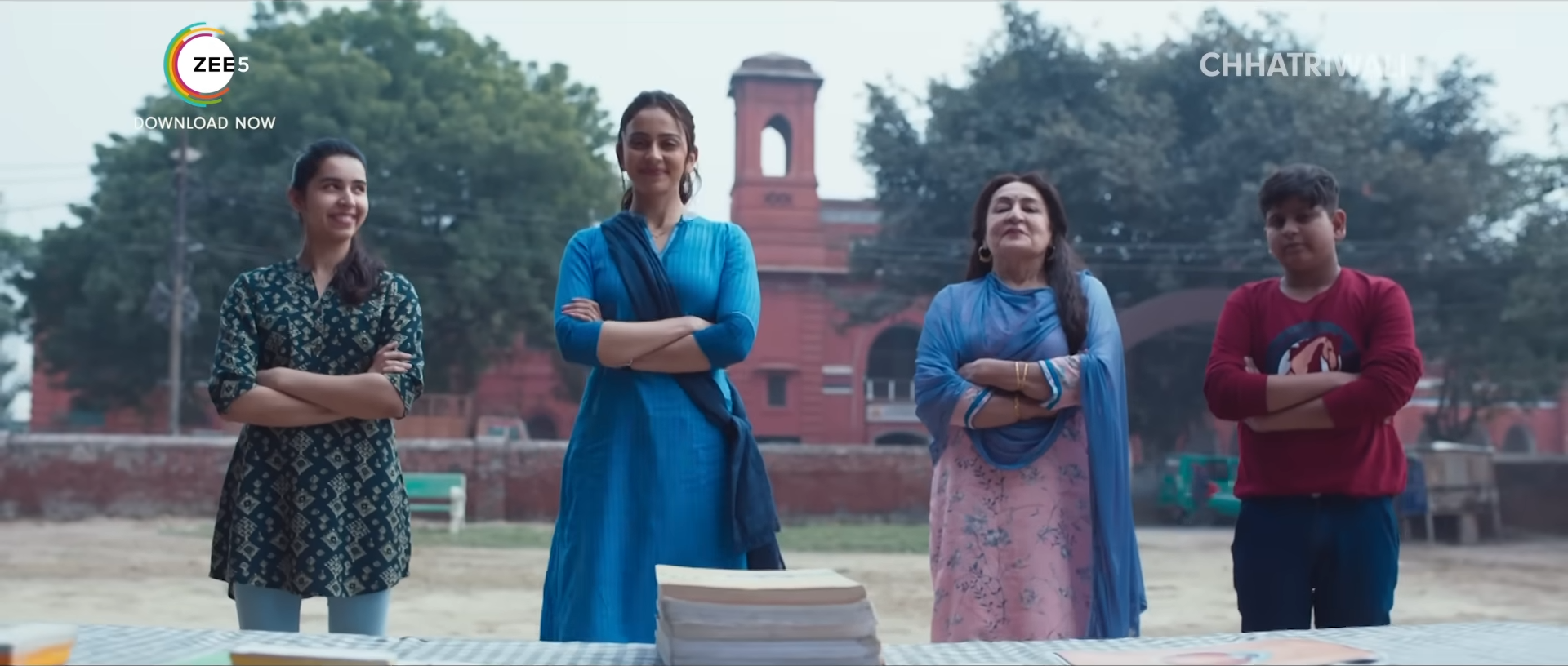 Chhatriwali is about educating people of all age groups about safe sex, and sexual health. The actress also shared her pet-peeve associated with films or discussions that focus on sexual health.
She mentioned that people often associate sex education or talking about sex as something funny. Or if not, they think that it circles back to a joke, which is quite disturbing.
"My pet-peeve is, don't gag about it. We're telling you about facts and science, so we should not make jokes when a sensitive topic is being handled. Keep it entertaining, but don't make it sleazy because then it takes away from the importance of the subject."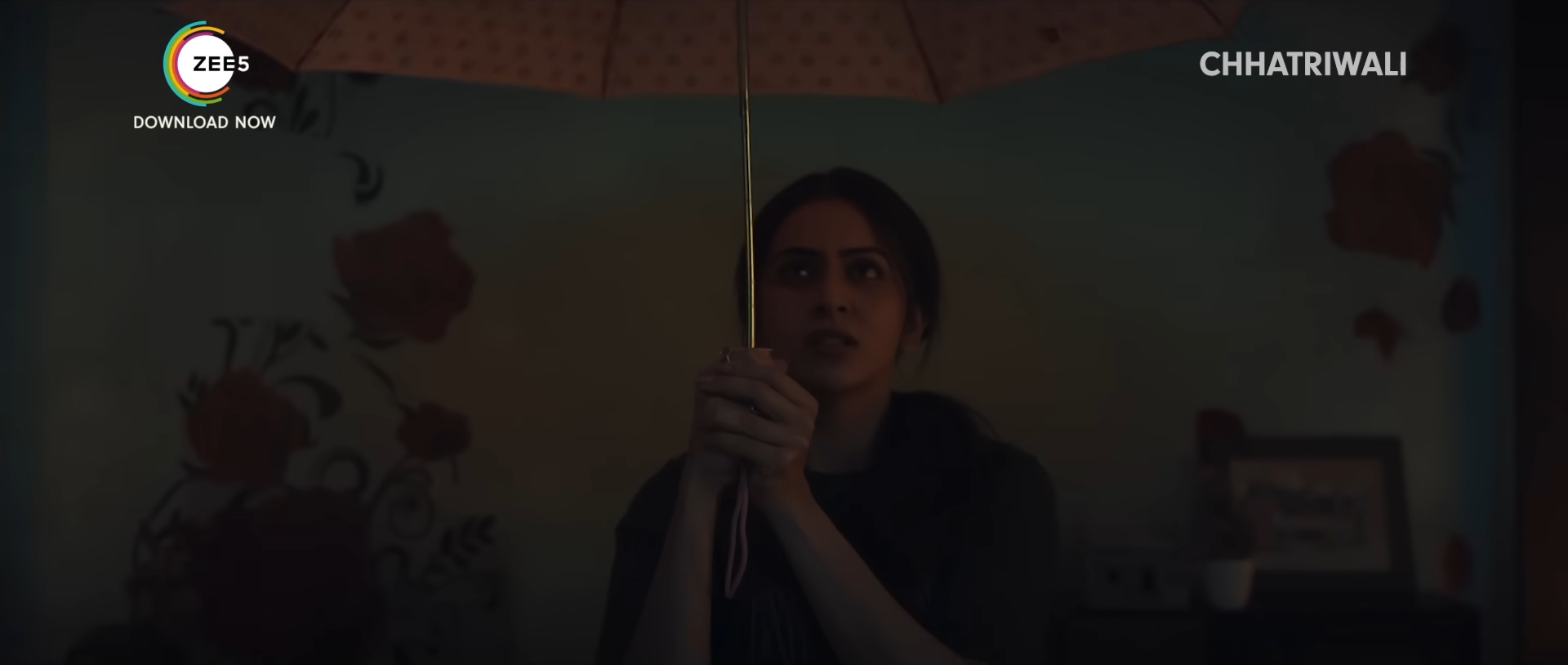 From the looks of the trailer, Rakul Preet Singh's character seems like a force who wants to bring change. The actress opened up about this role, and described her character for audiences.
The actress clearly enjoyed playing this character, which was evident in how she described her. According to Rakul Preet Singh, Sanya (her character in Chhatriwali) is firm and empathetic, while also being stubborn because that's how you bring change. And well, it does feel good to watch a woman lead the discussion that surrounds a lot around women in general.
"I think she's a very headstrong person. Sanya is a small-town woman who also, due to certain circumstances, realizes that it's important to bring it (sex education) up, and then takes it as a challenge."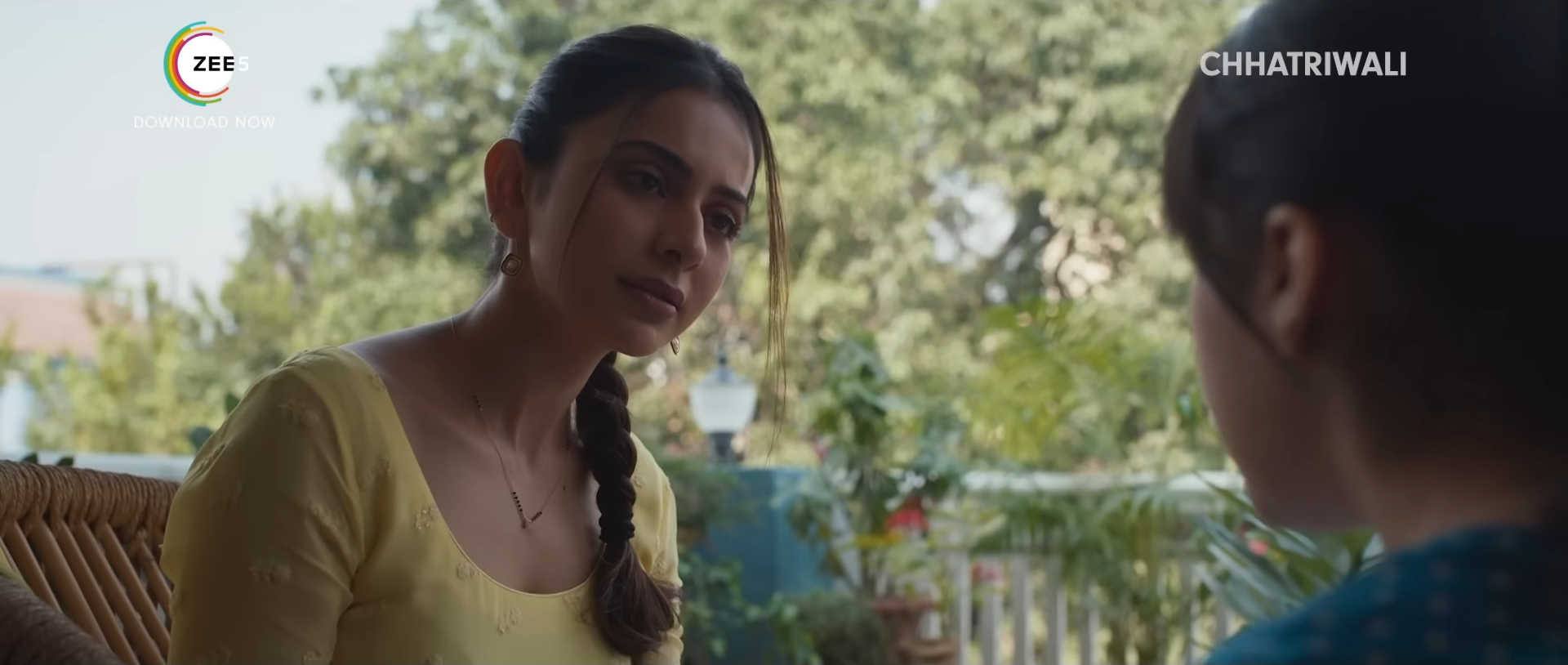 We asked her about a message that she'd like to send out to people who might find it awkward to watch the film with their family, or who are awkward to talk about sex education at all.
Adding about the importance and the need to open up about sexual health, the actress shared that she hopes more and more people get to understand why it's normal to talk about it. She mentioned that they aim to change people's mindsets while making it a healthy conversation.
"My question is – that we're all born the same way, so why should it be awkward at all? Our tagline says 'optional nahi compulsory hai', so when we do not have an option for it in life, why should the education of it be optional?
All images are screenshots from the trailer, unless specified otherwise.