Age gaps between love interests have been a major topic of discussion for the Indian audience. We've been seeing many people call out the much-older-male-lead dynamic in Bollywood. And now, it seems, people are calling it out in our TV industry as well. A Reddit user has asked why young women leads are cast next to men in their 30s?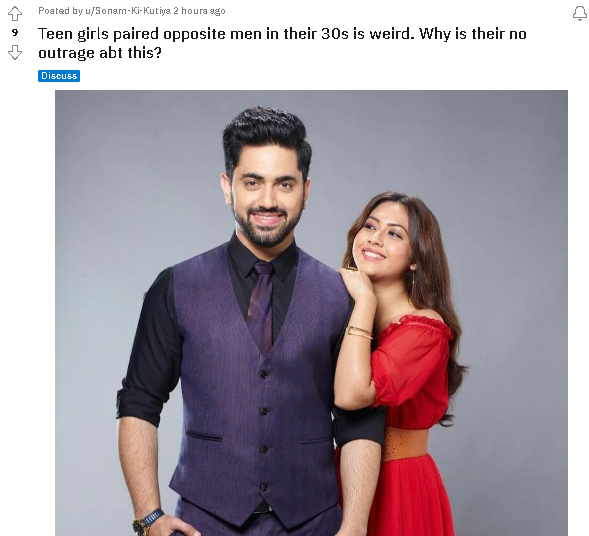 Unfortunately, some people took this as an opportunity to point fingers at the lead woman of the show in the image of the post; Reem Sameer Shaikh.

People in the comments section are blaming her for being too enthusiastic and eager as an actor. Reem began her acting career in childhood, so it makes sense for people to be concerned about the things she's been exposed to and how well she was protected from the industry as a kid. BUT, shaming her for agreeing to star opposite to older co-stars is bizarre.
Here are all the comments people left on this post, some have spoken about obvious sexism of the situation, while others have sadly blamed Reem.





Here afieldofdaffodils51 has said that in her older interviews, Reem had talked about being open to doing intimate scenes, and that the photoshoots she did as a teenager seemed inappropriate.
But it seems unfair to shame someone for the decisions they made when they were a child. Especially because, many of them were probably influenced by the adults in her life!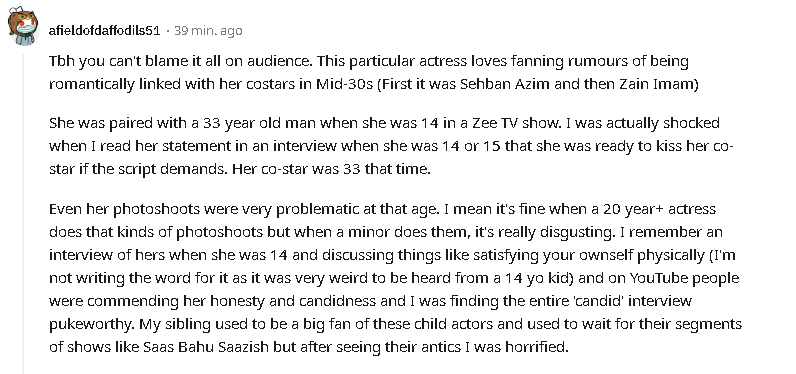 It's strange how Reem Shaikh is being blamed for being paired with older men. Are we forgetting that women are hardly allowed the space to voice their discomfort in their own families, let alone the professional world? And why do we assume that most women invite problems into their lives, rather than taking a hard look at the role patriarchy and misogyny play in causing those problems?