Salman Khan has never done anything wrong in his life. His driver ran over the people sleeping on the footpath, Aishwarya Rai confused his love for abuse, his rape analogy for grueling training sessions was misunderstood, and the blackbuck he allegedly 'killed' died of natural causes. You read that right. In a Jodhpur court, during a hearing about the blackbuck poaching case, the actor alleged that the blackbuck had a natural death, according to The Times of India.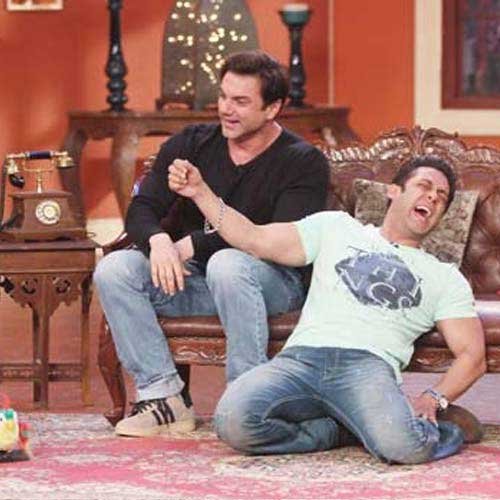 Going by bhai's track record, you have to believe him. He's never done anything wrong, except for maybe harassing an ex-girlfriend, killing a person, killing an endangered animal, and making braindead films like Kick and Hello Brother. But he runs a foundation called Being Human, so obviously he's an innocent snowflake. We believe him, so we're taking his excuse – sorry, explanation – one step forward, and trying to determine what natural cause could have killed that blackbuck. Here are our best guesses:
The blackbuck saw Salman's bullet coming, and died of a heart attack.
Salman's parkhi nazar caught that in the split second it took the bullet to hit the already-dead blackbuck.
The blackbuck committed suicide after watching the shooting of Hum Saath Saath Hain.
Perhaps it was the sanskaar of the film, or the songs, but the blackbuck couldn't bear to live in a world where that movie existed.
The blackbuck was singing the 'ABCDEFGHI' song from Hum Saath Saath Hain and lost its breath.
I mean, that song is crazy long. Anyone can die of breathlessness from it. 
The blackbuck got starstruck. 
Salman Khan, the superstar, is enough to leave anyone starstruck, and he was accompanied by legends such as Neelam and Sonali Bendre. Of course the blackbuck got starstruck and forgot to breathe. 
The blackbuck died for Salman Khan's sins. 
It's as if the blackbuck knew that, four years later, Salman – sorry, Salman's driver – would kill a person, and wanted to absolve him of it. 
The blackbuck was at fault.
Salman was just learning how to shoot. It's not his fault the blackbuck came in the way. 
The blackbuck was out after dark.
We all know what happens to anyone who is not a man if they decide to go out after dark. The blackbuck shouldn't have been so adventurous. No wonder it died. 
The blackbuck was old.
The fact that Salman would visit the blackbuck on its deathbed just cements the fact that he's the best human being in this entire universe. 
Feature image designed by: Puneet Gaur