Pregnancy makes you glow, it gives you the aura of the life-giving goddess that you are. But let's be honest. Those of us who have been through a pregnancy know full well what the price of motherhood is. It is, to say the least, a nine-month struggle that ends with excruciating pain. Umm y'know… And a beautiful baby, but we're not focusing on that right now.
Norwegian illustrator animator and mother of two, Line Severinsen has created a series of webcomics – Kos og Kaos, Cuddles and Chaos in English – that bring out the humour in all the labour before the labour.
1. When you drop something on the floor and walk away muttering "F**k it."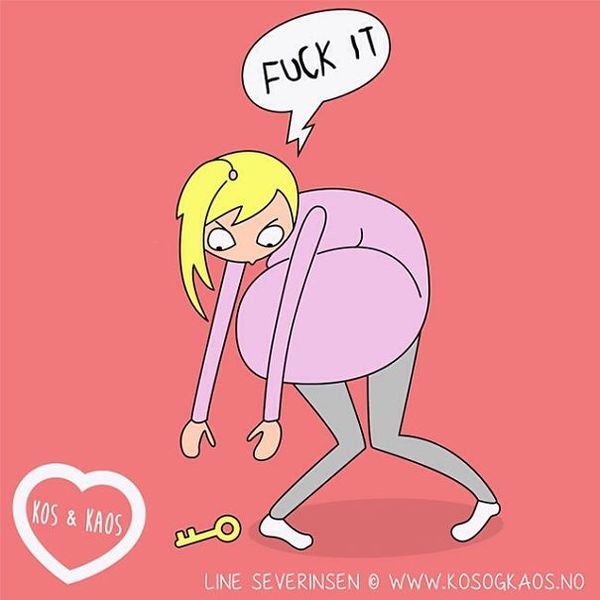 2. You can barely see the lower half of your body, let alone groom it.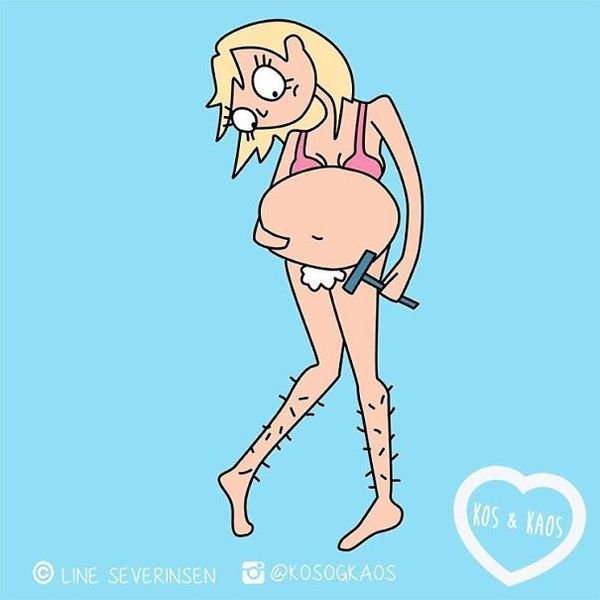 3. Everyone around you makes a sport of rubbing your belly.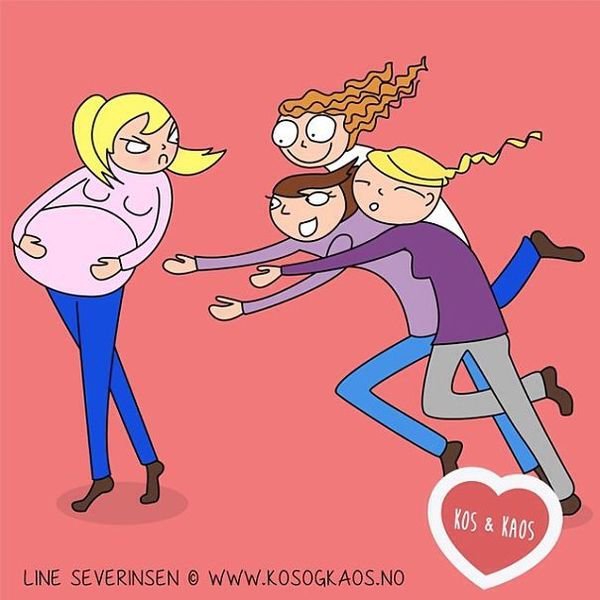 4. Lying on your back just makes you feel like a cow waiting to roll off the bed.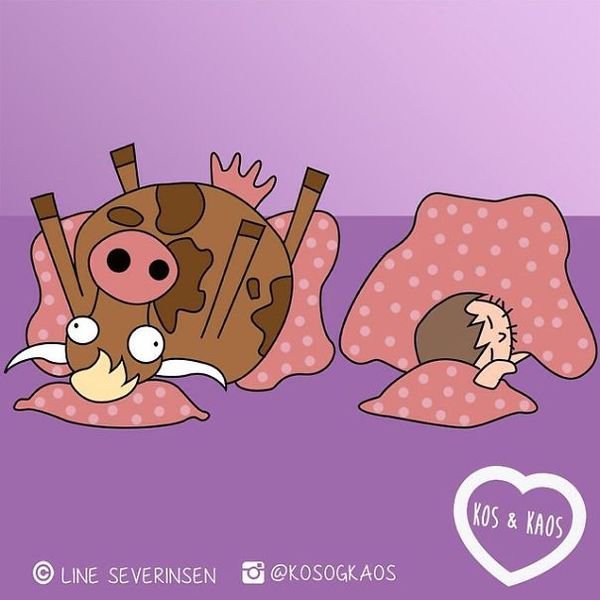 5. And sex soon turns into his greatest fear.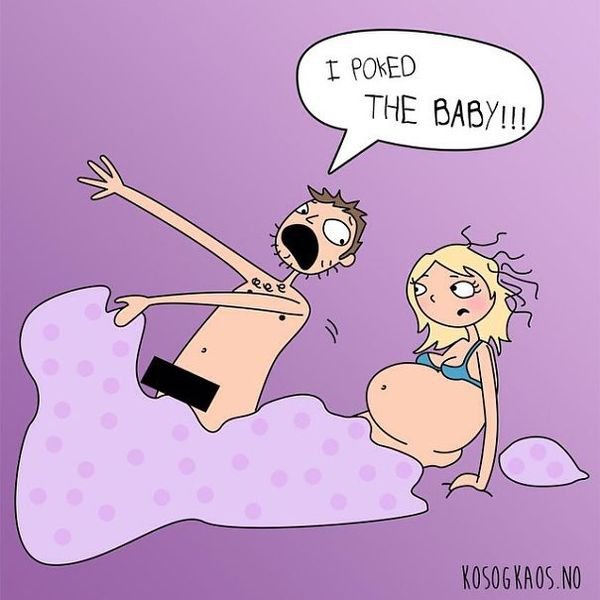 6. Stretch marks become so commonplace that you learn to own them like a boss.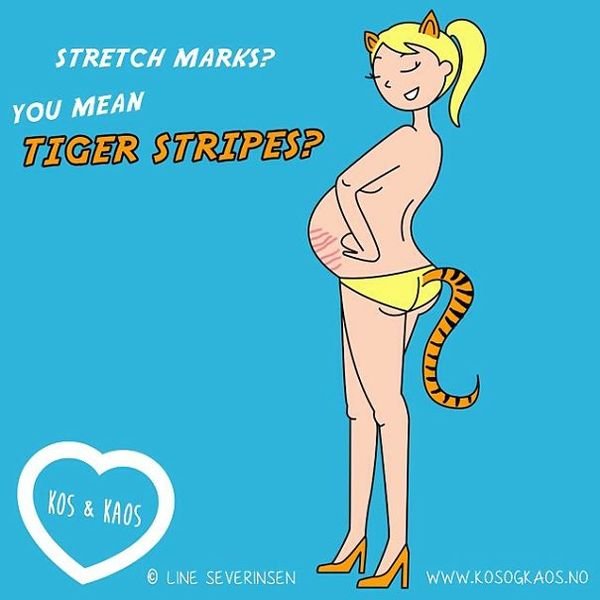 7. Your daily workout involves dashing to the bathroom 'cause the baby seems to think of your bladder as a squeeze toy.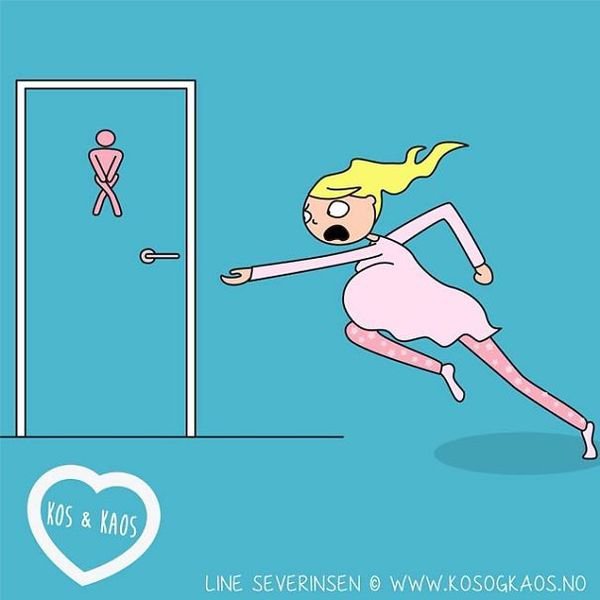 8. And all that kicking will make you wonder what martial art the foetus is practising in there.
9. Reaching down, be it to tie your shoes or for an itchy toe, is just something you learn to forego. Time for slip-ons.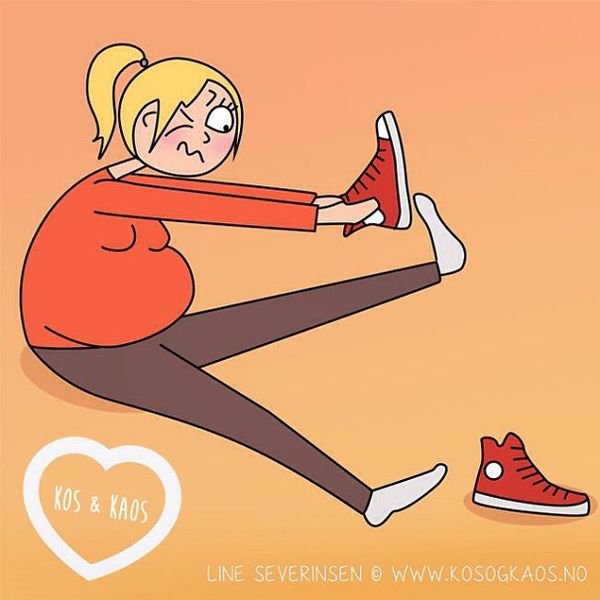 10. The time for baby names is the time for everyone's precious opinion on what a Natasha or a Tony "grows up to be like."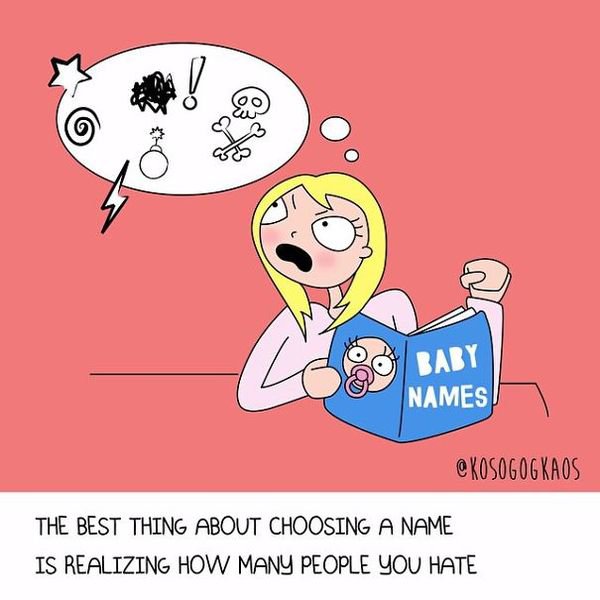 11. And you finally understand the true meaning of craving something. If you don't see that chocolate soon enough, it's all "release the Kraken."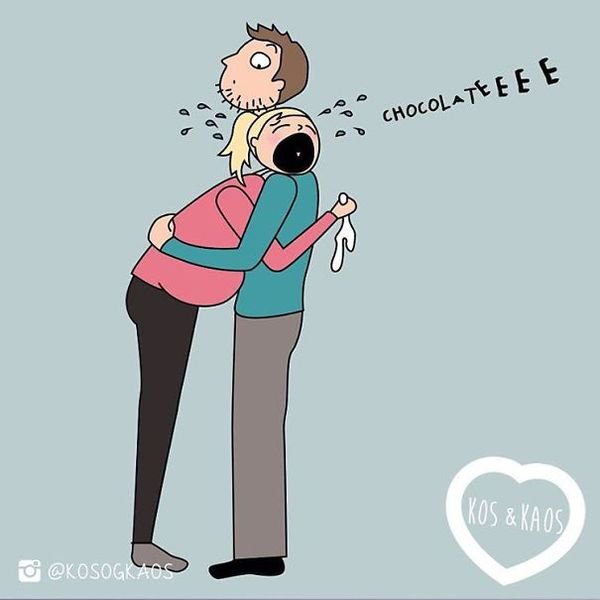 12. You discover that sympathy pregnancies are a real thing. Your hot-piece-of-ass husband slowly joins you in cow-ville.
13. "Twice the nutrition, not twice the calories" they say. Do I look like a f**king superhero?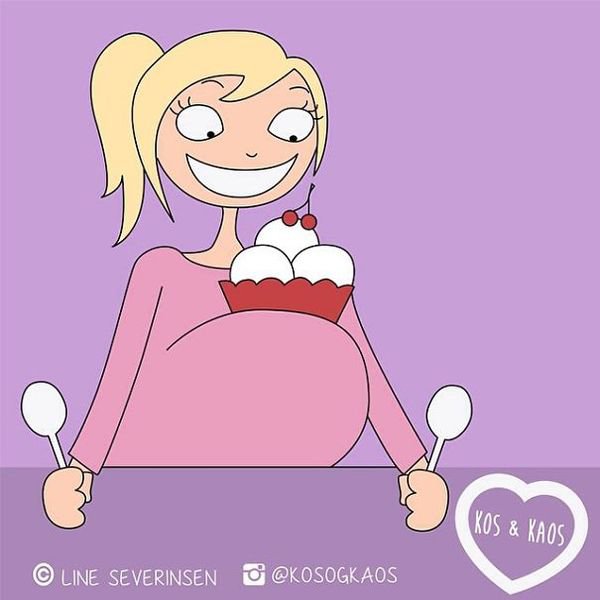 14. It's like having a non-existent pea under your mattress. Just can't seem to get comfortable, can you Princess?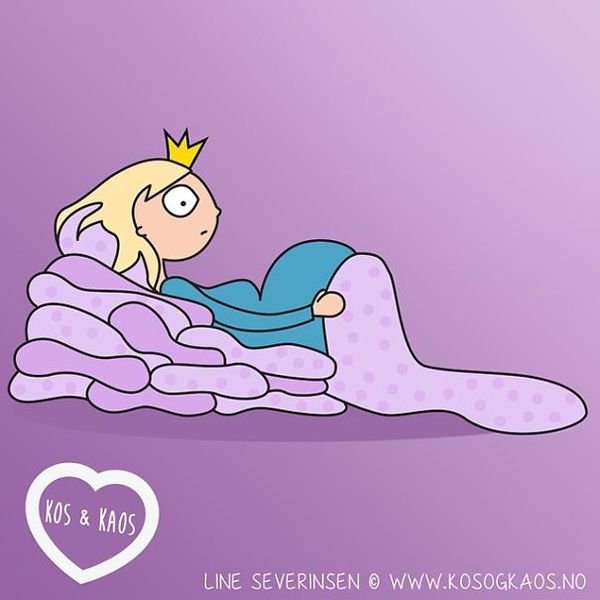 15. Worst fear: Water breaking in public. Imagine the horror.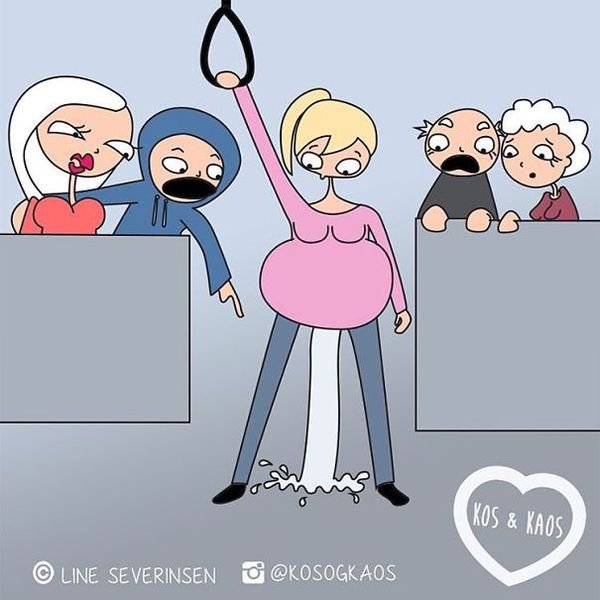 16. And wishing everyone you meet could take a class in 'What not to say to a pregnant woman."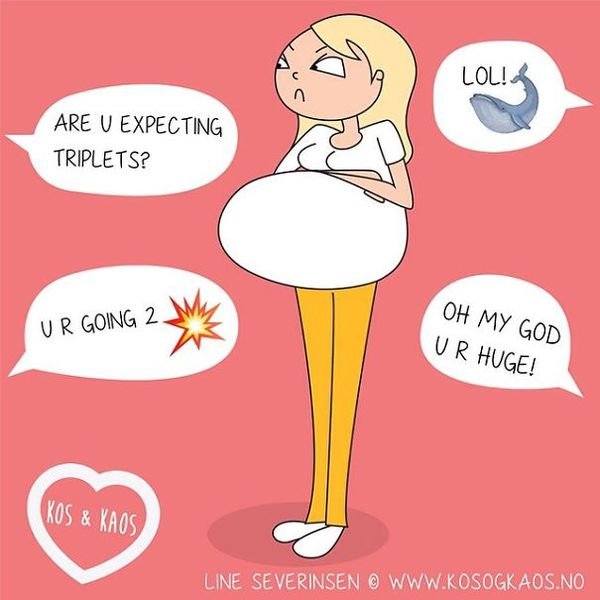 17. You get so swollen everywhere that you start to feel like the Pillsbury Dough Boy.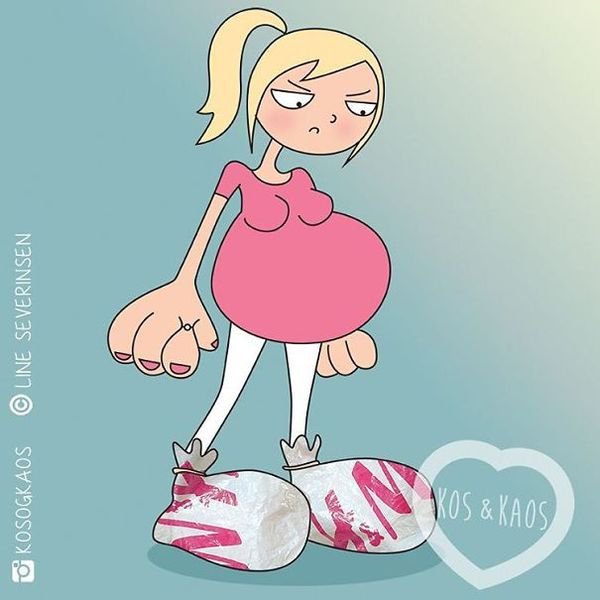 18. Nine months without alcohol. Birthdays, anniversaries, weddings suddenly become significantly less bearable.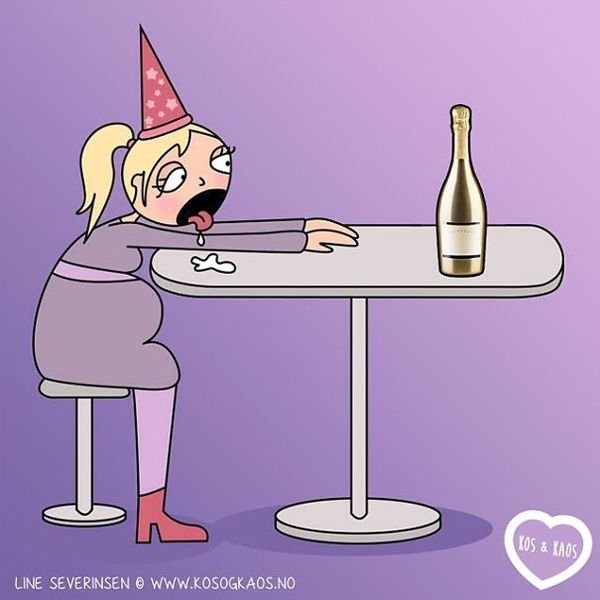 19. Sheer horror bringing you to tears as you watch birthing videos to prepare yourself.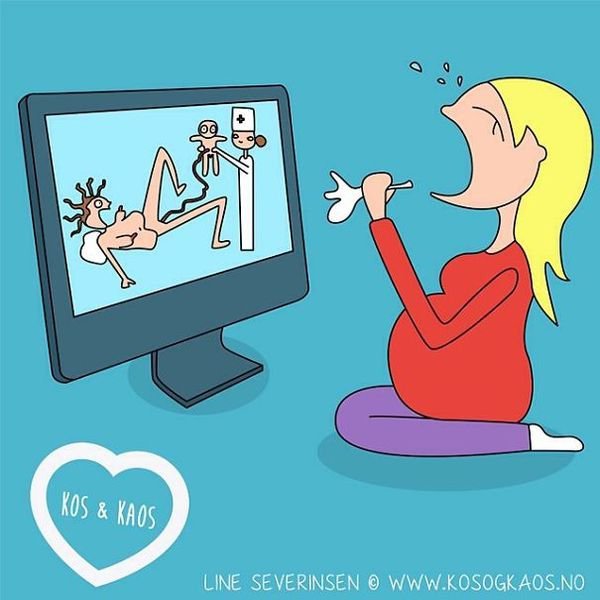 20. You'll never know why the nurses show first-time dads the placenta. Maybe to put the fear of God and pregnant women in them.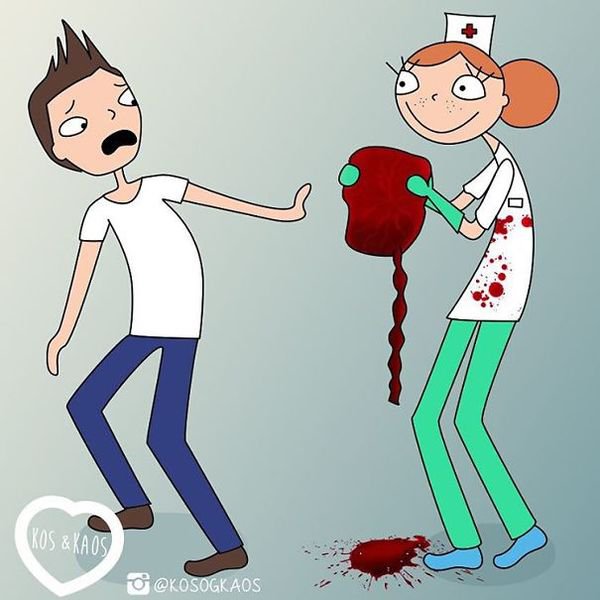 21. And don't you just love those darling pregnancy hormones that make you feel like the glowing life-giving embodiment of femininity that you are. NOT.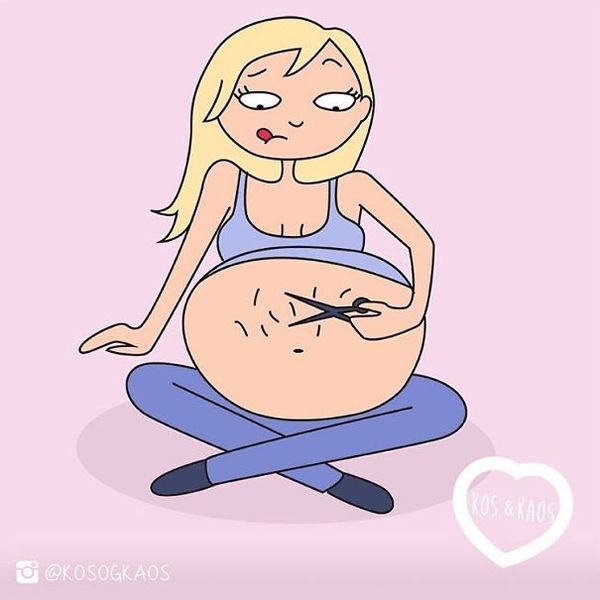 22. And the brutal pregnancy cramps in the middle of the night don't make it all any easier.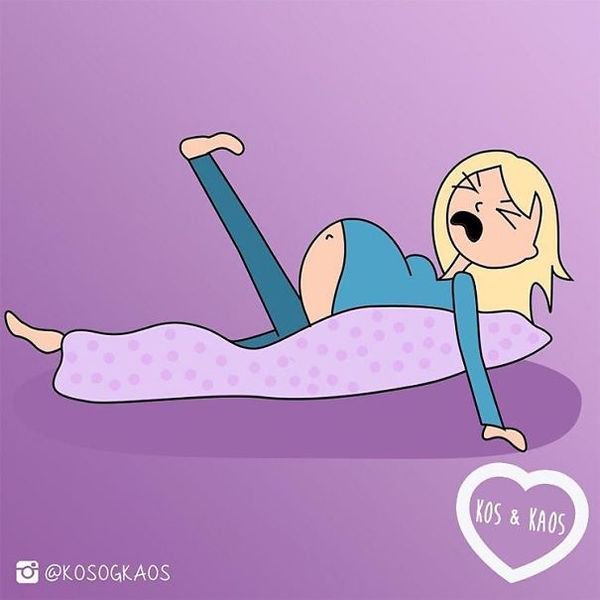 23. You learn to accept that your beach-bod dreams need to wait for now.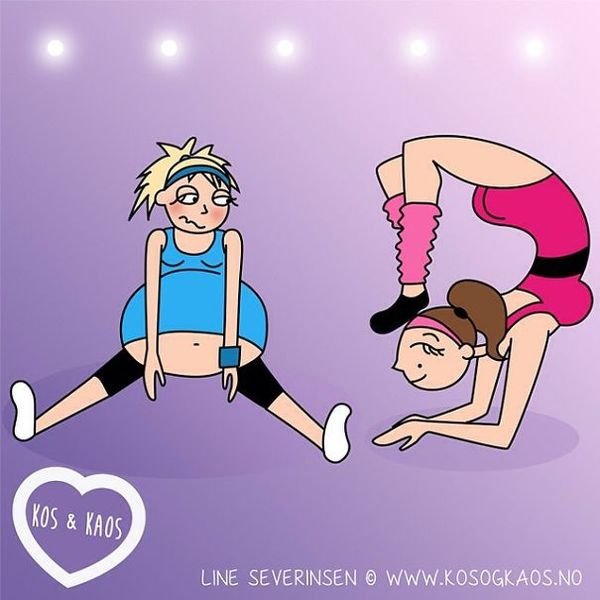 24. And once you find out about placenta praevia – the possibility of the placenta blocking the baby's neck – you can't help but feel like a ticking time bomb.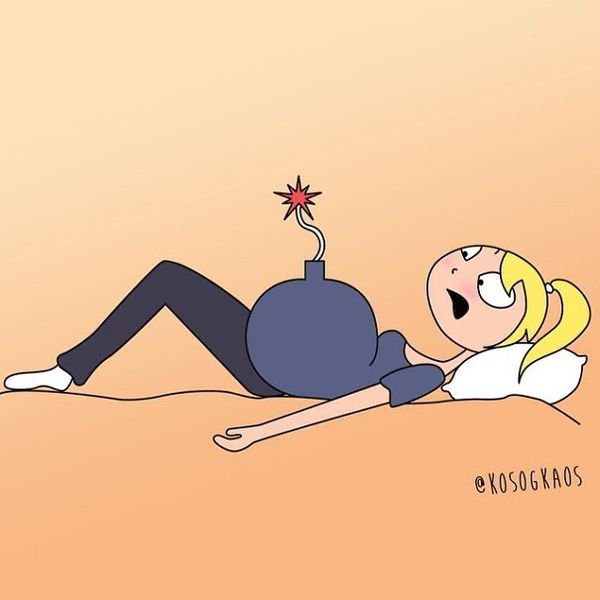 But all said and done, the chaos does make way for a lifetime of cuddles. And begrudgingly we admit that it's worth it… What do you say, mothers?