Time and again, some Brit journalist passes an overwhelmingly obnoxious statement in complete ignorance of their not-so-great history, still thinking they are the centre of the world, and we get shocked at the audacity. This time, it is Patrick Christy, a presenter at GB News, a British news television channel.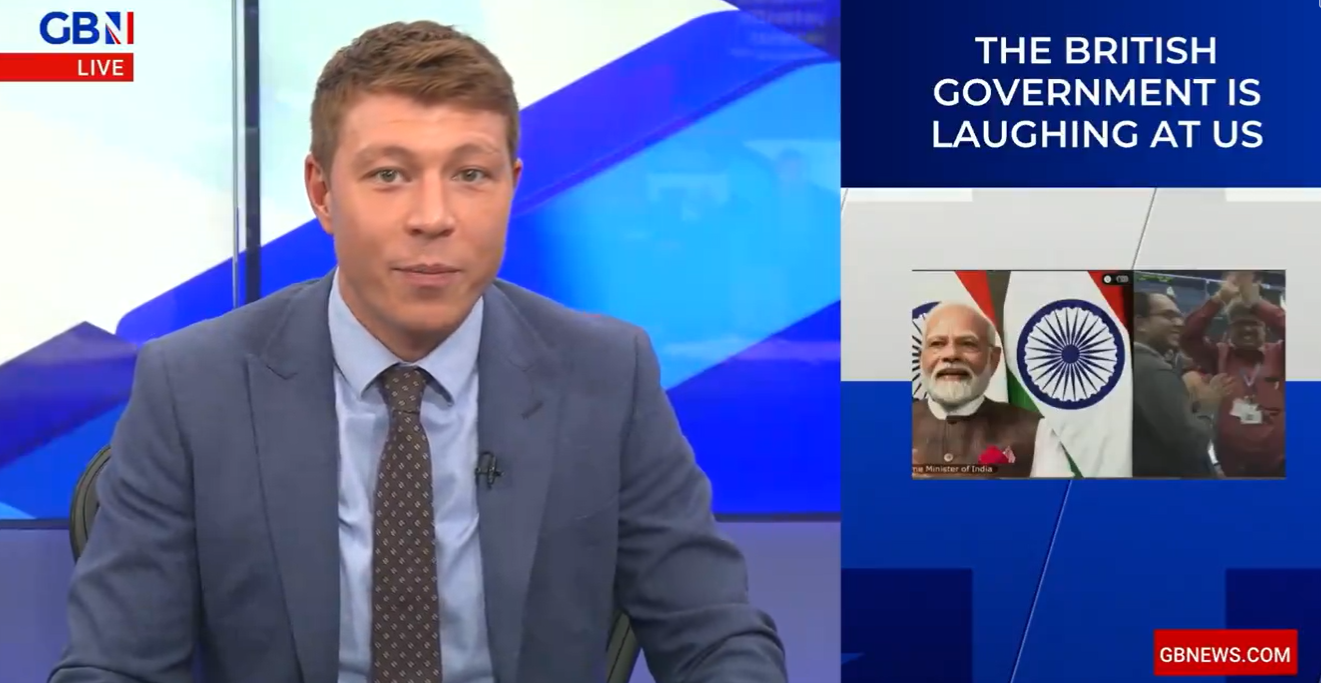 As the world is congratulating ISRO for pulling off a successful soft landing near the Moon's south pole region as part of the Chandrayaan-3 mission and India for becoming the first nation ever to do so, Christy is out there asking our country to return their £2.3 billion pounds (almost ₹24,000 crores).
Take a look at the clip shared by the channel on their official social media handle:
"I would like to congratulate India for landing on the dark side of the Moon. I would also like to now invite India to return the £2.3 billion pounds of foreign aid money that we sent them between 2016 and 2021. We are also set to give them £57 million pounds next year but I think the British taxpayer should keep hold of that, don't you?" he said as he went on to ramble about how they should stop giving foreign aid to countries with space programs or any country for that matter, deeming it as a foreign aid wastage.
"If you can afford to fire a rocket to the dark side of the moon, you shouldn't be coming to us with your hand out", he said as he went on to make comments about our economy.
It was not just him, several other Brit journos whined about the said foreign aid to India.
Naturally, Indians were quick to call out their misinformed opinion and clarify that much of their 'foreign aid' is in fact an investment in India. In 2012, India's then finance minister, Pranab Mukherjee, famously called Britain's annual £280 million (₹2,798 crore) aid to India as 'peanuts', TOI reported. Many British critics got offended at the time and questioned why Britain was giving aid to a country that funds its own space program. Eventually, in 2015, the UK's Department for International Development (DFID) ceased direct financial aid to the Indian Government.
Earlier this year, the Independent Commission for Aid Impact (ICAI) studied the UK's aid to India, and revealed that "around £2.3 billion in UK aid went to India between 2016 and 2021, including £441 million in bilateral aid, £129 million in investments via Foreign, Commonwealth and Development Office (FCDO) in Indian enterprises which generate returns, £749 through multilateral channels, and £1 billion in investments through BII."
In March 2023, a report by The Guardian quoted a UK Foreign Office spokesperson saying, "Since 2015 the UK has given no financial aid to the government of India. Most of our funding now is focused on business investments which help create new markets and jobs for the UK, as well as India. UK investments are also helping tackle shared challenges such as climate change."
And while we are talking about this, it'd be a good time to remember how the British essentially stole $45 trillion from India.
Pissed and amused at the audacity, here's how desis responded:
'Staying DELULU is NOT the SOLULU'.
Also Read: This Old BBC Interview About India's Moon Mission Has Desis Fuming & Replying With Max-Sass