Poor KRK! Badi mushkil se he'd found one job. Of becoming a film critic (ahem!) & reviewing films. But now, thanks to Ashutosh from Aam Aadmi Party, he's feeling extremely insecure. Why? Because like Arvind Kejriwal, Ashutosh seems to have found a new hobby.
Reviewing latest films.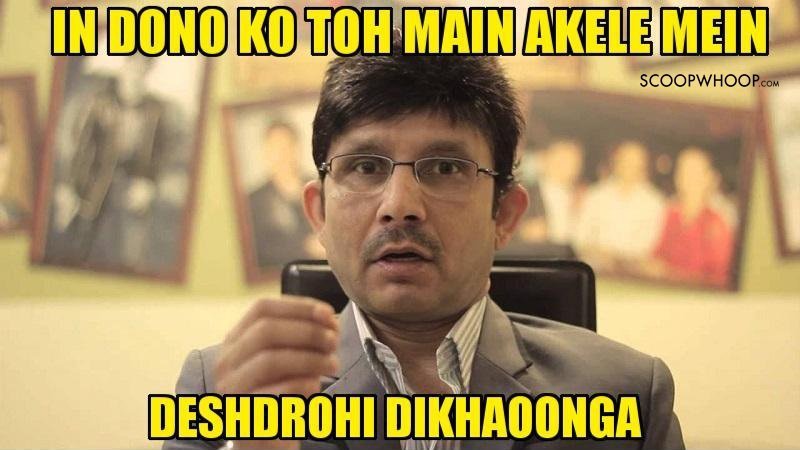 Now the world might not give a fuck about them, but KRK takes his movie reviews very seriously.
Which is why, he went bat shit crazy when Aam Aadmi Party's Ashutosh dared to venture in his territory.
By analyzing Ram Leela Bhansali's Bajirao-Mastani.
Unlike Mastani,Mughal-a-Azam has great shot construction,smooth story telling,Logical narration,great acting,No self obsession.

— ashutosh (@ashutosh83B) December 20, 2015
Actually, Ashutosh had been pretty excited to watch Bajirao-Mastani.Like a 5 year old who's going to Disneyland.
So, he was clearly disappointed when the film didn't turn out to be the way he'd expected it to be.Y u do dis, Bhansali?
Bajirao Mastani.Disappointed.Bhansali lacks ideas.Mixed Devdas and RamLeela,Film is ready.Tried to be K Asif.Cont…

— ashutosh (@ashutosh83B) December 20, 2015
But little did Ashutosh know that voicing his opinion on Twitter, would incur the wrath of the one and only KRK.Who, by the way, was quick enough to remind him that he's India's number one critic (read: vella).
'But why did he bring poor Kejriwal into all this?' you ask. Well, because if you remember, Mr. Arvind has a penchant for reviewing films as well.That's right folks. When he's not sitting on a dharna, he's sitting inside a cinema hall.
Just saw Masaan. Excellent movie. A must watch

— Arvind Kejriwal (@ArvindKejriwal) July 25, 2015
Watched "Drishyam". A must watch.

— Arvind Kejriwal (@ArvindKejriwal) August 3, 2015
Of course, KRK was prompt enough to troll Arvind Kejriwal as well.
What's is this Ashutosh and Arvind Kejriwal? Kyun ek gareeb aadmi ke pet pe laat maar rahe ho?