Kangana Ranaut has been controversy's favorite child for quite some time now. The controversies might be all over the internet but the actress has never gone into a shell and hid from it all. In fact, she has faced it all with her head held high! 
In a recent interview with Rajat Sharma in Aap ki Adalat, Kangana discussed her life like never before. 
She spoke about her struggling days and her stubbornness to make an identity for herself. She also discussed the time when she had an affair with Aditya Pancholi and how it was the police who saved from the physical abuse that she had to face. 
Kangana also discussed her relationship with Hrithik Roshan and did not spare any detail. Be it the nepotism debate or her upcoming films, Kangana bared it all in this interview.
Here are some excerpts:
On Hrithik Roshan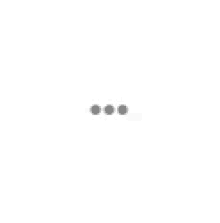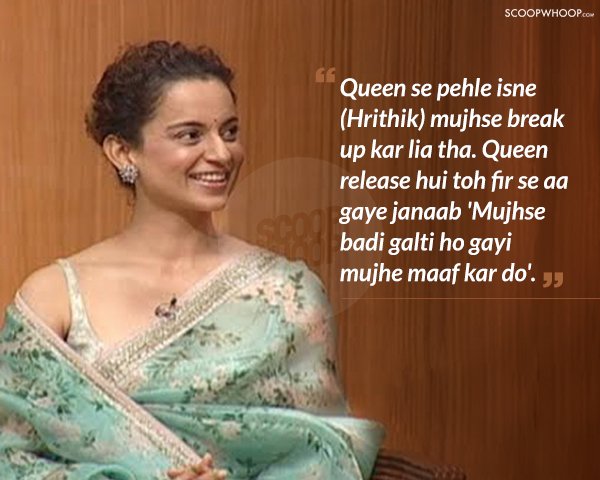 (Translation: He broke up with me before Queen released. But after the release he came back and apologised.)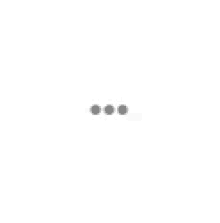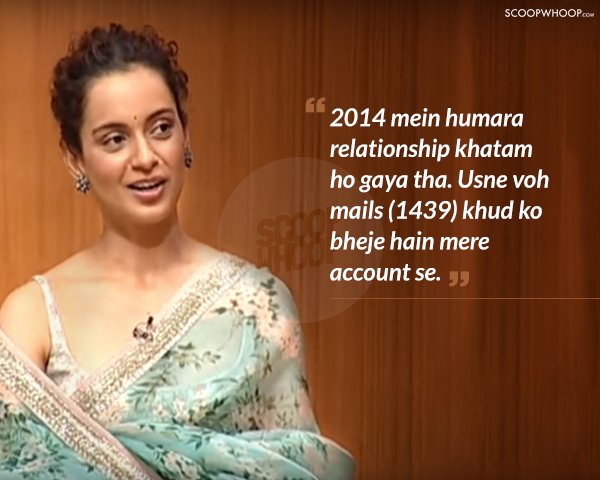 (Translation: We broke up in 2014. He sent those (1439) mails to himself from my account.)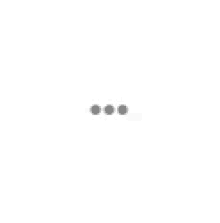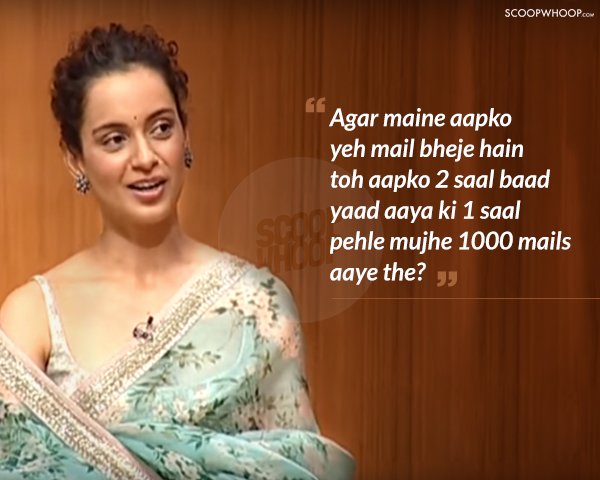 (Translation: If I had sent those mails, it took him 1 year to realise that he got 1000 mails 2 years ago?)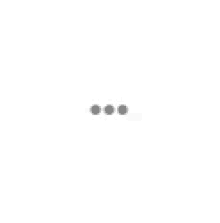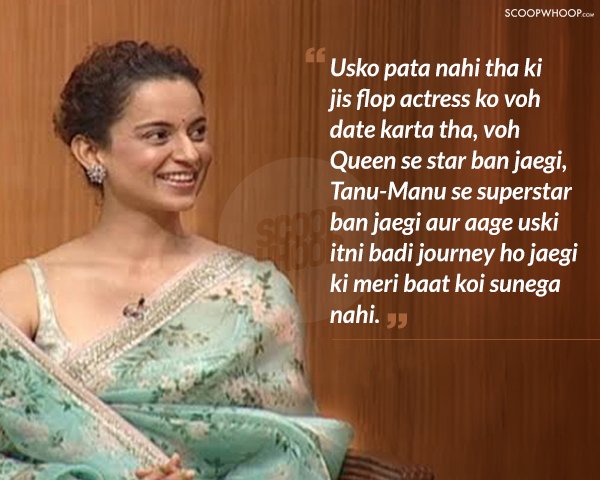 (Translation: He didn't know that the flop actress he was dating would become a star after Queen and a superstar after Tanu-Manu. He didn't realise that she would have a long journey and nobody would listen to him.)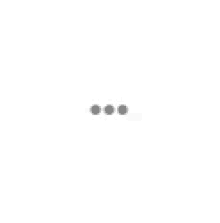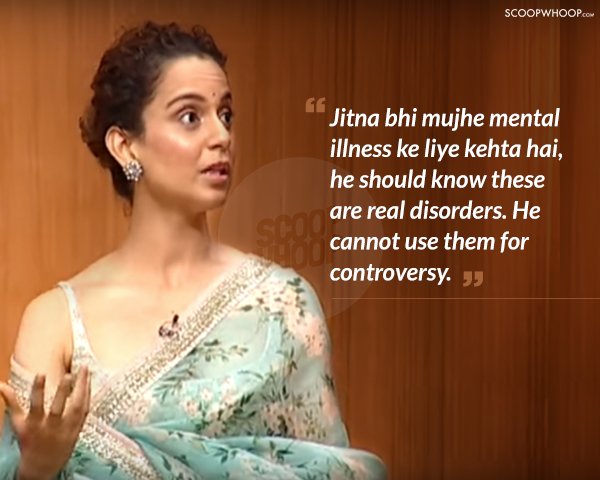 (Translation: He calls me mentally ill but he should realise these are real disorders. He can't use them for controversy.)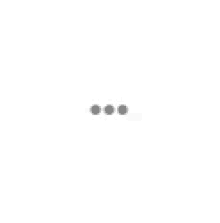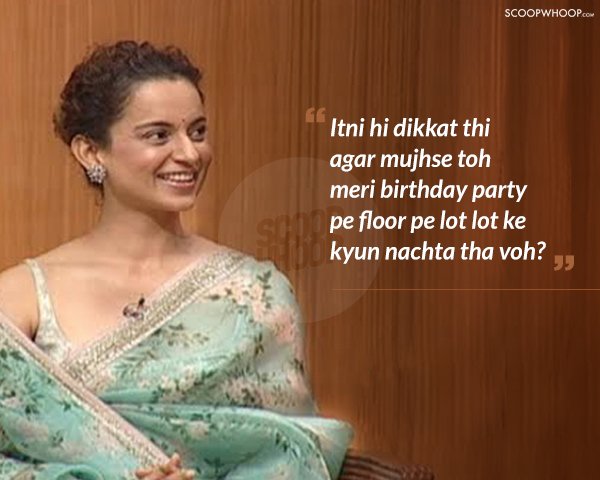 (Translation: If he had so many problems with me, why was he rolling on the floor and dancing at my birthday parties?)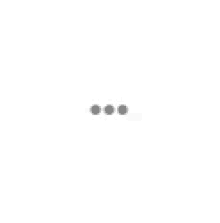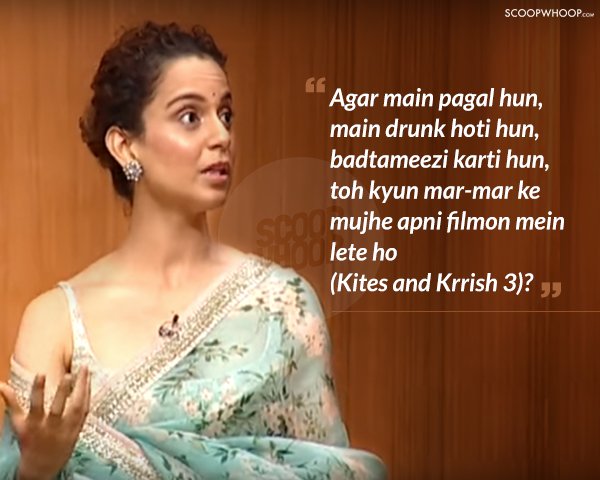 (Translation: If I am mentally ill, drunk and misbehaved, then why do they keep taking me in their films, Kites and Krrish 3?)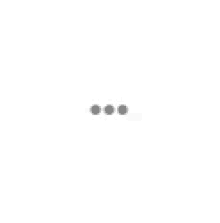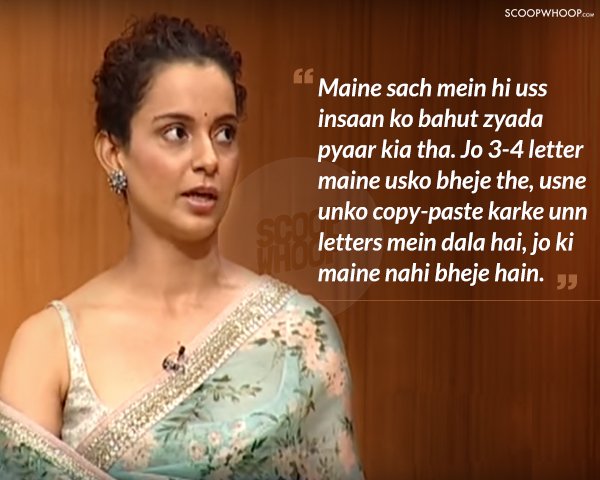 (Translation: I really loved him. The 3-4 letters I wrote to him, he copy pasted content out of it and used them in the mails that I never wrote.)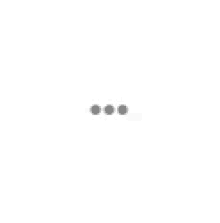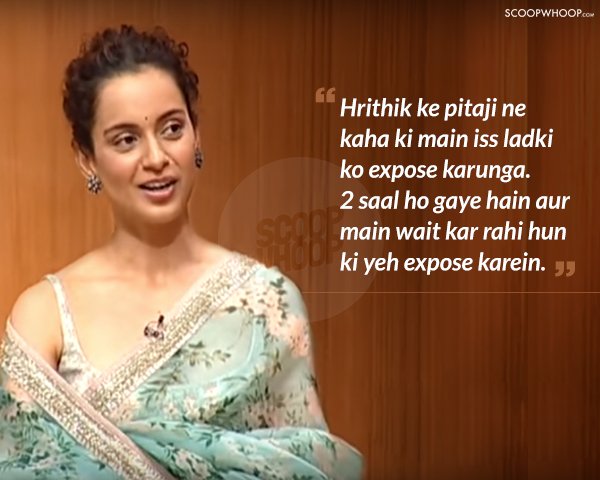 (Translation: Hrithik's father said that he'll expose me. It's been 2 years, I'm still waiting.)
On nepotism: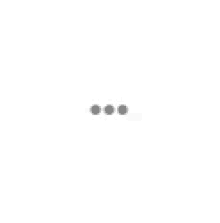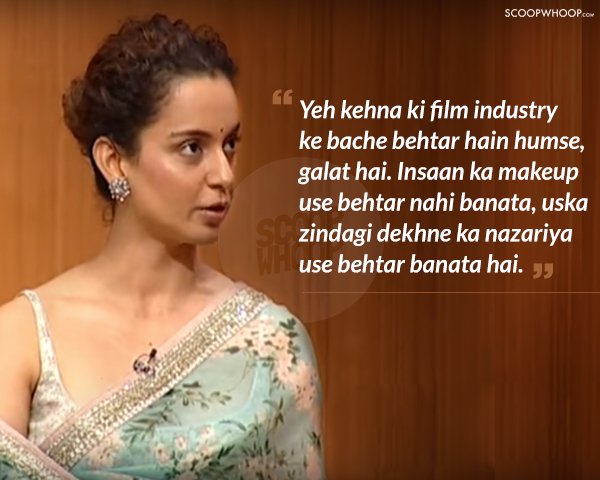 (Translation: Saying that the kids from the film industry are better is wrong. One does not become better by their makeup; one's point of view in life makes them better.)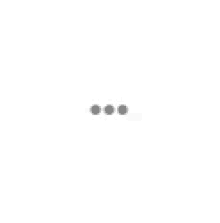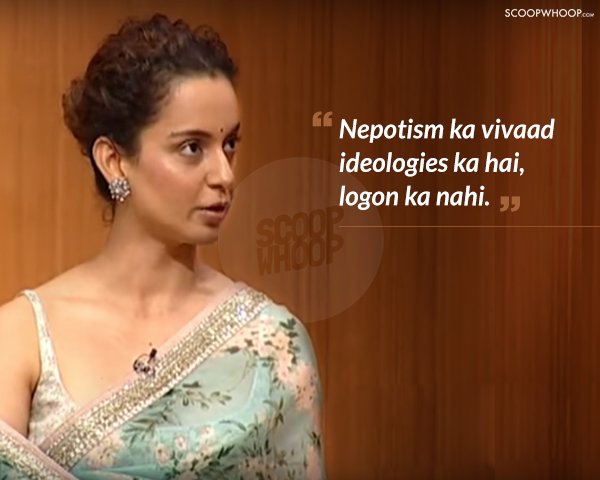 (Translation: The nepotism debate is ideological, not about people.) 
On how the women's commission handled her case: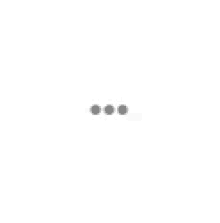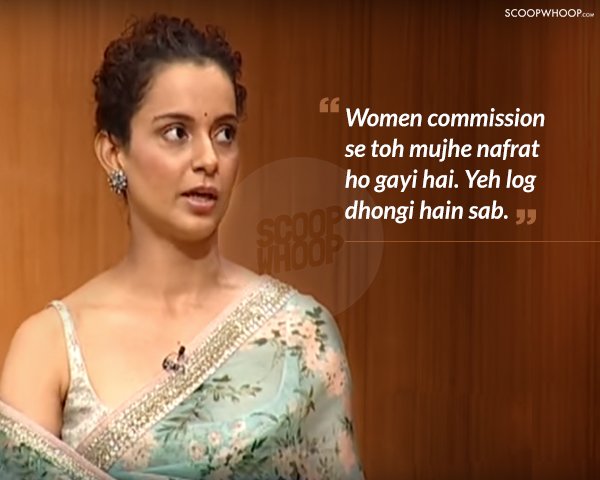 (Translation: I've started hating women's commission. They are all frauds.) 
On Aditya Pancholi: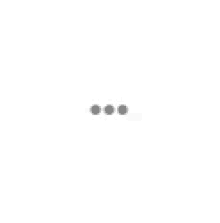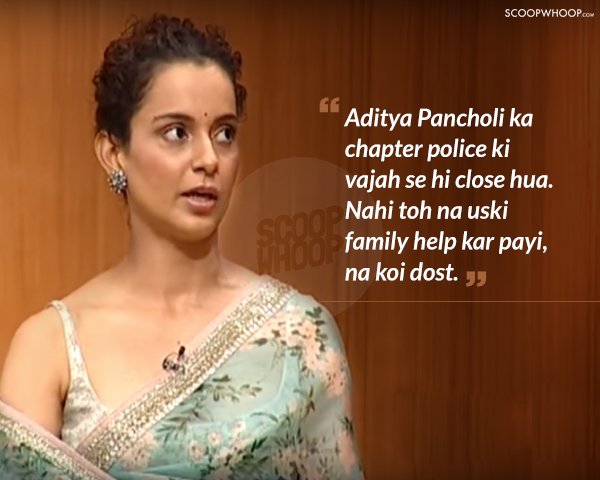 (Translation: Aditya Pancholi's chapter was shut only thanks to the police. Neither his family could help nor any friend.)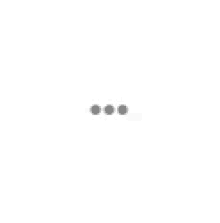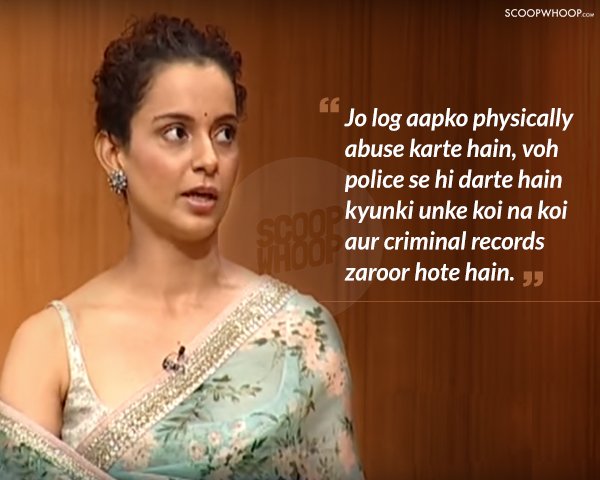 (Translation: People who physically abuse you are only scared of the police because they usually have other criminal records as well.)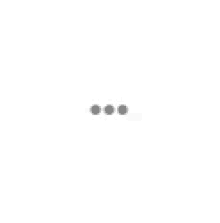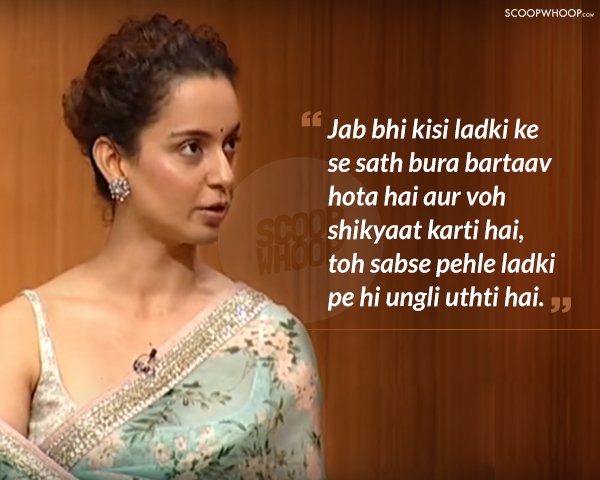 (Translation: Whenever a girl is misbehaved with and she complains, everybody points their fingers at the girl herself.)
On her courage: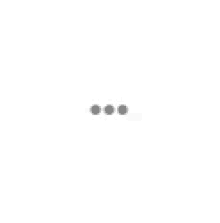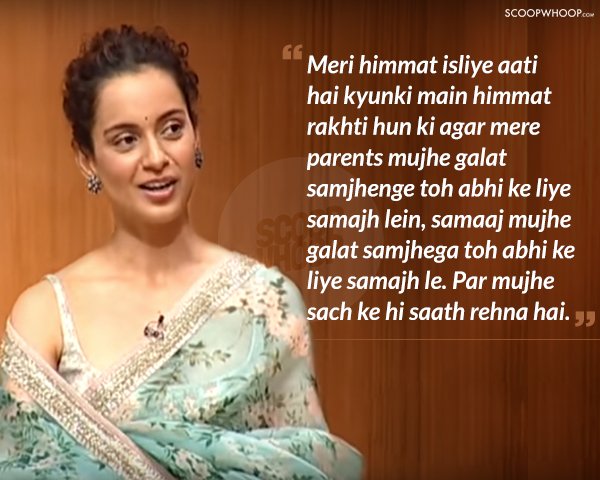 (Translation: I'm courageous because I feel courageous. If my parents or the society wants to misunderstand me, they may do so for the moment. But I will stick to the truth.)
You can watch this interview here.
Design: Anmol Gambhir