Recently Zomato's response to a customer refusing delivery by a 'non-Hindu' delivery man was lauded by most netizens.
A Twitter user, Amit Shukla, posted screenshots of his conversation with Zomato, where he expressed his anger over the issue.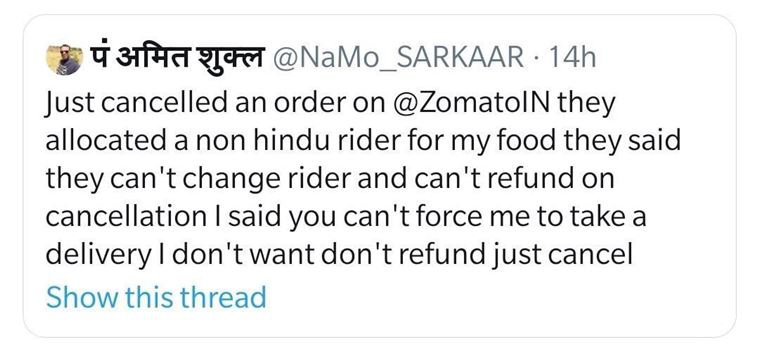 To this Zomato and its Founder, Deepinder Goyal, replied, 
Soon after the post went viral, Twitter was divided with multiple hashtags celebrating or condemning Zomato's response. 
There are people who are appreciating Zomato's response and their zero tolerance for communal discrimination.
Among all the people who appreciated Zomato's action, Uber Eats also came forward in their support.
Uber Eats vocal support made it get caught in the cross-fire, with #BoycottUberEats trending on Twitter.
Some of the consumers, who do not agree with Zomato's stance, have started leaving 1-star reviews on Google Play and App store.
As hashtags like #BoycottUberEats, #BoycottZomato and #IStandWithAmit (the person who complained about the Zomato order) started trending, another hashtag #IDontStandWithAmit came into existence. People are using this to criticise Amit and the larger bigotry his demand represents.
Some of the netizens dug out older tweets of Amit to show a mirror to his views.
One particular tweet posted by his account is going viral. In the tweet, he has replied to author and physician, Taslima Nasreen's post with an obscene comment.
From food to women's bodies – why are we fighting our religious battles at every possible field? Where is the unity in diversity we oh-so-proudly hail?