Ours is one of the world's largest democracies. And as a democratic nation our parliamentarians have the pleasure of questioning the ruling party and participating in debates in the House.
Though rarely, but some of them have delivered exceptionally powerful and impactful speeches in the recent past. 
1. TMC MP Mahua Moitra delivered a brilliant speech debating against the Motion of Thanks to the President's address on the importance of the voice of dissent in a democratic state.
She emphasized on the role of Opposition in a democracy and brought the ruling party under scrutiny for multiple issues like fake news, lynchings, and independence of the electoral system.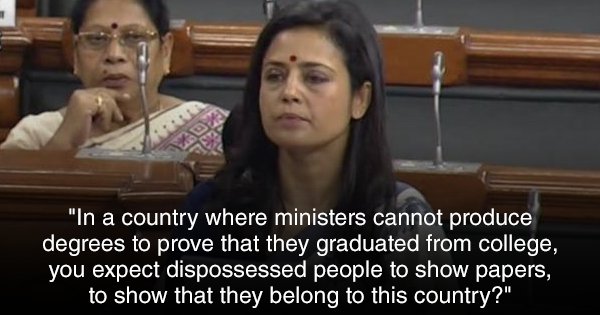 The House belongs to the Opposition. So, I stand today to reclaim this ink that has been guaranteed to us.
2. Addressing the controversy in the wake of the documentary, India's Daughter, Kirron Kher gave a strong and powerful speech.
She said that whether the documentary should be banned in the age of social media or not, is irrelevant and what we need to concentrate on are the unapologetic statements of the accused.
Talking about the right of women to give consent, she said:
We have to tackle the problem right from the grassroots where the mindset becomes such that you insult the women, you do not understand that they give consent – the right to give consent to their bodies is theirs. It cannot be abrogated to somebody else. They need to be able to feel safe at all times.
3. Addressing a parliamentary session on the Triple Talaq law, Union Minister Smriti Irani questioned all those MPs who were opposing the law.
She went on to say that our country has witnessed all those times when dowry and sati were practised widely. But if this Parliament has passed laws to curb these evil practices, why can't the same be done for Triple Talaq.
4. Asaduddin Owaisi, chief of All India Majlis-e-Ittehadul Muslimeen (AIMIM), strongly voiced his dissent on the Triple Talaq bill in the Lok Sabha.
Owaisi said that the proposed legislation is prone to misuse and alleged that the Triple Talaq bill will bring "Muslim women to the roads, ruin them and weaken them; it will also put Muslim men in jails."
As usual Asaduddin Owaisi making arguments based on jurisprudence, law and reason. Is this why Congress wants him to shut up so Muslims don't have anyone to represent them in the biggest democracy? https://t.co/eiUeVGFaeU

— Sunny Wasabi (@brumbyoz) December 27, 2018
5. Addressing the Rajya Sabha on International Women's Day, former External Affairs Minister Sushma Swaraj made a point that while it is a good thing to elaborate our achievements, we should make a promise to overcome our shortcomings.
She elaborated women's accomplishments, but did not forget to talk about our weaknesses and areas of improvement.
Main yeh maanti hu ki ek taraf ye uplabdhiyon ka aankda humara maatha garv se ooncha karta hai, wahin doosri or mahilaon ke saath ho raha anyay aur usme se upji hui unki peeda humara maatha sharm se neecha karti hai.
6. Senior Congress leader Ghulam Nabi Azad took a dig at the ruling party in Rajya Sabha asking them to give us our 'Old India', which was better than their 'New India'.
Speaking on the Motion of Thanks to the President's address in Rajya Sabha, he criticised the government for its divisive policies, especially referring to Jharkhand which according to him has become a lynching factory.
Keep your New India to yourself but return our old India where there was a culture of love and …where there was no lynching and no hatred…Where Hindus and Muslims used to feel the pain of each other.
He also made a point that the present government should ensure that women get 50% reservation in Parliament as the ruling party has an absolute majority in both the houses.
Just hoping that we get to see more of such strong and powerful words that leave an impact on the entire nation.