A simple workout that began as a measure to seek relief from knee and leg pain drifted Somasundari Manoharan towards powerlifting in her 50s. Her story has been breaking stereotypes and empowering women to take to fitness despite their age.
Draped in her sari, Manoharan now lifts a total of 210 kilos in squats, bench, and deadlifts. Her video at a 'Women Powerlifting' competition organised by Strength System in October last year is going viral on social media.
Take a look at the video shared by @SquatUniversity on Twitter.
Somasundari Manoharan is a homemaker from Padappai, Chennai. She started by working out at her son's gym and fitness centre, Madras Barbell. Her journey began with slow movements when she had trouble walking long distances. Talking about her journey she said, "A few years ago, I developed knee pain and my doctors advised surgery. My son Karthikeyan taught me strength exercises. My pain disappeared in six months," reported Times of India.
She later went on to explore deadlifts, planks, push-ups, dumbells, squats and other forms of workouts. Her dedication motivated her daughter-in-law, and soon the duo became a loving site for other gym members, reported The New Indian Express.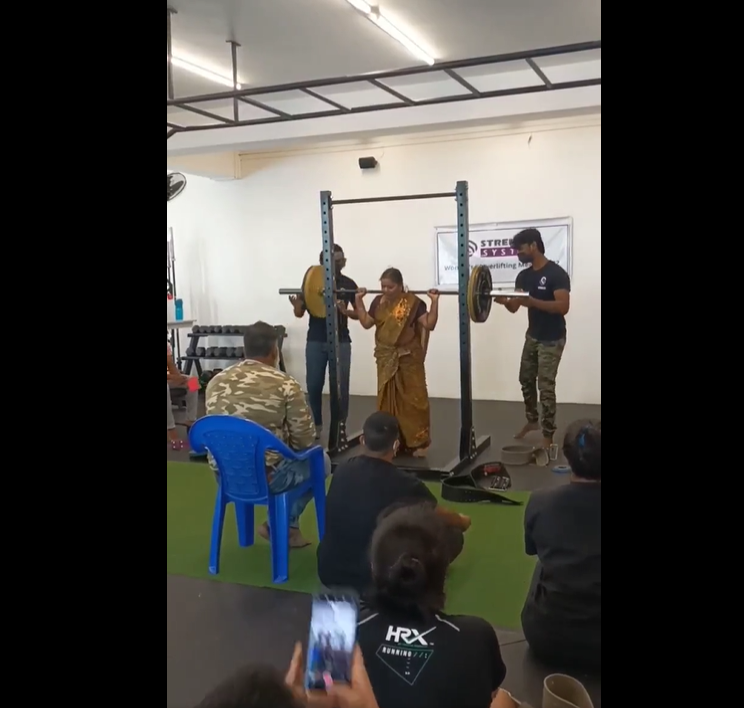 Reportedly, Manoharan did not feel any hesitation in not adhering to proper gym wear clothing since it was their gym. However, it became a roadblock when they started applying to competitions. "Most of the women in my age group wear a sari and they have been wearing it for a long time. They know how to manage these activities in a sari." Besides exercising, their family always follows a proper diet. Apparently, their gym also collaborated with Decathlon to spread its message.
Twitter is thrilled with her video. Take a look at what people are saying.
Kudos! It's never too late for reinvent yourself.