Last year, New Zealand Prime Minister, Jacinda Ardern, made history by becoming the first world leader to bring her 3-month-old baby to attend the United Nations general assembly. Following in the footsteps of politicians around the world juggling their babies and their jobs, is NZ lawmaker, Tāmati Coffey.
Recently photos of the Speaker of New Zealand's Parliament, Trevor Mallard, cradling Tāmati Coffey's baby went viral.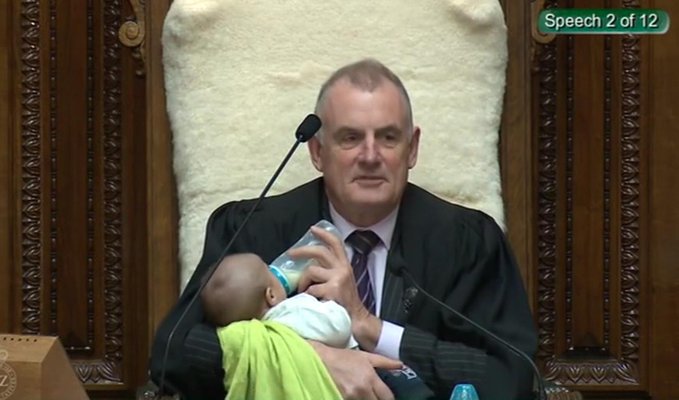 Trevor posted pictures of him feeding and cradling the baby with a sweet caption-
Normally, the Speaker's chair is only used by Presiding Officers but today a VIP took the chair with me. Congratulations @tamaticoffey and Tim on the newest member of your family.
Tāmati attended the Parliament for the first time since his paternity leave. While the parliamentary debate went on, he handed over the babysitting duties to Trevor, a father of three.
Speaking to Newshub, Coffey said he felt 'really supported by (his) colleagues from across the House'.
Netizens are cheering this pure gesture by the Speaker.
Thank you for normalising the family unit. We need to see more of this. Work places need to adapt to enable this behaviour.

— Rachael Egan (@ljudzia) August 21, 2019
Everyone in the chamber seemed to be less tense while you fed Tamati's lovely baby. There were smiles all round. I love this which doesn't happen anywhere else in the world. Thank you.

— Sarah Russell (@kiwialliance) August 21, 2019
they have been teaching the world lessons for many years

NZ was the first country in the modern world to have equal suffrage for men and women

— GUN_CONTROL_WORKS (@dave00815960) August 21, 2019
Grate Speaker and Amazing Farther, your realy excemplary to other farthers.💐💐💐

— Ranil Perera,Beautiful LK,Grate NZ (@BRSPerera2) August 21, 2019
This is sending a great message that men👏can👏take👏care👏of👏babies👏 too. There's no need to be afraid of holding and feeding a baby. He looks so comfortable. Wonderul! 💖

— The Amazon is on fire (@JaccHiHey) August 21, 2019
How come New Zealand just seem to get everything right. Beautiful photos.

— Lord Mayor of Kingston Upon Hull (@LordHull) August 22, 2019
Blessing the internet with positive waves of change.