Throughout his time as the president of the USA, if there is one thing that Donald Trump has truly aced at, it's making unfortunate remarks. 
Just like his latest remark, or rather, 'offer' to Pakistan Prime Minister, Imran Khan, to 'mediate' on the volatile Kashmir issue between India and Pakistan. Something, that Trump claimed, PM Modi asked him for. 
Reportedly, ahead of the bilateral meeting between Donald Trump and Imran Khan, the two met at the White House, where Trump passed the contentious remark.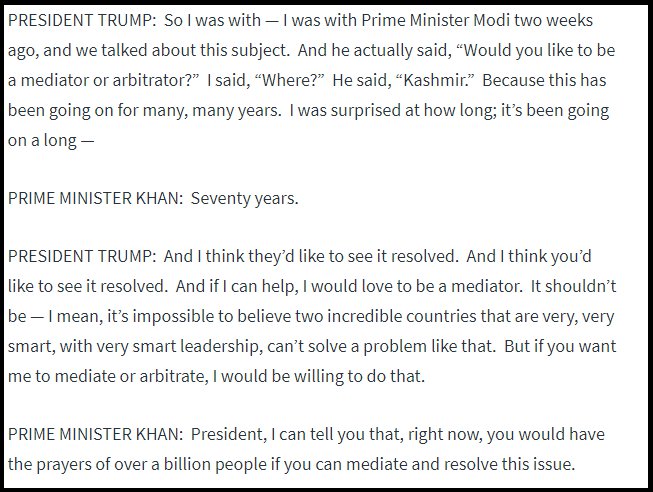 As per the current policies and treaties signed between India and Pakistan, the Kashmir issue can only be solved bilaterally. And while Pakistani PM Imran Khan welcomed Trump's remarks, the Indian Ministry of External Affairs clarified that no such request had been made by Prime Minister Modi. 
The Bureau of South and Central Asian Affairs also stated that Kashmir would remain a bilateral issue, to be resolved between India and Pakistan. 
Though the Indian MEA denied that PM Modi made such a request, the opposition reacted negatively to the news and sought answers from the Prime Minister. The issue escalated to the point that the session was adjourned, as opposition chanted 'PM jawaab do' as a slogan. 
As a result, #KashmirIssue started trending on Twitter, with people especially calling out Trump's unfortunate (but no longer surprising) political gaffe. 
As of now, no official response has been provided by PM Modi.