Media is supposed to be the fourth pillar of democracy.
And in a country like India, where a major population depends on the news channels for daily updates, it becomes imperative that they air sensible content.
But the opposite seems to be happening in India. A national news channel recently crossed all lines of sensitivity and logic when they aired the news about Rhea Chakraborty, Sushant Singh's girlfriend, involved in black magic.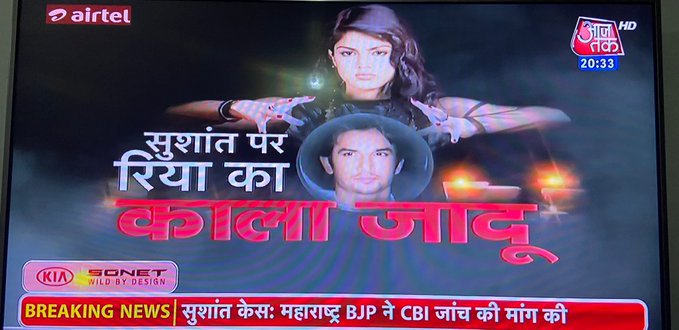 While reports suggest that Sushant's sister Mitu Singh has accused Rhea of doing black magic on her brother during interrogation by Bihar police, this kind of reporting on national media is uncalled for.
Twitter too pointed out the unethical and insensitive aspects in this reporting by the news channel. Netizens even accused the channel of spreading misinformation and propagating superstitious beliefs. 
This is not the first time, the channel has been called out for its insensitive reporting. Earlier too, they reached Sushant Singh's house in Patna, immediately after his demise to get his family's statement.
Have we reached the lowest standards of Indian journalism?