A few days ago, the pilgrims and devotees of the Amarnath Yatra and the tourists in the state of Jammu and Kashmir were asked to immediately stop their trips and leave the valley.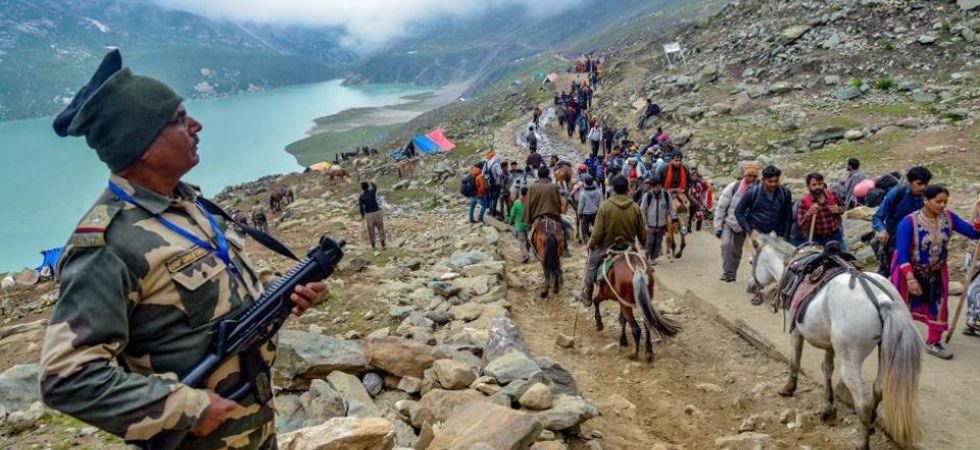 Within hours, more than 35,000 soldiers were sent to the valley, which was already the most militarised place on Earth.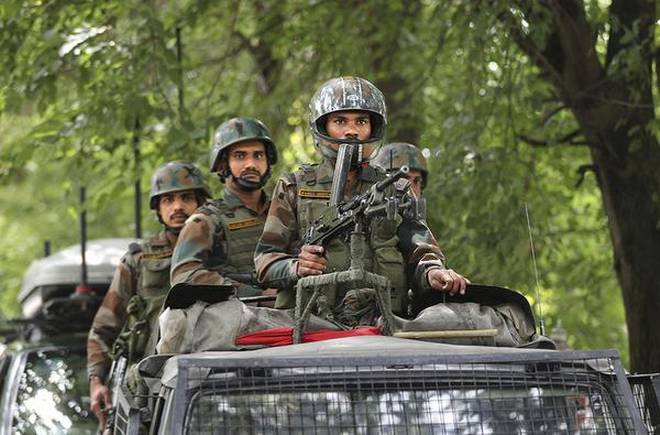 The next thing we know is that schools and colleges and other educational institutions were asked to shut down and non-residential students were asked to leave the state ASAP.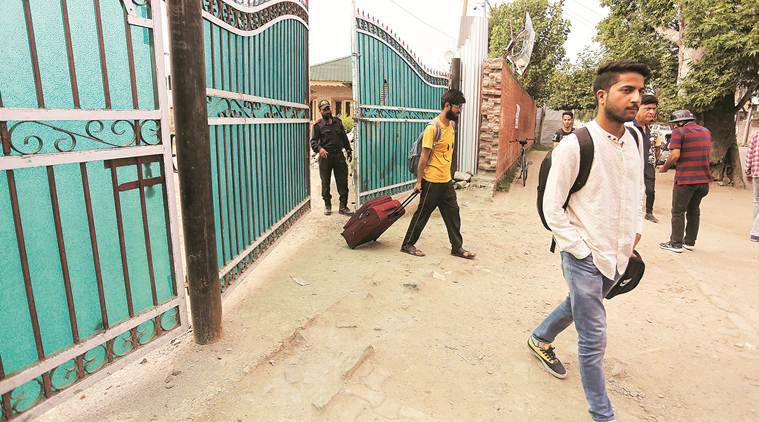 Mind you, while we watched all this happening on TV, the people of Kashmir were living it. But unlike us, they had no idea what was going on. 
Curfew was then imposed along with Sec 144.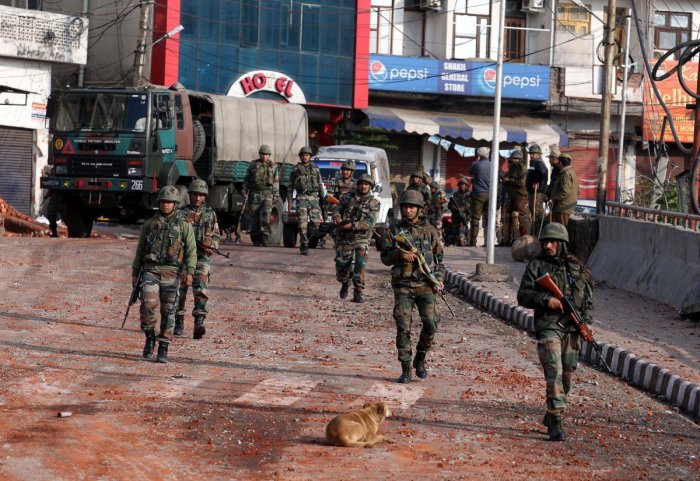 Internet, cable TV, landlines, even radios were shut down by the central government, essentially cutting off all flows of information to and from the valley.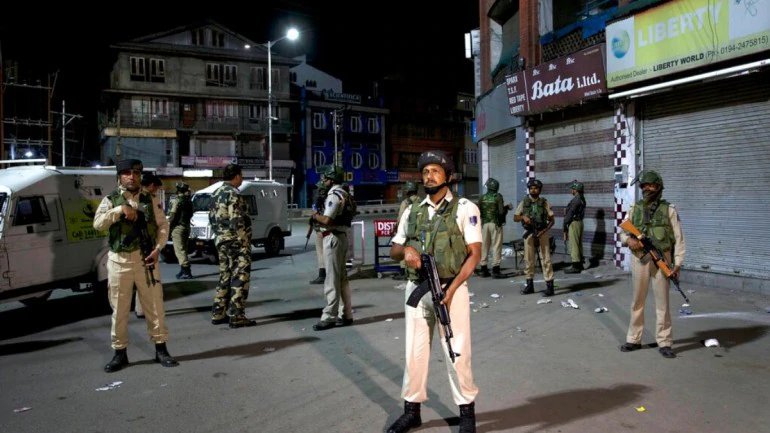 Imagine being a Kashmiri last night. Imagine the panic it must have caused. Was it going to be a war? What else could justify sending 35,000 more soldiers to an already heavily armed place?
Imagine must be going through the minds of mothers and fathers, brothers and sisters, and husbands and wives whose families live there but there was no way to reach them, to know if the people you love the most are okay? 
What will those poor Kashmiris do whose sons and daughters and other family members are working studying outside Kashmir, outside India? They cannot even call their loved ones? What kind of cruelty is this? Never in my life have I seen this. #StandWithKashmir #KashmirBleeds

— Sanjukta Basu (@sanjukta) August 4, 2019
My brother was supposed to arrive here and celebrate Eid with us.. Parents forced him to cancel his tickets last moment. Mama told him 'if we die, atleast you will be safe, but don't come here'. Such is the height of terror. #Kashmir .

— Mozam zahoor (@mozamzahoor) August 4, 2019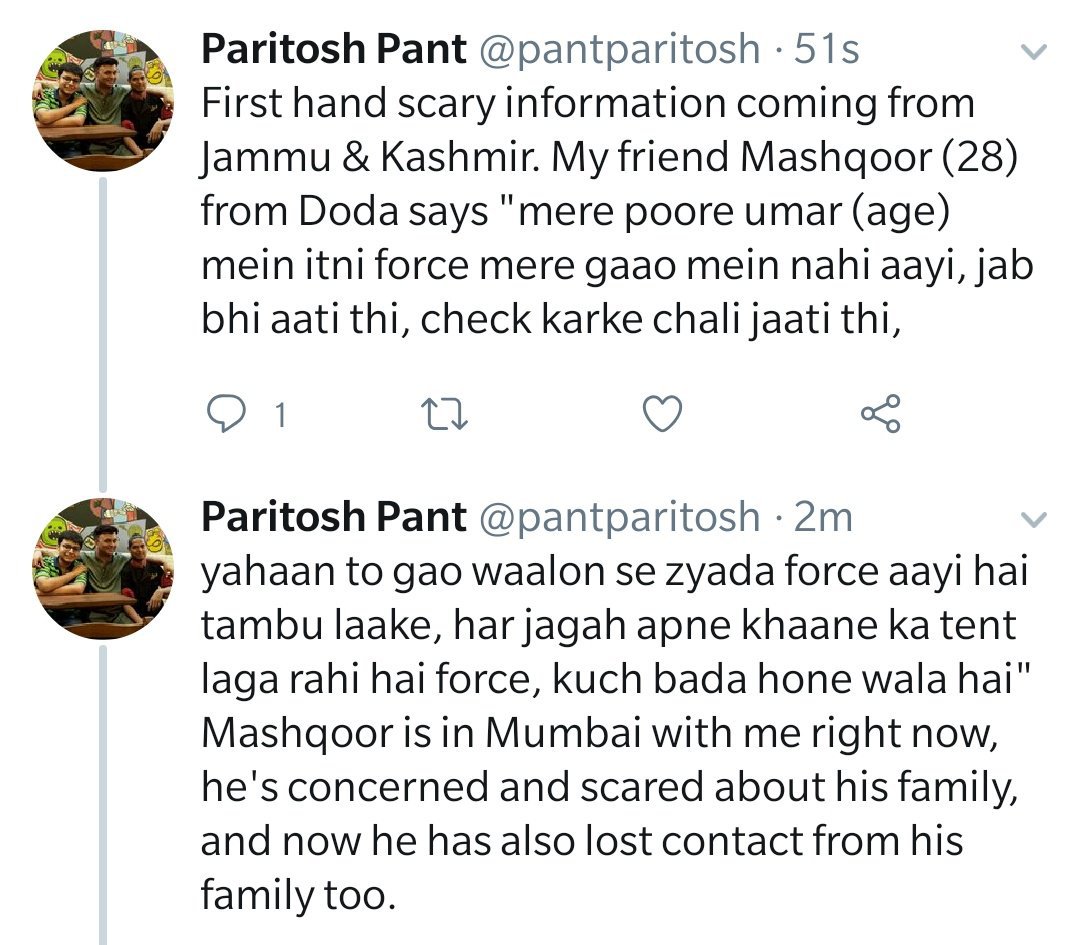 Now imagine that happening in any other place in the country. How would you react?
At least our media told us that he BJP was planning to do something big, like scrap Article 370 and Article 35a but the people there, they have no idea. 
A complete reversal that began in 2014. Last time I checked we were a democracy and govts were answerable to people. The govt must inform the public what it is doing in Kashmir. It must take parliament into confidence.

— Ankur Bhardwaj (@Bhayankur) August 4, 2019
They are still literally living in the Dark Ages, in fear and uncertainty. 
Besides, what was the purpose of putting state leaders like Omar Abdullah and Mehbooba Mufti under house arrest? 
To place two former Chief Ministers under house arrest is unprecedented and unacceptable. Would it happen in any other state of India? Is this how we build trust among the Kashmiris?https://t.co/NP3peezdCG

— Ramachandra Guha (@Ram_Guha) August 5, 2019
One cannot help but think that all this is because they didn't want the general public to mobilise and protest against their decision to strip Kashmir of its special status. 
So there was no state machinery in place to even oppose the centre when it did what it had been planning all along.
This is done by shutting down an entire state of #JammuAndKashmir and putting anyone who will have to be consulted under house arrest. By filling the state with military. By announcing it after the President has already signed it.

This is not decisiveness, this is bullying.

— Rohini Mohan (@rohini_mohan) August 5, 2019
I am trying to understand for how long will people be locked in rooms? How long leaders be in house arrest? How long communication blackout? It has to end one day, and that day protests will rise. Does govt think Kashmiris will just sleep over it and feel better?

— Sanjukta Basu (@sanjukta) August 5, 2019
I am not educated enough to have the liberty to comment on if the centre scrapping Article 370 and 35a was the right or wrong thing to do. But, as a citizen of this country who knows and understands the rights of his fellow citizens, this was simply undemocratic.