Fathers are a pillar of support, the guiding hand when you get lost along the way. They might not be great at expressing their love, but we all know that their love is beyond definition. But somewhere, as we grow up, in the midst of dealing with school, college and job, we forget to spend time with our fathers who gave us everything that we ever asked for. Their constant presence has never let us imagine what their absence would feel like. 
But, what about those kids who never got the luxury of an option? These are the kids whose fathers are busy protecting our country – guarding borders, posted miles away from their family, army men survive the most harsh conditions. And often, at the cost of missing out on precious moments that they might never witness again. While leaving all that matters to them behind, they head out to the ends of our country to make sure we stay safe. 
So this Father's Day, we spoke to some Army kids and asked them how they feel about their dad being in the Army. These are their stories.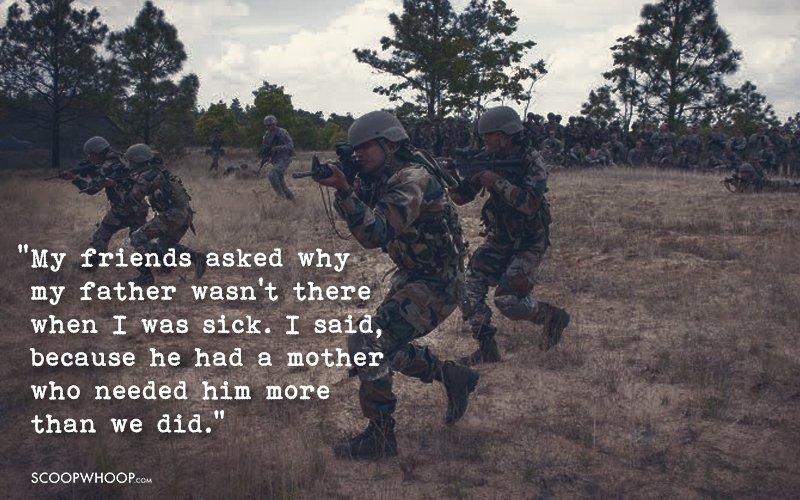 "My father has had a major share of his postings in field areas. This would mean that we would live in separated families' quarters and not see him for months. And that is exactly how I have spent my past five to six years. I was 15 and I remember puking a hell lot of times all through my way to the MH (Military Hospital). He was in a remote area in the north-east then, and a lot of activities were going on when I suffered from Jaundice. Phones would connect only once or twice in two days and that too, not for long. My father was informed and even though I couldn't talk, I remember asking Maa to keep it on speaker so that I can hear Paa. He was worried, but firm.That's how Fauji Fathers are, brilliantly caring but firm. All those 15 days, I wished him to be here, with me but I knew what he was doing there and for whom. So, when I finally got better and my friends from school visited, they asked why my dad couldn't take me to the doctor every two-three days; why wasn't he here when I was sick and to help my mother with it. All I could say, thinking of my father in his Olive Green uniform was that, "because he had a mother who needed him more than we did." 
-Shruti Vyas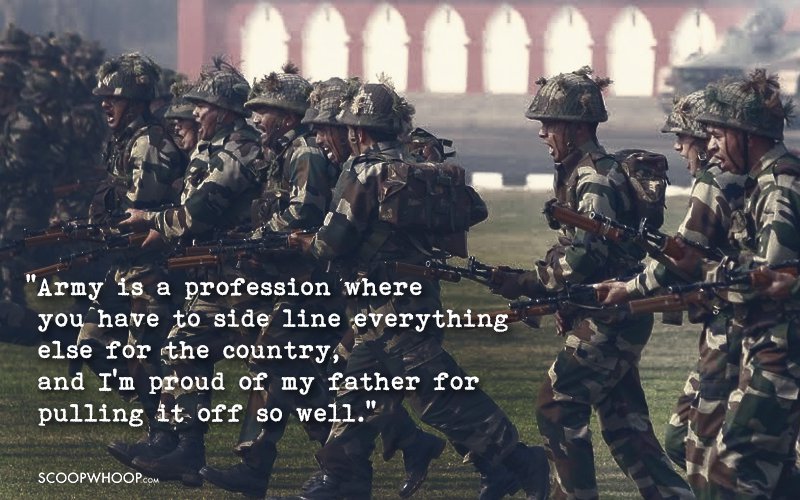 "I am a part of the Street play society of my college and it is extremely demanding, always keeps me on my toes and my parents have always been supportive about it. I mean, I come home late, leave early, they always understand. So, there was this one time where I could actually show our Society's annual production to amma and appa. We were performing at NSD. I remember daddy being super eager to see me perform. And he was so excited that he was actually calling everyone up and telling them about it. But just the day before, he was called back to Leh (where he is posted) from Delhi for some important work. He felt so bad about not being able to be there for it. So yeah, that's how it has been. Army is a profession where you have to side line everything else for the country. It requires great amount of courage to be able to do it and I am proud of my father because he has been able to pull it off so well till now."
-Padmini Ramesh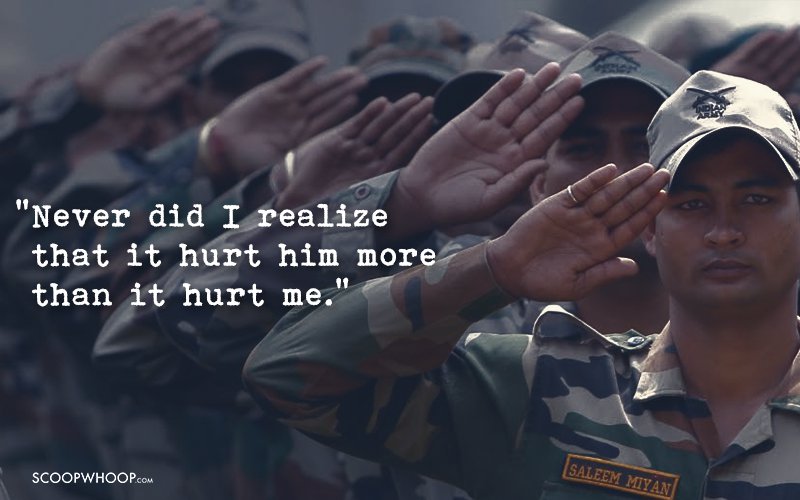 "When I was in 2nd standard, my father was posted at Congo for a UN mission. This was right after he was posted to Kashmir. This meant that I barely got to see him twice or thrice every year. It bothered me because he missed out on a lot of days which etched a special place in my heart. He missed the day I got my first prize for mathematics; he missed my first dance performance, so many of my birthdays and the list goes on. Rather, he saw me for the first time two months after I was born. Never did I realize that it hurt him more than it hurt me but he was out there for something much bigger, something that makes me proud to call myself his daughter. One holiday I was joking with him about how his phone got lost in Congo and we couldn't reach him, a few months before that. That was the day I discovered that the real reason behind his phone not being reachable was because he had gotten kidnapped that day and he did not tell us about it because he didn't want us to get worried. It dawned upon me that if his real identity had been revealed, things would have been very different. That's the day I realized that little did I understand the importance of his job and the risks that come with it. He is not just another man who is dedicated to his nation, but also a loving father who till date ensures that he gets a video tape of every event that he misses." 
-Mehaq Mehta
"If I think about it my dad wasn't around for a lot of important events. He wasn't there the day I became head boy of the school or when I used to go to play golf tournaments. He was never at the PTMs (not even when I wanted him to be). He would often forget which class I was in and all these things made me mad back then. But, now when I look back I don't mind. He had so much on his plate I'm just happy that he was there for the main things in life." 
-Nakul Pailwal 
"It was my showjumping competition but Dad was away on an official assignment. However, he hoped to make it to the venue in time. Mum was ready with the camera in her hand; the team and horses were in place, but one thing was missing – dad. As I awaited my turn, I had a few rough moments of being the only girl in the competition. I anxiously scanned the audience for Papa. But sadly, he hadn't made it in time and soon, it was our turn. Being the daddy's lil girl that I am, as I entered the arena, it was papa's words that echoed in my mind – "Remember to enjoy yourself. You've both worked and trained hard for this." And I did just that. It was a good day for me and my horse – we sailed through the jumping course with ease. As soon as I got off my horse, there he was, walking fast and searching for familiar faces. I walked up to him and he said "Appu! I haven't missed it yet, I hope?" I scrunched my nose, "I just got off. We did well, however." "NO. Oh, no. I'm so sorry but I know my beti would've done the best." Sure, I had a heavy heart about dad missing my best performance in showjumping EVER, but luckily, he was there for the award ceremony. Dad watched me with pride in his eyes and a wide smile on his face as I received the "Best Rider" plaque and the bronze medal. His claps were the loudest. And he being the inspiration and initiative behind my riding, my heart swelled.
-Apoorva Menon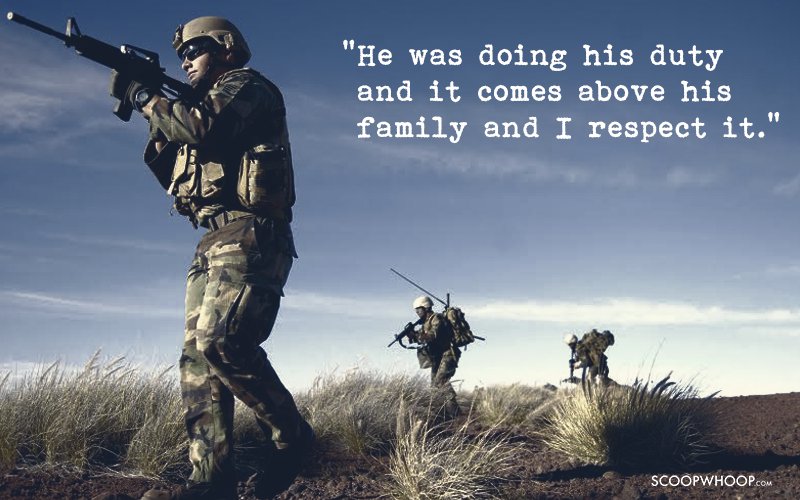 "It was during the time when I was in 12 grade. In our school there was a tradition in which the principal used to speak about each and every student in front of the parents and it use to be an exciting day for everyone. My father was not there during that time as he was posted outside. That day I really missed him and really wanted him to listen to all that stuff. But not a problem as he was doing his duty and it comes above his family and I respect it." 
-Dev Choudhary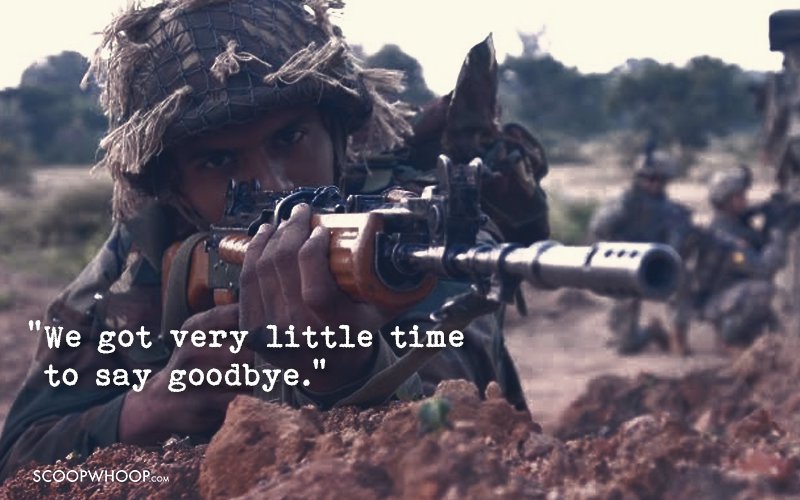 "My father, no matter how busy he would be doing his duty, serving the nation, has always found a way to be there for me and my younger brother at every stage in life, if not physically, by any other mean possible to convey his support, love and encouragement to us. One childhood incident, however, has stuck with me, as an example of the emotions, the families of army men go through, while these brave soldiers are out there, away from home, serving the nation, risking their lives. I was in third grade. We were in Darjeeling. My dad was supposed to leave for J&K abruptly and we got very little time to say goodbye. I had one of my final exams the next day and despite being a "mostly average" to "sometimes a scholar" kind of a student, i couldn't even score the passing marks in that exam, failing to be able to write. This is the kind of effect saying such a goodbye to him had on me. Not to forget, the 103-104 degree fevers i suffered each time my father went back in the field areas." 
-Radhika Kashid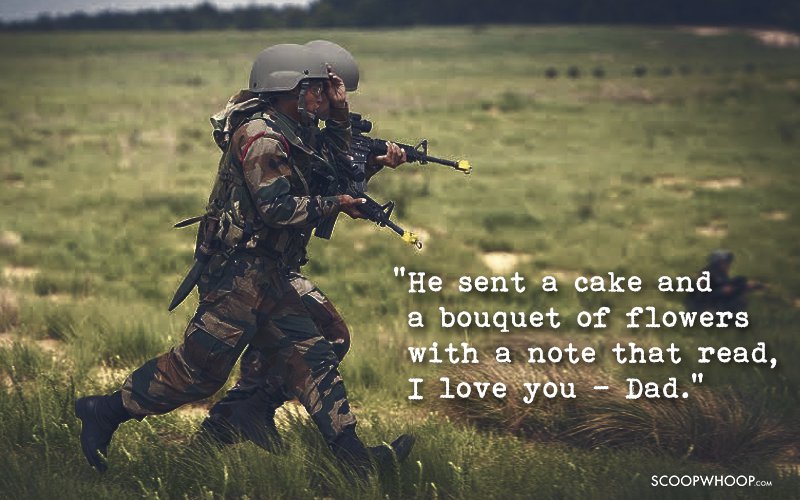 "It was my 16th birthday and I wanted it to be, well, 'perfect'! My dad was posted in Srinagar at the time in the most warfare prone area. A few days ago there was a truck blown to bits outside their unit. It was all over the news. As much as I was aware of the whole situation and the fact that he needed to be there I also wanted papa to be home 'cause it was MY important day. Papa still sent a cake and a bouquet of flowers with a note that read, "I love you. -Dad" for my birthday. He couldn't make it home but this made me overwhelmed, any small contact would because I only got to meet him once in 6 months." 
-Shambhavi Kumaria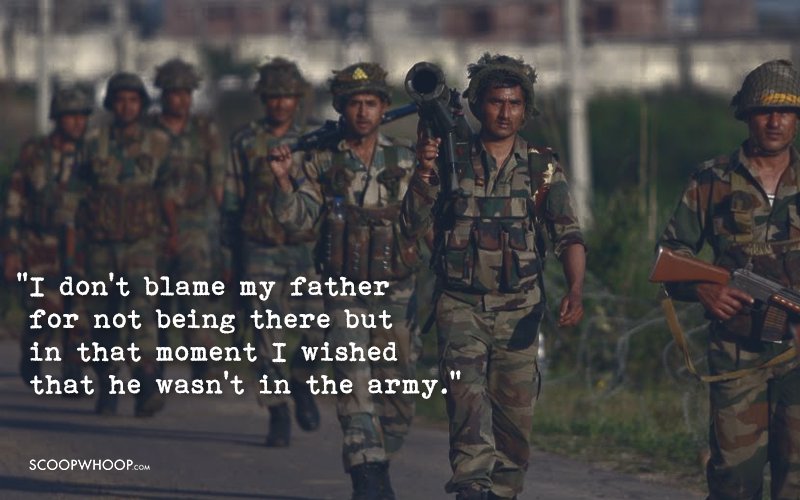 "My father has been in the army for 27 years and for most part of my childhood my father was out protecting the nation. While my mother, brother and I were away in some cantt. or the other. This led to him missing many a functions and crucial days of my life one such day was the time I was to give my entrance exam for NIFT. It was my dream college and I worked really hard for it. The day of my exam my mother and I reached the centre and I was awe struck with the number of people that were there. Parents and their kids just kept pouring in and soon I was just one face in the crowd. I felt so tiny, almost invisible. There were kids I was going to compete with. kids who were probably better than me, more experienced than me, kids with both their parents supporting them. I don't blame my father for not being there but in that moment I wished that he wasn't in the army and that he was just here to hold my hand and support me and tell me I that it would be alright and that I was and would always be a star in his eyes."
-Aanchal Rai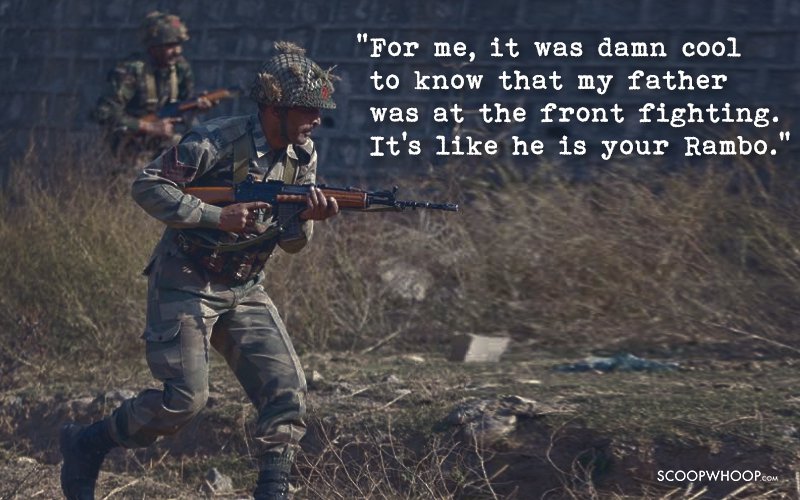 "Since I was in 1st grade, I couldn't understand the magnitude of the whole thing. India and Pakistan were at the brink of war. And for me it was damn cool to know that my father was at the front fighting. It's like he is your Rambo. But now when I think about it, it gives me quiet the chills, to be honest." 
-Aayush Kakria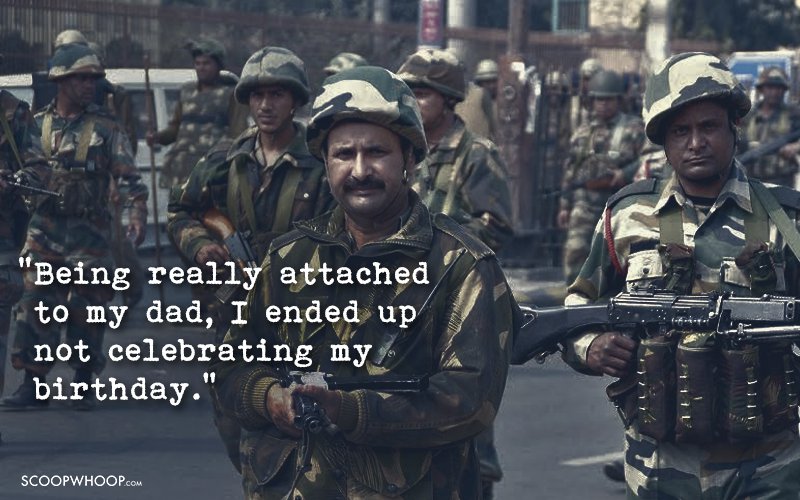 "Out of many moments, this one's really close to my heart. So on my 13th birthday, entering the pre-teens which is supposed to be a great deal for a girl at that age. But, I ended up not celebrating, not because I was in no mood. But because my daddy was out there for the UN mission in Sudan. Being really attached to my dad, I ended up not celebrating my birthday. Instead, we skyped with him all the way from Bengaluru and cut my birthday cake like that. We just sat there talking and I precisely remember how he was trying to cheer me up and make me laugh, so that's how I spent my birthday evening." 
-Rahesha Sehgal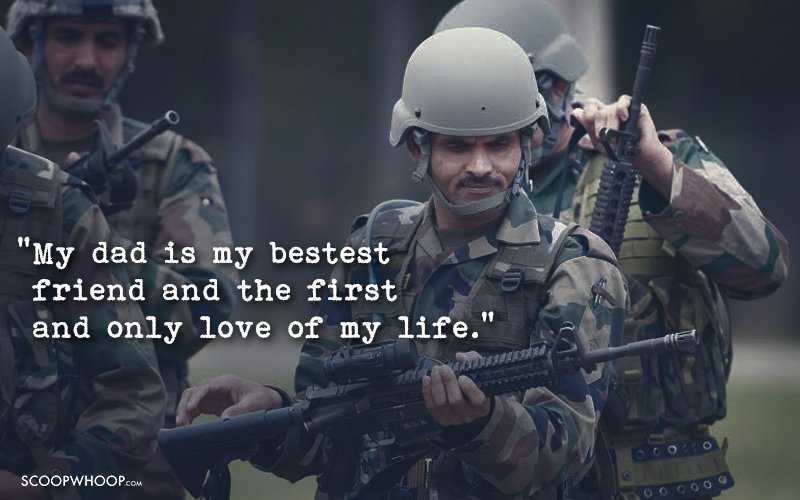 "I am a proud Fauji Brat. Though in general my dad has always been around since I was born, there have been times, where my dad had to go for field postings or TDs (temporary duties). On many accounts, he has missed my birthday or hasn't welcomed the new year with me. I lost my mother in November 2008 and I was an only child. So During the spring of 2009, my dad had to go to Paris and a town in Germany for TD, and he was worried as to what to do with me. I had a housemaid and a Bhaiya, "Sahayak bhaiya" to care of me. But my dad was unsure. We were posted in Secunderabad at that time and my finals (class 6) were on. He didn't want to leave me alone, but duty calls. I told him not to worry and I would take care of myself. Once he reached he called me everyday and asked about how I was doing. He also missed my birthday during this period but he made sure his course-mates and colleagues made my birthday a success. This was my first birthday without both my parents. But I still had a great time. Daddy called me up that night and apologised for not being there and said he would definitely make it up to me once back. I didn't feel that bad. I was proud that he was out there helping people out. My dad is my bestest friend and the first and only love of my life.
-Divija Vasudevan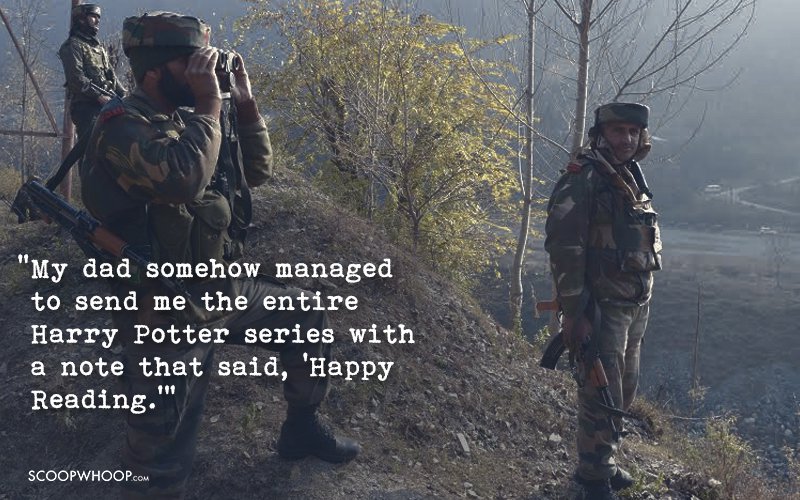 "When we were in Mhow , dad got field posting and I think I was still in 5th or 6th. So, he used to call whenever he could talk. During that time, I had picked up reading which was the best thing ever so I was all into Harry Potter. But, since mom was always too busy with my sisters 12th exams and stuff, we couldn't actually go and buy the books. I think my dad got to know about this and what he did was just so cool. Sitting there in J&K, my dad somehow managed to send me the entire Harry Potter series with a note that said, "Happy Reading". I guess that was the day I missed him the most in the two years he wasn't there. To see that even though he's there he still made time and put so effort to make sure a stupid kid in 5th is happy." 
-Sartaj Singh
A heartfelt happy fathers' day to all the army men out there. Thank you for guarding our country, and keeping us all safe.