When Quora users were asked about the first thing that they did post a breakup, they shared their stories and their candid answers will definitely give you some much-needed inspiration to leave your past behind.
1. 

It was a bright and sunny Saturday, until the break up happened. He broke up with me over the phone. I was shell shocked. I tried crying, but I couldn't. After a couple of minutes of staring into the incomplete conversation, I kept my phone aside, tied my hair in a bun and went into my room.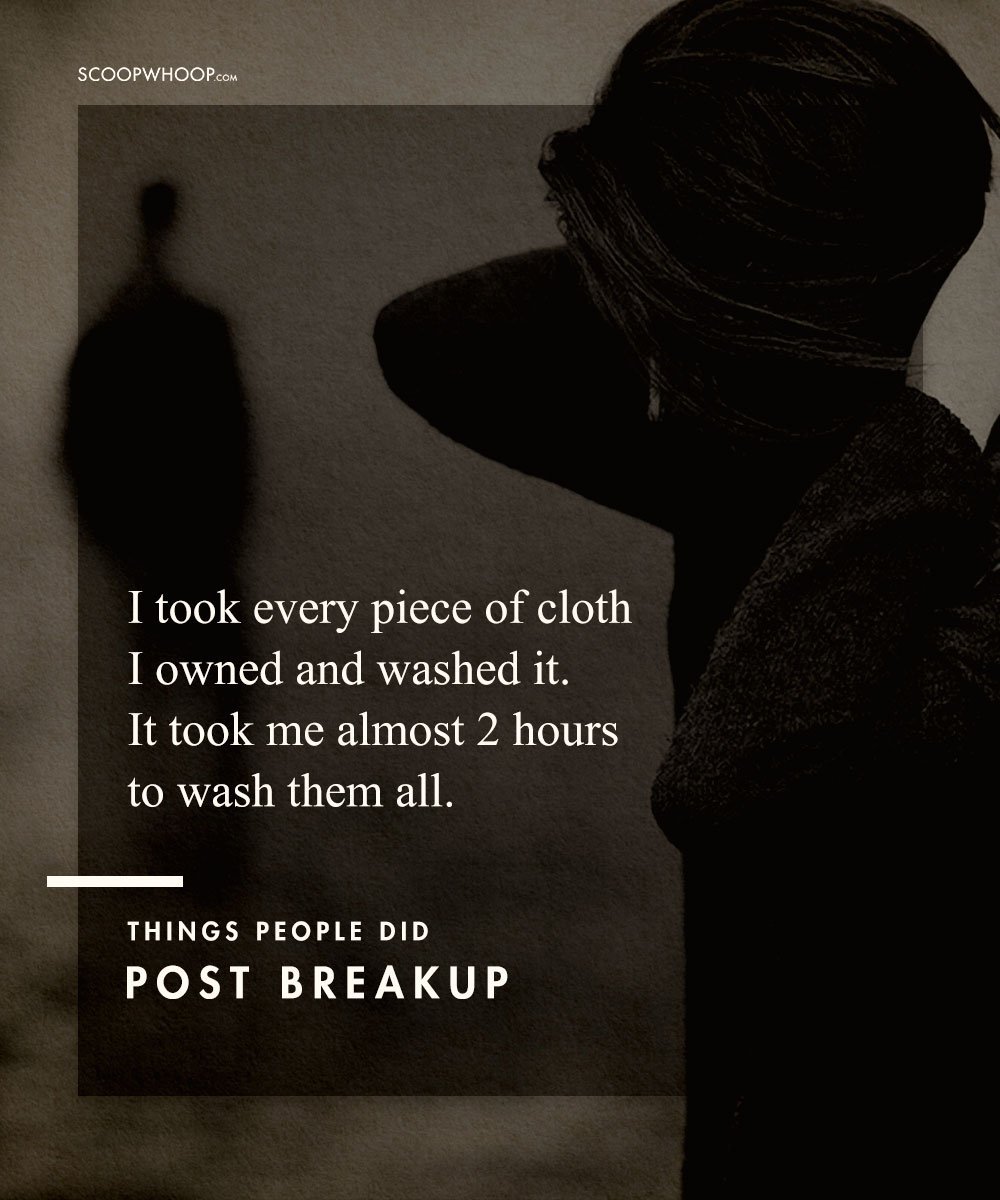 Then I did all my mother's clothes, my sister's and my father's clothes too. I washed every curtain, every bedspread, every pillow cover. I washed every piece of cloth in my house, literally. This laundry marathon took almost 7 hours. I was deadbeat. I couldn't stand on my feet without support, my back was aching, my hands were burning. Then I took a hot shower, ate a hearty dinner and slept for almost 12 hours.
2. The first thing I did was suppressed the urge to scream.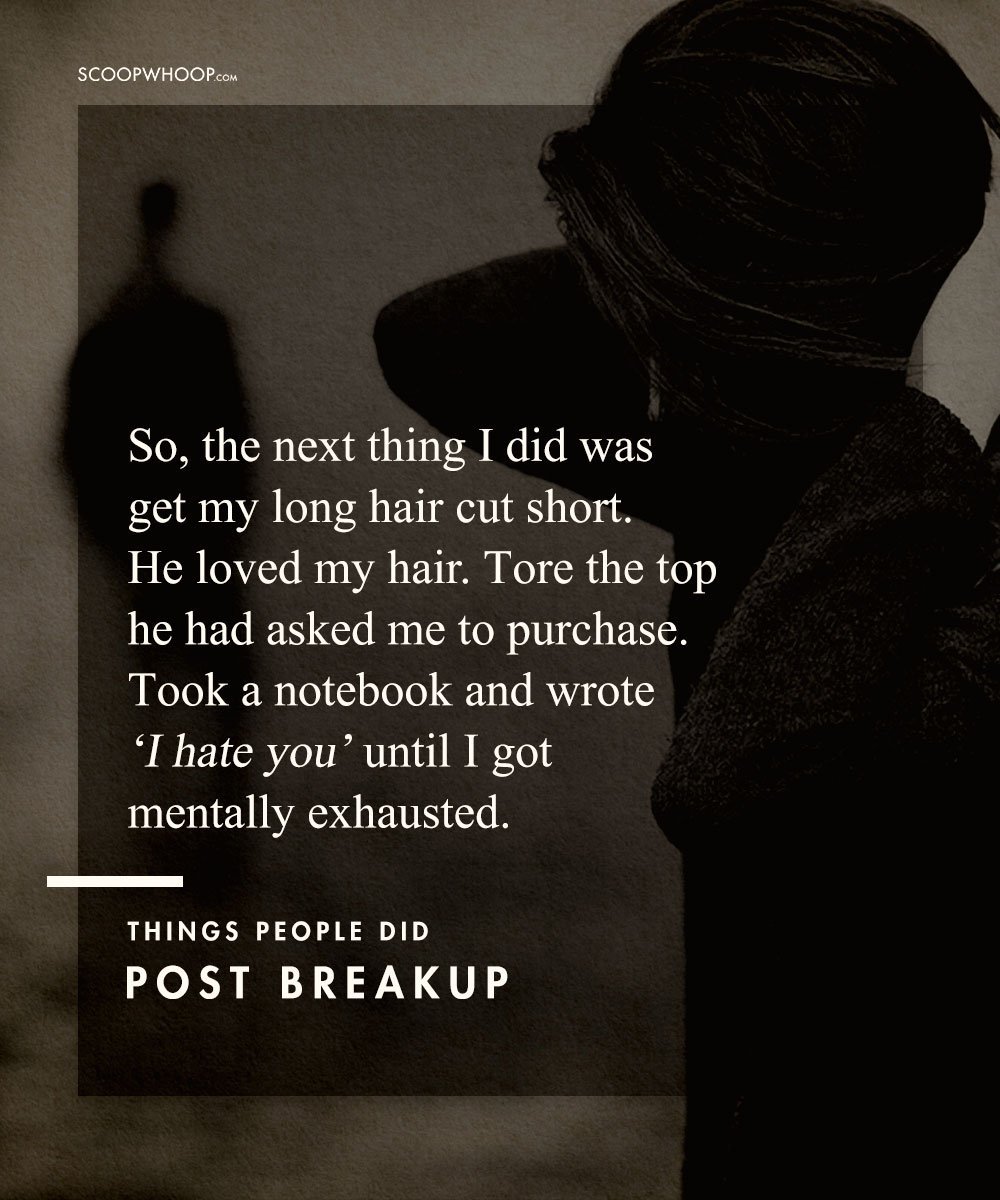 I knew I didn't mean it and it was just the piled up anger. Scribbled on a paper that the breakup was one – sided. I felt weak after all this. So, I cut contacts with everyone. Switched off my cellphone. Didn't talk to anyone for the next 3-4 days. No food.
3.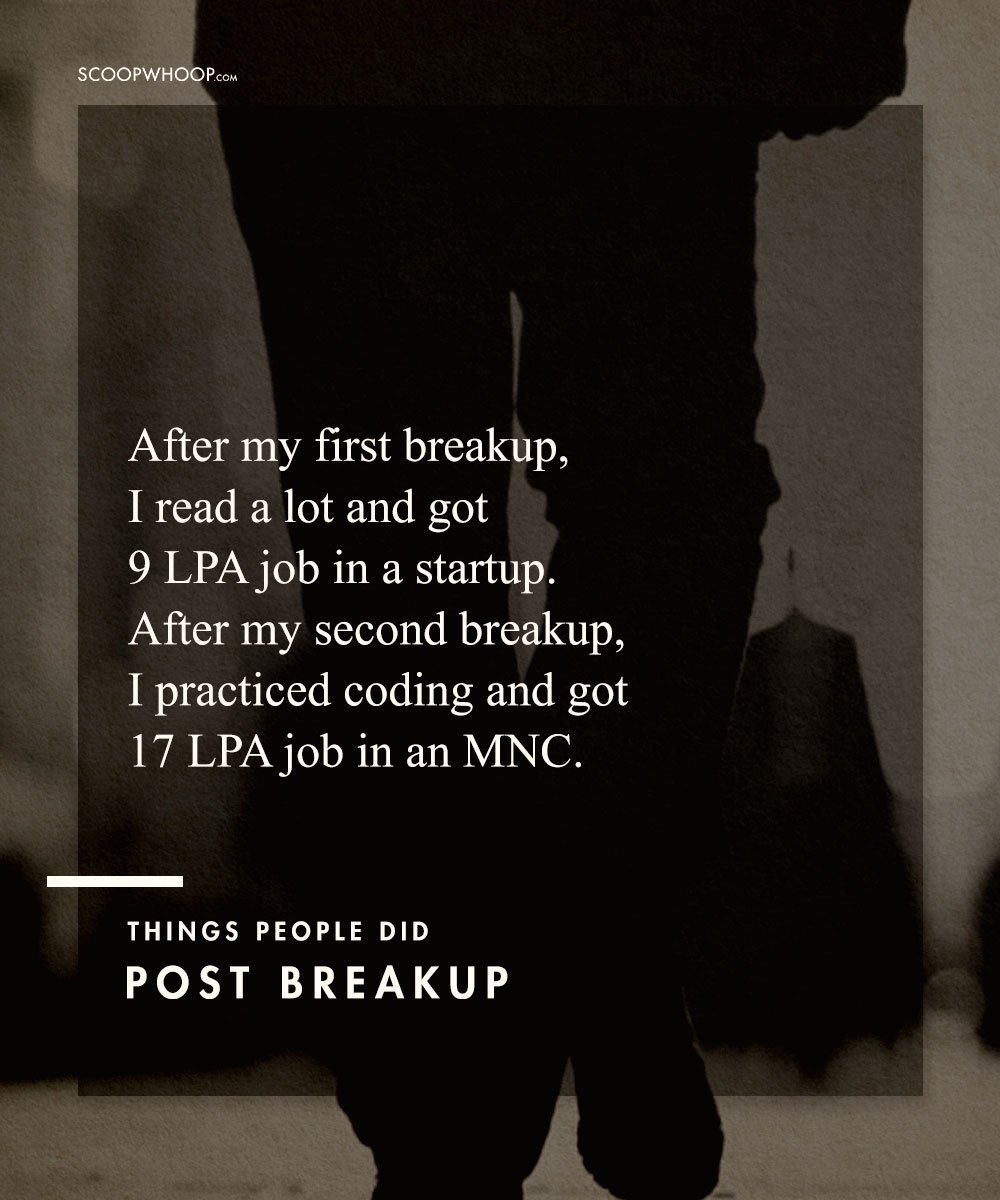 After the third one, I learned mobile application development & landed myself a job with LinkedIN.
4. He'd slapped me thrice. In one go. I was astonished, I loved him. That moment I felt very powerless. I couldn't handle my heart and the pain it was in when this happened. I was never this weak! I couldn't breathe for a while.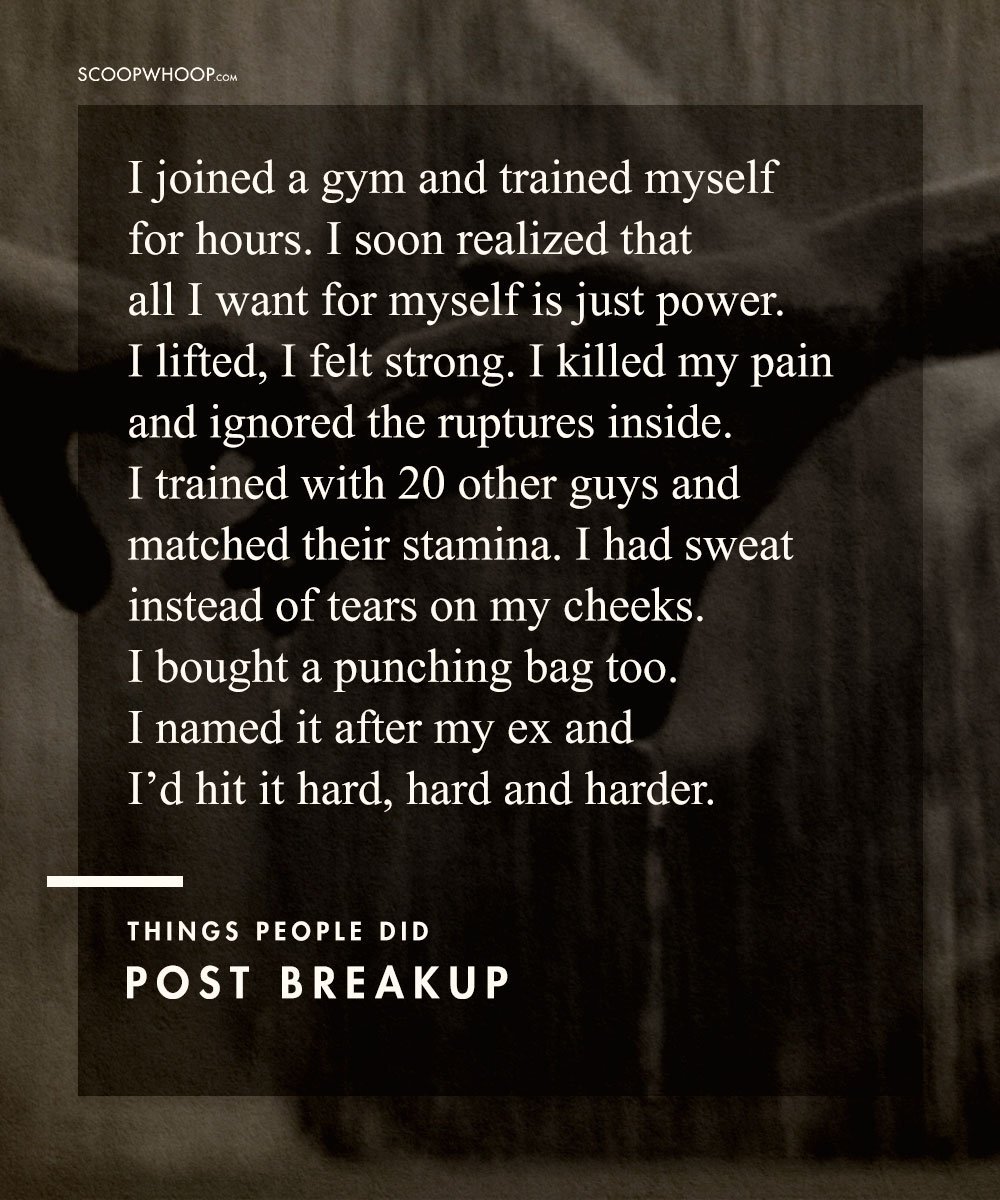 I told my trainer to train me as rough as possible. I'd never pushed myself this far. I was totally out of my comfort zone. My body ached like anything but I liked it. I couldn't figure out a better solution to relieve my anger. I used to have marks on my palms and knees due to heavy workouts but I never stopped working out.
5. I dropped her at the railway station as she was leaving for higher studies. Tears trickled down her eyes. She was not leaving my hand. I also cried a bit. We both kept staring at each others eyes. I recharged her phone for ₹ 500 so she could contact me whenever needed. She thanked me and said she was the luckiest girl on earth.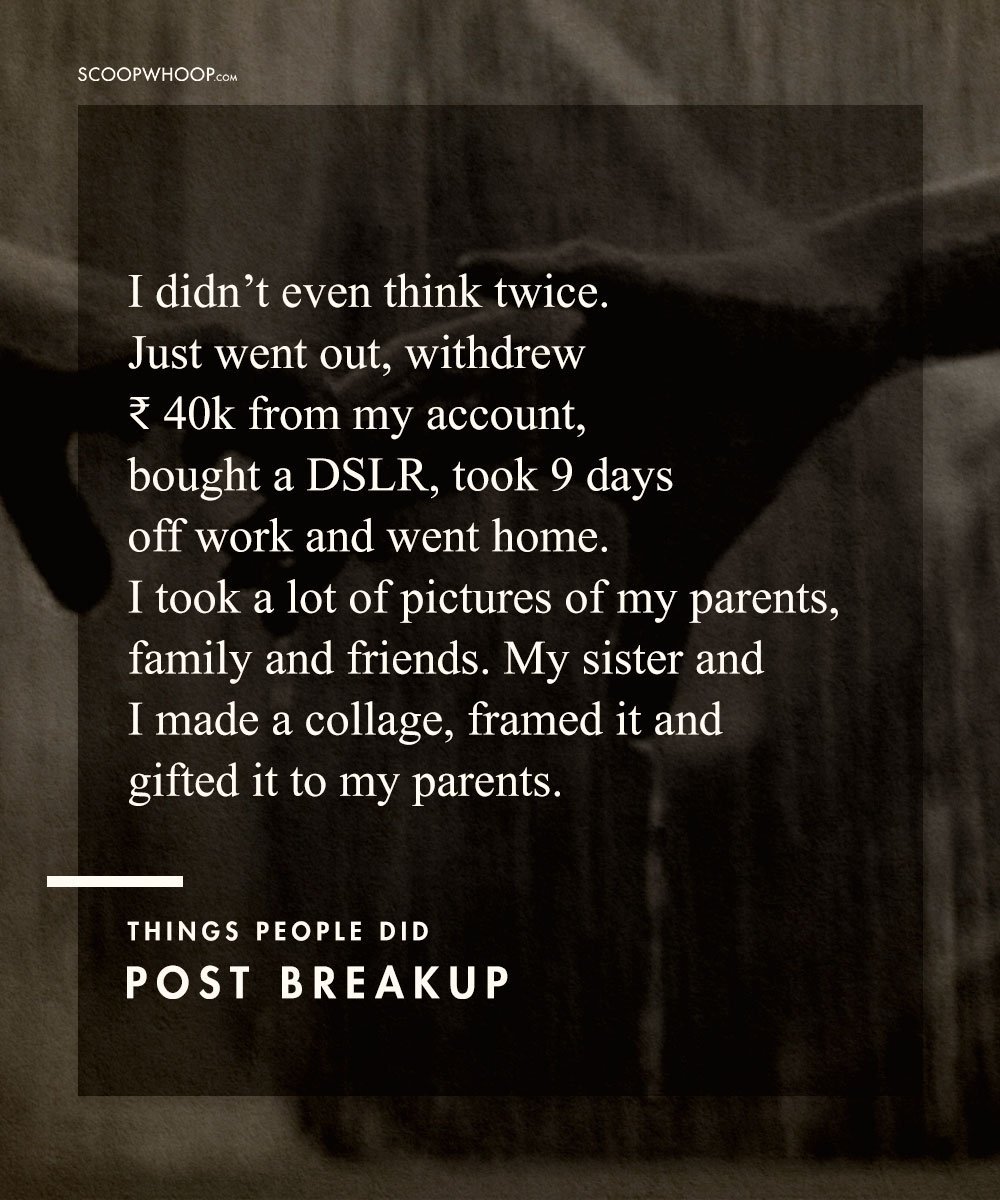 My dad still tells his friends proudly, "He bought a DSLR with his own money." My amma papa pose happily. Wherever I go, I take my DSLR with me. I click pictures of my grandparents, friends, my cute little cousins, flowers and fruits in my mom's little garden or whenever a guest comes over. I can see their smile when I show it to them. I write all the pictures, even stupid ones, in CDs and keep them safe.
6. My breakup hit me hard. I had a girlfriend of 5 years whom I loved madly. She was my batchmate in college and by the end of our studies, we were firm that we will marry each other. We both belonged to the Jain community, so caste was not a problem. Her family started showing her boys and she casually declined all the proposed grooms. She told me it's going to be easy for her to ask her parents for me. This filled me with confidence and I started to share the information with some of my family. Eventually, my entire family got the news that I am in love with a girl. Everybody found her sweet and liked her.
One day, I got a call from her that there is a boy coming to see her. I asked her to decline the proposal as usual. But the story took a twist there. After the meeting, she called me and started crying that I am not able to convince my parents and they want me to marry this guy. I told her to let me talk to them. She denied that it's of no use. The next day, she called me and told me that her father has said yes to the other family. I was like, "He can't go against your will. You just say no to the other family".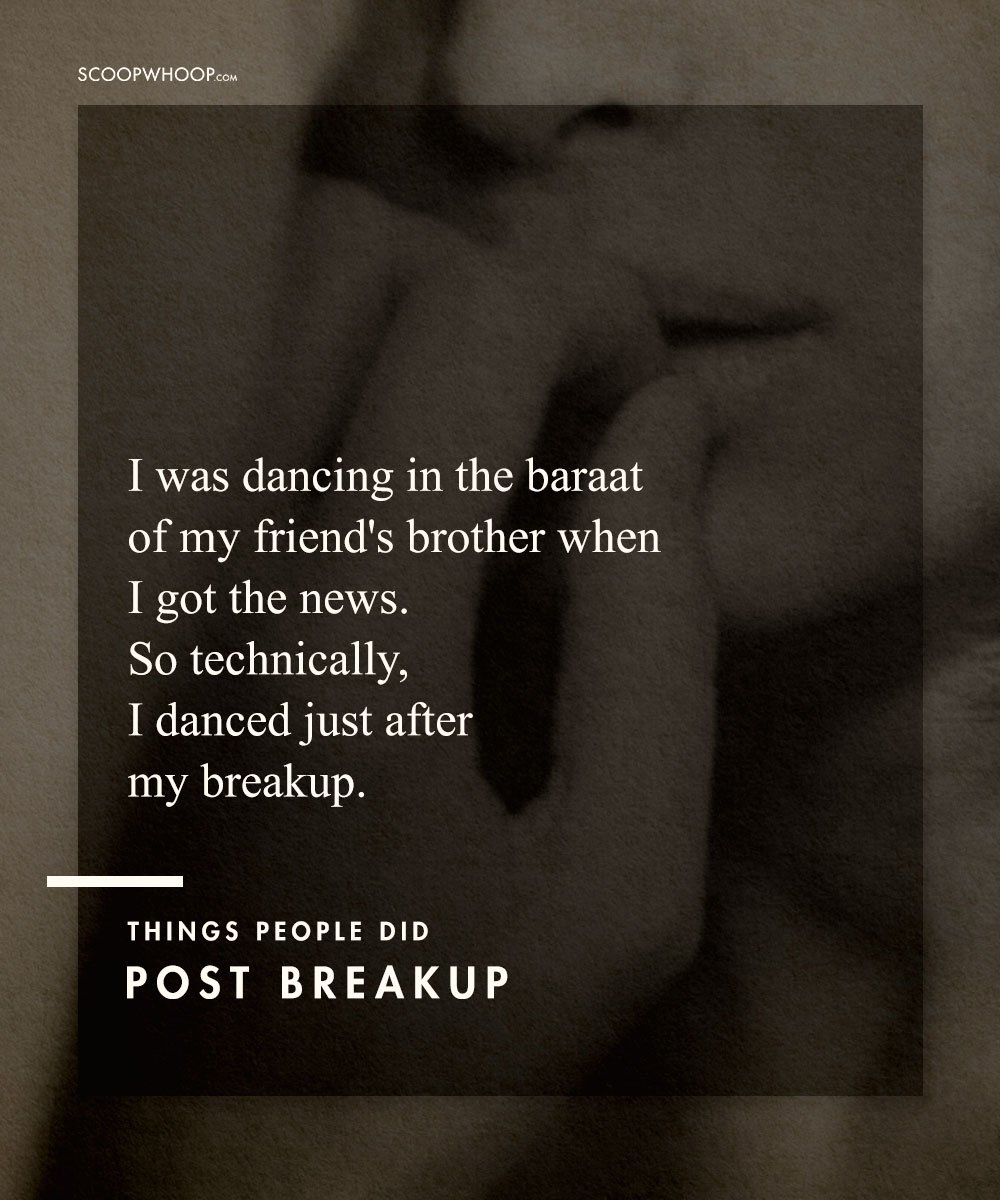 7.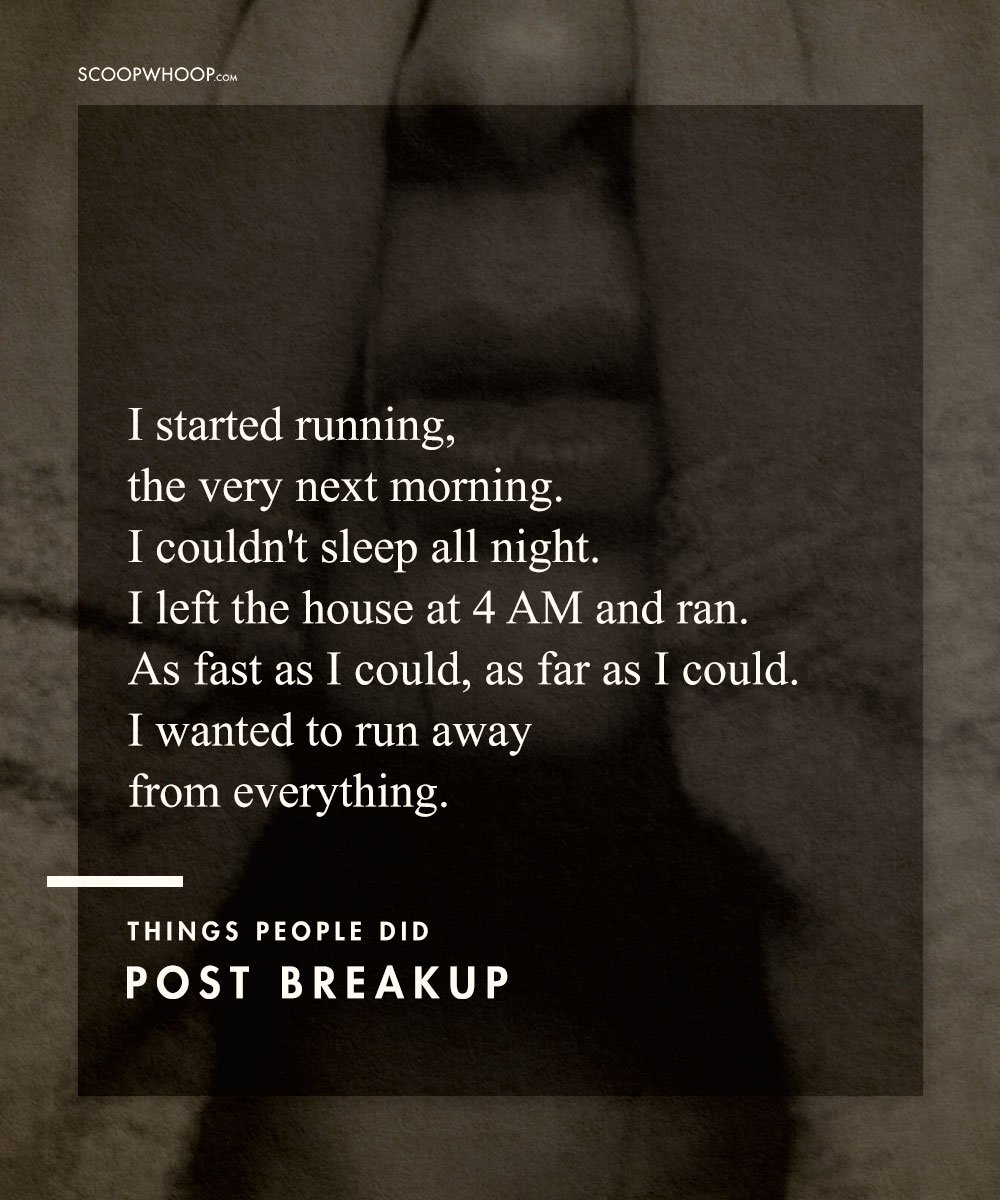 The first day, I ran 4 kms. By the end of the week I was running 8 kms. Now, I run about 2 kms everyday, and cycle about 15 kms. In November 2015, I did my first 100 km cycle trip in about four and a half hours. I am now planning for a sub 2 hour half marathon, and a full marathon. I'm fitter. I am faster. I am healthier. Because I ran.
8. I did all the below mentioned things within a span of 60 minutes, right after my breakup: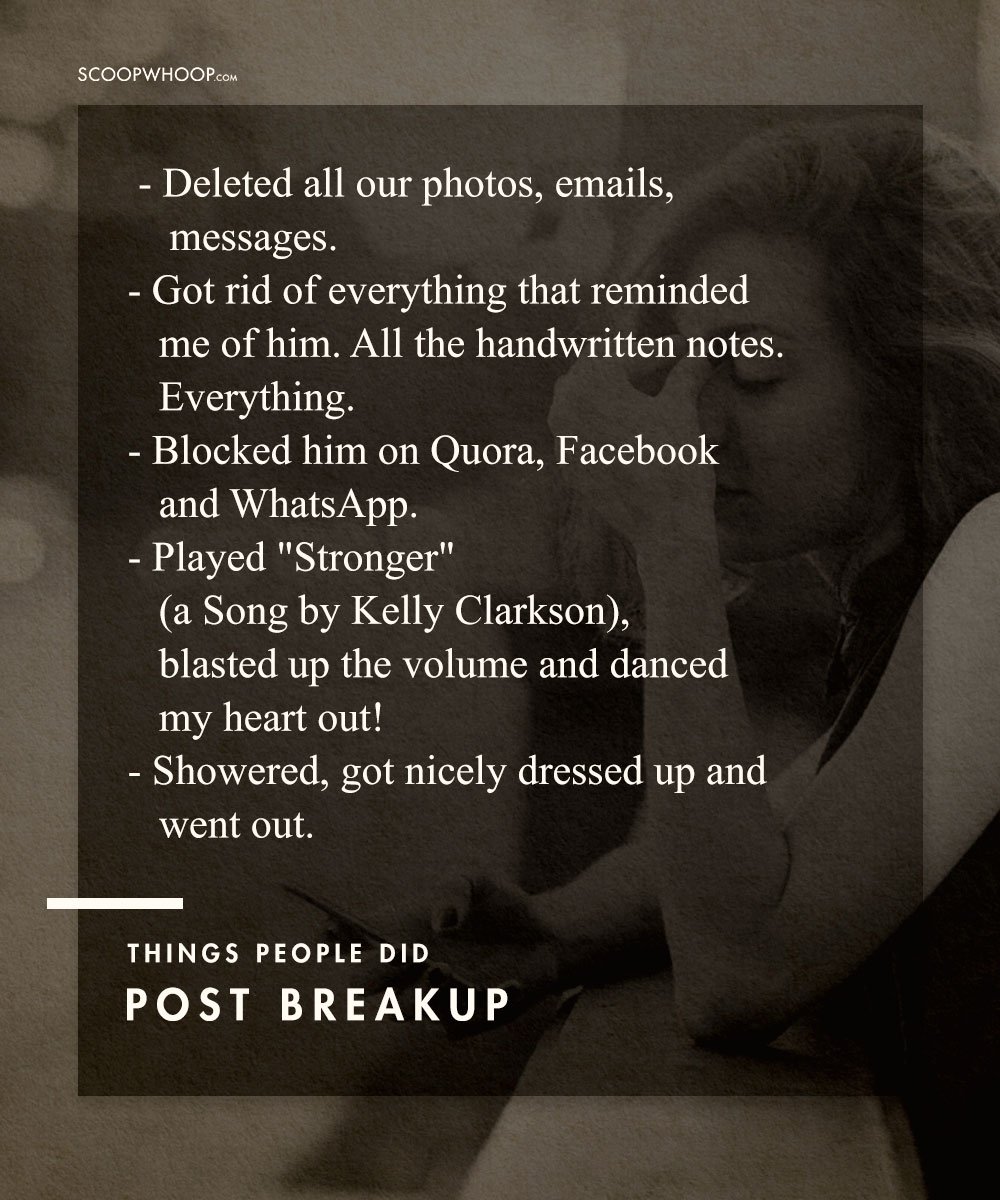 The very next day I also watched the 'Jab We Met' clip in which Kareena hurls abuses at her ex over a phone call.
9. My 8-year-old relationship came to an end when my ex told me she didn't see a future with me because my career wasn't stable. But into the very first week after the breakup, I planned a 12-day trek in the mountains.At first, I thought I will ride my bicycle for 1000 kms uphill to the base camp of the trek. Later, I extended my holiday with a long 20 day bike tour. And after finishing the trek, I went off on a long solo bicycle tour to Ladakh. I ended up traveling for over 40 days only sustaining myself with a very small amount of cash and my tiny bicycle.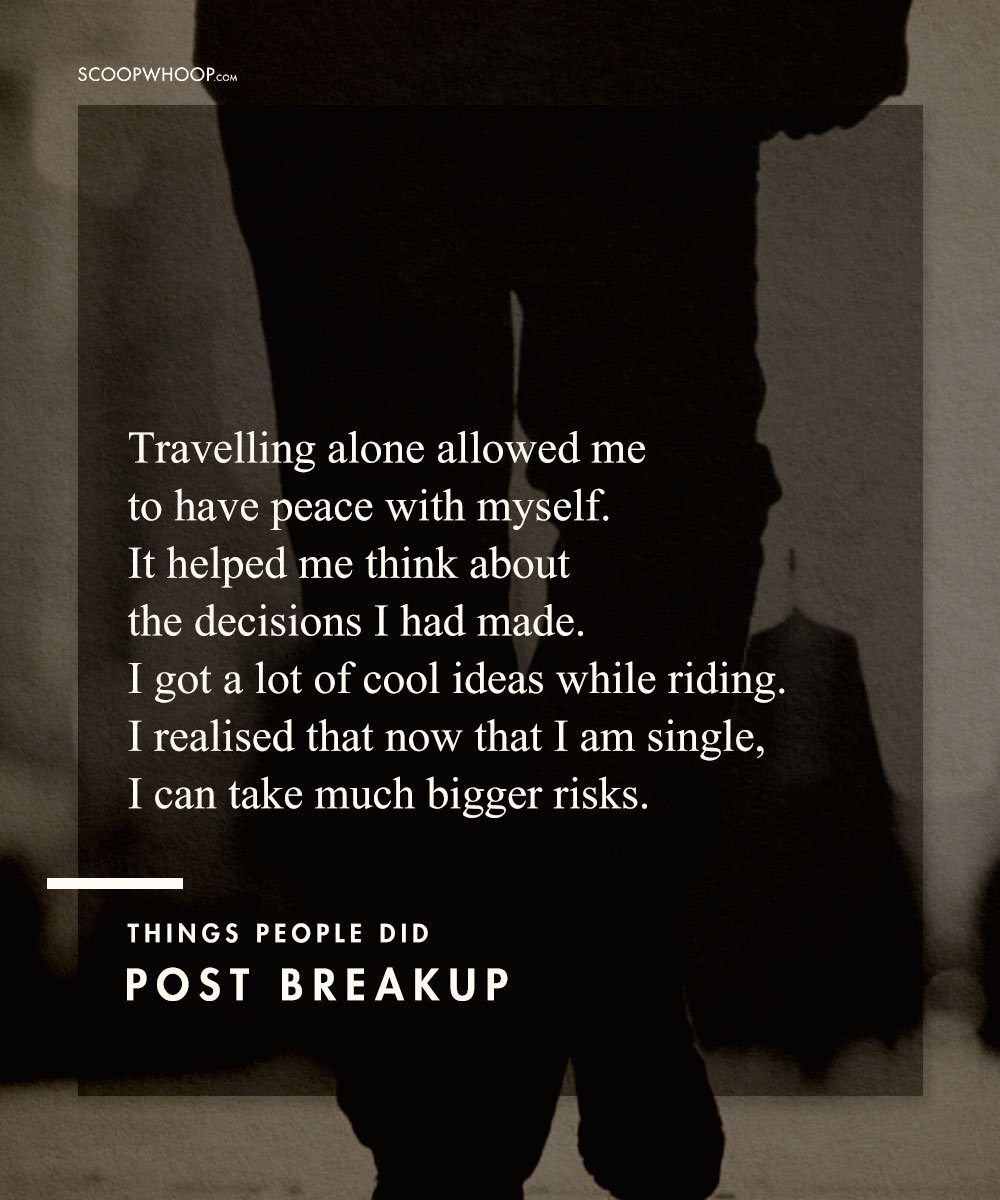 On my way back, a local newspaper published a story about my trip. Things started looking positive and soon enough, I got my hands on a really cool international assignment.
10. I recently broke up and sent her a text: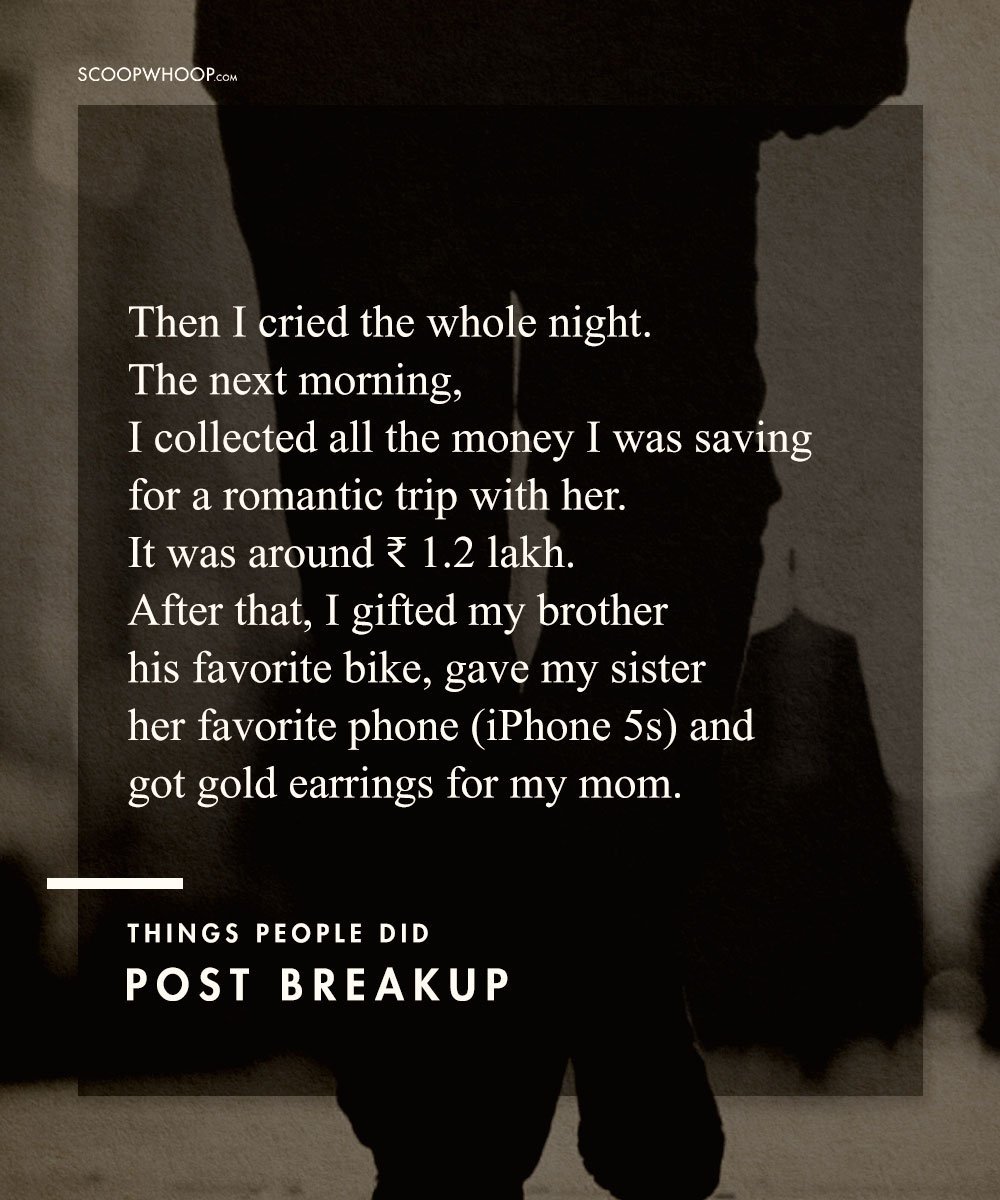 And whenever I'm sad, I just look at them. This way, I gifted myself peace.
11. Ex- fiancé said it wasn't working out. I disagreed, and so began the tears, begging and pleading.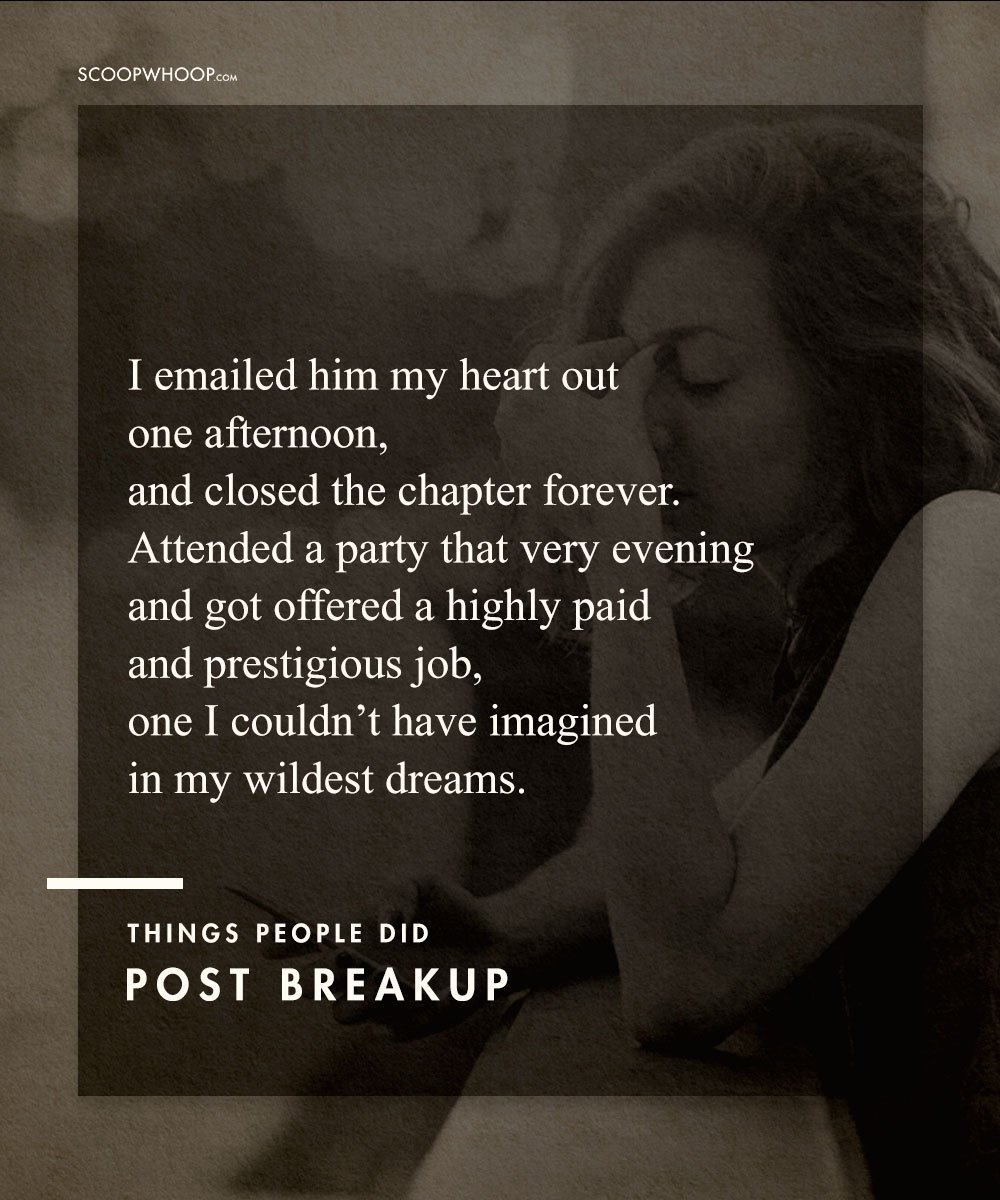 I started a week later, drove a brand new car and looked forward to frequent, work-related international travelling. My life improved drastically. God removes the people you don't need in life and rewards you with those who will transform you into a better individual.
12. The first thing I did before my ex was even out of the door was deactivate my Facebook account. Not change my relationship status, not unfriend and block him, but deactivate my account completely.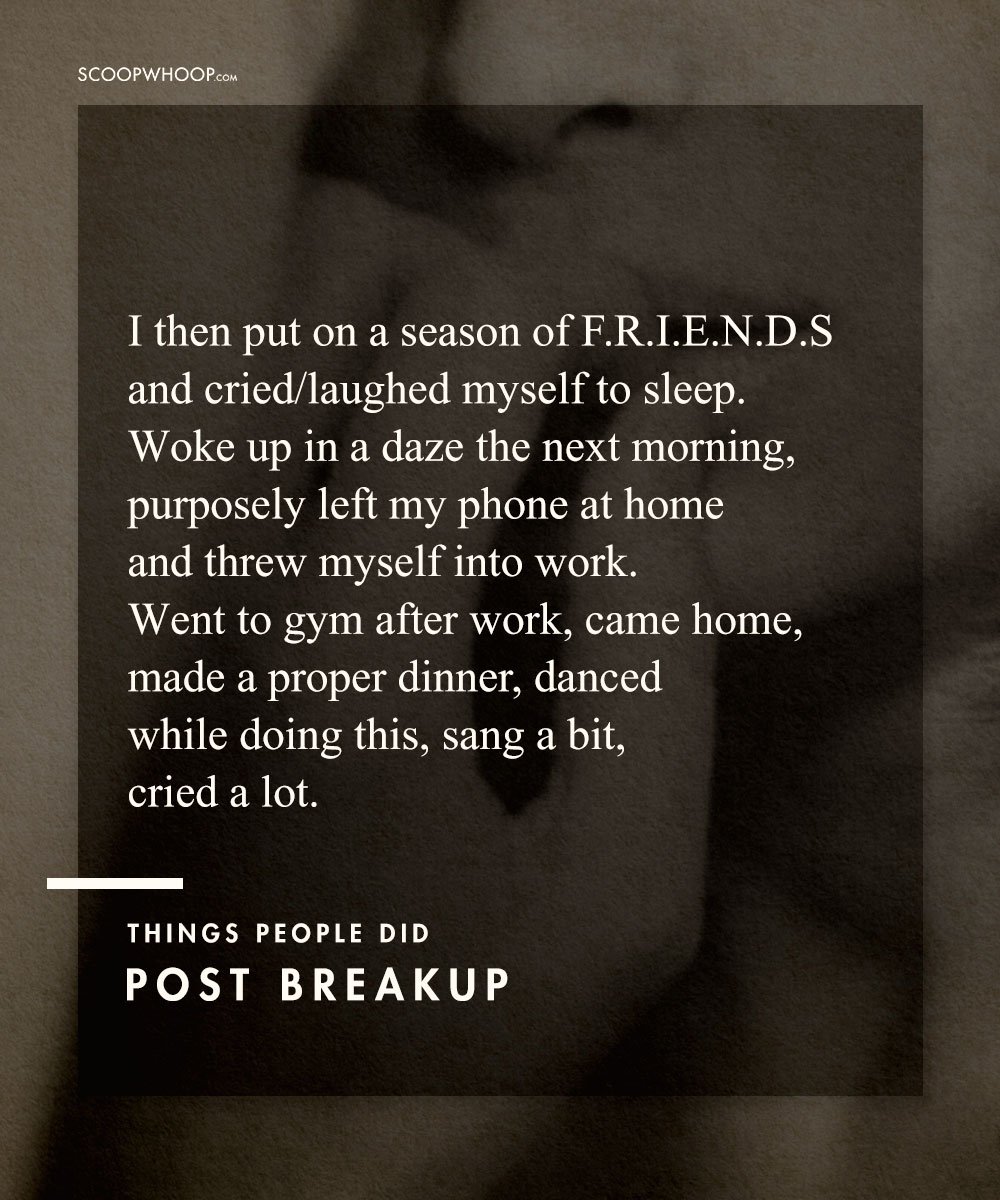 Over the next few days, I removed myself from other social media, deleted his number and all WhatsApp conversations and tried to hide my phone from myself as much as possible.
13. The boy, who I had a crush on for 10 years, who later became my boyfriend of 3 years, broke up with me one day on a phone call. He just called to tell me he was graduating from college and would like to move on without me. He confessed he was just using me as an emotional support for the difficult times after his father's death and university exams.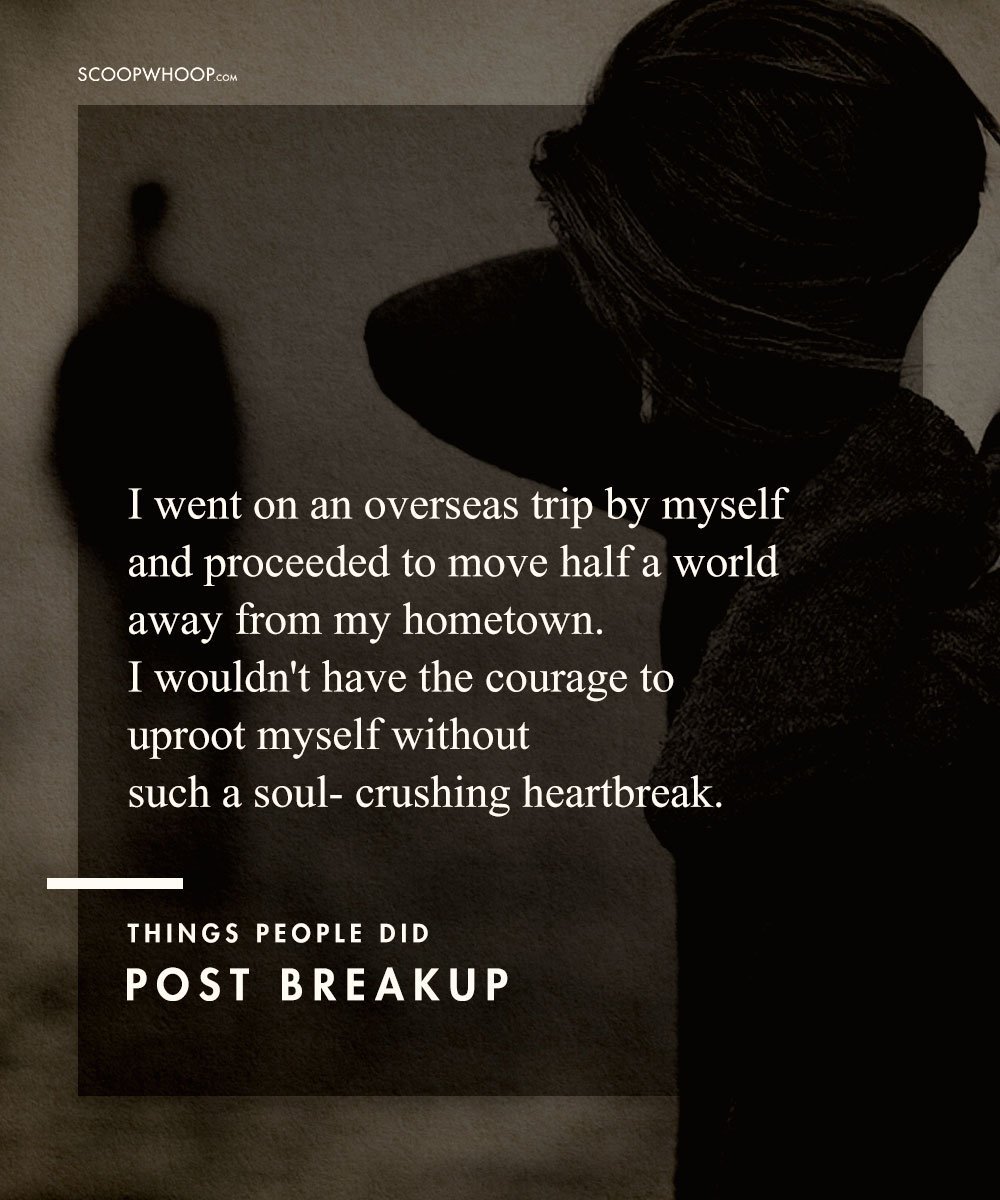 12 years later, I couldn't have asked for a better life. By losing him, I found myself and am way happier than I have ever been.
14. She unfriended me on Facebook and then blocked me. Needless to say, got blocked on WhatsApp as well. I asked her why are you doing this to me?