Thursday brought immense joy for Zimbabwe as its national cricket team made the nation proud after beating Pakistan by one run in a nail-biting T20 World Cup match held in Perth. The tournament ended with Pakistani pacer Shaheen Afridi's run-out as he struggled to steal the double in the last ball.
A video of Zimbabwe's former cricketer-turned-commentator Pommie Mbangwa going all crazy in the final moments of Pak vs Zim T20 World Cup is going viral.
The clip shared by a Twitter user, @MarkHoward03, shows Pommie Mbangwa celebrating the win while commentating for the tournament alongside Pakistan's Bazid Khan. In the video, Mbangwa can be seen thumping his chest in joy as he lauds the comeback of captain Craig Ervine-led Zimbabwe team. Bazid, on the other hand, is visibly shocked.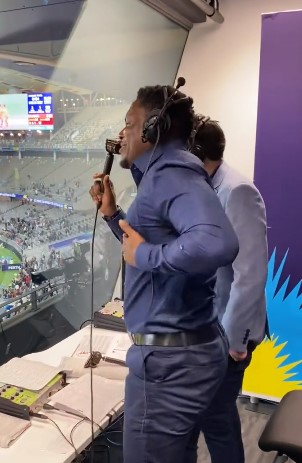 "Fielders are one the fence. Here's Evans. It's going to be one, will it be two..oh, they have finally grabbed it. And man o man, heart stopping stuff. What a victory for Zimbabwe. What a victory for Zimbabwe. They were gone, probably dead and half buried at the half-way stage with just 130 on the board. But somehow with those tall bowlers, with the bounce here at Perth, with Raza in the middle with three, they have fought and fought and finally managed to get home. What a win by just one run," Mbangwa, who represented Zimbabwe from 1996 to 2002, says in the video.
Watch the video here:
Twitterati are hailing Pommie Mbangwa's outstanding commentary in the final ball. Some netizens also pointed out Bazid Khan's disappointment during the moment.
Let's check out their reactions:
'Man o man!' Pommie Mbangwa, your chest-thumping commentary for your country has definitely won our hearts. To quote one aforementioned tweet, "there are so many reasons that we love this sport, here's one of it." What a moment.