Now that Artificial Intelligence (AI) has a more significant role in our lives than ever, 11-year-old Leena Rafeeq has developed an AI app that can detect eye diseases. And it's almost 70% accurate.
Rafeeq is a Dubai-based Kerala girl whose a self-taught coder. She has developed an AI-based application named 'Ogler EyeScan' to identify eye diseases and conditions, like Cataract, Arcus, Melanoma and Pterygium.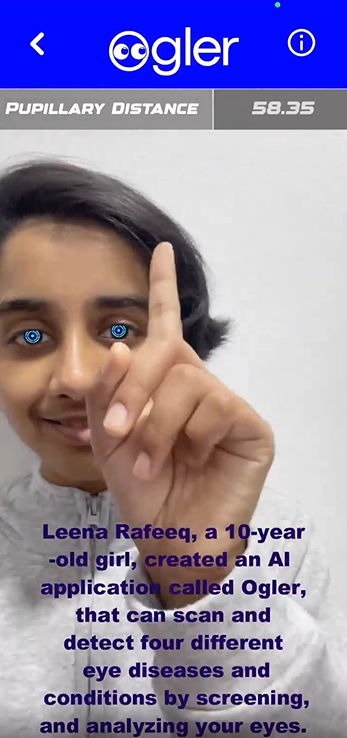 Announcing her marvel creation in a detailed LinkedIn post, she explained how her app employs a unique scanning process on iPhones to detect eye ailments. "Using advanced computer vision, and machine learning algorithms, Ogler can analyze various parameters such as light and colour intensity, distance, and look-up points to locate the eyes within the frame range," she wrote in her post.
"It also identifies any light burst issues and if the eyes are positioned exactly inside the scanner frame," she added. The app then uses the trained models to detect potential eye conditions from the scan.
In her post, she also mentioned that she developed Ogler EyeScan without any third-party libraries or packages within six months using SwiftUI, Apple's user interface toolkit that enables one to design an app.
She also attached a video demonstrating how the application works. Take a look at Rafeeq's LinkedIn post.
As revealed in the post, Rafeeq's application is currently under App Store review and is supported only on models above iPhone 10 and with iOS 16+.
Several LinkedIn users lauded her creation. Here's what they said to the young genius.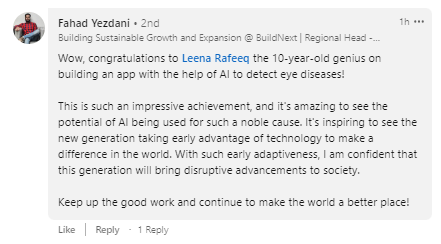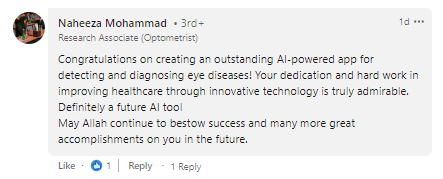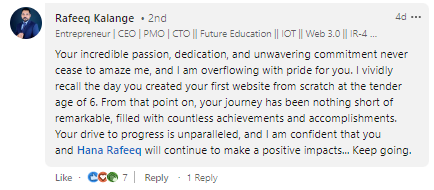 Reportedly, Leena's sibling, 9-year-old Hana Muhammad Rafeeq, became the world's youngest iOS app developer last year. She developed a storytelling application named 'Hanas.'  
You can find the link to Rafeeq's post here.