Trigger warning: This article contains disturbing visuals. Viewers discretion advised.
March 8 marked the double celebration in India, as the Holi festival and International Women's Day fell on the same date. But did we really celebrate women? In another incident of women facing harassment, a foreign tourist's trip to our nation turned into a nightmare after she was recently molested during the Holi celebrations.
The disturbing incident was caught in a video and has now gone viral on Twitter. Its visuals will leave you horrified.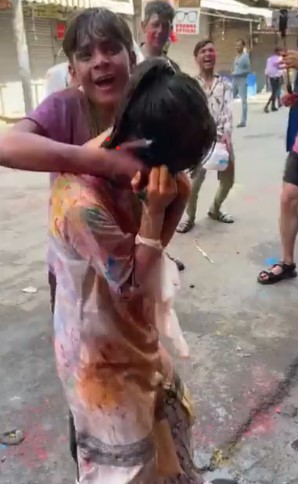 A Twitter user, @deepalipandey, shared the clip on the micro-blogging platform in which a group of men can be seen assaulting the young girl and smearing color over her face. In a moment, a boy literally smashes an egg on the girl's head. During the act, they can be heard laughing and chanting, "Happy Holi". She manages to slap one of them before leaving the area.
"This is horrendous to say the least. A Japanese tourist in India #Holi," the Twitter user, who borrowed the clip from @Sweety52216366, wrote.
Reportedly, the 22-year-old tourist, who hails from Japan, initially posted this video on Twitter, however, she later deleted it.
Here's how netizens are reacting to this shameful incident:
Director Onir reacted to the video saying, "Horrific how a festival that is supposed to be fun and beautiful is turned into a nightmare by these morons for-many women across the country…"
Actress Richa Chadha also condemned the act.
Can such men stop being a**holes and let women play Holi like a normal human being? Stop the harassment. What do you think of this incident?