The love Pathaan is getting is only growing with each passing day. Directed by Siddharth Anand, the movie has broken various Bollywood records. And now at a recent press conference, Siddharth Anand hinted at his next plan for this action thriller. He talked about making a sequel to the movie. And honestly, we cannot keep calm!
At the press conference held by Yash Raj Films, Siddharth Anand was joined by the cast of Pathaan. Quite subtly, he revealed his next big plan for the franchise. He said, "Pathaan aayi hai, hit hui hai. Toh uske baad kya banegi?" (Translation: Pathaan proved to be a hit, so what comes next?) To which the audience shouted in unison, Pathaan 2. The director replied, "Inshallah!" And that only means one thing.
While not much is known about the sequel to Pathaan, it is assumed that Siddharth Anand has his mind fixed on making the sequel. The news has left fans excited and they are ready to see what the franchise will have in store for them. Here's what they had to say.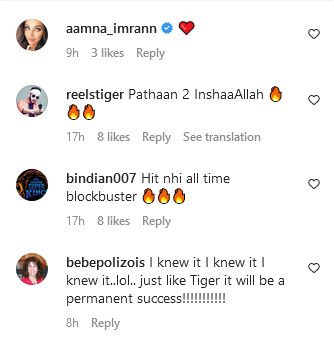 Pathaan is Siddharth Anand's first film with Shah Rukh Khan, Deepika Padukone, and John Abraham.