We're already surrounded by people who offer unsolicited advice, and like that wasn't enough, the internet became a glorified platform for such discussions. These days, everyone has an advice for everyone else, which is actually concerning. Because, toxic employers have found yet another space to share opinions that are red flags, but shockingly find some value on the internet.
Recently, Shantanu Deshpande, Founder and Chief Executive of Bombay Shaving Company, took to LinkedIn to do just THAT, yet again. The CEO who had once posted about 18-hour-work-day, shared another post on LinkedIn where he talked about his brightest employee. According to him he's perfect because everyone relies on him, he manages more than his assigned roles, and well, other reasons.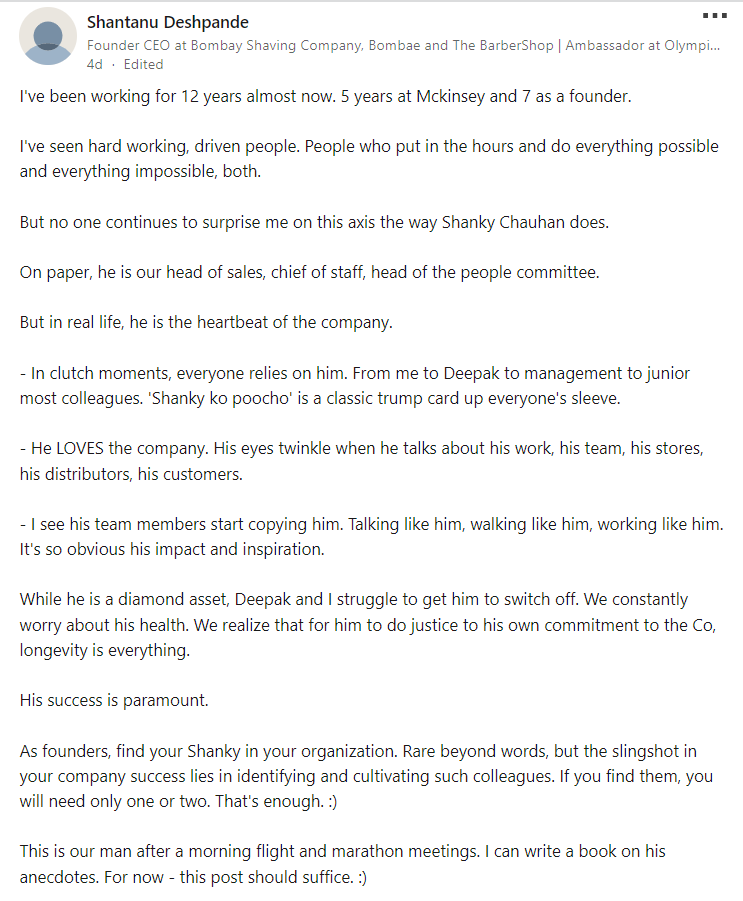 What's concerning is – the CEO mentioned that he worries about the employee's (Shanky) health, because for him to do "justice to his own commitment, longevity is key". There's more – he accompanied a picture with the post, where the said employee is apparently asleep in the autorickshaw after a morning flight, and too many meetings. Clearly, too many employers chuck empathy aside when it comes to advancing their brands.
"While he is a diamond asset, Deepak and I struggle to get him to switch off. We constantly worry about his health. We realize that for him to do justice to his own commitment to the Co, longevity is everything."

Shantanu Deshpande, CEO, Bombay Shaving Company
It's almost sad that a star employee is someone who's forced into believing that the hustle culture is the right way to achieve anything. That if work causes them to burn out, they're probably doing something worth glorification. And the only reason why employers must CARE about an employee's health is when health poses a threat to THEIR work. Selfish, no?
Twitter is calling out the CEO (yet again), rightly so.
Much like the 18-hour-work-day debacle, Shantanu Deshpande posted a follow up post, where Shanky is seen 'enjoying' a hearty meal. But if that's supposed to nullify the glorification of toxic work culture, then there's something very wrong within the associated system.