Although, we saw some Bollywood originals in the past few years, there have been times when Bollywood imitated Hollywood with little or no creativity at all. While in some of them, only the central idea is same, there are others in which the whole plot is a blatant rip-off of some Hollywood movie.
Here's a list a 50
B

ollywood movies which took some serious inspiration from Hollywood flicks:
1. Dhamaal (2007) – It's a Mad, Mad, Mad, Mad World (1963)
Dhamaal, one of the most fun-filled movies is an official remake of an American comedy, It's a Mad, Mad, Mad, Mad World in which the dying words of a thief spark a madcap cross-country rush to find some treasure.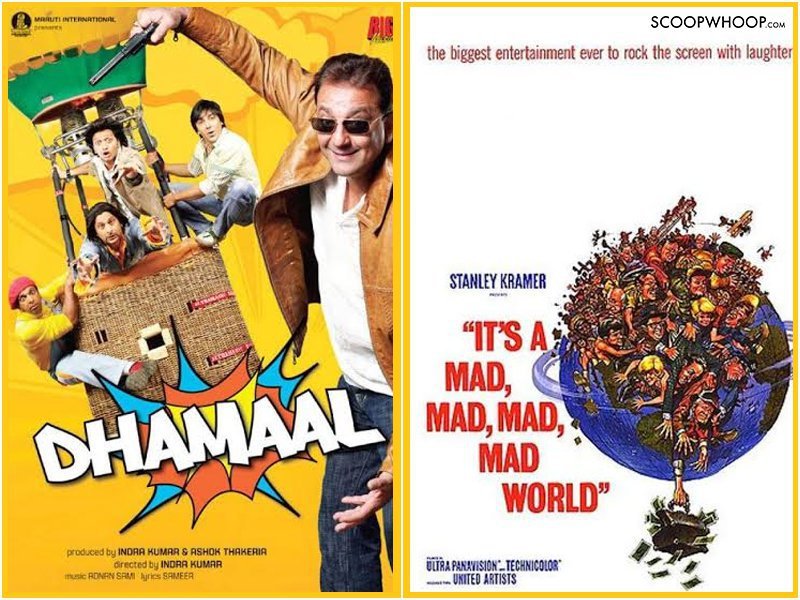 2. Baazigar (1993) – A Kiss Before Dying (1991)
The plot of these two movies revolves around the same characters where a man takes his revenge from a billionaire by having relations with his daughters.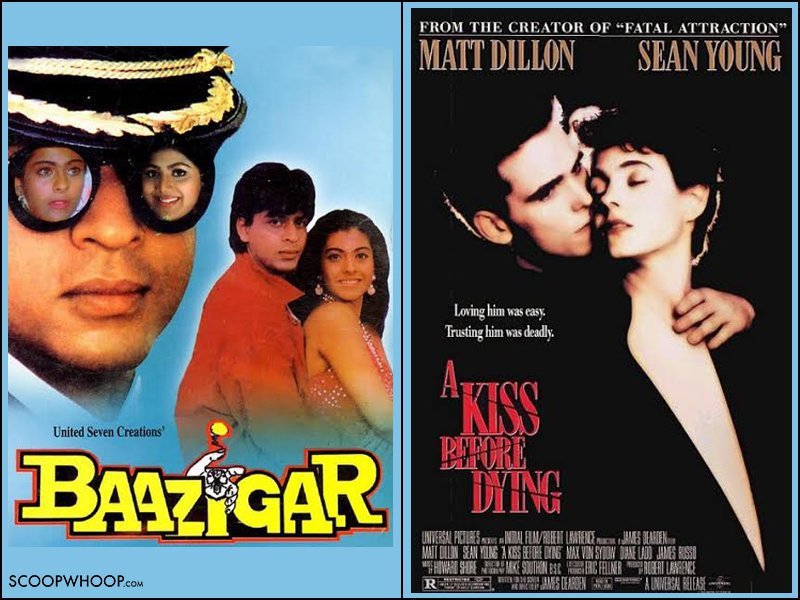 3. Mere Dad Ki Maruti (2013) –  Dude, Where's My Car? (2000)
Mere Dad Ki Maruti takes its plot from the 2000 Hollywood film Dude, Where's My Car? The plot revolves around two young men who find themselves unable to remember where they parked their vehicle after a night of recklessness.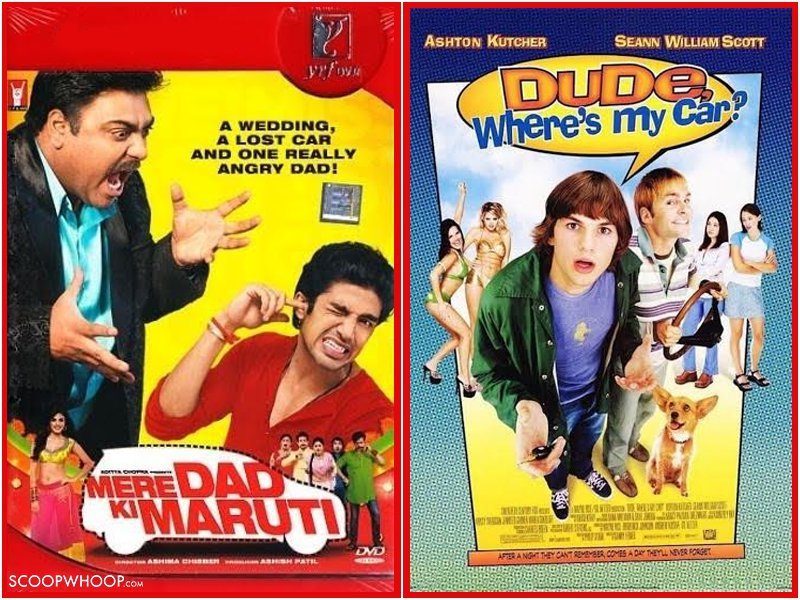 4. Aitraaz (2004) – Disclosure (1994)
Aitraaz, an erotic thriller released in 2004 is inspired by the 1994 American film Disclosure where the main focus of the story is the issue of sexual harassment at work places.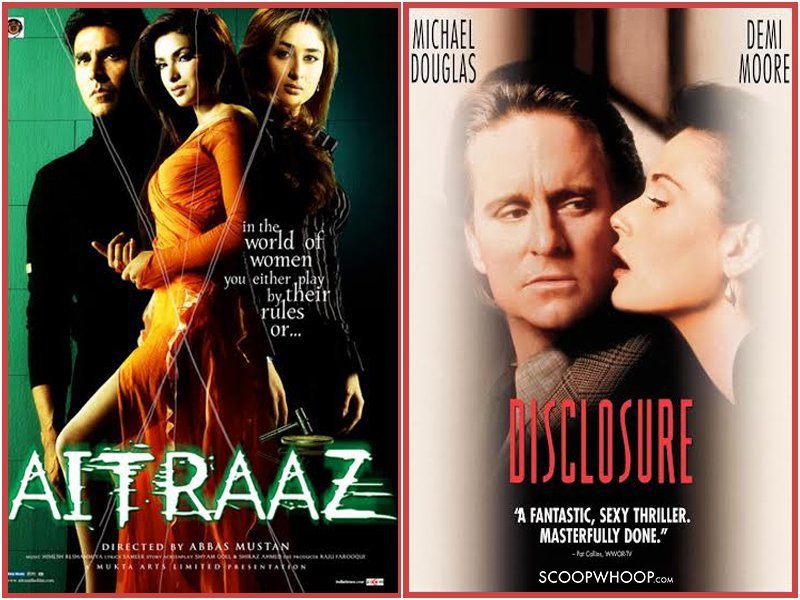 5. Murder (2004) – Unfaithful (2002)
Another erotic thriller released in 2004 is Murder which is an uncredited remake of the Hollywood movie Unfaithful. It's a story of a couple whose marriage goes dangerously awry when the wife indulges in an adulterous affair with another man.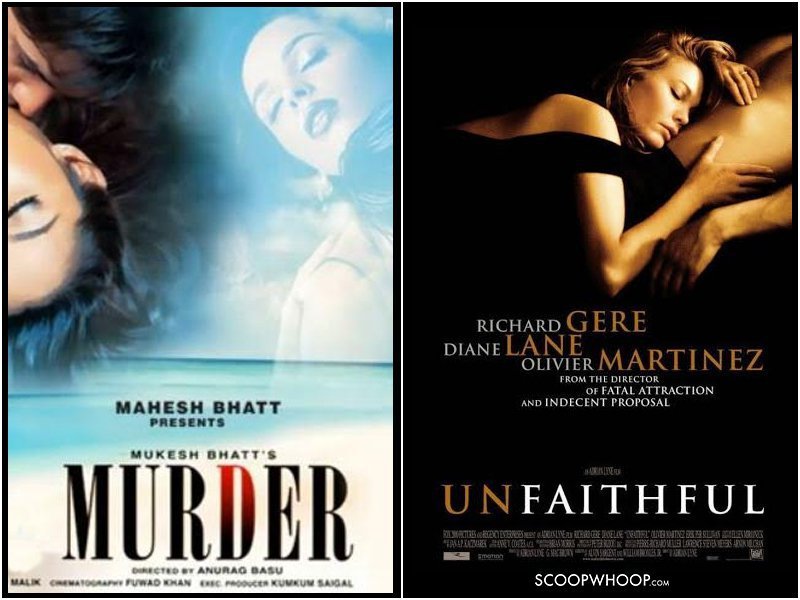 6. Dushman (1998) – Eye for an Eye (1996)
Eye for an Eye is an American psycholigical thriller film that gave a source of inspiration to a Bollywood movie called Dushman. The story revolves around a woman who seeks her own form of justice when the courts fail to keep behind bars the man who raped and murdered her daughter/sister.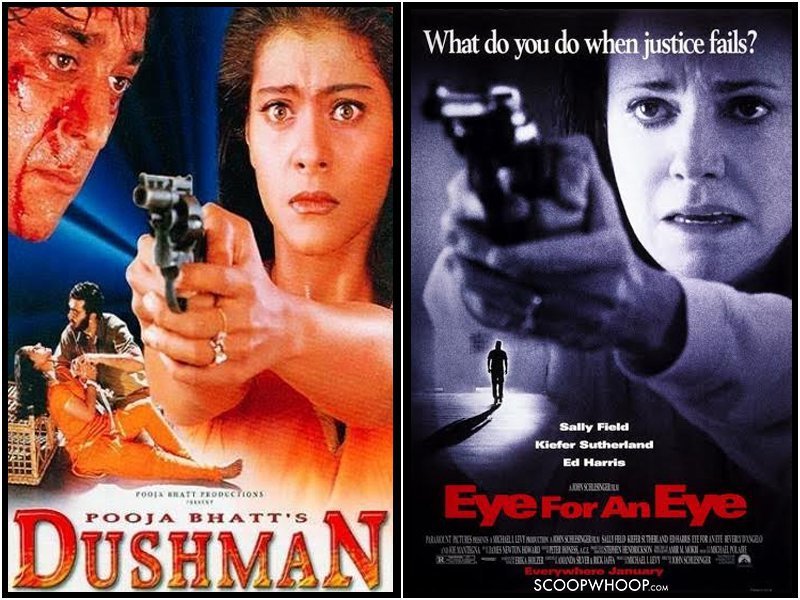 7. Awaara Pagal Dewaana (2002) – The Whole Nine Yards (2000)
The storyline of the crime-comedy film Awaara Pagal Deewana is loosely based on the movie The Whole Nine Yards that was released in 2000.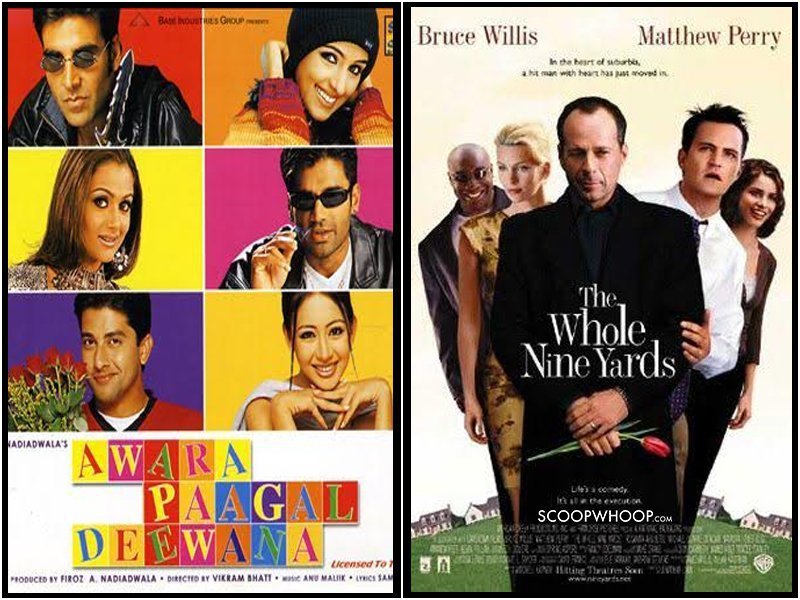 8. Agneepath (1990) – Scarface (1983)
The iconic character of Amitabh Bachchan is inspired from another iconic character and that too, Al Pacino from the movie, Scarface. The story of the movie revolves around a low life scum who, through his ability to fight for respect, makes it to the top and becomes a mafia.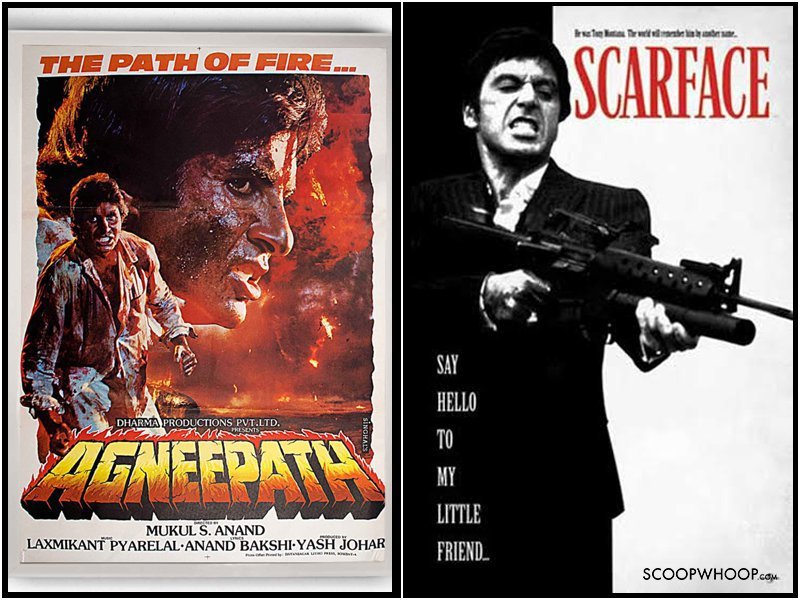 9. Bichhoo (2000)- Leon: The Professional (1994)
Bichhoo (2000) follows the story of a cold and ruthless hit man who ends up taking care of his neighbors' daughter after her entire family gets whacked by corrupt officers. Just like it is shown in the movie Leon: The Professional.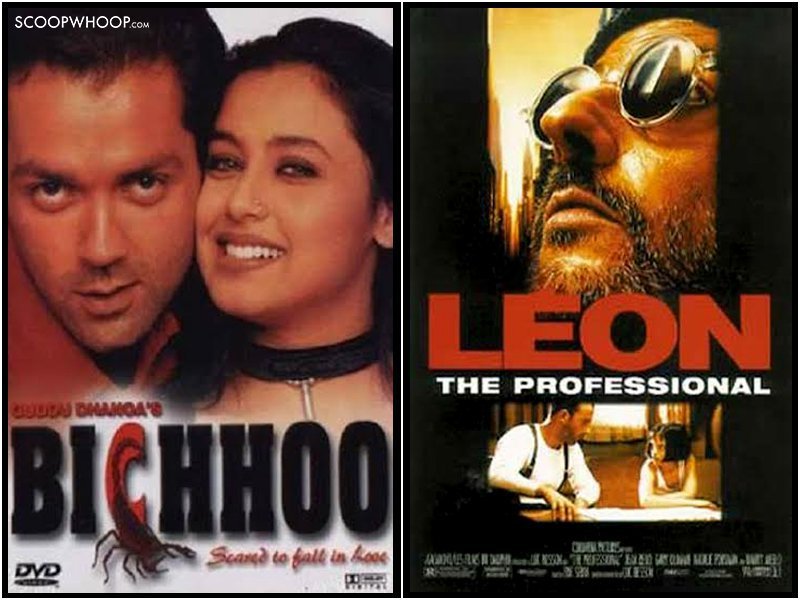 10. Baghban (2003)- Make Way For Tomorrow (1937)
Baghban and Make Way For Tomorrow share the same plot which concerns an elderly couple who are forced to separate when they lose their house and none of their children take their parents in their house.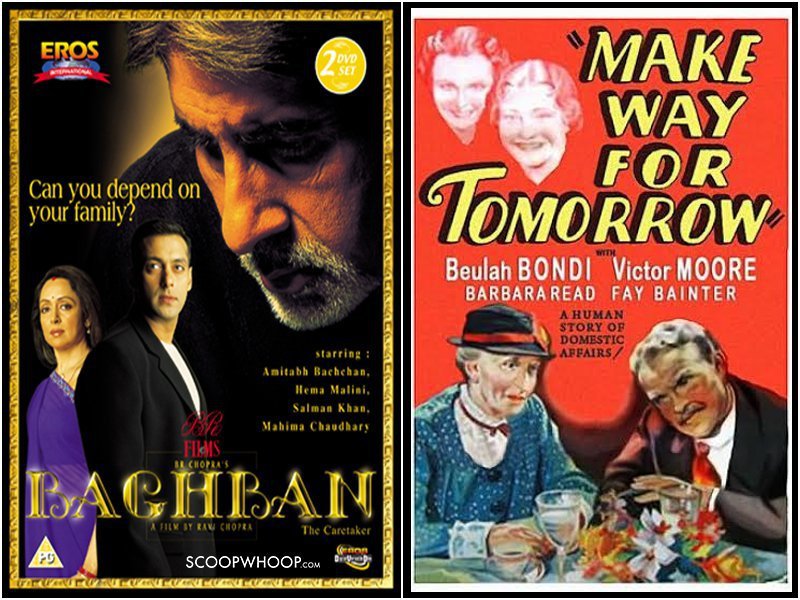 11.  Abhimaan (1973) – A Star Is Born (1954)
Abhimaan is said to be inspired from real life incidents but it also has similarities with the story of a movie, A Star Is Born (1954). The story revolves around a popular singer who convinces his wife to enter show-business, but his pride is wounded when she outshines him.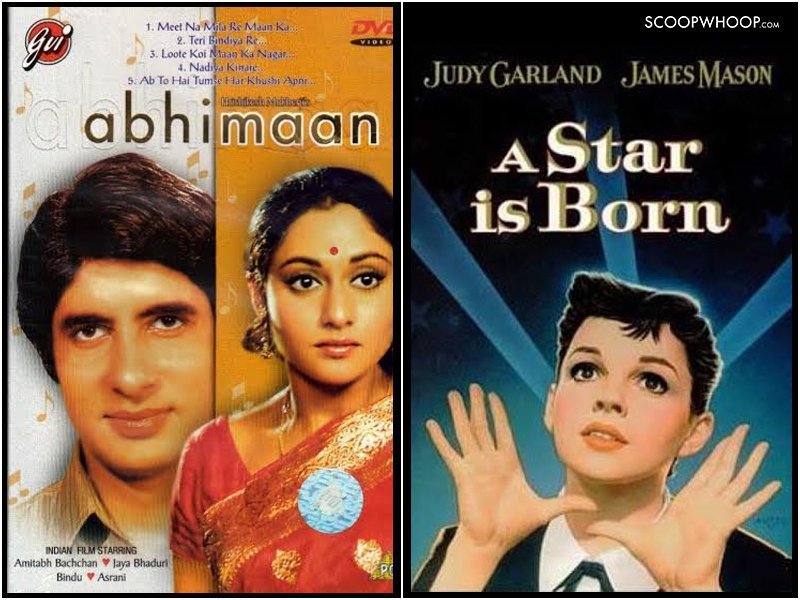 12. Alone (2015) – Alone (2005)
Alone, the Bollywood one is a remake of a Thai movie with the same name in which the twin sisters who were conjoined at birth lived by one promise that they will always be together and they will never separate. However, some mysterious circumstances leads to the death of one while the other survives. Years later, the ghost of the dead comes back to haunt the surviving sister.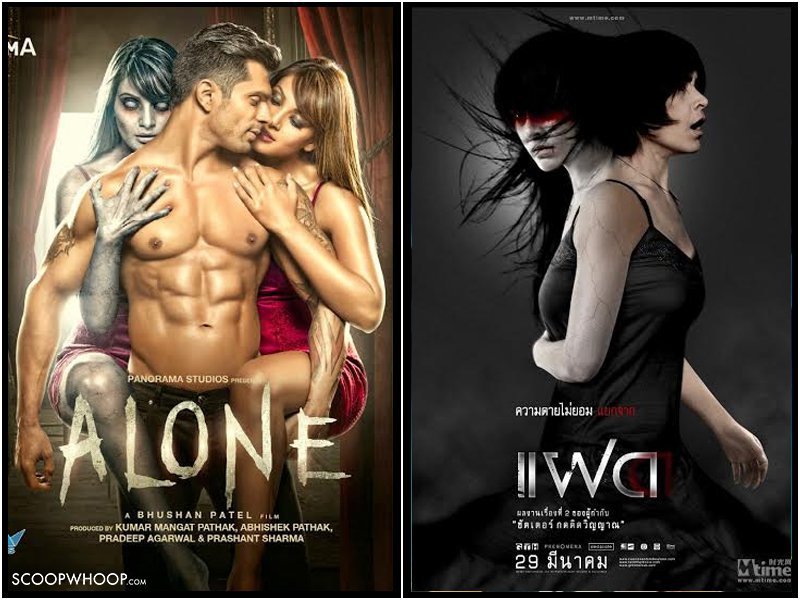 13. Awarapan (2007) –  A Bittersweet Life (2005)
Awarapan is an uncredited remake of a South Korean movie A Bittersweet Life which  illustrates the ethical codes in the Korean mob and how they clash with personal morality.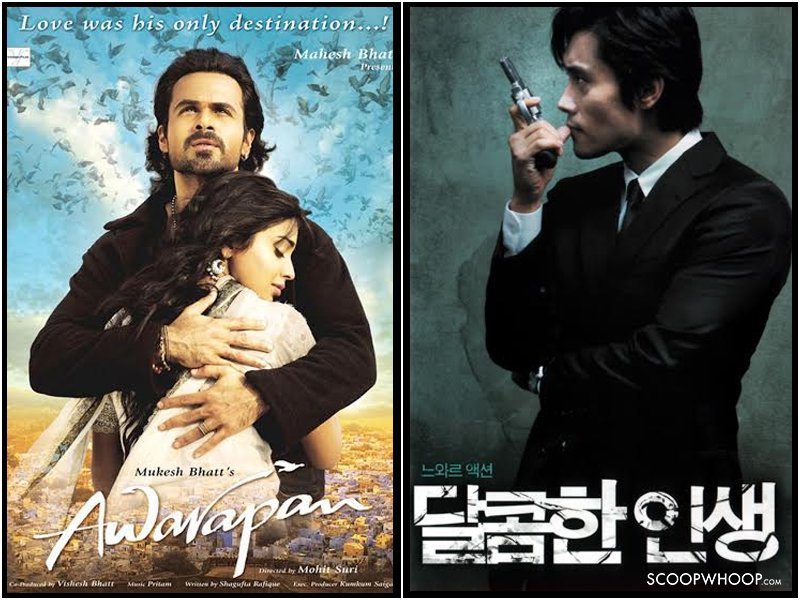 14. Aradhana (1969)- To Each His Own (1946)
The theme of the movie, Aradhana is based on the 1946 movie To Each His Own in which an unwed mother is forced to give up her child to avoid scandal.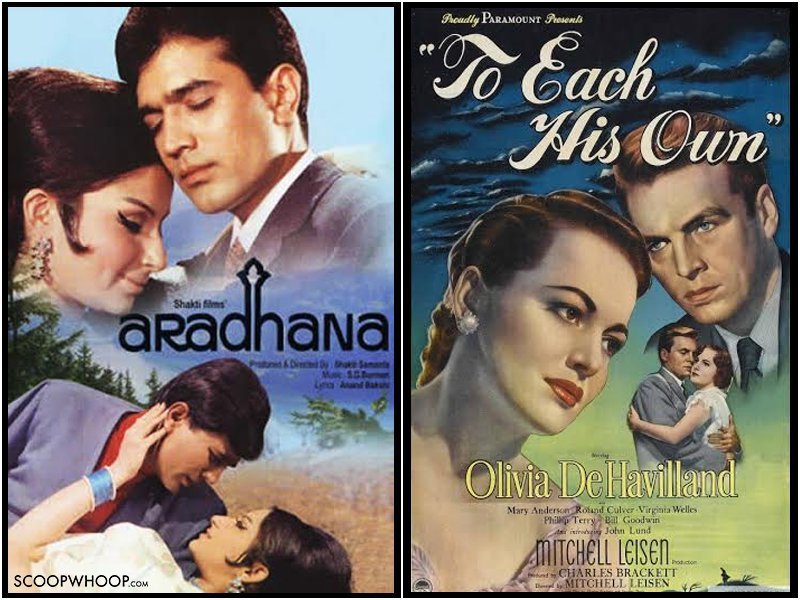 15. Jo Jeeta Wohi Sikandar (1992) – Breaking Away (1979)
The plot of the movie Jo Jeeta Wohi Sikander has certain similarities to the 1979 American movie Breaking Away. Now who doesn't remember that cycle race?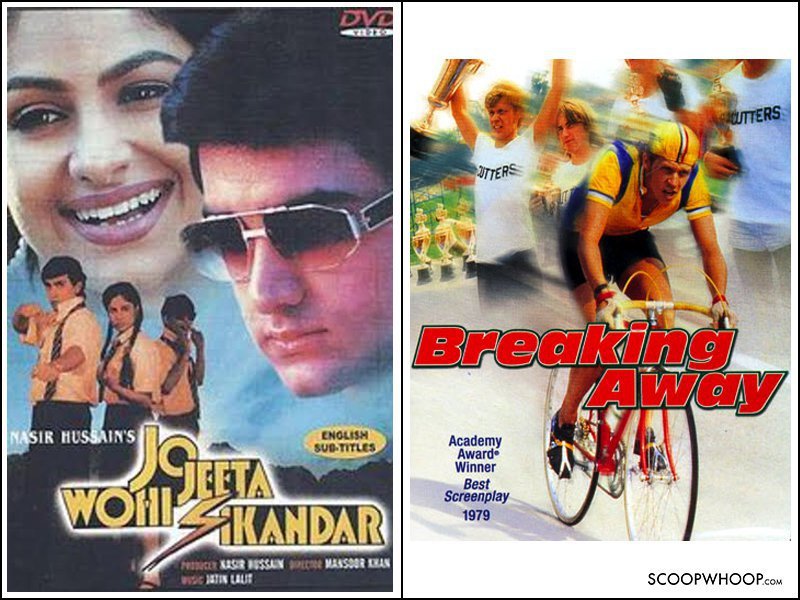 16. Shaukeen (1981) – Boys' Night Out (1962)
Shaukeen is an adult comedy that shares its storyline with the 1962 release Boys' Night Out, based on a theme of 'old men and sex'.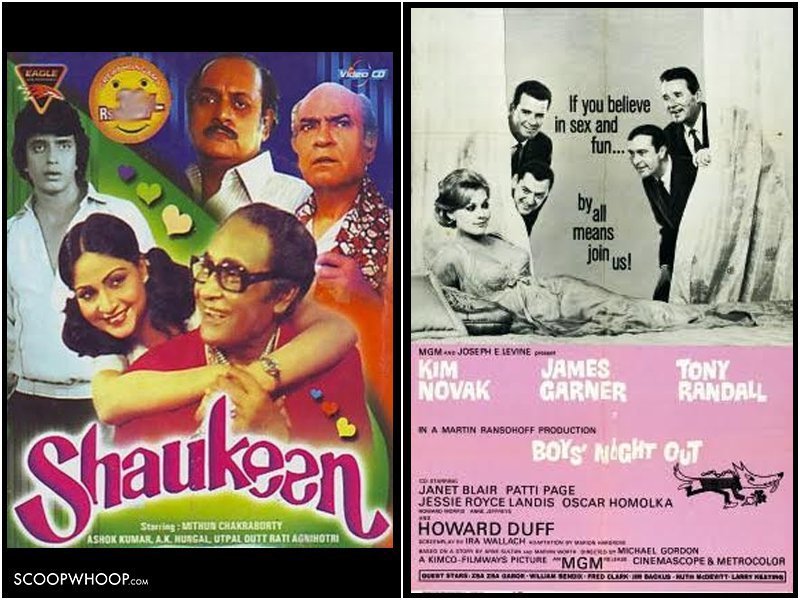 17. Murder 2 (2011) – The Chaser (2008)
Murder 2 (2011) is a copy of a Korean film called The Chaser (2008). The story is that of a former police officer that is hired by a gangster to trace missing call girls and their abductor by using the skills of his old job.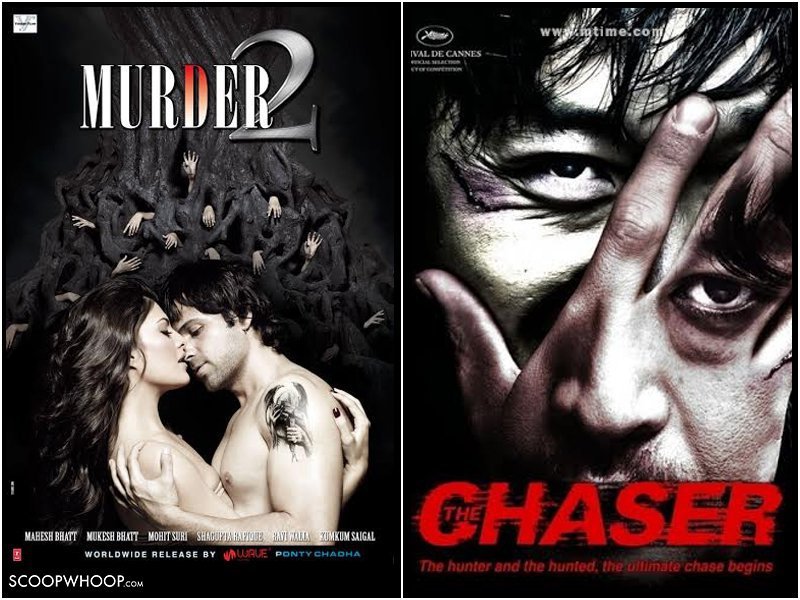 18. Main Khiladi Tu Anari (1994) – The Hard Way (1991)
Main Khiladi Tu Anari is a remake of the 1991 release, The Hard Way in which a movie star tags along with a hard-boiled policeman to research a movie role.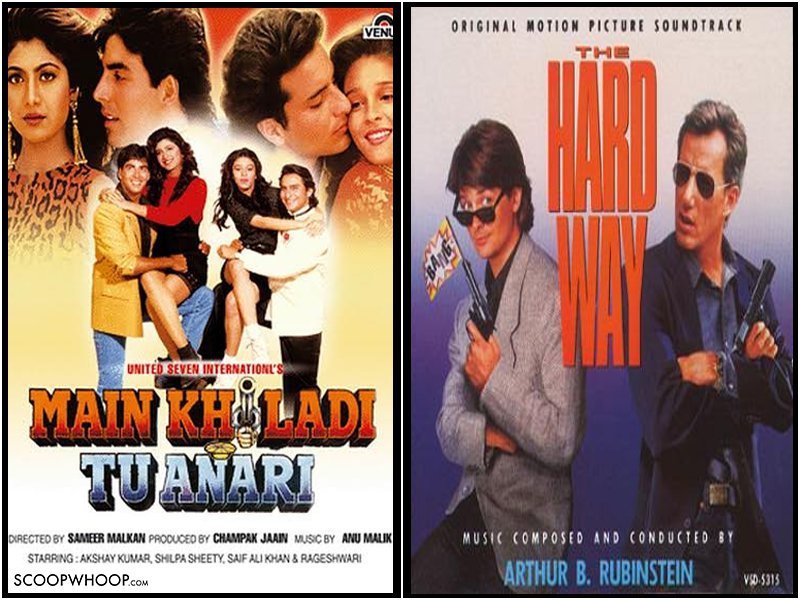 19. Ghulam (1998) – On the Waterfront (1954)
Ghulam is a remake of the movie On the Waterfront (1954). However, it is not the first time that remake of On the Waterfront is done in Bollywood. It also inspired Kabzaa starring Sanjay Dutt.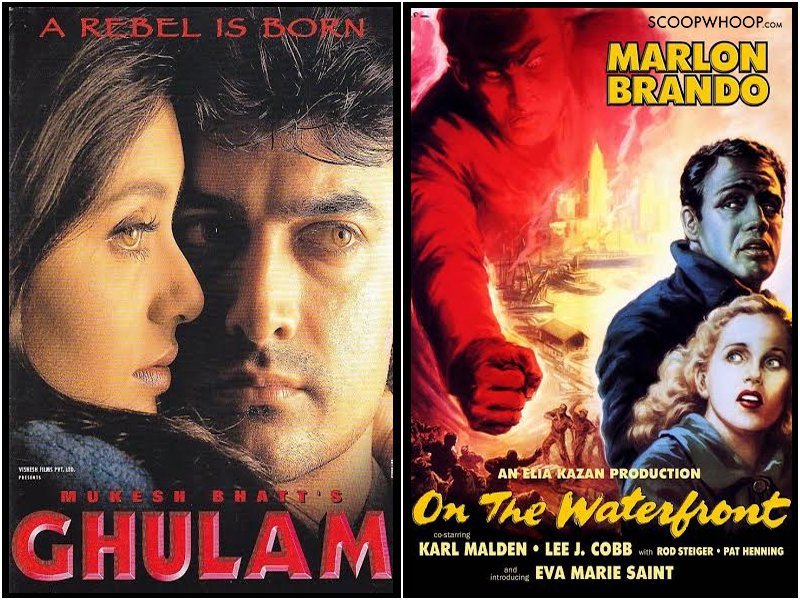 20. Judwaa (1997) – Twin Dragons (1992)
Judwaa is copied from the 1992 release Twin Dragons in which two identically twin brothers are separated at birth. However, one remains with his parents and the other turns out to be a gangster.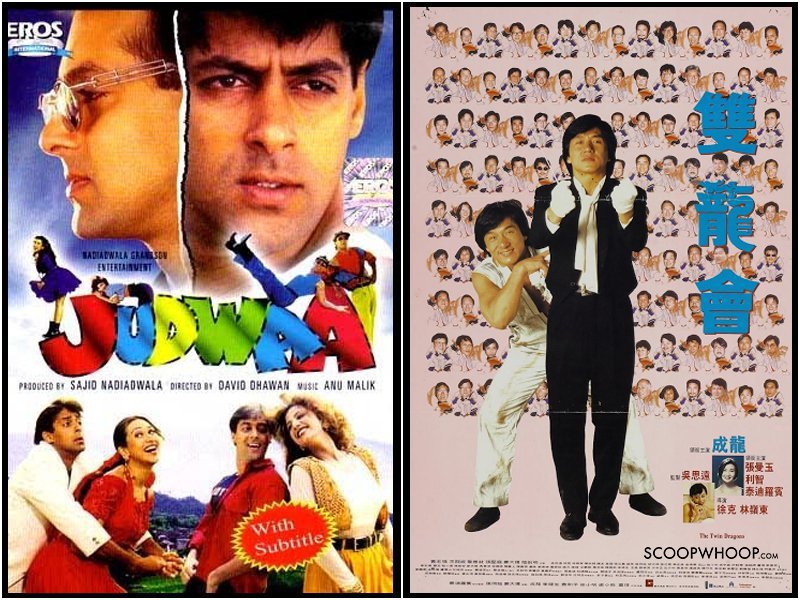 21. 3 Deewarein (2003)- The Shawshank Redemption (1994)
3 Deewarein cannot be taken as a straight inspiration from The Shawshank Redemption. However, the movie has some similarities in the relationship angles and the jail break sequence, which makes us remember The Shawshank Redemption.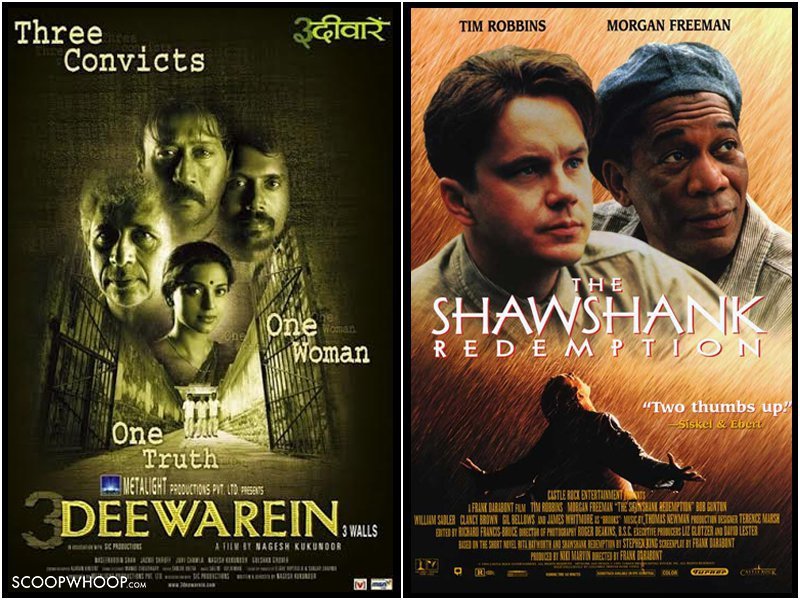 22.  Mohabbatein (2000) – Dead Poets Society (1989)
Mohabbatein is loosely based on the classic movie, Dead Poets Society, especially the first half, leaving out the Shahrukh – Aishwarya romance story and the connection with Amitabh Bachchan.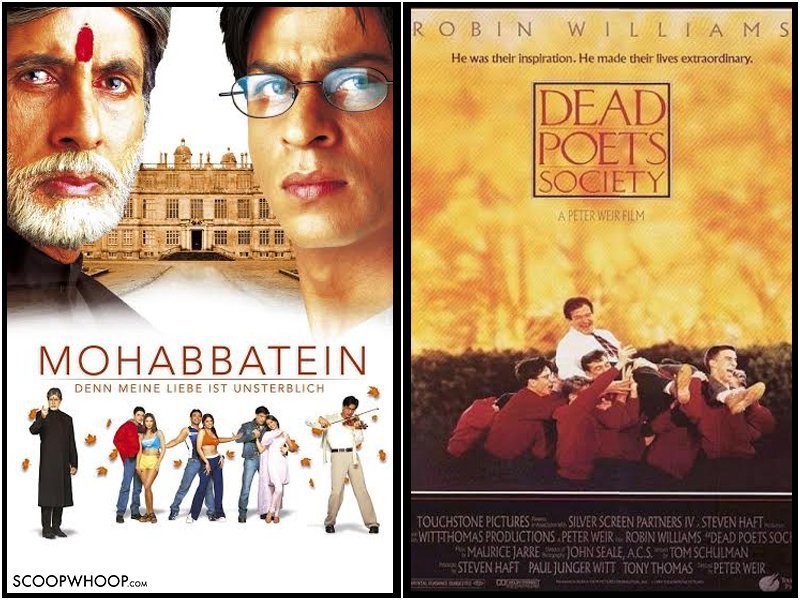 23. Aamir (2008) – Cavite (2005)
Cavite, released in 2005, has exactly the same narration as we have seen in Aamir. The story revolves around a man flying back to his home country is forced to participate in a terrorist plot and is threatened, if he doesn't comply with certain demands.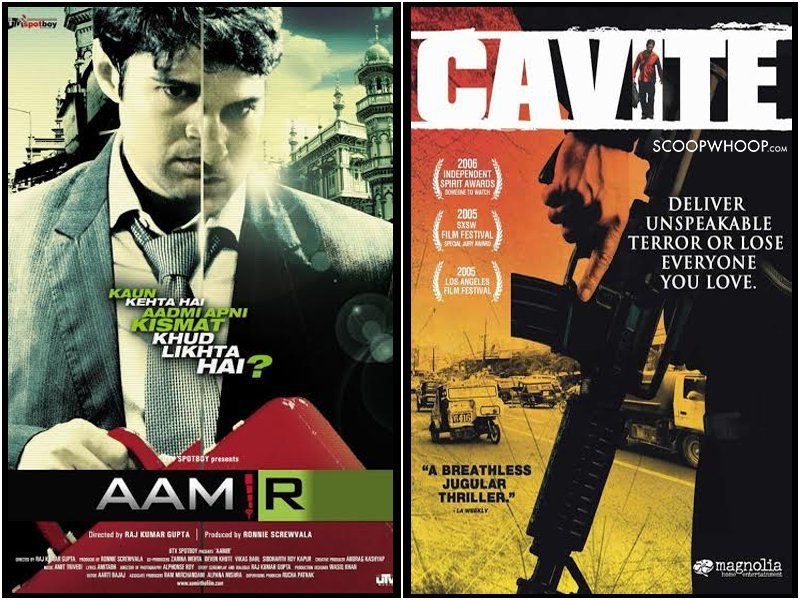 24. Krrish (2006) – Paycheck (2003)
Krrish is inspired from the Hollywood flick Paycheck that had almost the same storyline.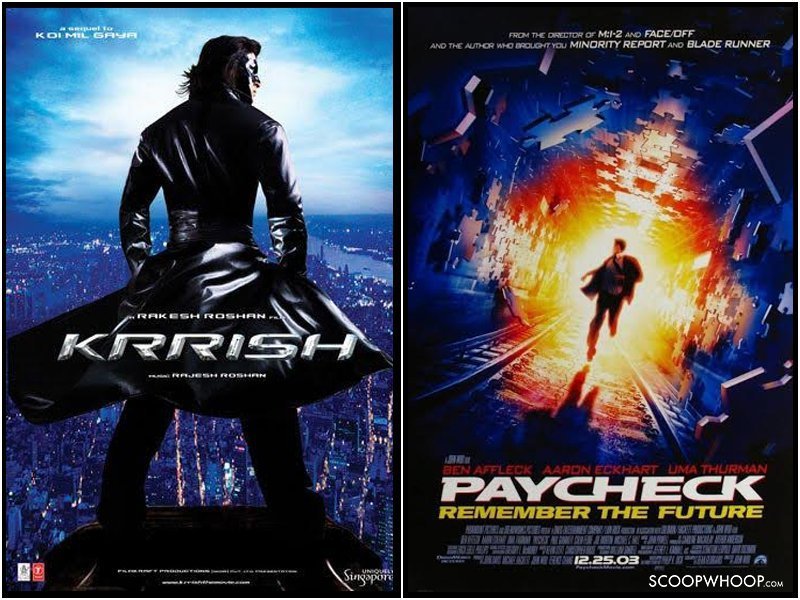 25. Citylights (2014) – Metro Manila (2013)
Citylights is a remake of a 2013 release Metro Manila which is a story of a poor family trying to escape from rural poverty by migrating to the big city.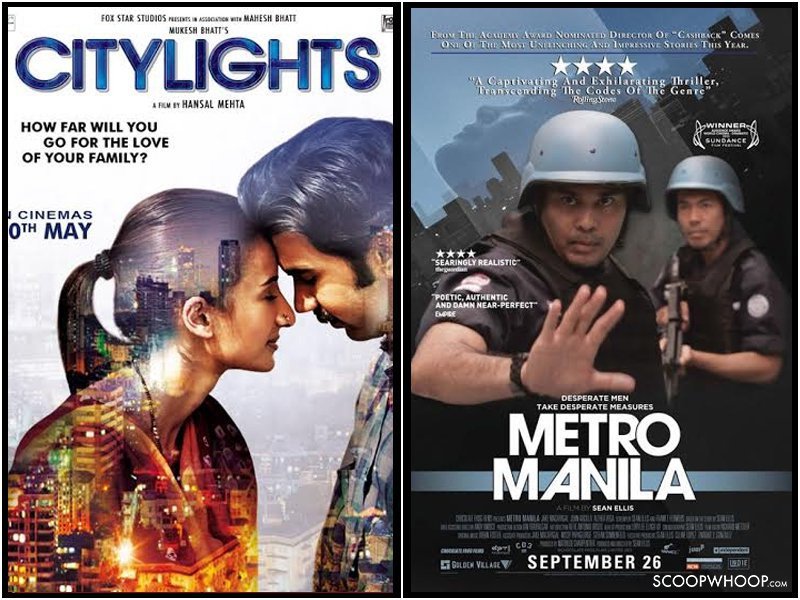 26. Pyar To Hona Hi Tha (1998) – French Kiss (1995)
This Bollywood flick is a remake of the 1995 Hollywood film French Kiss in which a woman flies to another country to confront her straying fiancé and gets into trouble when the charming crook seated next to her uses her for smuggling.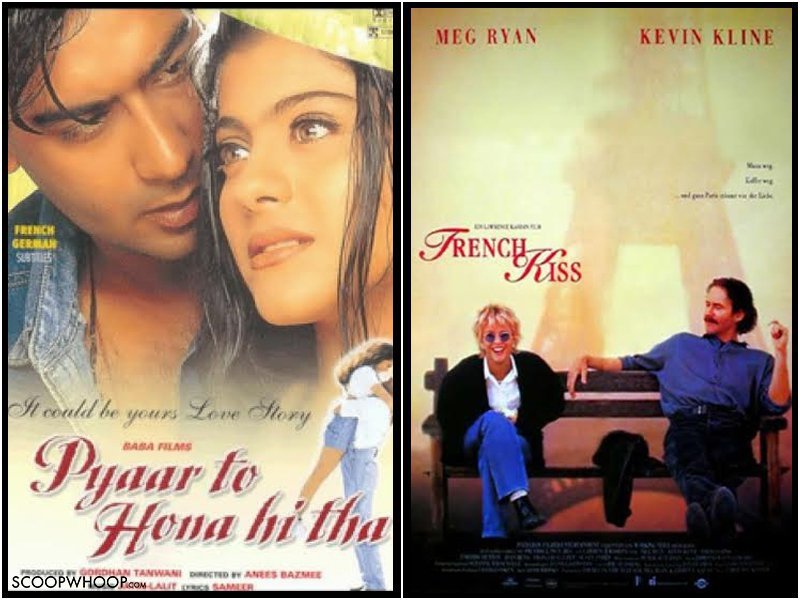 27. Rock On (2008) – The Happy Life (2007)
The movie, Rock On, is loosely based on the South Korean film, The Happy Life which was released in 2007. Its story revolves around the reunion of the rock band which broke up some years ago.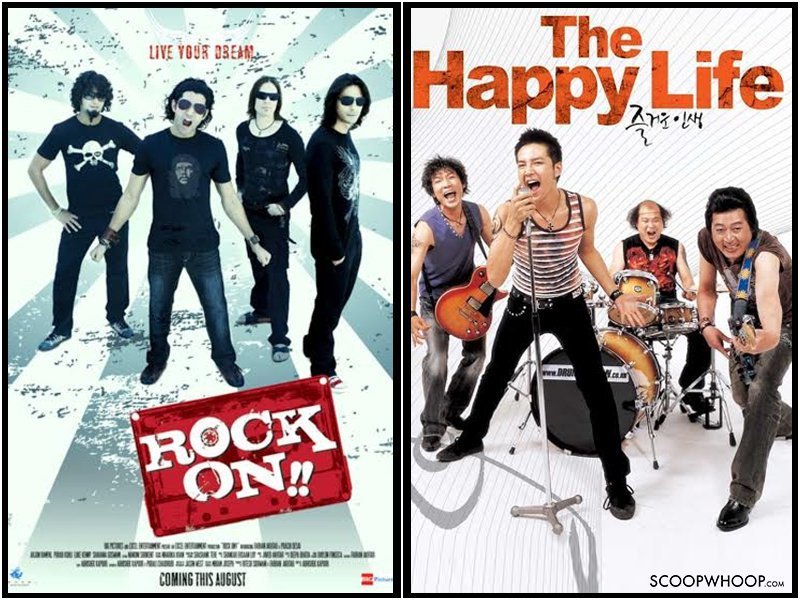 28. Jazbaa (2015) – Seven Days (2007)
Another South Korean remake is the 2015 release Jazbaa which has a lawyer as the protagonist, who is on a mission to save her kidnapped daughter, by fighting a case for an alleged criminal who is on a death row for committing heinous crimes like rape and murder and she has only seven days for the trial.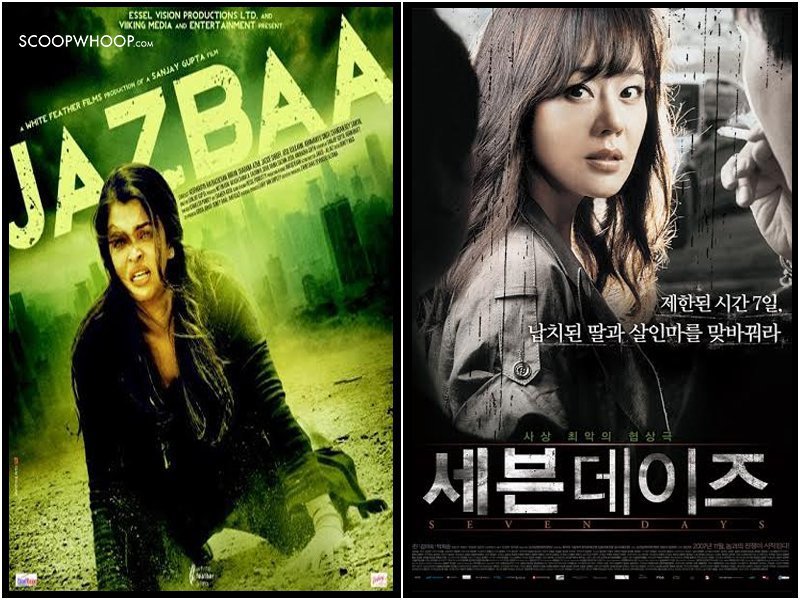 29. Jism (2003) – Body Heat (1981)
Jism is an erotic thriller film which is based on the 1981 Hollywood film Body Heat in which a woman convinces her lover, a small-town lawyer, to murder her rich husband.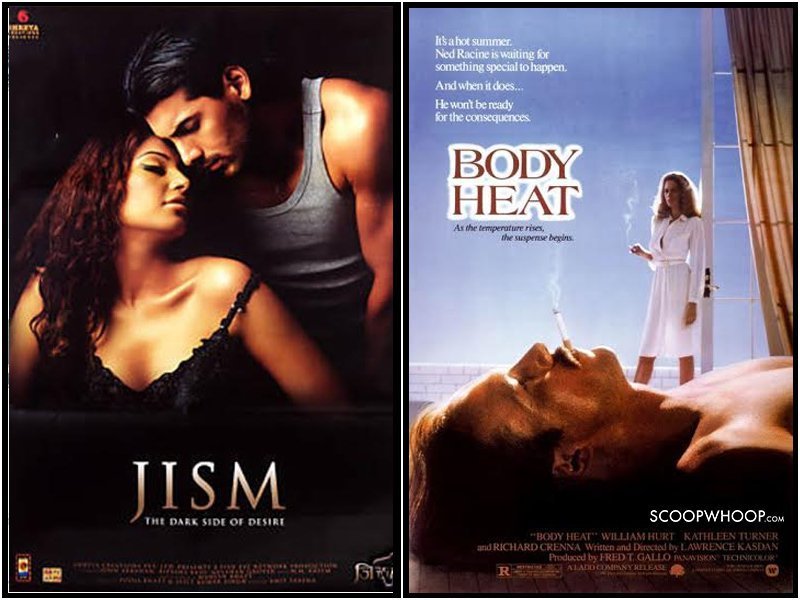 30. Murder 3 (2013) – The Hidden Face (2011)
Murder 3 is an official remake of the Spanish film, The Hidden Face in which a woman locks herself in a hidden vault in bedroom with intention to spy on boyfriend but forgets the keys outside and gets trapped. She then witnesses everything that is going on in her bedroom while desperately trying to let herself out to freedom.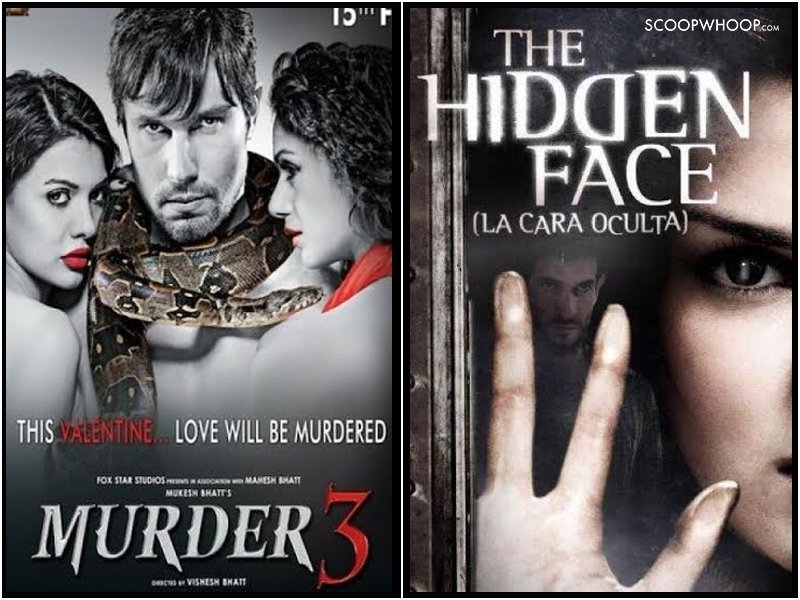 31. Ek Villian (2014) – I Saw The Devil (2010)
Ek Villian shares similarites with the plot of the Korean movie named I Saw The Devil in which the protagonist embarks on a quest of revenge when his fiancée is brutally murdered by a psychopathic murderer.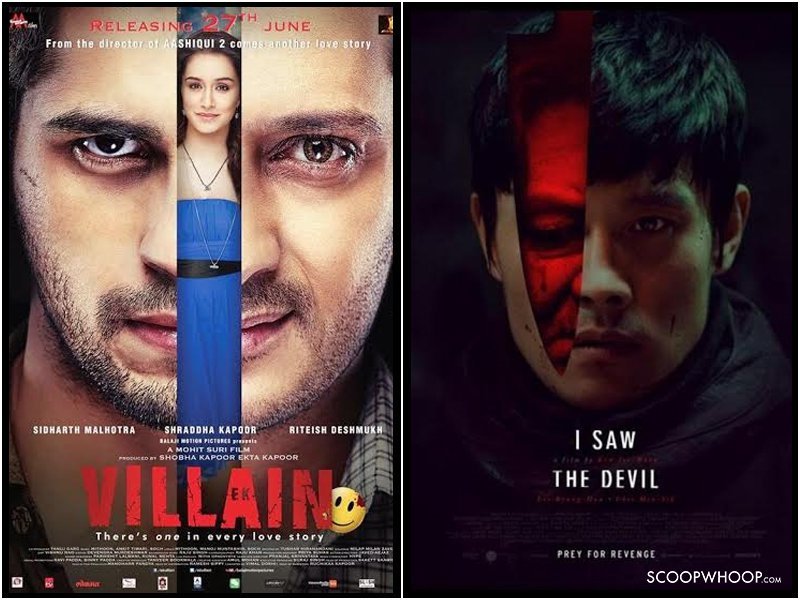 32. Kyon Ki (2005) – One Flew Over The Cuckoo's Nest (1975)
One Flew Over Cuckoo's Nest had Jack Nicholson as an anti-authoritarian criminal and actress Louise Fletcher in the role of Nurse Mildred Ratched which was remade with the title Kyon Ki starring Salman Khan and Kareena Kapoor.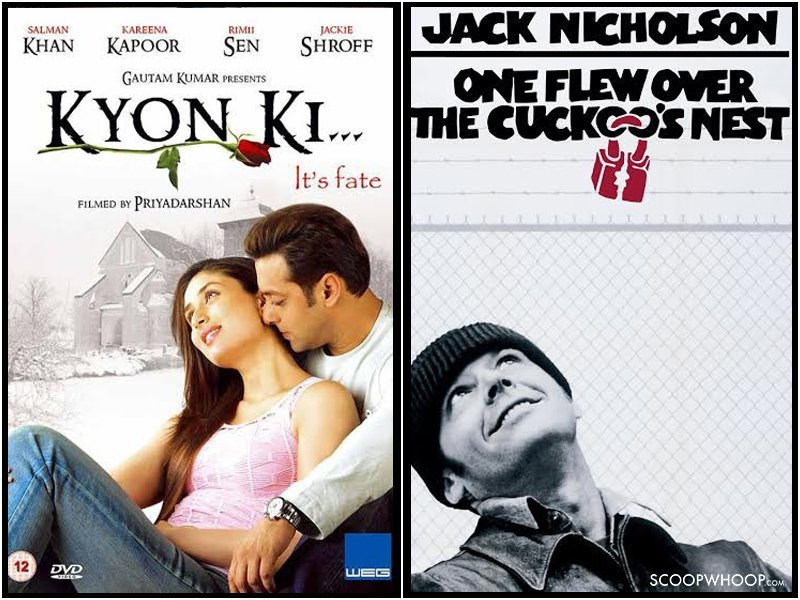 33. Fool N Final (2007) – Snatch (2000)
Fool N Final is a remake of the British film Snatch that was released in 2000.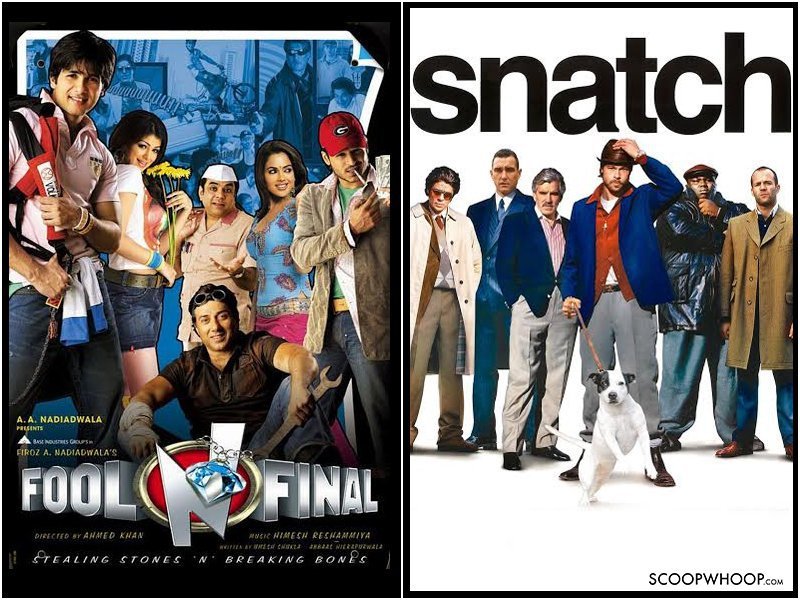 34. Munnabhai MBBS (2003) – Patch Adams (1998)
Munnabhai MBBS is based on the English movie Patch Adams which was released 1998. The story involves protagonist, a goon, going to medical school with the help of his sidekicks.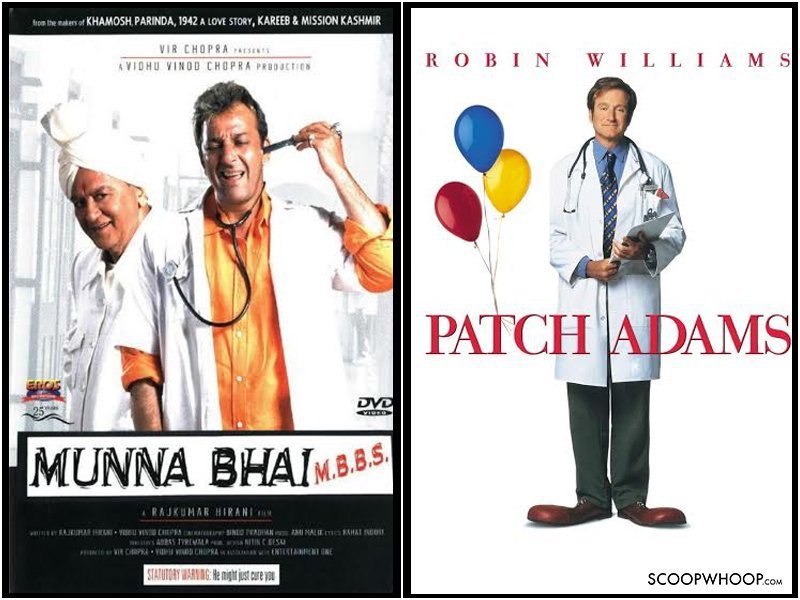 35. Bunty Aur Babli (2005) – Bonnie & Clyde (1967)
Bunty and Babli seems to have a highly inspired title along with its main plot similar to a famous con movie, Bonnie and Clyde (1967) in which a couple loots people around.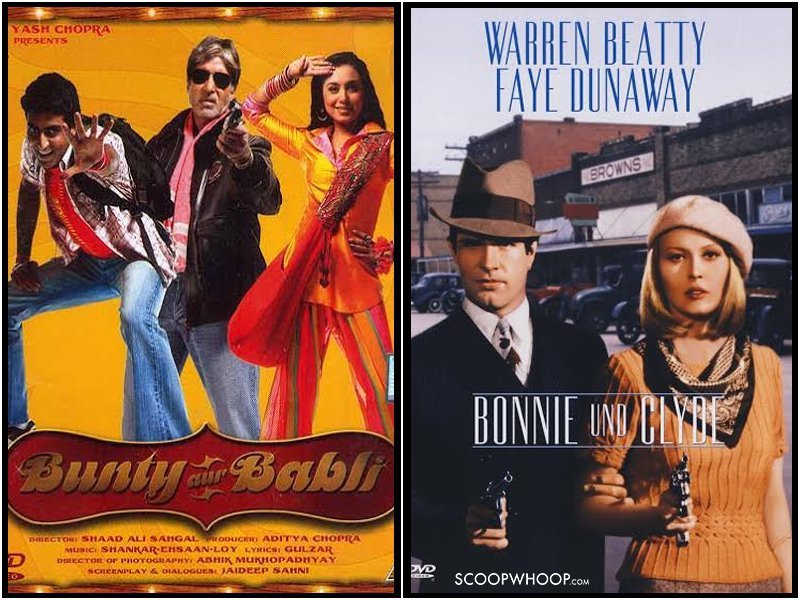 36. Ek Khiladi Ek Haseena (2005) – Confidence (2003)
Ek Khiladi Ek Haseena is loosely based on the movie Confidence featuring Dustin Hoffman playing the role of Mafia Don which was enacted by Feroz Khan in the Hindi Version. All the tricks and con acts in the Hindi version are entirely based on the English Original.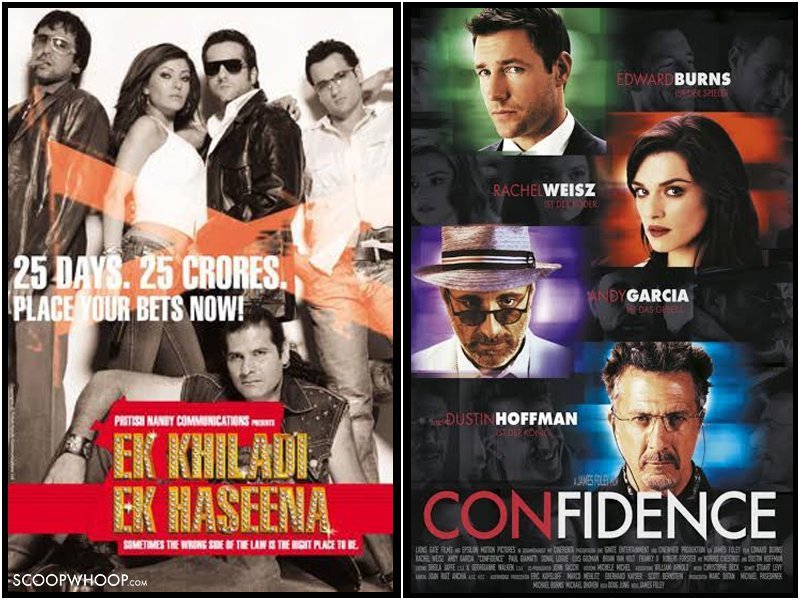 37. Yuvvraaj (2008) – Rain Man (1988)
Inspired from the 1988 release Rain Man, Yuvvraaj is a story of a fragmented family of three brothers who try to con each other to inherit their father's wealth.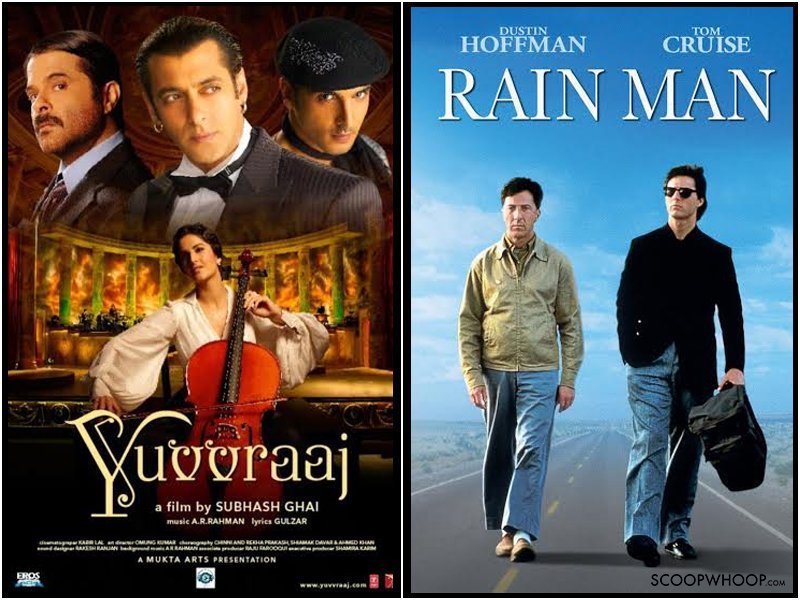 38. Nishabd (2007) – Lolita (1962)
Nishabd borrowed its storyline from the 1962 British-American black comedy-drama film Lolita in which a middle-aged man becomes obsessed with a teenage girl.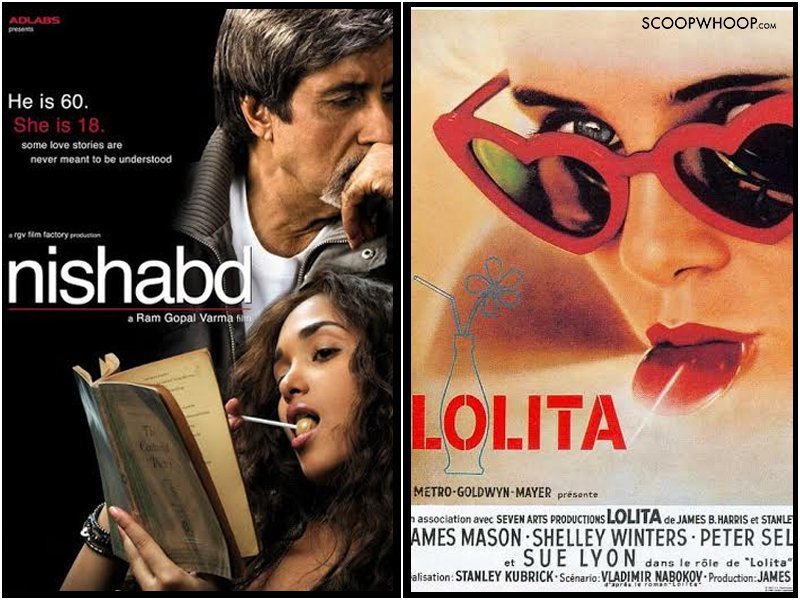 39. Aakrosh (2010) – Mississippi Burning (1988)
Aakrosh is based on a 1998 release Mississippi Burning which deals with the honor killings based upon real life incidents.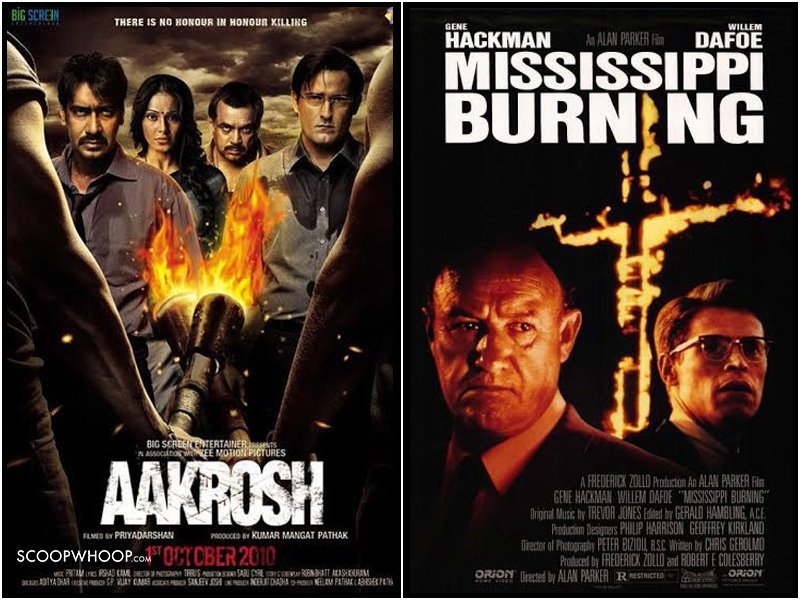 40. Humko Deewana Kar Gaye (2006) – Notting Hill (1999)
Humko Deewana Kar Gaye is a love story featuring Akshay Kumar and Katrina Kaif that has many sequences taken straight from Julia Robert's Notting Hill (1999) like the first meeting of the lead pair, the scenes where Katrina is in Akshay's house etc.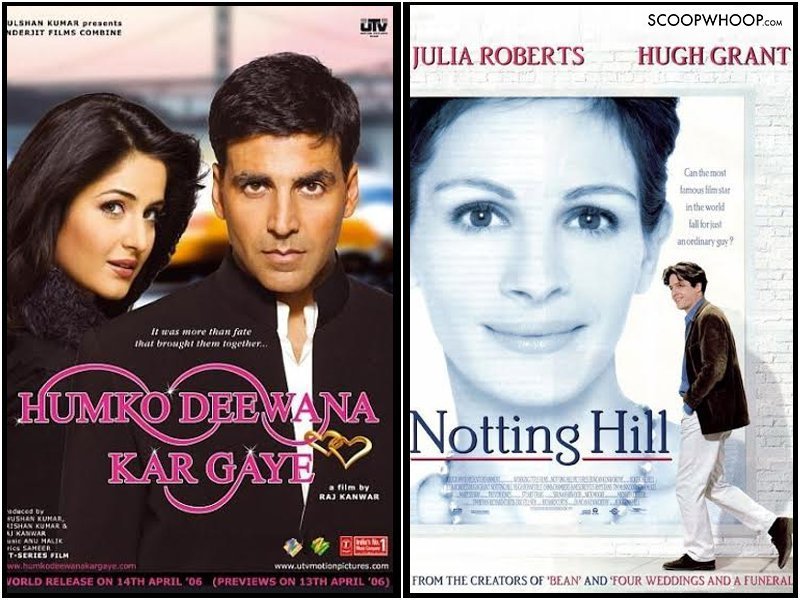 41. Hate Story 3 (2015) – Indecent Proposal (1993)
With steamy scenes and almost the same storyline, Hate Story 3 reminds of a 1993 Hollywood flick Indecent Proposal, which had starred Robert Redford, Demi Moore and Woody Harrelson.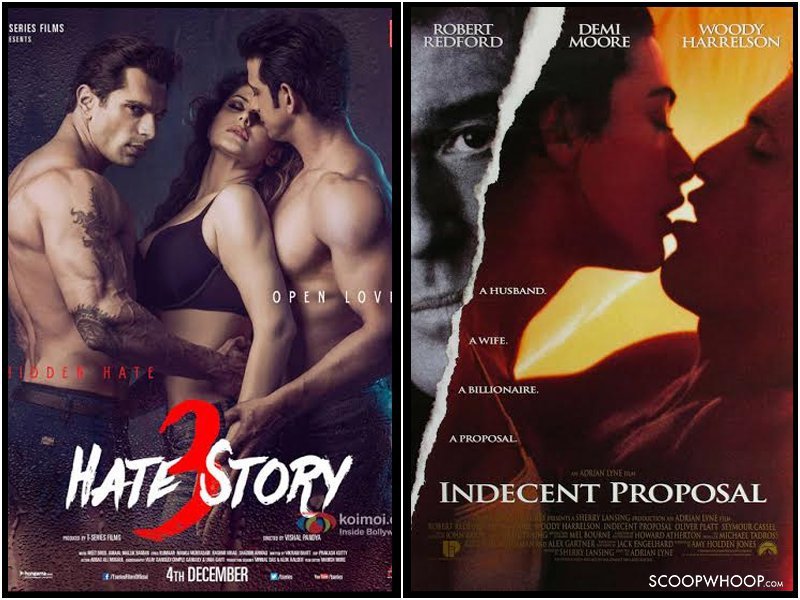 42. Partner (2007) – Hitch (2005)
Partner is 2007 release which is based on Hitch. Its story revolves around the incredibly talented man and a sentimental advisor who teaches men how to date the women of their dreams.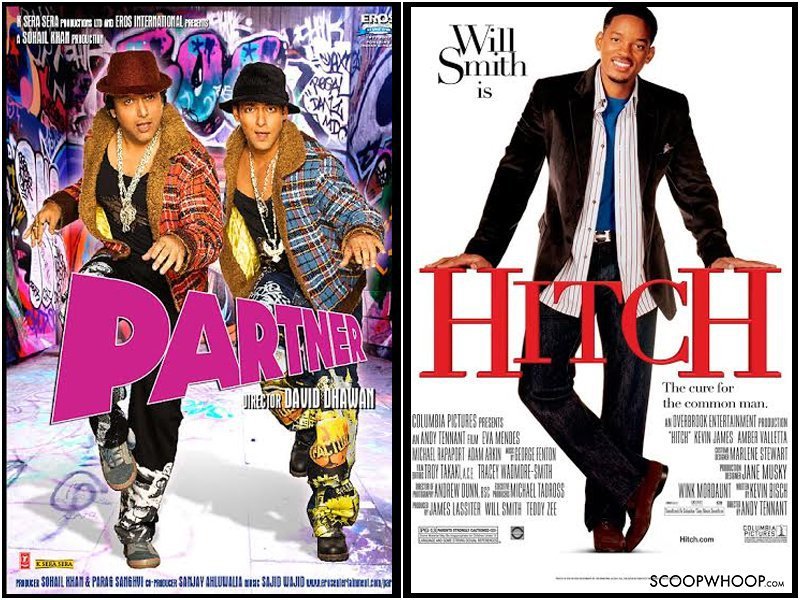 43. Dasvidaniya (2008) – Bucket list (2007)
Dasvidaniya is loosely based on the 2007 release Bucket List which is actually a pun on the list of ten things to be done before death.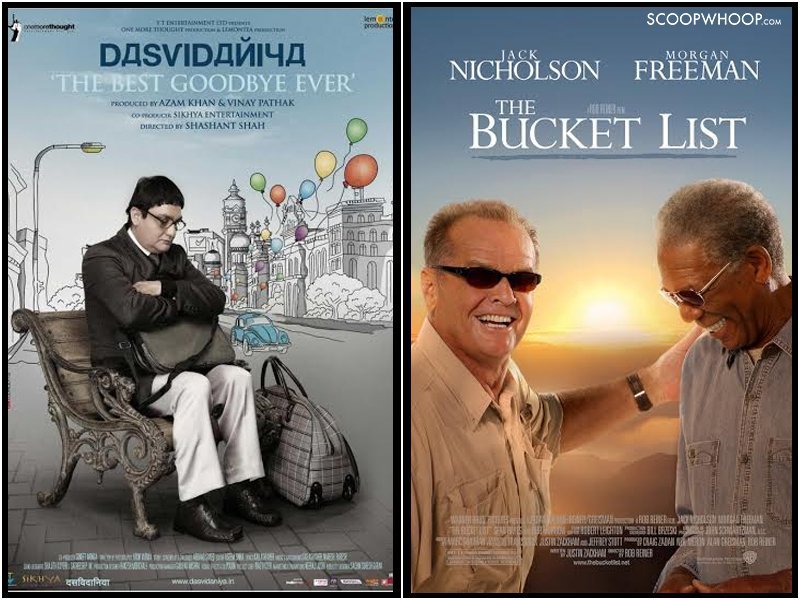 44. Salaam-e-Ishq (2007) – Love Actually (2003)
Salaam-e-Ishq borrows the theme, format and even three plots (the ones featuring Alan Rickman, Colin Firth and Martin Freeman) from Richard Curtis's Love Actually. The movie celebrates the madness or magnitude of love.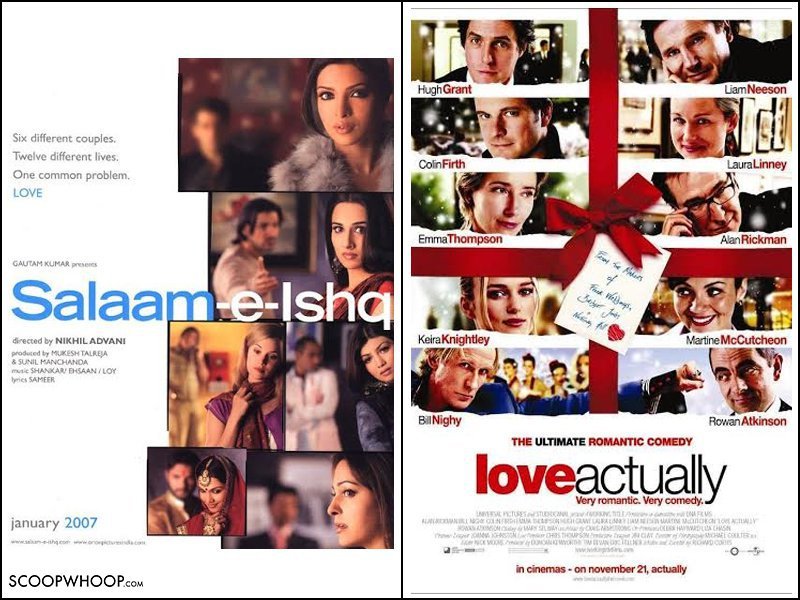 45. Manorama Six Feet Under (2007) – Chinatown (1974)
Manorama Six Feet Under is a movie based on Roman Polanski's 1974 classic, Chinatown.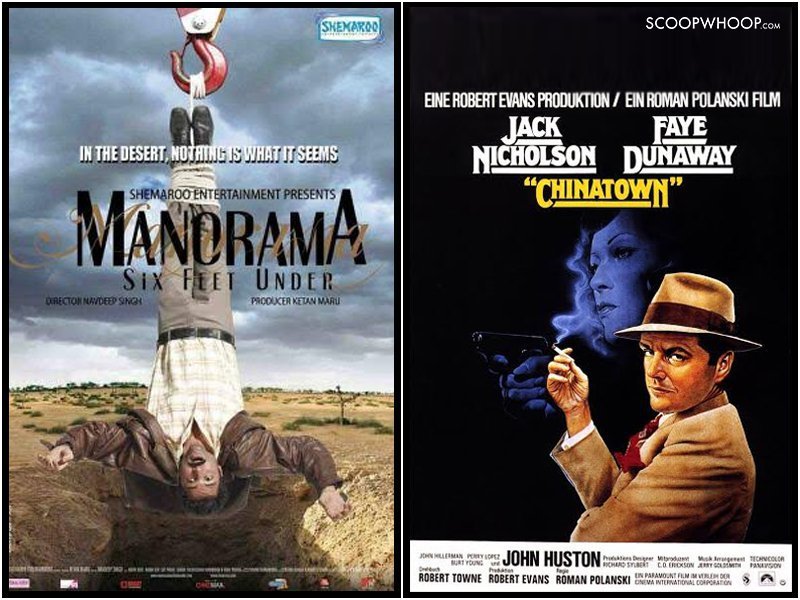 46. Action Replayy (2010) – Back To The Future (1985)
Action Replayy is loosely based on the 1985 film Back to the Future which is a a time-travel comedy.
47. Dostana (2008) – I Now Pronounce You Chuck & Larry (2007)
Dostana is copied from the movie I Now Pronounce You Chuck & Larry in which two straight, single men pretend to be a gay couple in order to receive domestic partner benefits.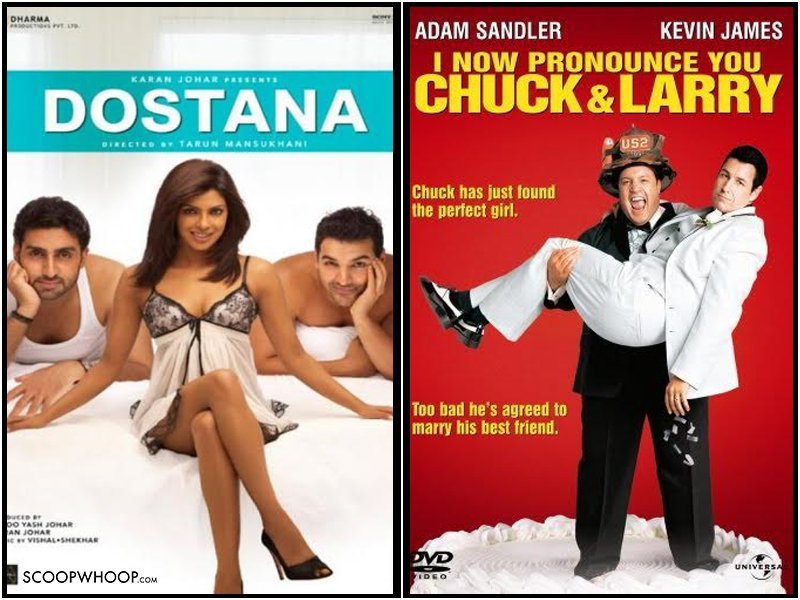 48. Phir Hera Pheri (2006) –  Lock Stock And Two Smoking Barrels (1998)
Phir Hera Pheri which was released in 2006 is based on the British comedy film, Lock Stock And Two Smoking Barrels (1998).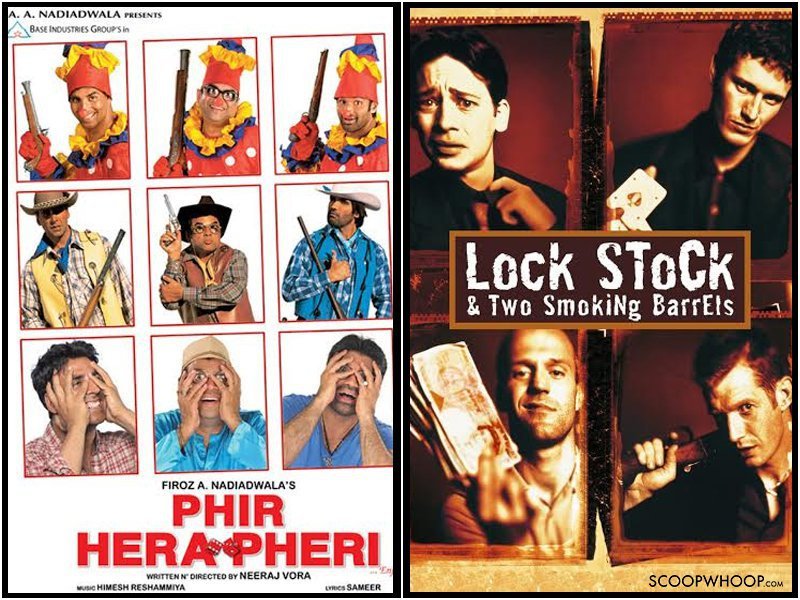 49. Peepli (Live) (2010) – Invitation To A Suicide (2004)
The concept of one man facing disaster and others cashing in on it has been portrayed in Invitation to Suicide (2004). Remember any Bollywood movie with the same plot? Yeah, Peepli (Live) it is.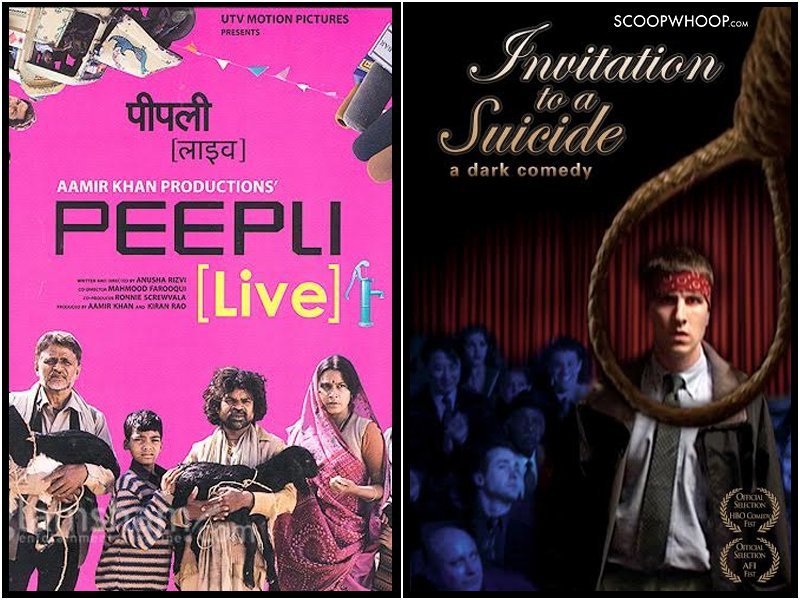 50. Tees Maar Khan (2010) – After The Fox (1966)
One of the most famous Hollywood comedian, Peter Seller, inspired a lot of filmmakers in Bollywood including the writers and directors of the movie, Tees Maar Khan. The Bollywood movie has the same plot as the movie After The Fox in which the main character plays a master of disguises thief who makes an entire village a movie set to pull off a heist.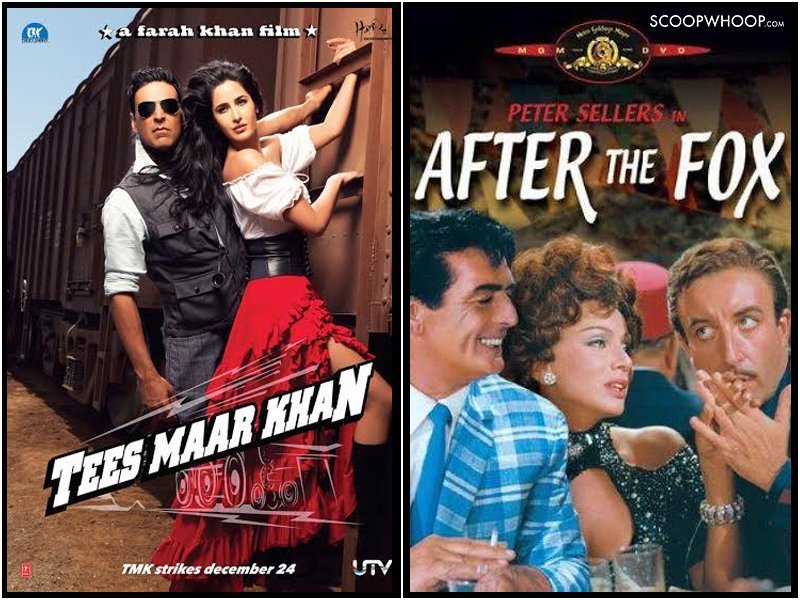 CTRL+C and CTRL+V, eh?
Images designed by: Rohit Jakhu
Also Read: