Long before streaming platforms, our access to soap operas, sitcoms, and dramas was through the good, old Television. And consequently, before we got obsessed with the theme music of GoT, we had other shows' title tracks that we listened to patiently. Theme music we still remember just as fondly. Like these: 
1. Left Right Left
The show that brought us the stories of six cadets training at the Kanchanjunga Military Academy, had a peppy and engaging title track. And even today, the lyrics are something we can easily sing along!
2. Family No.1
Today, most Hindi comedy shows are nothing to write home about. But there was a time when intelligent and hilarious sitcoms were part of our regular TV time. Like Family No.1, that also had a playful title track – one that perfectly suited its theme. 
3. Miley Jab Hum Tum
If you don't start whistling the opening tune the second you hear about the show, are you even a part of the millennial generation? Hulchul ho dil mein, miley jab hum tum. 
4. Remix
The show that was just the right mix of music and college life, Remix remains one of the 'coolest' shows from our childhood. So naturally, it's title track had to be just as memorable. And of course, the opening 'rap' was one that we all tried learning. 
5. Kaisa Ye Pyaar Hai
The show that probably gave us our first, fictional rockstar crush aka Angad Khanna (Iqbal Khan), Kaisa Ye Pyaar Hai had a title song which was the love ballad we didn't know we needed.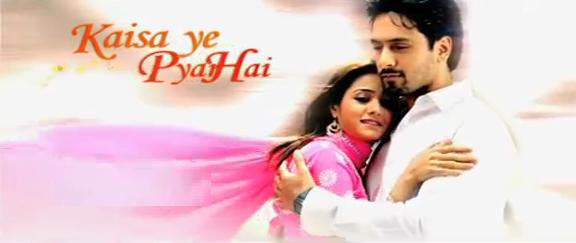 6. Ye Meri Life Hai 
Remember Pooja and her naive, ambitious outlook towards life? Well, even if you don't remember the show completely, chances are the title song still has a place in your memories. Because when the lyrics talked about letting us live our lives, the title song became an unexpected 'youth anthem'. 
7. Dill Mill Gayye
The medical drama that was high on drama and low on accuracy will always have a nostalgic appeal to it. And its title track may not have become as popular as some of the other shows, but it still has a special place in our hearts. 
8. Shararat – Thoda Jaadu, Thodi Nazaakat
Jia and her (mis)adventures were the highlights of our TV time – after all, she was the desi version of everyone's favourite, neighborhood witch. So naturally, just thinking of the title song is all that is needed to bring our goofy smiles back. 
9. Love Story
Anurag Basu's romantic drama popularized not just the title track, but also the songs it played within the series – because it was just that engaging and exciting. And yes, every hopeless romantic (including yous truly) sang along the words to the title track – tujhe main dhundta phirun, meri har chaahat hai tu. 
10. Hip Hip Hurray
It's hard to think of any Hindi-language show on school life and friends that we related to more than Hip Hip Hurray. And just like the show, the title track was the perfect expression of our school days, with naive hopes and childhood friendships. Aaj humara kal apna, koi maane ya na maane. 
11. Kyun Hota Hai Pyarrr
The show that first introduced us to Amit Sadh's charming on-screen presence also gifted us with a title track we felt like dancing on, every time it played. 
12. Just Mohabbat
A title song that included 'hinglish' words even before it became the norm is a classic that you just can't forget. So, don't darofy, simply karofy, just mohabbat. 
13. Kasautii Zindagii Kay
Yes, yes, this was one of the shows that seemed to go on forever. But the title track was actually a love song you didn't mind humming along to. 
14. Kyunki Saas Bhi Kabhi Bahu Thi
Say what you want to, but Tulsi and her family broke the fourth wall in Kyunki's title song long before it became a trend. And for that reason alone, it deserves a spot on this list. Also because every one of us remembers the opening line, rishton ke bhi dhoop badalte hain. 
15. Shaka Laka Boom Boom
There are typical character introductions. And then there was the character introduction-cum-title song for Shaka Laka Boom Boom. 
16. Office Office
Musadilal's struggles against a corrupt system were hilarious and relatable. And the title track was the perfect mix of dialogues and lyrics. They really don't make shows like these anymore. 
17. Son Pari
It was more melodrama and less magic with Son Pari, but 'ikhtu bikhtu jhim patuta' are words that will always make sense to us millennials. 
18. Tu Tu Main Main
The show's leads, Reema Lagoo and Supriya Pilgaonkar, immortalized the relationship between a daughter and mother-in-law. And the title track was iconic not just because of the show, but also because of how it ended – with the director, Sachin,  calling out 'action'. 
19. Hum Paanch
There was a time when comedy shows not only had hilarious stories, but also fun title songs. And Hum Paanch is an amazing example of that. 
20. Hubahu
A surprisingly refreshing and unique show, Hubahu was not as popular as some of the shows that released at the time. But its title track was a melodious tune you wanted to play on repeat. 
Of course, before these, we had shows like Malgudi Days and Dekh Bhai Dekh that we still can't forget. But, after the golden age of TV content and before the era of Naagins and 'Comedy Nights' lay the aforementioned shows. And we miss not just their stories, but also their title songs. 
Find stories on movies and more at ScoopWhoop.com.