Deep within the LinkedIn circus reside influencers and entitled employers. For them, life works differently. They're the flag-bearers of the hustle movement who speak as if work should be the sole virtue of our existence. Besides, their 'winning at life' profiles are enough to give you second thoughts about all your achievements.
So we collated some of their most pompous claims and lessons about life and work. Take a look. Consider this a 101 guide on how not to approach life.
1. Freshers should work 18 hours a day & not do random rona-dhona
Last year, Shantanu Deshpande, founder and the CEO of Bombay Shaving Company, deemed work-life balance and rejuvenation as bla bla. In his opinion, freshers should put in 18 hours of work a day for at least the first five years of their careers.
2. A hardworking employee who's so tired that he's sleeping in an auto-rickshaw is somehow inspiring
Back again, the Bombay Shaving Company's CEO shared a story of Shanky, Head of Sales & Chief of Staff, from his office. Lauding his relentless commitment to work, he shared a picture of Shanky asleep in an auto-rickshaw. In the LinkedIn post, he mentioned how they worry about his health and struggle to get him to switch off.
3. An embarrassing encounter with a celebrity is worthy of an inspirational LinkedIn post
After spotting Tanmay Bhat in a bar, the man requested a selfie & the comedian obliged. Deeming it a green signal, he and his friends began posing him loads of questions, including one about his weight, to which the comedian showed him a middle finger. Years later, he converted that embarrassing meet-up into a lesson on outreach sales. Even Bhat replied, "Imagine turning a middle finger in a Linkedin post."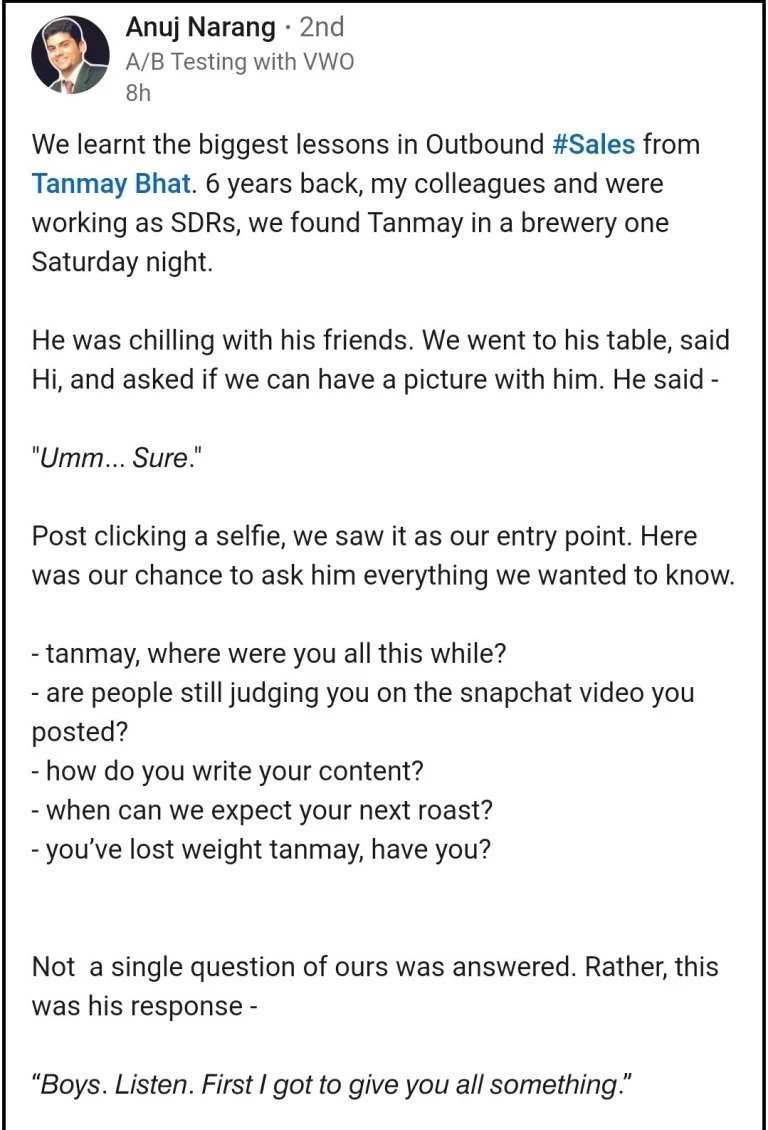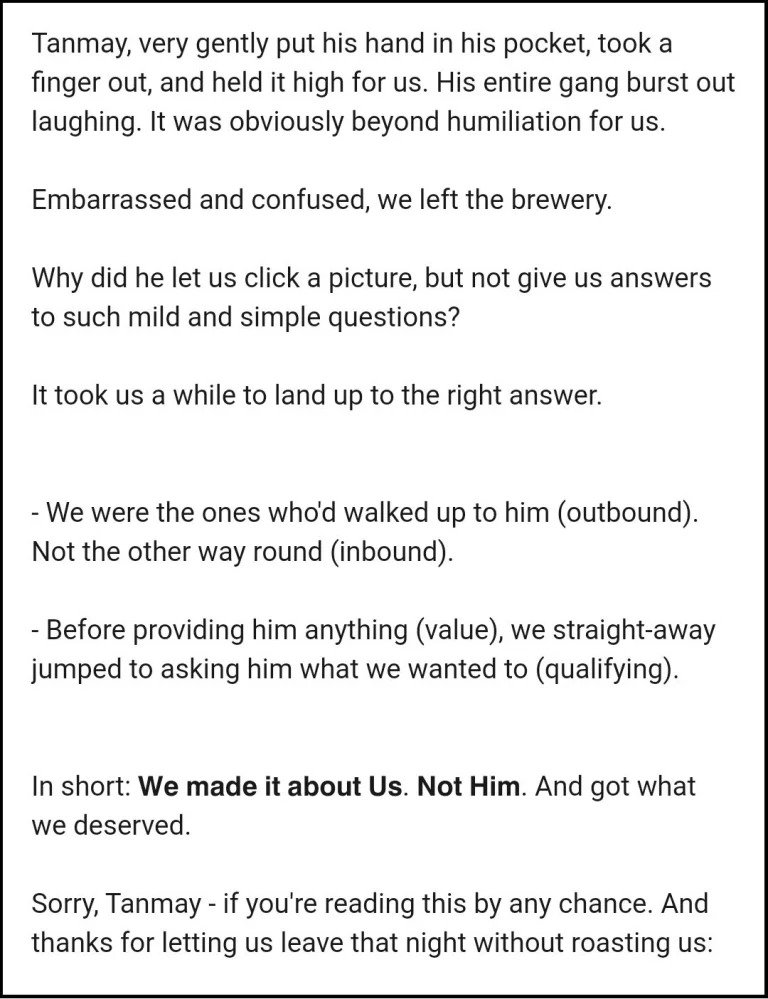 4. Attending a meeting from a salon is a lesson on 'peak productivity'
Startup founder Tanay Pratap shared a picture of himself unlocking peak productivity by attending a meeting while getting his haircut at a salon. He even mentioned that startups aren't for everyone and that the only time you're not working is when you're sleeping.
5. Salaried people SHOULD NOT spend more than 50% of their salaries
When you need to pay rent, support your family, purchase grocery, food, and travel, and you're a fresher, saving 50% of your salary is not exactly a piece of cake.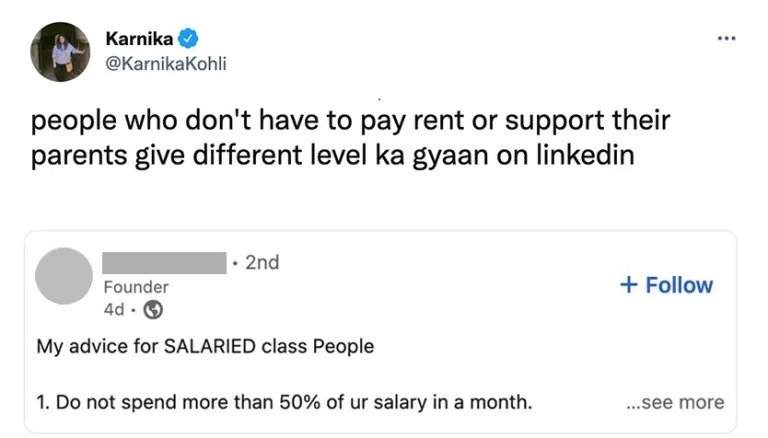 6. A LinkedIn job posting about a 24X7 role where traditional employee mindset of 'work-life balance' won't work
Last month, Zomato CEO Deepinder Goyal posted about a bunch of job opening at the organisation for various roles, from managers to CEOs. However, the job description for Chief of Staff to CEO irked the internet. It said: this is a 24×7 job, and the traditional employee mindset of "work-life balance" won't work.
Read more: Zomato CEO Said Work-Life Balance Won't Work In Job Postings & Desis Are Calling It A Red Flag
7. Posting a crying selfie as an employer after laying off people cos YOU CARE
After laying off employees, Braden Wallake, CEO of Hyper Social and Hyper Sphere, posted a detailed account of HOW MUCH he loved his employees, and it hurts him to take the tough decision. He even attached a crying selfie as proof HE'S sad, and it is a low moment for HIM.
Read more: CEO Posted A Crying Selfie On LinkedIn After Firing His Employees
8. Identifying 'driven people' by calling candidates at 8:00 AM and scheduling interviews at 11:00 PM. Even on Sundays
A co-founder of a healthcare company posted interview hacks that included disturbing candidates at odd hours in the name of filtering driven people. These hacks ranged from Sunday interviews to expecting outstation candidates to show up in one day.
9. Relating a car clutch failure with how people must feel when they get laid-off suddenly, only to market your course on how they can still land a dream job
Okay, WTF?
10. Making 'FUN AT PARTIES' a LinkedIn skill
If these are the standards, then I can be the most skilled person in this world.
Moral of the story: LinkedIn is becoming a joke. Don't take it TOO seriously.