The India of today lives in a highly polarized political climate, where the public often believes that political parties keep personal motives above the nation's growth and development. 
But there was one leader who rose above it all and managed to truly serve the nation to the best of her capabilities, going above and beyond her duty – former External Affairs Minister, late Sushma Swaraj.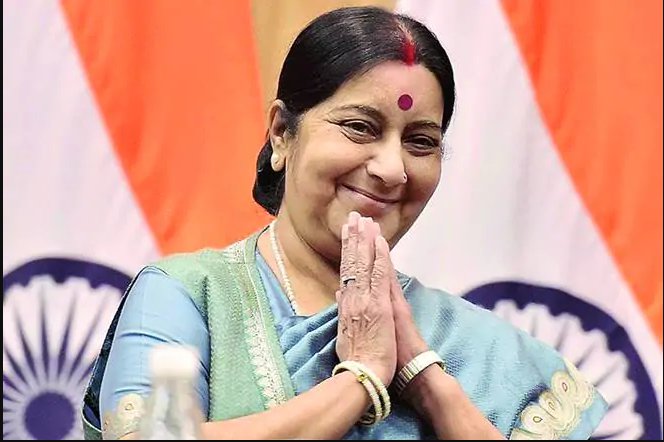 Sushma Swaraj, who passed away on August 06, 2019 due to a cardiac arrest, was a fierce leader, an accomplished lawyer, and one of India's most well-loved politicians. And throughout her career, she managed to carve a unique place for herself – when even today, politics largely remains dominated by male members.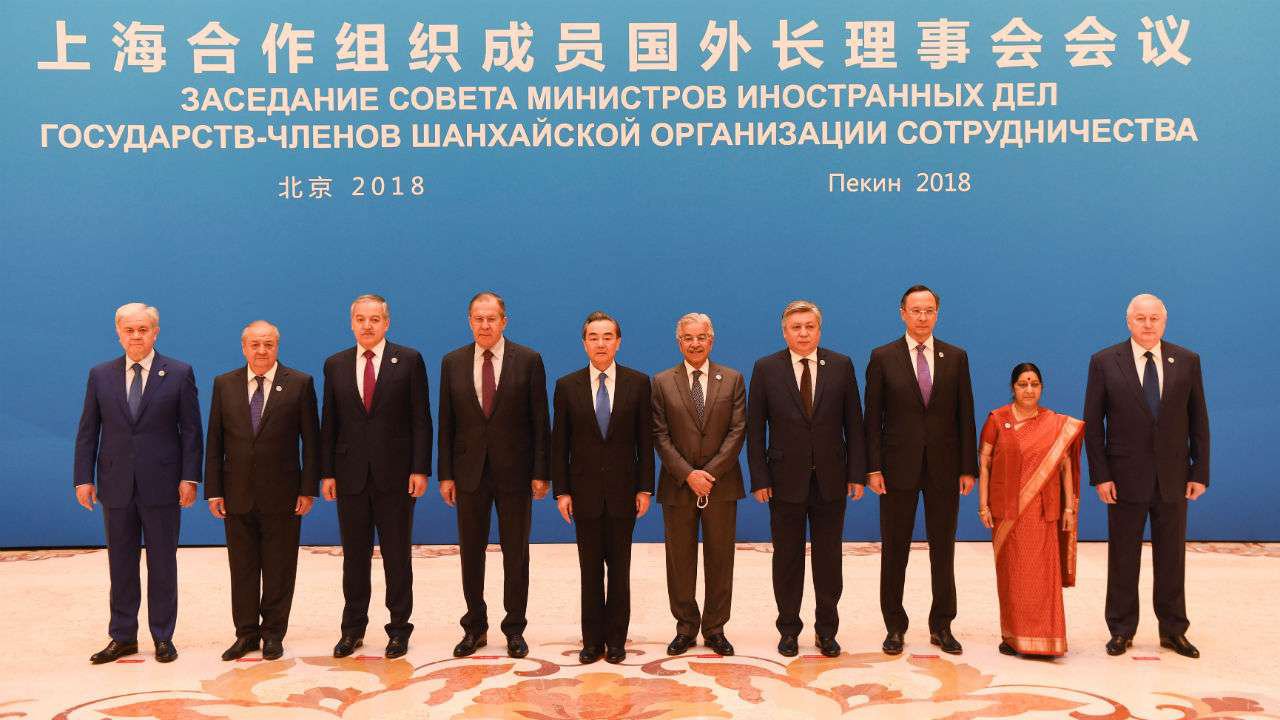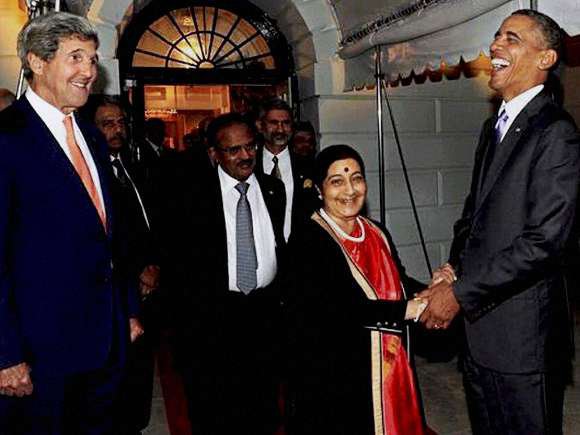 Throughout her long and illustrious career, Sushma Swaraj proved to be a stalwart leader who stood tall as a deserving role model for young women across the nation.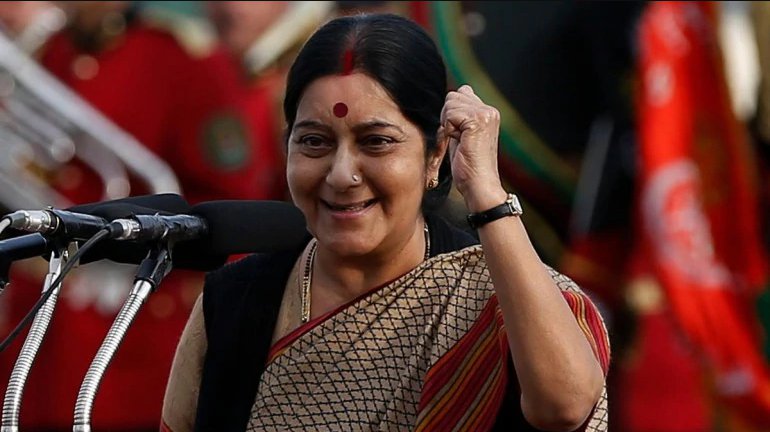 She held a Bachelor's degree in Political Science and Sanskrit and studied law at Punjab University, Chandigarh. In the 1970s, she began her political career with Akhil Bharatiya Vidyarthi Parishad. However, right after the Emergency, she joined the Bharatiya Janta Party.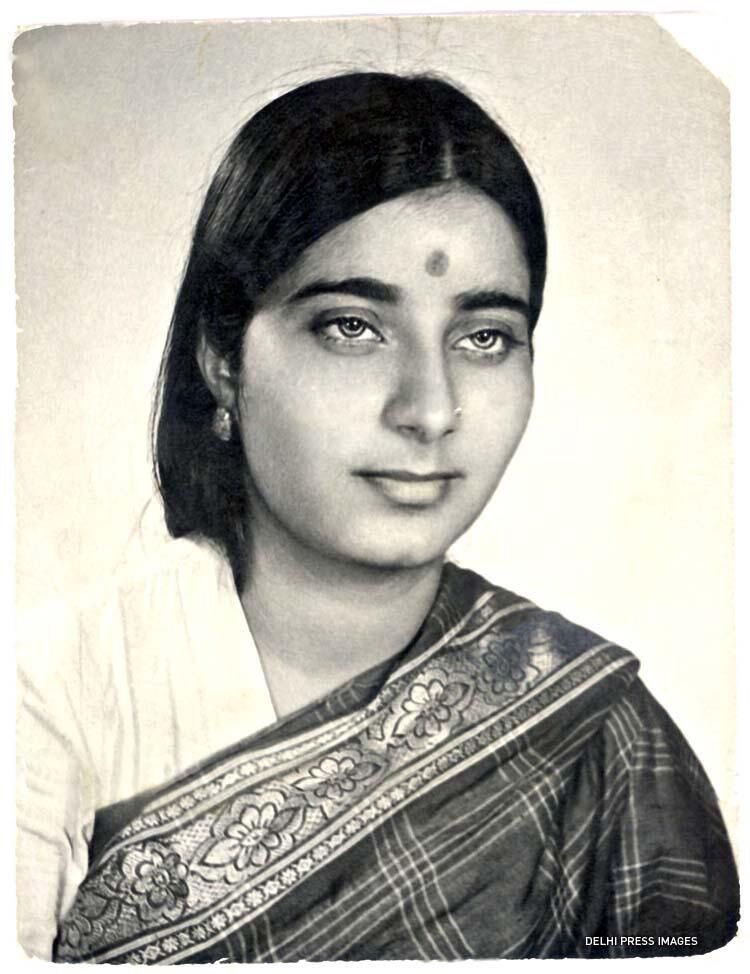 A Supreme Court lawyer, Sushma Swaraj was elected seven times as a Member of Parliament and three times as a Member of the Legislative Assembly. She was only 25, when, in 1977, she became the cabinet minister for Haryana – the youngest minister, at the time, to hold the position.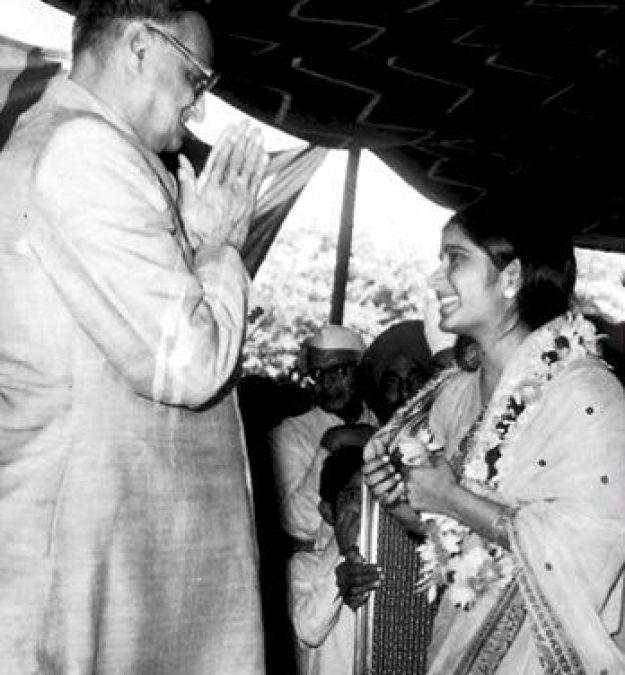 Throughout her career, Sushma Swaraj held many firsts to her name. In 1979, two years after she was appointed as the cabinet minister for Haryana, she became the State President of Janata Party, Haryana State. She was the first woman to become the spokesperson for any national political party.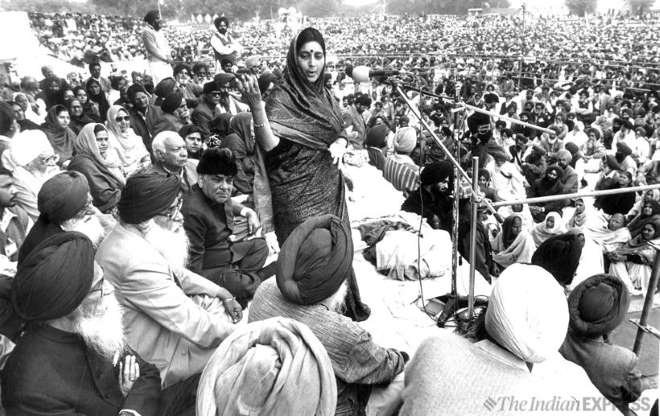 An icon of female politicians in India, in 1998 she became the first woman to be appointed as Chief Minister of Delhi, and consequently, was also BJP's first female Chief Minister.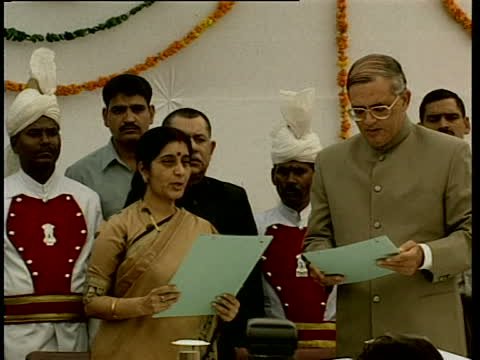 An accomplished orator, during the 13th Lok Sabha elections, she stood against Congress President, Sonia Gandhi for the Bellary constituency in Karnataka. And though she lost the election, people still remember that during her campaign she addressed the public meetings in the local Kannada language. And later on, both female leaders shared a cordial relationship.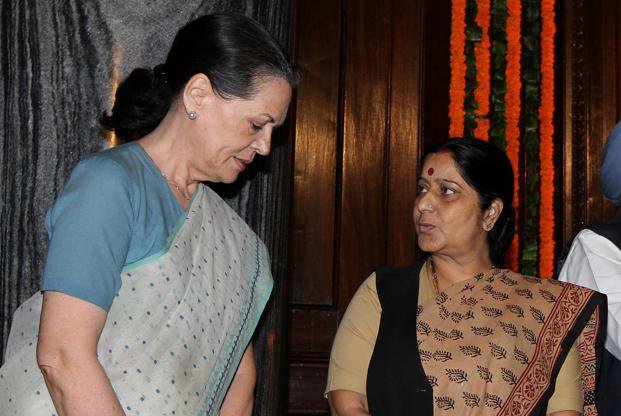 During her long stint with state and national level politics, Sushma Swaraj held various prominent positions, including, the Union Minister I&B & Telecommunications, the Union Health Minister, Leader of Opposition, and lastly, the Minister of External Affairs.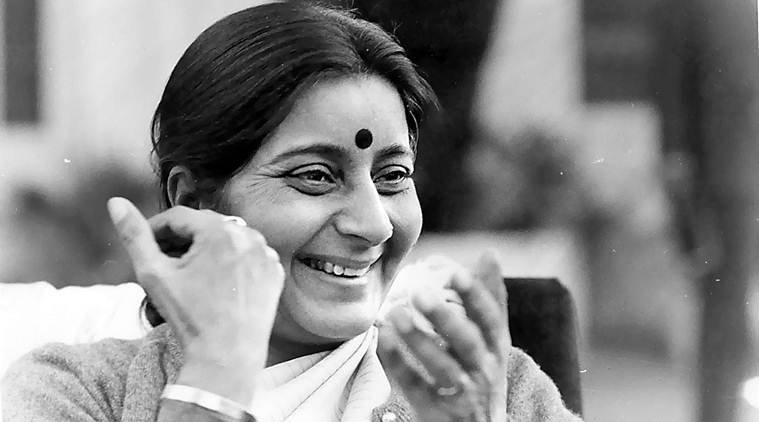 Every time she held a portfolio in the Cabinet, she managed to step up to her role with determination, grace, and utmost dedication. As the Union Minister I&B & Telecommunications (12th Lok Sabha) she was responsible for declaring film production as an industry, thereby making it eligible for bank finance. 
A direct result of this development was that it enabled filmmakers to move away from unconventional moneylenders, and helped legitimize the film industry. 
Deeply saddened that Sushma Swaraj has passed away.Inspite of political differences we had an extremely cordial relationship. I was 1 of her Navratans as she called us during her I and B ministership and she gave industry status to film. Articulate sharp and accessible. RIP

— Azmi Shabana (@AzmiShabana) August 6, 2019
As the Union Health minister (in 2003), she helped set up six AIIMS across the nation. And after the 2009 elections, she replaced Lal Krishna Advani as the Leader of Opposition in the 15th Lok Sabha.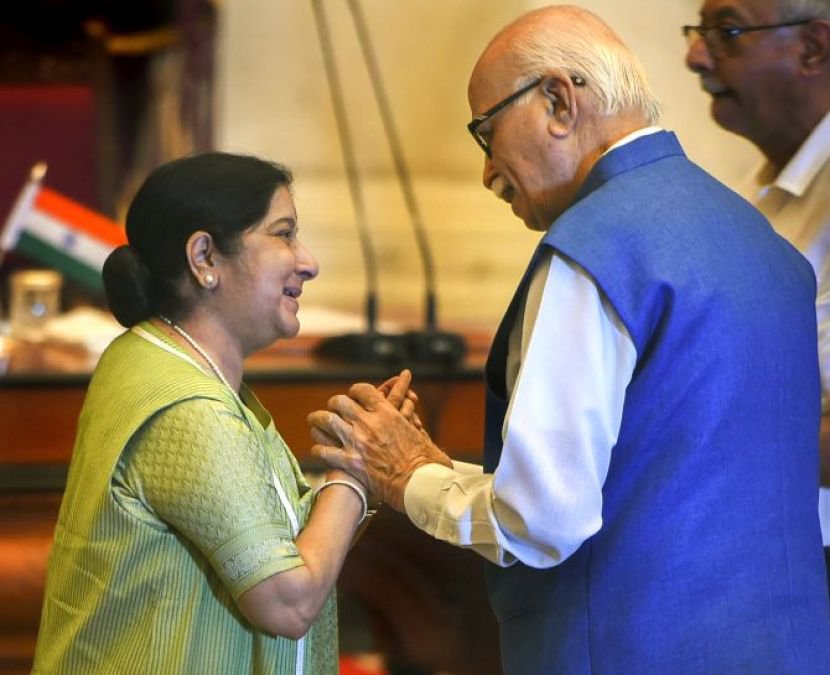 After the 2014 elections, under the Modi government, she was appointed as the Minister of External Affairs at the age of 62. And this was the position that elevated her from a national politician to a beacon of hope for distressed Indians across the globe. 
She used social media, especially Twitter, as a medium to offer help and support. During her tenure, she helped countless Indians across the globe. In fact, it wouldn't be unfair to say that she actually turned Twitter into a personal hotline – one where she was readily available to help, offer comfort, and take prompt and necessary action. 
#WATCH Indian National Hamid Ansari who came to India after being released from a Pakistan jail yesterday, meets External Affairs Minister Sushma Swaraj in Delhi. His mother tells EAM "Mera Bharat mahaan, meri madam mahaan, sab madam ne hi kiya hai." pic.twitter.com/FQEzz99Ohm

— ANI (@ANI) December 19, 2018
She was among the top 10 most followed politicians on Twitter. And this was when most of her tweets were in response to help pleas.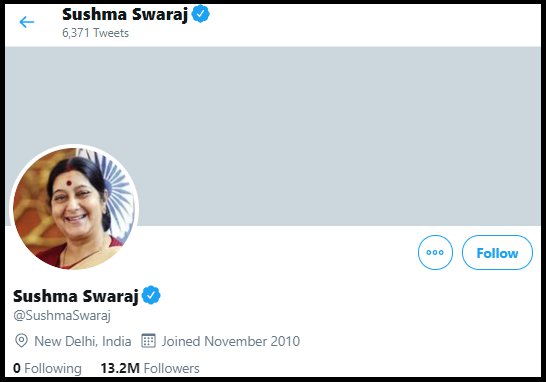 She also ensured that she offered quick action to people seeking urgent visas between India and Pakistan for medical help. 
And, not to forget, she was a true champion when it came to handling internet trolls. 
She was the only MP to be honoured with the Outstanding Parliamentarian Award. In fact, the Spanish government also conferred on her the prestigious Grand Cross of Order of Civil Merit, as recognition for India's support in helping evacuate its citizens from Nepal during the 2015 earthquake.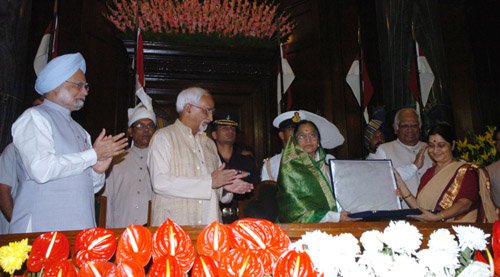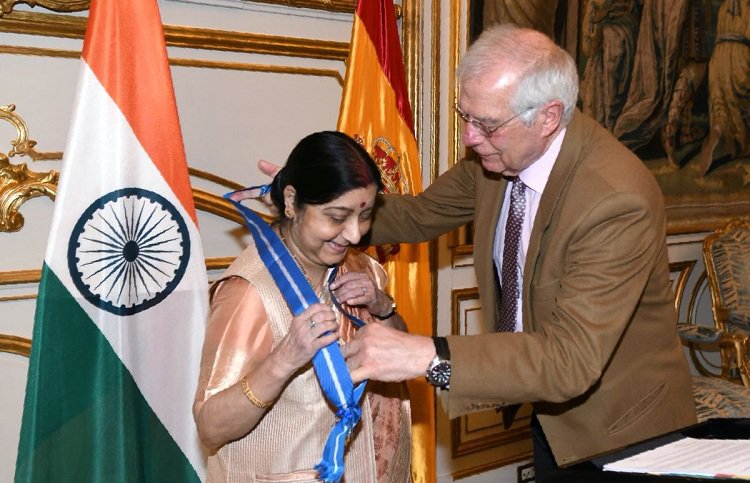 During the 2019 elections, she stepped away from politics due to her health concerns. And yet, set an example for politicians across parties when she dutifully vacated her official premise at the end of her tenure as the MEA. 
I have moved out of my official residence 8, Safdarjung Lane, New Delhi. Please note that I am not contactable on the earlier address and phone numbers.

— Sushma Swaraj (@SushmaSwaraj) June 29, 2019
It's a testament to her exemplary political conduct that despite political differences, national and international leaders remember her for her grace, work ethics, and commitment.
I'm shocked to hear about the demise of Sushma Swaraj Ji, an extraordinary political leader, a gifted orator & an exceptional Parliamentarian, with friendships across party lines.

My condolences to her family in this hour of grief.

May her soul rest in peace.

Om Shanti 🙏

— Rahul Gandhi (@RahulGandhi) August 6, 2019
Sushma Swaraj was a leader who truly understood the value of people's trust. The grace and poise with which she conducted herself, brought a strain of honesty to her portfolio – when even today, people's faith in government continues to dwindle. She will continue to be an icon that not only young women but even men look up to. It's a true loss for not just a political party, but the nation as a whole.