When I imagine an ambassador's official transport vehicle, I usually picture a Benz with a cool flag (obviously) and a bunch of officials escorting the convoy if the personality's important enough. But, then I get to hear about Melba Pria, the ambassador for Mexico in India, and I wonder if I'd be as cool as she is if I was a powerful dude myself. And, her badass official car is an auto-rickshaw. Because, she's fly like that.
Here's the auto the Mexican ambassador's been riding around in.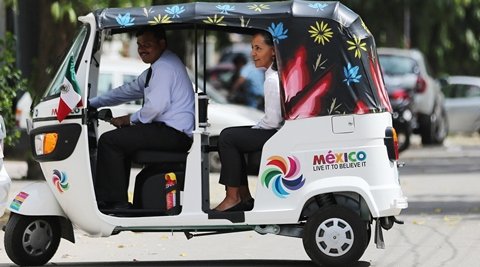 For the last three months the lady delegate has been travelling the city in a chauffeur driven auto-rickshaw. Now, how cool is that?
The rickshaw is a swanky, floral three-wheeler painted by Mexican street artist Senkoe, that has been turning heads everywhere she travels. "I think Delhiites have had positive reactions to this rickshaw, as it pays homage to Indian cultural tradition. They also appreciate the fact that it may be less polluting than a four-wheeler," Pria said in a statement to India Today.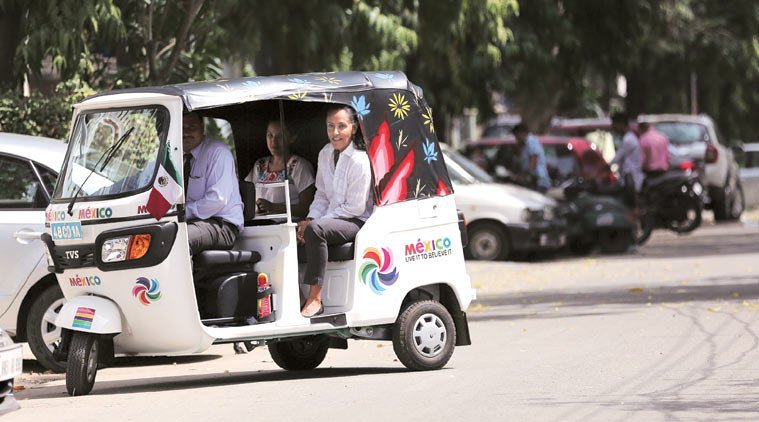 The reason is because Pria claims that she'd like to be no different than the millions of people in India.
Considering that most of the country uses rickshaws for travel, why should she be any different. "The first thing that catches people's eyes is the fun design, which is inspired by our tourism promotion campaign and the beautiful spectrum of colours you can find in Mexico. I think some rickshaw wallahs are confused initially but they always find it amusing. Even my driver enjoys being a part of the experience," Pria told India Today.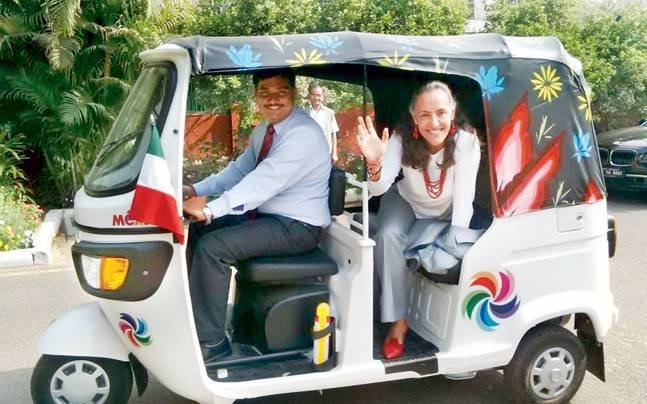 However, recently this month, while trying to enter India Habitat Centre in Delhi, the ambassador's 'vehicle' was not allowed in.
Interestingly enough, because the centre didn't have a provision to park the three-wheeler that she travels in. In fact, a few days ago she walked into a similar problem at the Parliament when she went to meet the CEO of Rajya Sabha TV, since the Parliament didn't allow her vehicle to enter.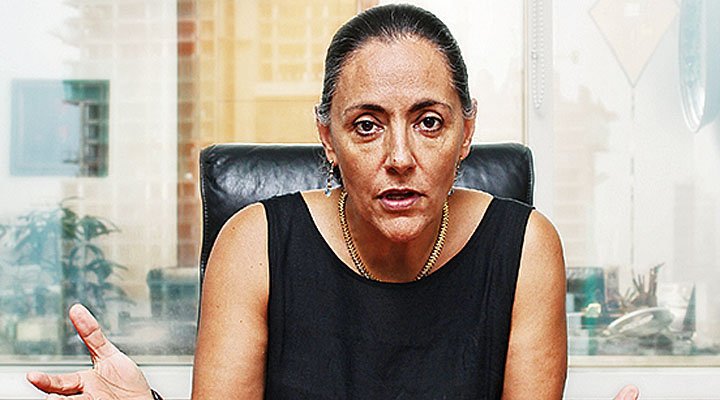 But that does not deter her to travel in her swanky ride. 
Now, here's one official who knows how to ride with swagger.
Masthead Source: commons.wikimedia.org, Feature Image Source: indiatoday.in