If, like me, you too spent the last weekend shut off from social media, you might have noticed how your Monday morning was abuzz with reports of Tanmay Bhat 'doing the unthinkable'.
He made a Snapchat face-swap video that poked fun at cricket legend Sachin Tendulkar and legendary singer Lata Mangeshkar.
Maharashtra Navnirman Sena (MNS) threatened to file a complaint against the AIB co-founder and they've even said that they won't allow the comedian to host any shows in Mumbai.
But this article isn't so much about Tanmay Bhat as much it's about the narrative of the everyday Indian being hijacked by highly intolerant people.
I'm a Sachin fan. I like some of Lata Mangeshkar's songs too. And I found the video funny. But here's the thing – you're totally well within your rights to dislike the video.
Not all kinds of humour is for everyone. You don't have to like Tanmay Bhat either. Comedy is not a popularity contest. We live in a time where we have so many options for entertainment. If a Tanmay Bhat doesn't make you laugh, then you can check out hundreds of other comedians' acts online. Bhat's video of Sachin and Lata doesn't affect your life in any way. He isn't oppressing you, attacking you, threatening your security in any way whatsoever. 
So you don't like the video. Big whoop! Do you support MNS's threats against him? Should a person go to prison for doing a face-swap video?
Does no one else see the hypocrisy of chasing Tanmay Bhat with pitchforks for this and not doing the same to a Kapil Sharma whose show is an assortment of racist, homophobic and transphobic "jokes"? Just because Sharma's content is dumbed down and targeted at a wider audience, doesn't mean it should be treated differently. 
Even the 'celebrities' who reacted on Twitter, are not doodh ke dhule.
Anupam Kher, whose comedy routine would be almost zero if you removed the word 'slapstick' from the dictionary, had this to say –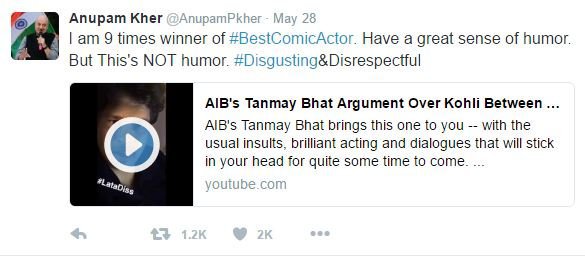 I really wonder why Anupam Kher is pissed. Is it because Bhat mocked Lata using her age as an argument? Probably not, because Kher has acted in a film where he's said this to his on-screen sister, Aruna Irani, who's not married and has grey hair –
Haathon mein mehndi lagaane ke jagaah, baalon mein mehndi lagaane ke din aa gaye hain.
Yep, that was a line from Haseena Maan Jaayegi. Here's the exact time-stamp.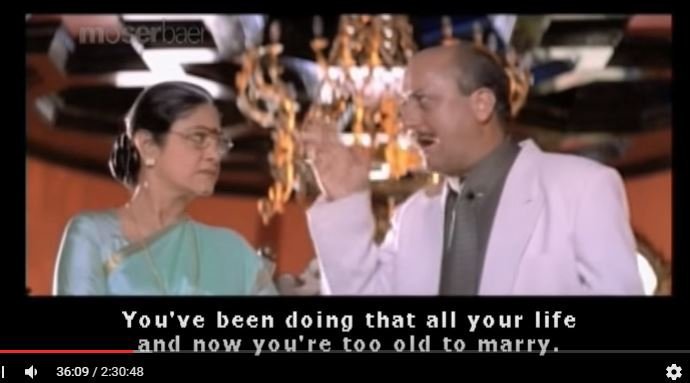 And that was not the only time he's done that. Anyone who knows anything about '90s Bollywood would know how fucked up some of the lines were back then. Frankly, I don't have the time or will to go through Kher's filmography to dig up some of those dialogues.
Then there's Riteish Deshmukh.

While I have nothing personal against the dude, I can't help point out the irony when an actor who's worked in movies like Grand Masti and Kya Kool Hain Hum talks about disrespect. Those are films that once released, probably brought the collective IQ of the nation down.
But here's another point I need to make here – these guys have all the right to say whatever they want or react however they want to Tanmay Bhat's video.
 As a firm believer in freedom of speech and expression, as someone who said "Je suis Charlie!" when the cartoonists were killed, who got pissed when two girls were booked under Section 295A for commenting on Bal Thackeray's funeral, I cannot censor what Anupam Kher, Riteish Deshmukh or Kapil Sharma have to say, in their acts or in real life.
But when MNS, a party that thrives on ideas of regionalism and non-inclusiveness, lodges a complaint against Bhat and then threatens to disrupt his show, I cannot remain silent. I have to call out the bullshit.
Personally, I thought the Tanmay Bhat video was funny and mean at the same time. I happen to like that kind of comedy. But I understand if it doesn't work for you. No one's forcing you to watch it.
But I really want people to understand one thing – if you start censoring any comedian who makes fun of some celebrity or popular icon, then soon we'll lose the power to critique anyone who's misusing their fame. Some bigot will call for a fatwa against some artist who drew something, and we'd be helpless. Some journalist will be silenced for exposing the corruption in some institution, we'd be silent. Some kid will be mocked and shamed for questioning the leader of the nation, and we'd look the other way. 
Comedy is a tool for the powerless to use against the powerful, and if you censor it, just because your feelings got hurt, you'll always be a slave to the powerful.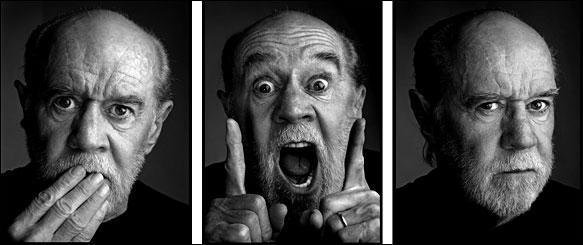 Remember, in comedy, there are no holy cows or untouchables. If you can make fun of one person, you can do the same to anyone else. If you try to change that, comedy will lose its main essence.
Don't worry. A video that you didn't like will eventually fade away. If you see there's an argument on the Internet, just look away from the screen for 10 seconds and look out the window. The world is still the same.