All our lives, we frantically keep looking for the perfect person to fall in love with. The one person who'll become our haven, our partner for life, our soulmate. And often, we seem to find no luck when we put ourselves out there, so desperate to fall in love. Because fate or destiny, if you may, have other plans for us. And it will make us fall in love when the time is right, in the most unlikely of places, and in the oddest of hours. But when it does, the feeling will be out of this world. 
The Way We Met is a Facebook page that tells the stories of how people met, fell in love and got hitched. These stories are a reminder of why we need to keep our faith in love and believe in what fate has in store for us. 
So here are 20 beautiful stories that'll tell you that all this waiting is worth its while.
"And my wanderlust is no longer mine anymore; it's ours."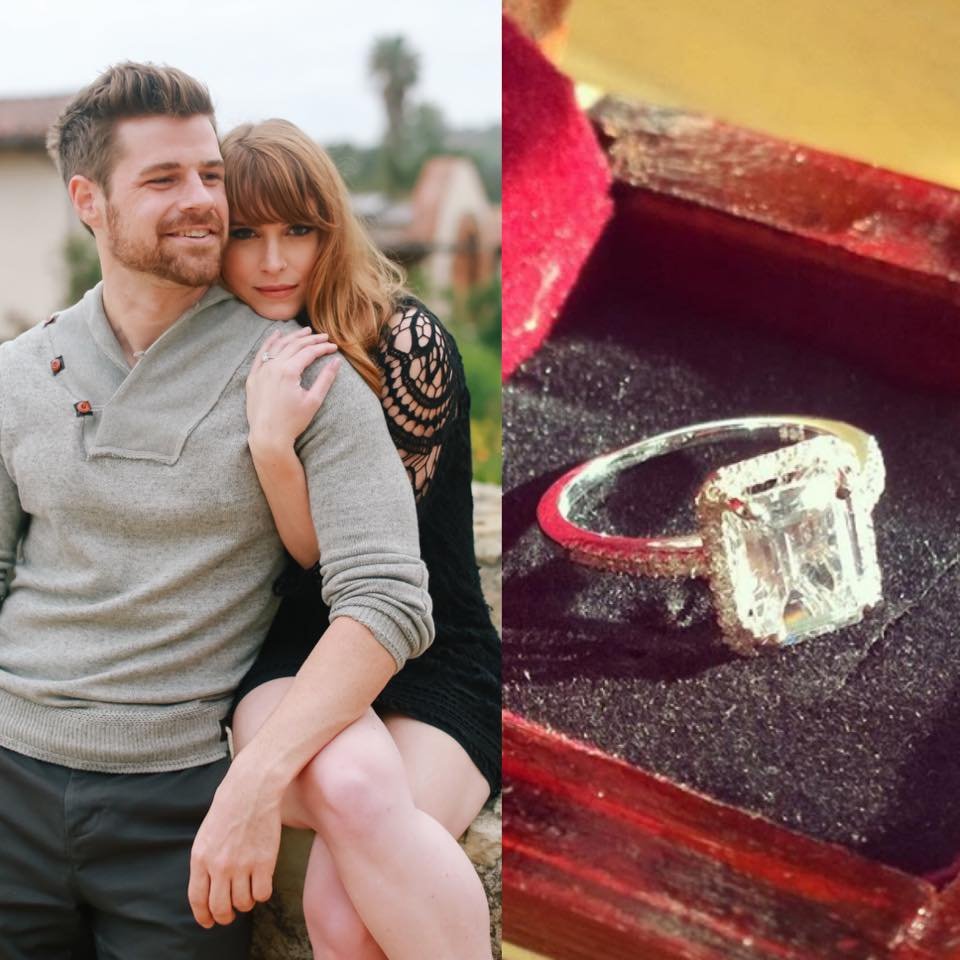 Over the last four years, I've been slowly collecting elements from around the world to forge a custom ring for Bree. It's the only secret I've ever kept from her.
"People say opposites attract, but that wasn't the case here."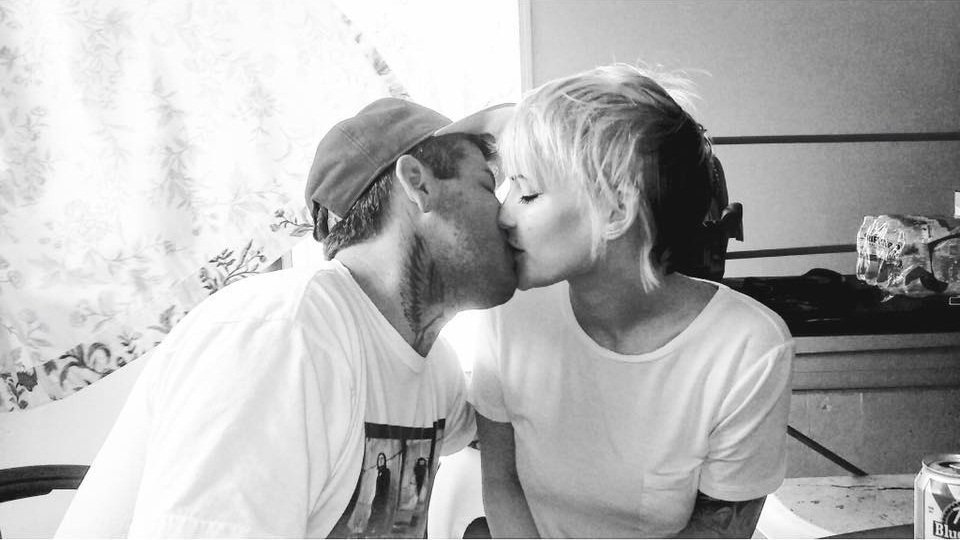 Every relationship has a story but ours was pure fate. We both relocated our lives to Texas. I moved a few years before him, originally from Florida. He moved from California. At the end of 2004, I was working as a server at a restaurant when I turned around to go put in an order and noticed a cute guy standing at the jukebox. The restaurant regularly played country music so I noticed immediately when a song came on that I actually liked. I walked over and asked if I could get him anything as an excuse to talk to him. He noticed the tattoo on my arm and asked me what it said. I responded, "Oh, it's lyrics from an Indie band I love called Lydia, you wouldn't know them." His jaw nearly hit the floor. He held out his arm to show me his tattoo of the album cover from that same Lydia song. We both looked at each other in disbelief. People say opposites attract, but that wasn't the case here. I found the male version of myself who shares so many of my same interests. We were married this past weekend and of course, our first dance was to a song from our favorite band, Lydia.
"Anything worth having is worth waiting for."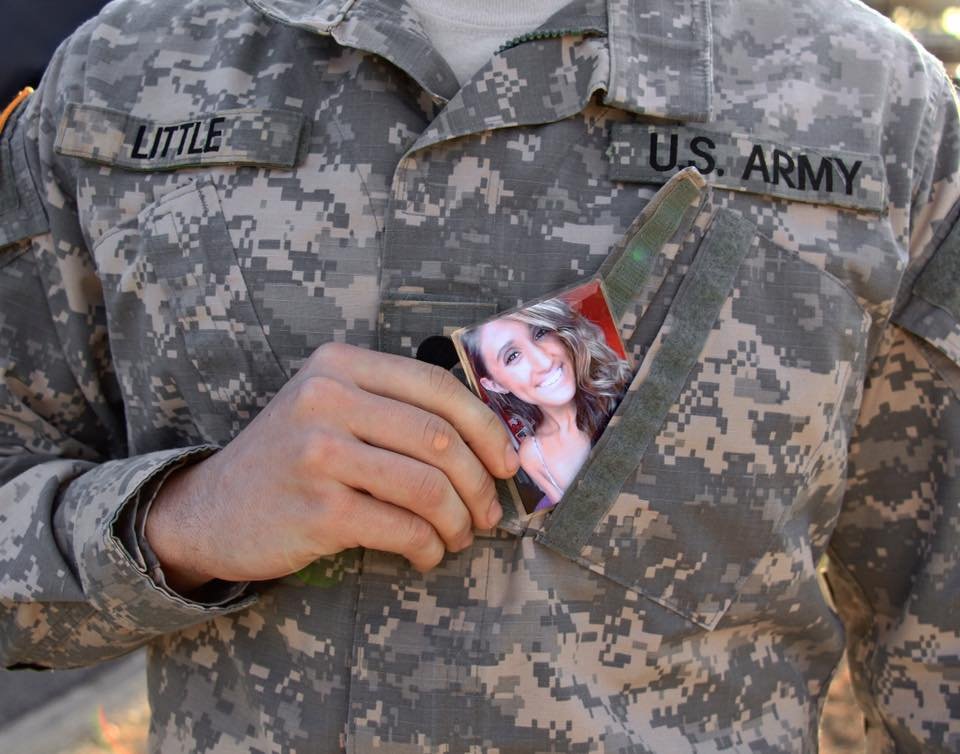 How do you do it? That's the question people always ask me. And the answer is pretty simple- when you truly love someone, distance doesn't matter. Josh and I lived down the street from each other half of our lives without knowing it. We met in High School at a Friday night football game when our mutual friend introduced us. Josh was shy and didn't say much. As he walked away, I told my friend I thought he was really cute. Her boyfriend overheard our conversation and as it goes in High School, he ran and told Josh what I said. That same night, Josh and I messaged back and forth online for hours. That's when I learned he was enlisted in the United States Army. We were both quick to admit we had a crush on one another but decided to take it slow. Two months later, on October 27th, 2011 he asked me to be his girlfriend at the Homecoming dance. The following Summer, he graduated and left for basic training. While I was learning how to communicate with Josh through letters, he was transforming into a dedicated, hardworking U.S. Army Infantryman. He graduated from basic training and then decided to go active duty. On July 25th, 2014 he was deployed overseas and our long distance journey continued. After 11 months apart, I was finally able to welcome him back home last July. He's now stationed in the U.S. for the next 10 months before he heads back overseas. Yes the limited communication when he's away is tough. Yes, the "see you soons" are excruciating. But every time we reunite and I get to jump back into his loving arms, I'm convinced it's worth it. Because every heartbreaking goodbye is NOTHING compared to every heartwarming hello. To all of my fellow army families out there or couples in long distance relationships, stay strong. Anything worth having is worth waiting for.
"Your person is out there and you will find them when the time is right."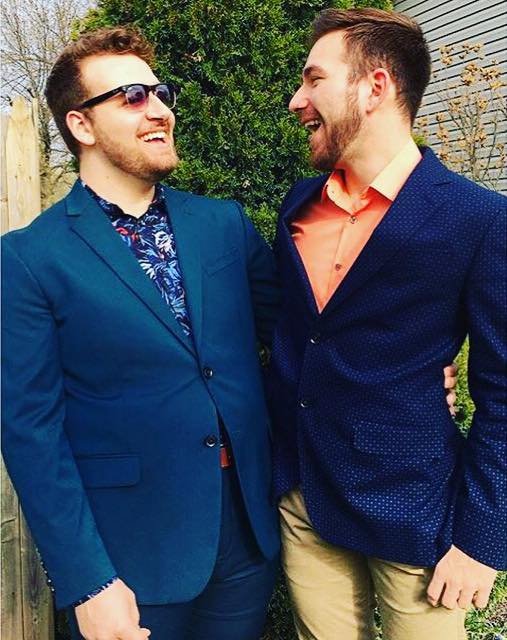 I spent years trying to find a guy I was compatible with. I wasted so much time on people I knew I didn't have a future with. I just wanted to find someone who would appreciate me for exactly who I am. I'm a lover. I show my emotions almost immediately. I wear my heart on my sleeve and don't apologize for it. For years I struggled with feeling isolated from the gay community. People don't realize there's a lot of alienation within the gay community itself. The media often portrays homosexual men with a certain image- tall, skinny, muscular, perfect hair, and chiseled features. I don't fit that mold and it made me feel unworthy. Just when I was starting to give up on men, I received a Facebook request from Matthew. Apparently Matthew had come across my page on the "people you may know" section. He was so handsome and although I figured he was out of my league, I took a chance. I messaged him a simple, "Hi" and it was the best decision I've ever made. We hit it off from the jump and scheduled dinner plans for later that week. On the night of our first date, I was so nervous that I almost called off our plans. But something in my gut told me to go, to show up, and to push myself to be vulnerable one more time. When I arrived at the restaurant, Matthew was standing outside with a single rose in his hand. We hugged and I immediately felt the fireworks. The conversation that night flowed so easily and there was never a dull moment. As cliché as it sounds, I felt like we had known each other our whole lives. My message to anyone reading this is to just wait. Don't settle. Not when it comes to love anyways. Your person is out there and you will find them when the time is right. Actively searching for love never seems to work out. When you meet the person you're meant to be with, you'll know. You won't question it. You won't hesitate. And your excitement to be around them will never go away.
"I'm grateful that this love has awakened the little girl inside of me who believes in fairy tales again."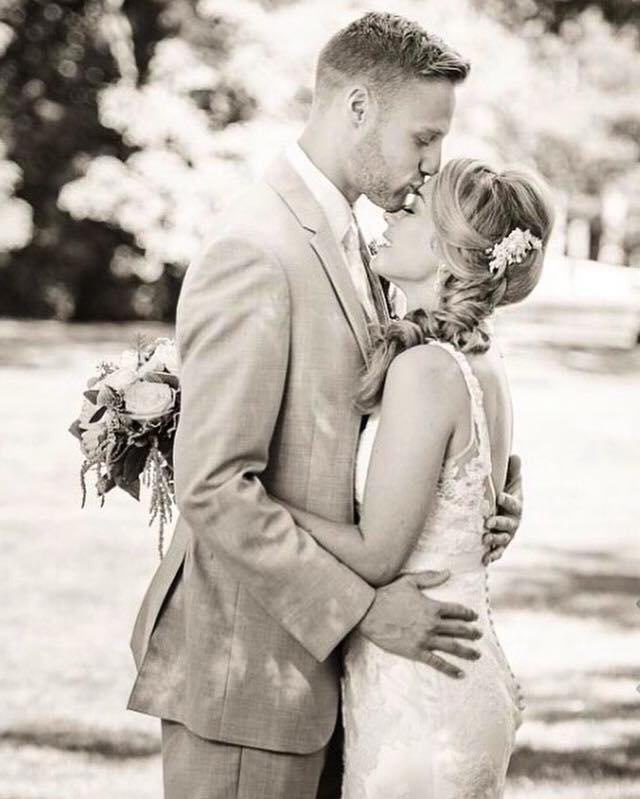 I wrote the letter below 3 weeks after meeting my husband. We've now been together for 3 years. We met in Australia when I moved there to teach for a year. He's British but had also been living in Australia at the time. We were introduced through mutual friends at a party at my friends apartment:
"I tried hard to fight back my developing feelings for him because I was afraid of getting hurt again."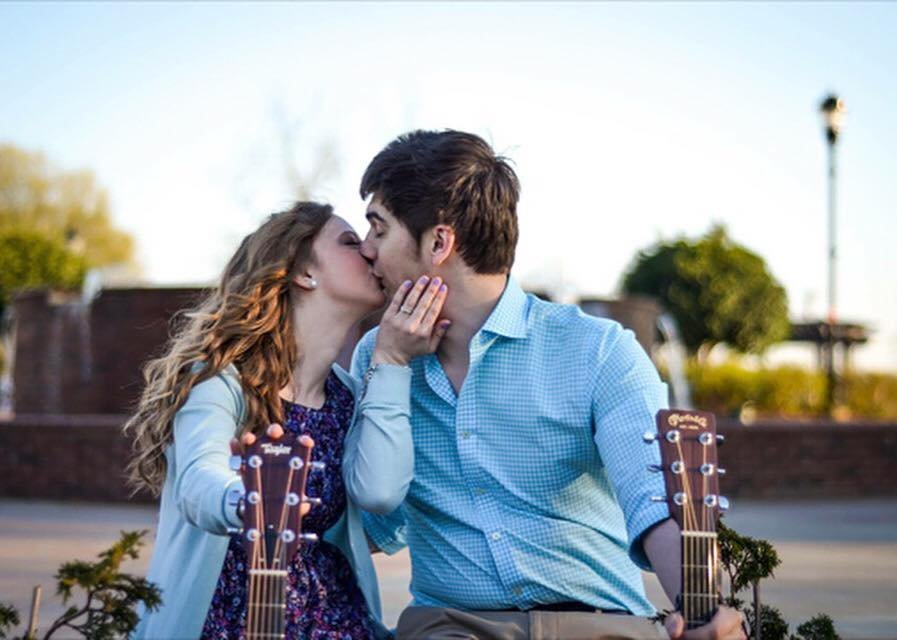 After the tragic death of my first love, I believed opening up my heart again would be an impossible act. I had already sealed my fate that I would never love again, much less get married. A year after the passing of my first love, my great Aunt told me about this local musician in our area who could help me find gigs, because I was also a musician. I looked him up on Facebook and sent him a friend request. By his profile picture I could tell he was cute but didn't think anything of it because my heart was still healing. The next day I received a message from him. We spent a full day chatting online and getting to know each other before exchanging numbers. We agreed to meet that week to discuss possible music opportunities and gig options. On a Tuesday night, we met at this cute little local coffee shop and it quickly became clear that we had more than just music in common. After about an hour of talking over coffee, he mentioned he had his acoustic in his car. So we grabbed his acoustic and went to a nearby park where we sat on bench. We spent all night singing, playing music, and talking about life. Before we knew it, it was one in the morning. In the weeks that followed, we went out almost every night. I tried hard to fight back my developing feelings for him because I was afraid of getting hurt again. However, the more I tried to fight it, the harder I fell. Within a month, I agreed to be his girlfriend and I was in love again. Since being together, we've formed an acoustic group called. "His & Hers." On February 11th, 2016 he asked me to make our duo official and become his wife. Music always has a way of healing pain, but in my case it also brought me my future husband.
"From the moment I saw him, I felt the earth tilt and BAM! I knew I was in love."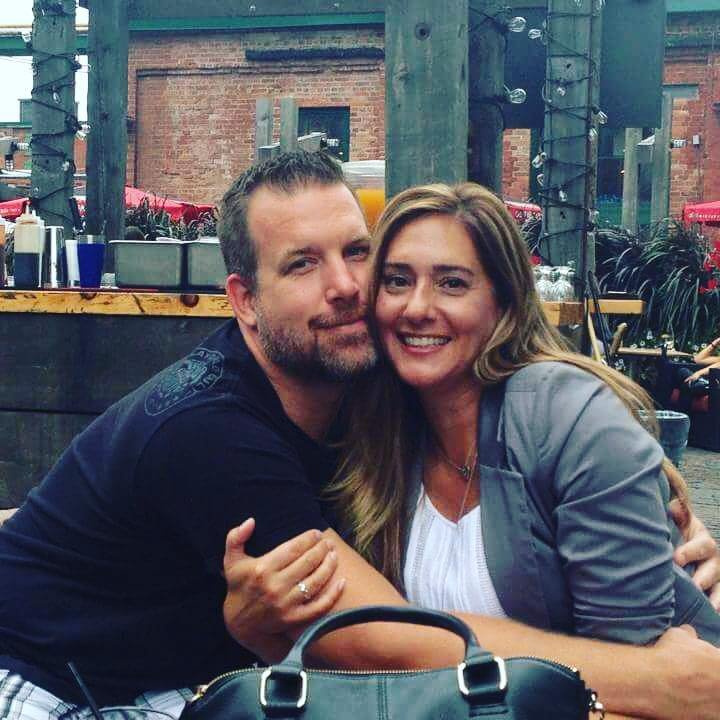 I'd like to think of myself as a person with romantic sensibilities, but I must admit that I was very cynical about the notion of love at first sight. I was divorced after being married for 16 years, and in my 40's, so that "sweep me off my feet" kind of love seemed impossible to have. Especially by meeting someone online. I was resigned to the fact that I would never feel butterflies or find a real honest connection with someone ever again. I didn't think it was possible to find a man who would love me and who I would love back with all of my heart… until I met Sean. I was giving it one last shot on a dating website. Our connection felt so sincere that we graduated from emailing, to texting, to eventually speaking on the phone. I couldn't believe how much I liked him when I hadn't even met him in person yet! After several weeks of talking, we decided to meet face to face. We met up at a Wine Festival when I was with my sister and cousins. I thought it was pretty brave of Sean to meet me for the first time with my judgmental (and tipsy) family in tow. From the moment I saw him, I felt the earth tilt and BAM! I knew I was in love. The best part was Sean felt it too- the butterflies, weak knees, heart pounding, romantic, consuming love! Now Sean is someone I can't imagine my life without. He is by far the most thoughtful and generous person I know. My family and kids love and respect him, and my friends adore him. We have spent almost everyday together for the past 3 years and are now house hunting this summer. He's my heart.
"I was at one of his games when he noticed me in the stands and threw me a baseball with his number on it."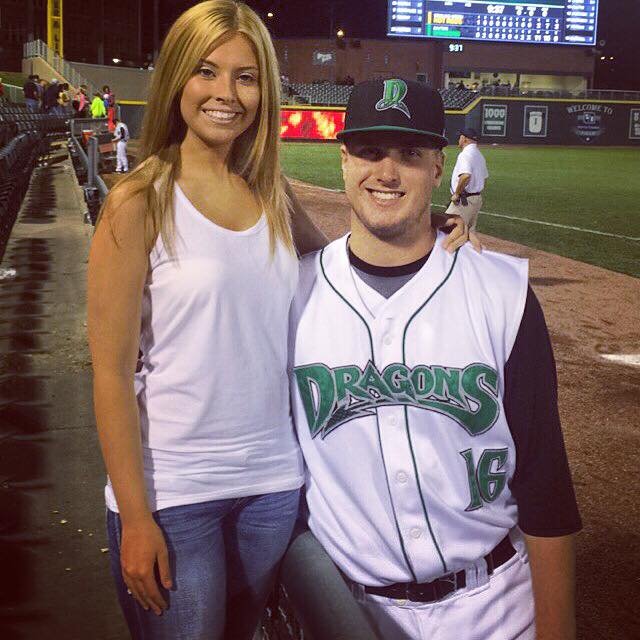 Mark plays baseball for the Cincinnati Reds minor league team. I was at one of his games when he noticed me in the stands and threw me a baseball with his number on it. I let him take me out on a date but didn't really expect anything to come of it. I knew he traveled for a living as a baseball player and doubted he'd want anything serious. However, we continued to talk every day while he was on road trips and see each other whenever he was in town. Mark proposed to me on Christmas Day while I was in our bedroom packing for an upcoming trip to New York. I was in a robe with wet hair, and no makeup on. Mark told me he had originally planned an elaborate proposal to happen during one of our evenings out in New York, but because he travels for a living, it's not that glamorous to him anymore. He said the moments he cherishes the most are when it's just us two together at home, so that's when it felt right. We're now married and have a son named Andrew. Being a baseball wife isn't easy, but he's the most incredible man and I wouldn't trade it for the world.
"On her final 96-hour chemotherapy session, I proposed to Tamara right in her hospital room."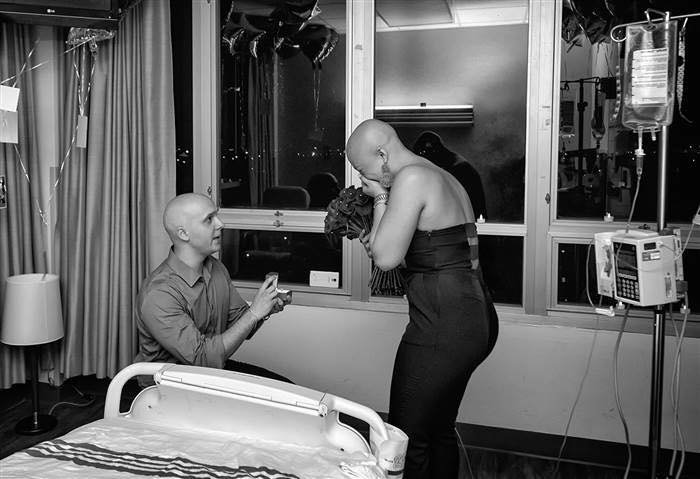 Tamara and I are High School Sweethearts and have been together for seven years. When Tamara was 21 years old, she was diagnosed with non-Hodgkin's lymphoma. It was a day that I'll never forget. She was diagnosed on Februay 17th, my birthday. To hear the doctor confirm the diagnosis was heartbreaking and soul-crushing. There was nothing I could do, and that was the worst part. Tamara was so brave and I did my best to stay positive the entire time. Although we've had ups and downs like every relationship does, this was by far the toughest thing we've ever had to go through. But it brought us closer together and really showed our husband-and-wife qualities. It was during Tamara's second chemo session when it hit me out of nowhere like an epiphany that it would be really great to propose to her on her last chemo session. I felt like it would mark the end of everything we had gone through together with the cancer and turn the page to a new part of our lives. So on June 5th, 2015, on her final 96-hour chemotherapy session, I proposed to Tamara right in her hospital room. We decorated the room Hollywood-themed on the day of her last treatment. Tamara wanted a Hawaiin theme at first, but I pushed for a Hollywood one on purpose so she would be all dressed up for the proposal. After her chemo was finished, Tamara's friend and sister convinced her to step outside the room for a few minutes to talk. As they distracted her, I had a group of about 30 people, including hospital staff, transform the room into a romantic setting filled with 100 candles, 100 bouquets of roses, and 60 balloons. When she re-entered the room, she was shocked. I started to speak but was so nervous. I was choking on my words and fighting back the tears. But in the end, I pulled it off. She was so surprised and the moment was perfect. We are so excited for our future together."
"I will love him until the stars fall down, and then some."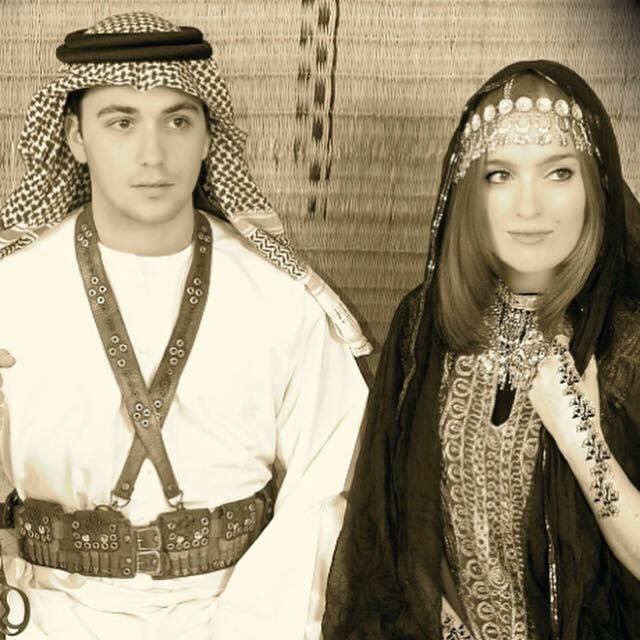 I had just finished university in the UK when I was offered a job in Dubai, working in marketing for a big five-star hotel. It was a totally different world from anything I'd ever experienced being from a very 'normal' working class background and having previously trained in journalism. On my first day, in the orientation workshop, I spotted another new recruit – Mariano from Argentina. He was so handsome, and seemed so confident yet quiet. I was fascinated. In reality, he didn't understand a word of English. He had been transferred by the same company he had worked for at his previous hotel in Argentina. At first we communicated through his friend who had also come from Argentina, while he began to grasp the language. We were poor and navigating a new city. It was also the holy month of Ramadan which is a quiet time in Dubai. So we spent our evenings sitting on the roof, trying to see the stars, and sharing our favorite music with each other, rather than going to the usual clubs and bars. After a month of getting to know each other, and learning how to communicate with one another, we finally became a couple. We have now been together for ten years and married for seven this August. We have a beautiful two year old daughter who was born on our wedding anniversary. We spent five years in Dubai before moving to Shanghai, and now we are living in the Maldives. I don't know how fate managed to bring us together considering there were over 1000 employees at the hotel. Had it not been for orientation, we may have never found each other. Our meeting was purely through chance. I will love him until the stars fall down, and then some.
"Pouring out of me came the words, "Will you marry me?""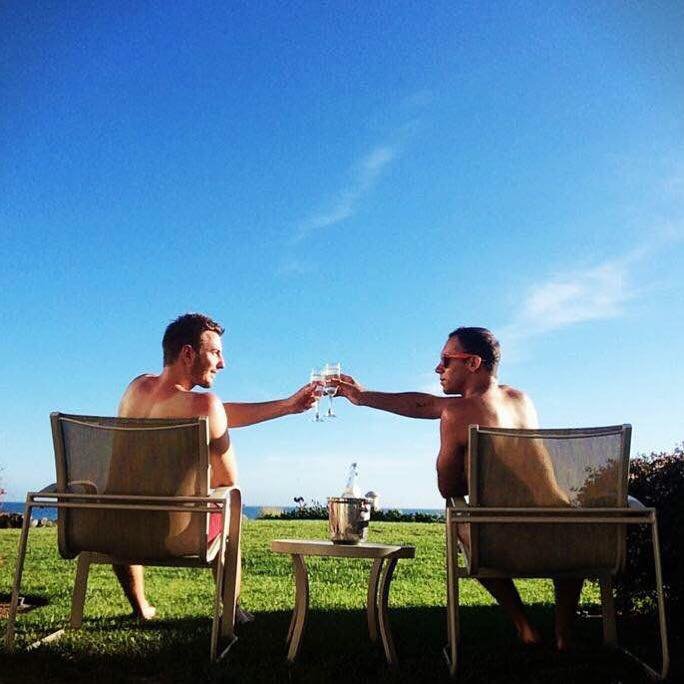 We met in May 2010 at a restaurant I was working at in Santa Monica. He was standing in the lobby of the restaurant and we made eye contact a few times. He wasn't seated in my section so I didn't have any interaction with him to feel out his sexual preference. As he was leaving, I wrote my number on a piece of paper with a note that said, "Text me sometime – Jason." I gave the note to a co-worker who ran out after him to give it to him. An hour later, I was restocking coffee mugs when I hear someone with an Australian accent say, "Jason?" The note worked! I was just hoping for a text, but he came back to see me. AND HE'S AUSTRALIAN! SCORE! Coincidentally we were both in Vegas the following weekend and fell in love instantly. On June 28th 2013, I woke up pretty early to watch the news because the decision for legalizing gay marriage was said to be announced at 7AM. Damian was still sleeping. At 7AM, they declared that DOMA was considered unconstitutional. I was crying with happiness as I ran and woke up Damian to tell him about the good news. I turned on the TV to show him all the people rejoicing and celebrating. Everyone was so excited. I laid down next to Damian and held him tight. Pouring out of me came the words, "Will you marry me?" Without any hesitation he turned to me and said yes.
"Plus he was ridiculously good looking. So, I tried to hide behind a book and pray that I got prettier real quick."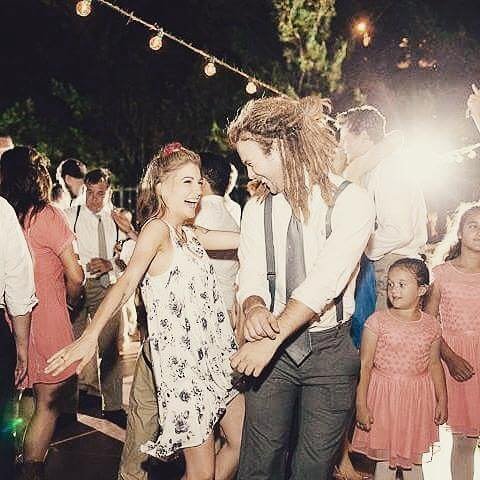 Jordan is a carpenter. I am a writer. And we probably would have never met if it wasn't for my little sister. I had just graduated college and was living at home during that weird period of job searching. My little sister came home from a mission trip and was showing me photos of her team leaders. There was one photo I freaked out about- a man with long dreads flipping his hair back next to the ocean. The photo was so cool! I told my sister that guy looked like an awesome person, to which she replied we would probably be best friends. I laughed it off. He looked too good for me, plus I was job searching and would probably move somewhere far away. Two weeks later, I'm at my little sister's volleyball game and in walks Jordan. I had NO idea he was going to be there. In order to get him there, my sister told Jordan that I had asked her to invite him. So, he saunters in smiling at me and I had no idea why he was cheesing so hard. Plus he was ridiculously good looking so I tried to hide behind a book and pray that I got prettier real quick. After an hour of weird staring at each other in the bleachers, Jordan came up to me and I blurted out, "do you like books, too?" I don't remember what we talked about but 3 days later, we had our first date! And 3 years later, we're getting married!
"Sometimes the best way to meet someone is to keep doing what you love."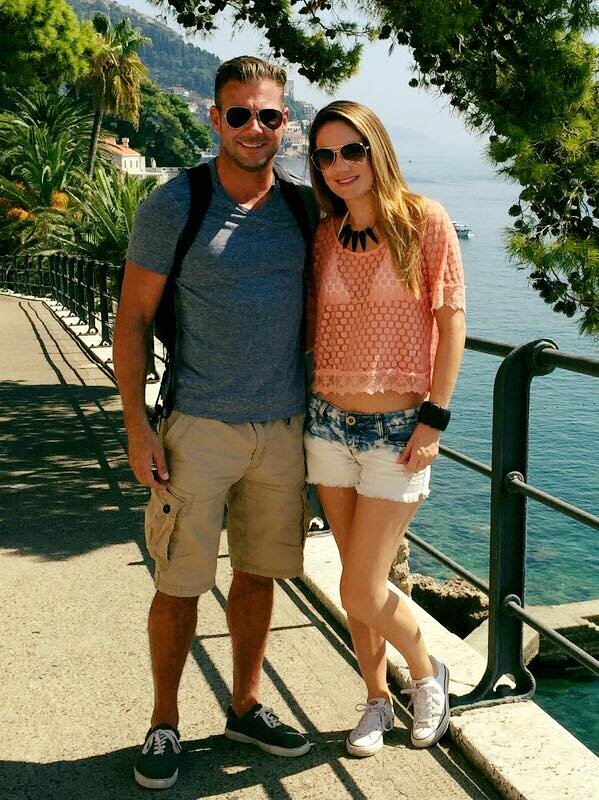 I froze my eggs when I was 31. I was single, had an established career, and a great life. I was happy. I dated a lot but I just hadn't met "the one." I felt that being single was certainly preferable to being with the wrong person. I decided to freeze my eggs after I had lab work done by my OB/GYN and received some less than favorable results regarding my fertility (FSH above 10, AMH above 1.) I knew I wanted the option of having my own biological children one day but wasn't willing to rush into just any relationship. Freezing my eggs was the best decision I've ever made. The doctors were extremely informative and supportive, and I was able to use fertility financing which I've since paid off. Having a backup plan was reassuring and allowed me to stop panicking about time. Also, when I shared this information with men I was dating, the response was actually pretty favorable. They saw me as a confident woman who wasn't going to settle rather than the "desperate woman in her 30's" stereotype. When I turned 35, I took a trip to Ibiza. I almost didn't go because my family and friends kept telling me I needed to stop traveling so much. They said I needed to stay in one place if I wanted to meet the right person and start a family. Turns out they were wrong. Sometimes the best way to meet someone is to keep doing what you love. For me that's traveling, and it is for my dream man too. When I met Karl, he was 42, had never been married, and didn't have children. We had so much in common including that we both took the time to establish careers and really figure out who we are and what we want out of life. Being with Karl made me realize why it never worked out with anyone else. If I have a daughter, I would pay for her to freeze her eggs in her 20's (Younger eggs = healthier eggs). Because I never want my daughter to think she is a ticking clock whose value depreciates with age. Society puts so much pressure on women and I think it's important we empower ourselves, explore all our options, and never settle.
"She turned to me and said, "are you crazy?" but proceeded to say "YES!""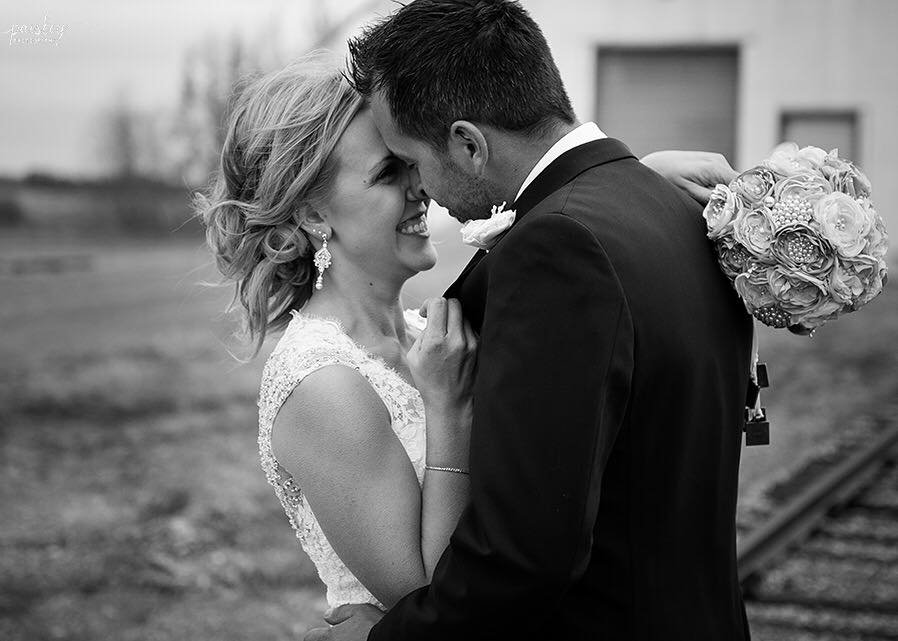 Jessica and I met in High School but were always just friends. It wasn't until years later when we were both 25 that our six-month-whirlwind-romance began. I guess that kind of history makes it easier to fall in love quickly. Jessica and her grandfather had a running joke each time they saw each other where he would check her hand to see if I had slipped a ring on her finger yet. If there was no ring, he would tease me and ask me where it was. I would shrug and brush it off. Jessica's grandpa told her in secret that he was sure it would happen before Valentines day. When Jessica came to pick me up from the airport on February 13th after I had been gone for work, she had no idea that right there at the airport I would ask her to marry me. I didn't want to miss her grandpas deadline, of course. She turned to me and said, "are you crazy?" but proceeded to say "YES!" That night the two of us drove out to see her grandfather. The first thing he did when we got there was grab her hand to check for a ring and the moment he felt it he burst into tears. It was an amazing moment for all of us.
"However, being the professional he is, he didn't ask me for my number or even my name for that matter!"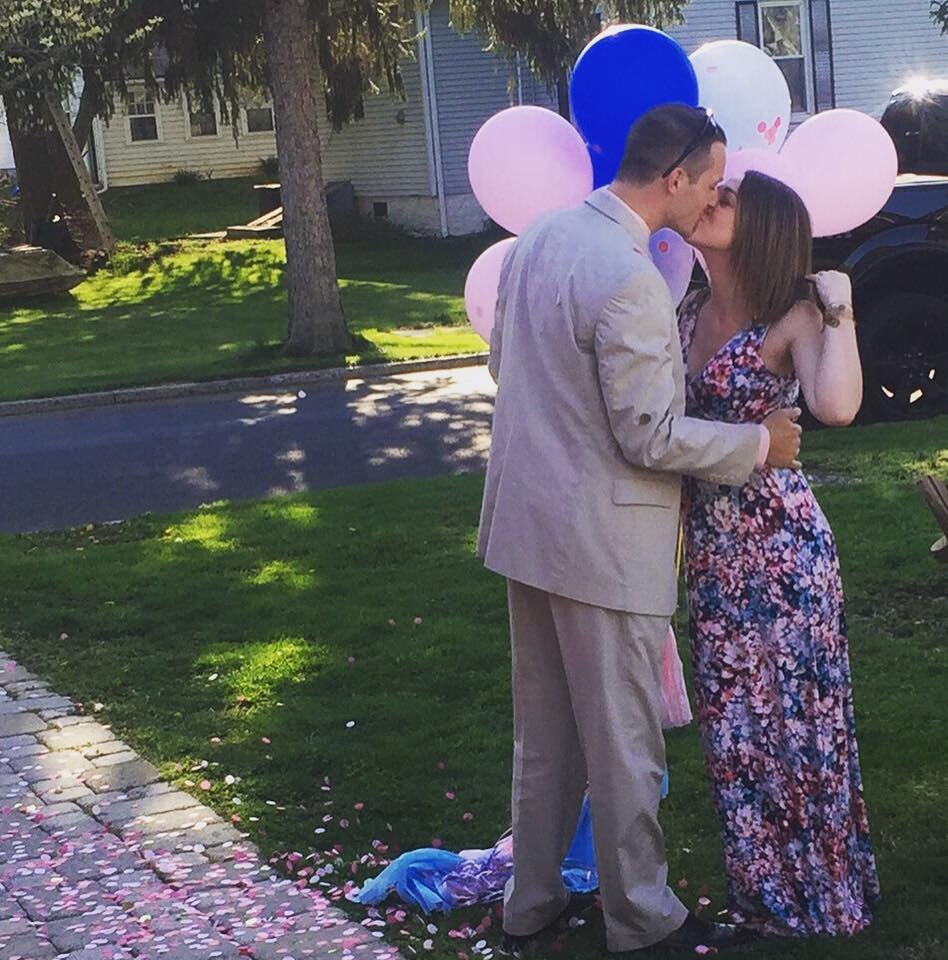 I was working as a bartender at the time and had just gotten off work. I decided to drive through Downtown Fredrick, which was a terrible idea considering it was midnight on a Thursday. I was driving down Market Street when I saw flashing red and blue lights come on behind me. I pulled over and waited as a male cop proceeded to my window. He asked me to step out of the car since there was a strong smell of alcohol on me. I tried to explain that I had just spent the day pouring liquor, but he wasn't having it and demanded I do a field sobriety test. Before I knew it, the sidewalk was full of cops. That's when I decided it was a good time to make a joke, which only one cop thought was funny. I passed my field sobriety test with flying colors but had to stand with the rest of the cops for a minute as paperwork was filed. That's when Danny and I hit it off. However, being the professional he is, he didn't ask me for my number or even my name for that matter! So I really thought that was the end of that. But I was wrong. He coincidentally showed up to the bar I worked at the next night and we've been inseparable ever since. We're expecting our first baby girl in August and can't wait to tell her the story of how daddy almost falsely arrested mommy.
"We then shared our first kiss and it immediately started to rain- it was straight out of a movie!"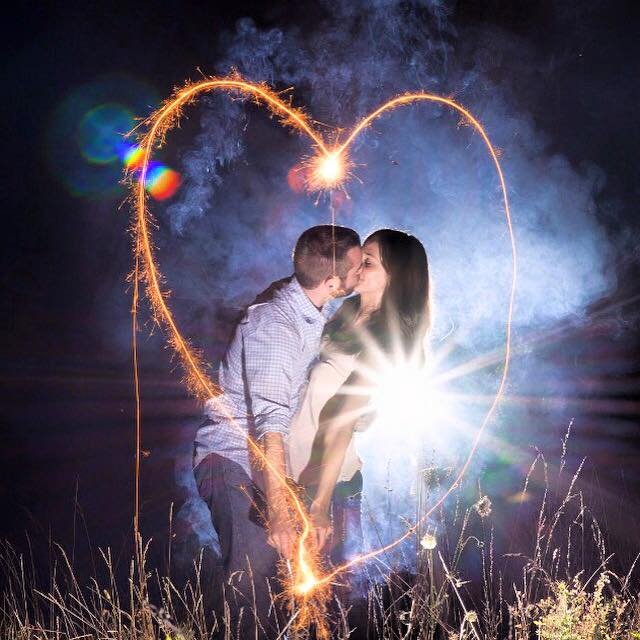 Jordan and my older brother have been best friends since they were in 1st grade. One of my first memories is playing Hot Wheels with Jordan and kissing him on the cheek, to which he got mad and said "If you kiss me one more time, I'm going home!" I continued to have a crush on Jordan as we grew up. I went away for college and it wasn't until after I graduated that Jordan and I reconnected. We both went solo to a mutual friend's wedding and we spent the night laughing and dancing together. I expected Jordan to contact me after the wedding, but he never did. I was confused and felt rejected but eventually accepted that he just wasn't interested in me. According to Jordan, it took him a while- 8 months might I add- to build up the nerve to talk to my brother about wanting to date me because he was so worried that it would hurt their friendship. But my brother was actually very accepting of the idea. Then, shortly after that, a group of our mutual friends went camping for 4th of July weekend. Jordan and I were walking through the woods when he stopped me and nervously confessed that he had feelings for me. I then told him that I had liked him for a very long time. We were both equally shocked. We then shared our first kiss and it immediately started to rain- it was straight out of a movie! We were engaged 10 months later, and married 5 months after that. We took engagement photos with fireworks to symbolize the 4th of July weekend when everything changed.
"I later found out that he designed the ring after only 2 weeks of dating."
I met Patrick in a not so typical way- I was actually taking my cat to the vet. While I was waiting to go in for our appointment, in walks my future husband. I know it sounds cliché, but time stood still. We both looked at each other, smiled, and then I looked away, but I could still feel him staring at me. He then walked over and introduced himself. I never believed in love at first sight until that moment. We talked until my name was called but before I entered the vet's office, he asked me to have dinner with him. We had our first date that night and have been together ever since. That was in November of 2011. In June of 2015, as we were driving back to Chicago from our vacation in Florida, we stopped in Nashville. Our dream has always been to pursue music together in Nashville so it's a tradition of ours to stop there whenever we're passing through. Patrick surprised me and made reservations at the most amazing restaurant. Then after dinner, he had another surprise – he rented out the Grand Ole Opry to have just to ourselves to walk around. There he got down on one knee and proposed. It was totally unexpected because I didn't think he was going to propose for a few more years. I later found out that he designed the ring after only 2 weeks of dating. He even showed me the date on the receipt to prove it. It just confirms what I knew from the beginning- It was love at first sight.
"He's my best friend, my travel buddy, and my everything."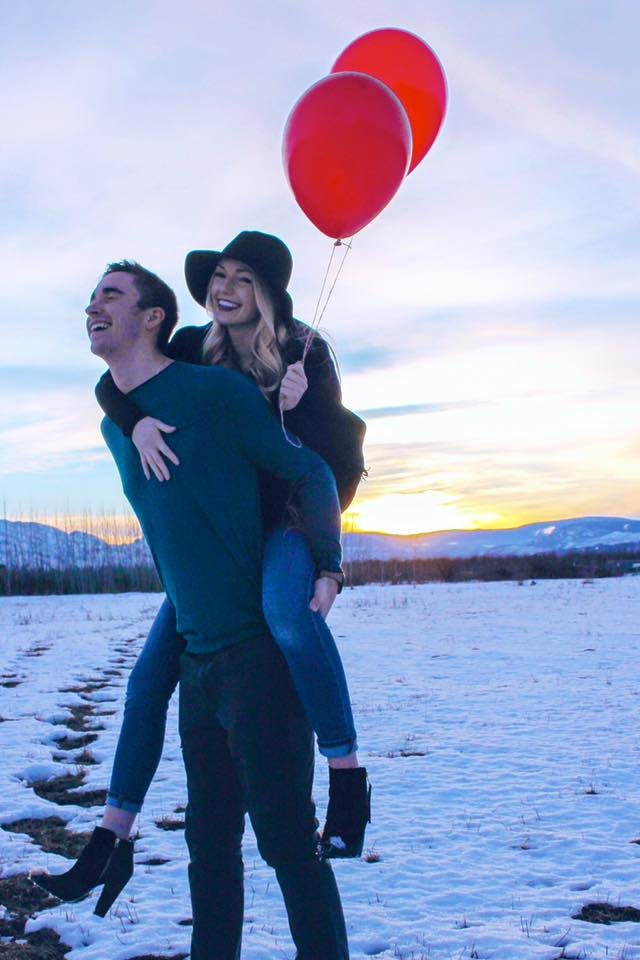 Her: "We met three years ago at a country bar. I was with a group of my girlfriends for a birthday party and had no intentions of meeting anyone that night, but when he came over and asked me to dance, I didn't stand a chance. He taught me how to two-step and was a perfect gentleman. We've been inseparable ever since. He's my best friend, my travel buddy, and my everything."
"It's no longer a secret to anyone how much we love each other."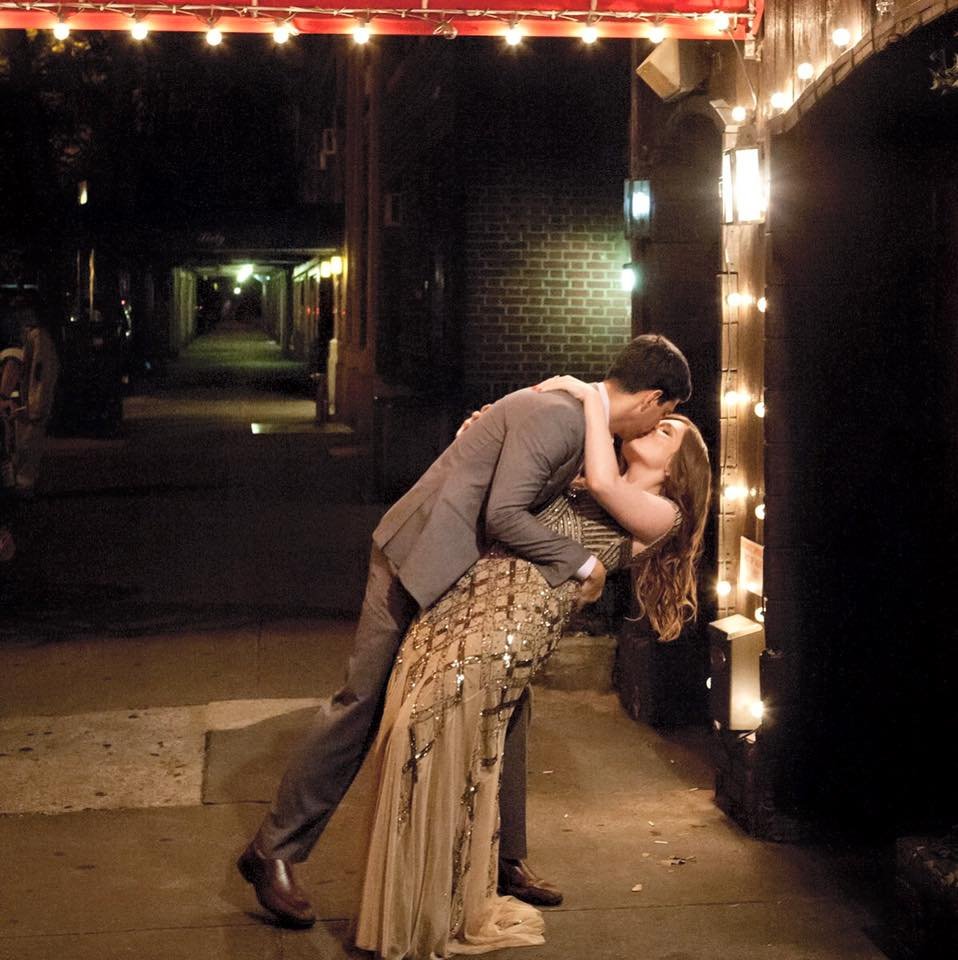 We met in 2003 when I was a senior in high school and he was in college. We had mutual friends who encouraged us to message each other on the good old AOL Instant Messenger. We exchanged scanned photos of ourselves; I sent him one of me at prom and he sent me one of him at a Super Bowl game. We were worried that our parents would be upset about our 3 year age difference. A high school girl dating a college boy was very scandalous back then. So we kept our relationship a secret from everyone until I graduated from high school and started college myself. Fast forward to twelve whole years later, and we're now about to get married this April. It's no longer a secret to anyone how much we love each other.
"It took him 4 weeks to muster up the courage to kiss me, but only another 4 weeks after that to propose."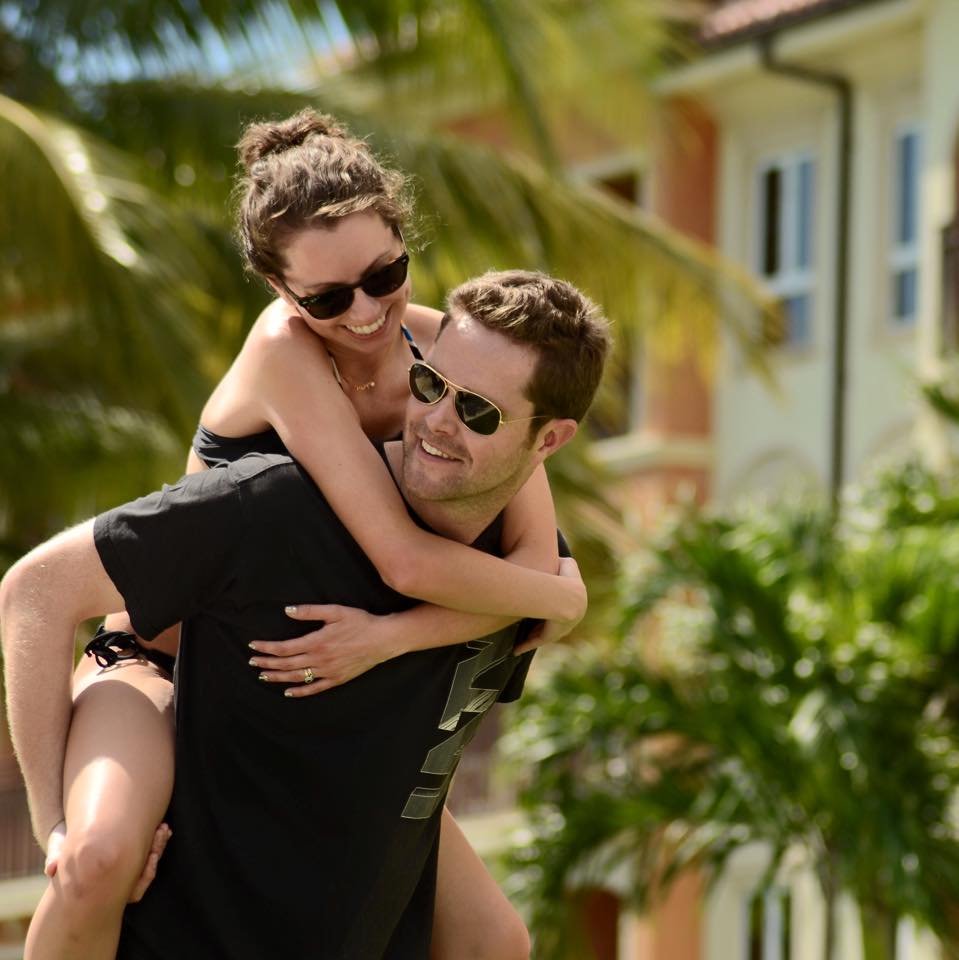 I met my amazing husband in a not so romantic way; in line for the bathroom at a bar in Santa Monica. I really had to go, so he offered to let me cut in line and use the men's restroom while he stood guard. Afterwards, he ordered a glass of wine for me and my sister, and I gave him my business card. It took him 4 weeks to muster up the courage to kiss me, but only another 4 weeks after that to propose. My happily married parents were engaged after only 6 weeks of knowing each other, so their response when I told them I was engaged to a man I had only known for 8 weeks was, "What took you so long?" We were married exactly one year after we met, to the day.
If the one hasn't found you already, hold on for a while longer because your love is out there, waiting to happen.