Australian cricket team had its third T20 international tournament against England in Canberra on Friday. While the match ended with no result due to rain playing a spoilsport, it is grabbing headlines in reference to mankading, a term which had raised eyebrows in women's cricket tournament last month.
So, here's what happened during AUS vs ENG T20I match on October 14.
During the tournament, Aussie bowler Mitchell Starc warned England cricketer Jos Buttler for being out of his crease. Apparently, his words were picked up by stump mic and the video of the incident is going viral on Twitter.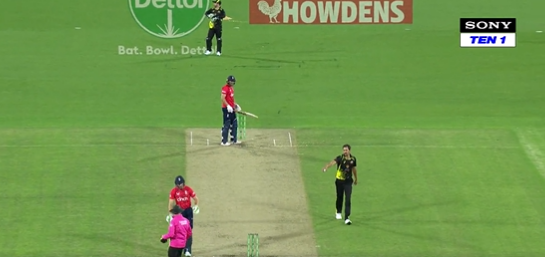 Well, it wasn't just a plain warning, but a dig at Indian all-rounder Deepti Sharma, who had run-out England's Charlotte Dean during the final ODI match in September.
The clip posted by a Twitter user, @CricCrazyJohns, shows Mitchell Starc bowling to England's Dawid Malan in the fifth over and noticing Jos Buttler at the non-striker's end as the latter seems to have left the crease for a few seconds. Referring to Indian cricketer, Starc can be seen saying, "I am not Deepti (Sharma), but I won't do it. Doesn't mean you can leave early (sic)."
Watch the video here:
Let's see how Twitterati are reacting to it:
Among many netizens, former Indian batsman Hemang Badani also lashed out at Starc and asked him to "grow up".
Earlier in September, despite playing within the rules, Deepti Sharma's run-out had sparked major controversy about mankad act and allegedly violating the spirit of game. However, Starc dragging Sharma's name as a reason to not run Buttler out at the non-striker end is totally uncalled for.