What's the first thing that strikes you when the phrase "celebrity wedding" is mentioned? Designer dresses, surreal decor, hundreds of guests, flowers, sparkle. Well, some of our celebs decided to do things a little differently. Yes, their weddings had some of these elements, but they broke the norm in their own small and big ways. 
Here we take a look at them.
1. Dia Mirza and Vaibhav Rekhi's wedding created a very important conversation about gender roles because they invited a priestess to officiate the ceremony.
The actor also shared that she auctioned clothes from her last wedding, and this time went for an attire she can wear later. 
So, the last time around I auctioned my clothes and this time around I made sure to get a garment that I could reuse and wear again and again. Even my husband chose an outfit which he could continue wearing through life instead of just hanging up in the cupboard and never touch it again.
We like weddings that are sustainable and modern, don't we?
2. Yami Gautam's pahadi wedding to Aditya Dhar that we love for its simplicity.
Her wedding ceremonies looked like the ones we have all been a part of, and that was the charm of them. Absolutely gorgeous, this one.
3. Ariana Grande's "less than 20 guests" wedding, which sounds like a dream to me, not gonna lie.
Her representative talked to People about this, and said:
It was tiny and intimate, less than 20 people. The room was so happy and full of love. The couple and both families couldn't be happier
4. Angelina Jolie and Brad Pitt's wedding which all about family love. She wore a wedding gown with her children's drawing on it, and they also wrote the vows the couple exchanged.
Apart from this, the couple sold their wedding pictures for charity and managed to rake $5 million.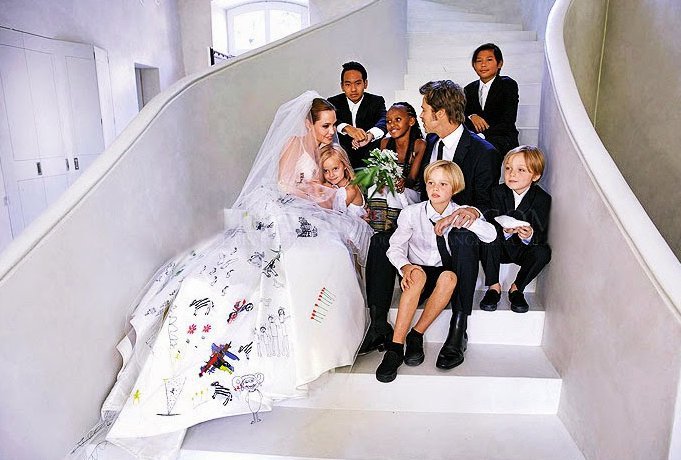 5. Emily Ratajkowski's 'pant-suit instead of a gown' wedding with a couple of friends is all kinds of cool and something I want to replicate with my full heart.
That veil!!!
6. Dax Shepard and Kristen Bell's wedding cost them $142. They got married in a courthouse and kept things completely lowkey.
The couple had been engaged for years but refused to get married until their queer friends were also allowed to do so, by law. They are the real ones, I am telling you.
7. Deepika Padukone and Ranveer Singh served food to their guests on tableware made of sugarcane fiber, stepping away from plastic and other forms of materials that are harmful for the environment. 
They also asked guests to donate to Deepika's mental health foundation, Live Love Laugh.
*Jots down ideas*.