From pahadon-wali-maggi (undoubtedly, the best kind) to cheat meals, Sara Ali Khan's food choices often make it to Instagram. 
However, recently, Varun Dhawan shared a video of Sara Ali Khan's healthy diet from the sets of their film, Coolie No. 1.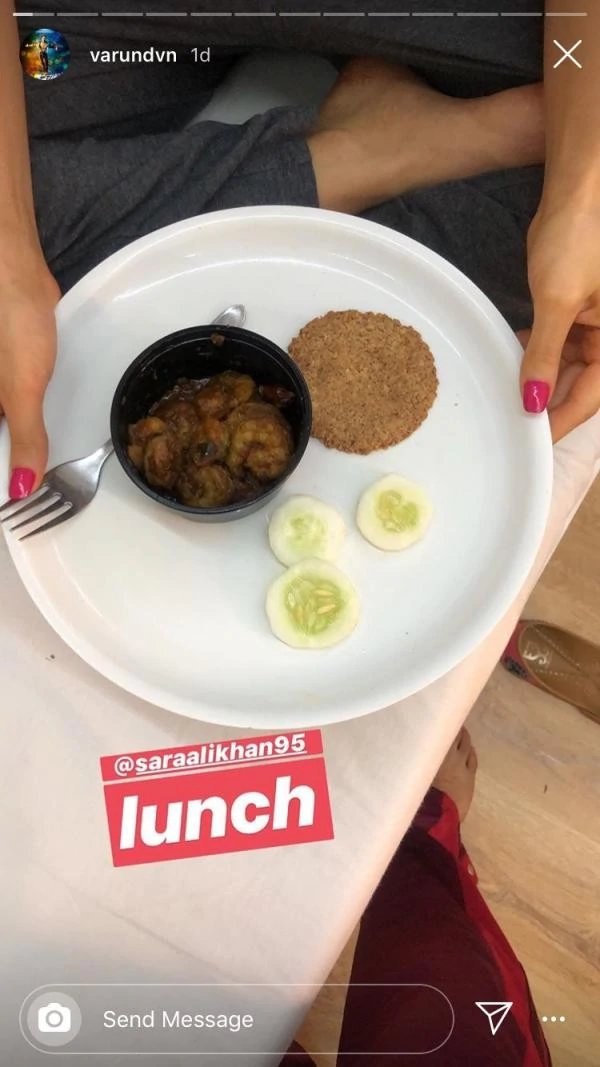 Sara has openly talked about battling PCOD and working hard to remain healthy and fit. Which is perhaps why the meal consisted of a millet roti, cucumber slices, and a cooked vegetable. 
But she's not the only celebrity who works to maintain a healthy lifestyle. Here are the diet plans of Indian celebrities: 
1. Malaika Arora Khan
Malaika's work-out routines can give most people a tough competition. However, her fitness regime isn't just restricted to intense exercises. She also follows a healthy and balanced diet that begins with a glass of warm lemon-honey water every morning.
For breakfast, she opts for one or more of these items: fresh fruits, upma, idli, or multigrain toast with egg whites. Her lunch includes 2 chapattis, rice, veggies, and chicken with sprouts for salad. For dinner, she sticks to a bowl of soup and steamed veggies. 
She also supplements her diet with mid-day and evening snacks, which include fresh vegetable juices or peanut-butter sandwiches. And nuts are her favourite superfood and travel snack.  
2. Kareena Kapoor Khan
Bollywood's OG diva has always believed in maintaining a healthy balance between exercising and dieting. And the paparazzi clearly can't get enough of her gym looks! 
For her, rice is a must-have that she absolutely does not skip on and khichdi is her comfort food. She also talked about including locally sourced and regional foods in your diet. She also includes breads made of millets and raagi in her diet. 
3. Hrithik Roshan
Hrithik Roshan's transformation, for his last film War, was nothing short of spectacular. But then again, he's always advocated a healthy lifestyle. 
For him, a healthy and balanced diet is crucial for a fit body. For his protein intake, he includes egg whites, chicken and fish in his diet. A fan of broccoli, he also includes stir-fried or steamed vegetables in his diet and maintains a gap of two hours between meals. 
4. Virat Kohli
Undoubtedly one of the most-loved Indian captains, Virat Kohli follows a strict diet plan, that includes a healthy breakfast of eggs and fruits.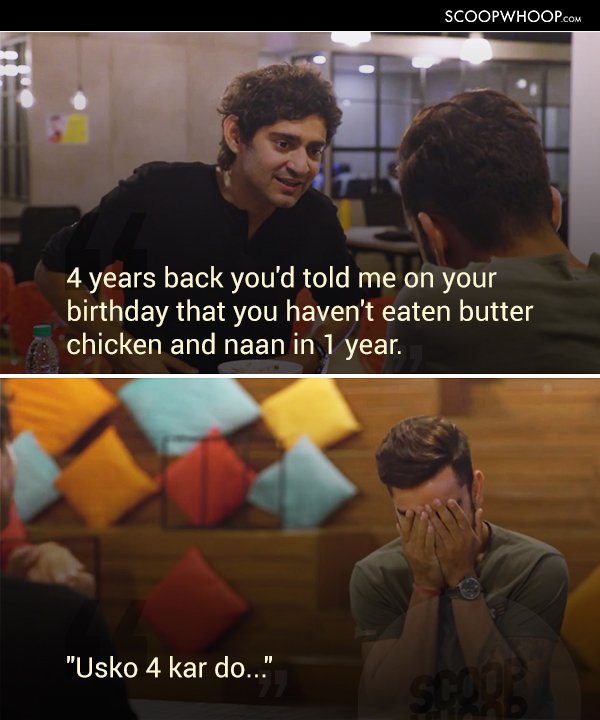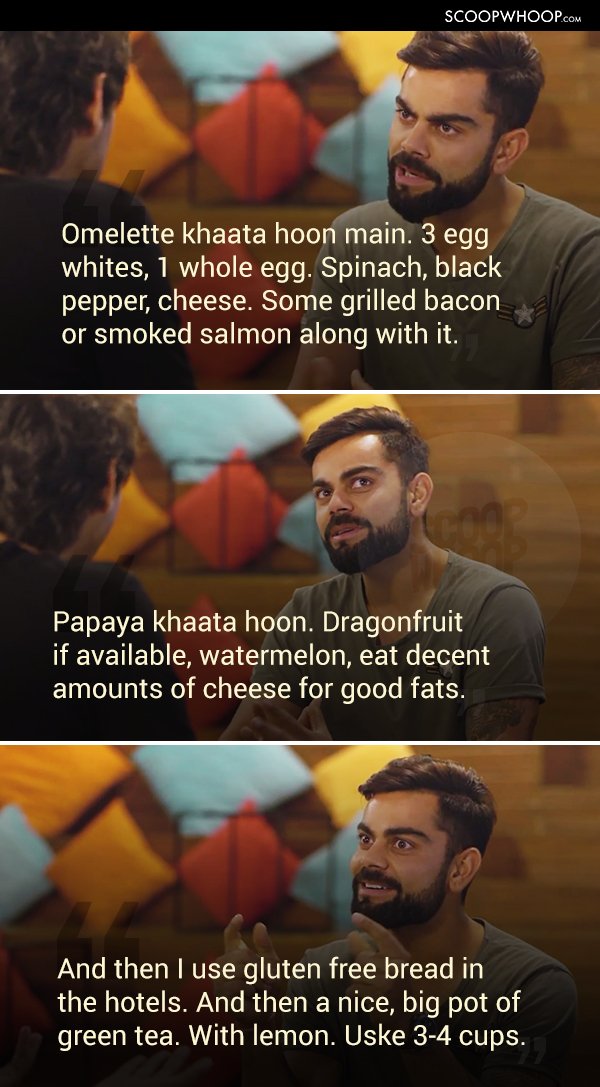 As a sports player, fitness is of utmost importance to him and he believes in playing with the same intensity at an older age as well. Thus, his lunch usually includes grilled chicken with spinach and mashed potato. His dinner is usually boiled or grilled seafood. He also believes in consuming coffee without sugar and drinking fresh fruit juice. 
5. Varun Dhawan
Varun Dhawan is no 'student' when it comes to following a fitness regime. And diet plays an important role when it comes to strengthening his body, and building his stamina. 
He begins his days with a breakfast of oatmeal or wholegrain wheat sandwiches. For lunch he prefers brown rice, chapattis, broccoli and baked chicken. And dinner usually includes fruits (papaya, banana, etc.), protein smoothies, and lotus seeds. But for him, cheat days are chocolate all the way. 
6. Katrina Kaif
Katrina Kaif's lifestyle and innovative workout routines can serve as a 'fitspiration' for most of us.
A fitness enthusiast, Katrina reportedly follows a macrobiotic diet. She avoids carbs and gives a gap of 2 hours between her meals. Her breakfast includes cereals and oatmeal. For lunch, she eats grilled fish and brown bread with butter, and for dinner takes soup, fish, and grilled vegetables. Peanut butter and brown bread is her preferred evening snack. 
Oh, and clearly, she's quite the trainer too! 
7. Shilpa Shetty Kundra
Shilpa Shetty Kundra has been quite vocal about the benefits of yoga and a healthy diet. 
A wellness enthusiast, she begins her day by consuming lemon water and green tea with honey. She follows it with a breakfast of idli, broken wheat upma, low-fat milk or paneer bhurji toast. Her lunch, that begins with clear soup and salad, includes either rice (red or brown) with sauteed vegetables or mixed grains roti with vegetable curry and low-fat curd. She sticks to light and early dinner, which usually includes a thin soup, roti, and vegetable curry. And foxnuts, nuts, or air-popped popcorn with green tea makes her evening snack. 
But Sundays are for the occasional binge! 
8. Tiger Shroff 
It's no secret that Tiger Shroff's workout sessions are intense, and his fitness regime is hardcore. And that includes a well-planned diet. He advocates cutting out carbs from dinner, giving up sugar and carbs, and sticking to proteins and vegetables.
He begins his day with egg whites and oatmeal. Lunch includes boiled chicken and vegetables with brown rice and the last meal of the day is made up of broccoli and fish. Dry fruits and nuts are his go-to snack during the day, and his evening snack consists of protein shakes. 
9. Sunil Chhetri
Another Indian captain who has the love of a whole nation, Sunil Chhetri recently turned vegan. Since then, he has abstained from dairy and meat, which helps him with his digestion and fitness. 
Over the years, he's become extremely strict with portion control and food group restrictions. Though he's turned vegan now, earlier his diet included a pre-training meal of oatmeal with nuts, boiled eggs and fresh juice in the morning. For breakfast, he consumed brown bread, broccoli, chickpeas, sushi, black olives, tuna fish and red meat. Boiled vegetables, greens, and chicken made up his remaining meals. 
10. Sushmita Sen
India's first Miss Universe is a diva whose fitness goals give just the right kind of inspiration. The 43-year-old star follows a well-balanced diet which does not include any fad diet, but rather, focuses on holistic nutrition. 
While vegetables and grilled fish are her diet staples, she ensures to not miss out on any of the three main food groups – proteins, carbs, and fats. She also believes in keeping yourself hydrated.  
11. Bipasha Basu
Bipasha Basu's fitness regime is inspirational, to say the least. And for her, the key to a fit body is discipline. As far as her diet goes, she begins the day with warm water and lime and follows it with soaked peanuts and a cup of tea. 
She indulges in a heavy breakfast, that includes egg whites, toast, porridge, a glass of skimmed milk and fresh fruits. She avoids rice, and her lunch usually consists of a bowl of lentils, vegetables, and wheat or soy chapattis. For dinner, she takes grilled chicken or steamed fish with salad. And though she finds it hard to resist desserts, she makes sure to avoid junk food and keep herself hydrated. 
12. Mandira Bedi
Looking at Mandira Bedi, it's easy to think that she's aging in reverse. But in reality, she follows a strict fitness regime, that helps her maintain a healthy lifestyle. 
A fitness icon, Mandira Bedi's diet begins with a breakfast of cold coffee and banana (before workout). For lunch, she takes roti with vegetables and lentils, and her dinner consists of salads. 
13. Vidyut Jammwal
Intense does not even begin to describe Vidyut Jammwal's workout routine. After all, you don't get to swing gas cylinders by just lying around. 
A vegetarian, Vidyut Jammwal begins his day with a bowl of muesli before starting his workout. He includes a lot of seasonal fruits in his diet, and for breakfast, he usually consumes idli. Vegetables, lentils, and roti make up his dinner and lunch. He compliments his protein intake with tofu and protein shakes. 
14. Milind Soman
Every 90s kid's longest-standing crush, Milind Soman is quite the fitness icon, and an ardent believer of relying on nature, and not equipment, for his workout.  
The real-life 'Ironman', Milind does not consume refined sugar or canned foods. He prefers the natural sweetness of fruits and that's what makes up his breakfast – bananas, papaya, melon and other seasonal fruits. He also prefers unpolished grains and millets, like bajra and ragi, and loves 'mom-made khichdi'.
15. Akshay Kumar
The OG 'khiladi' of Bollywood, Akshay Kumar has always professed the importance of a healthy lifestyle. 
A martial arts expert, he does not believe in dieting, but in eating at the right time. Thus, he does not consume anything after 7 in the evening and abstains from caffeine. A fan of homemade food, his breakfast includes milk and paranthas. For lunch, he takes either lean meat or veggies and lentils with brown rice. Dinner consists of soup and sauteed vegetables. 
He usually snacks on fruits and nuts, but in case of late-night hunger pangs, he indulges in an egg white omelette.
16. Deepika Padukone
Deepika Padukone is a foodie, who indulges in all her favourite items (including chocolates), but in limited portions. 
She starts her day with warm water and has low-fat milk with upma, idli, dosa, or egg whites for breakfast. For lunch and dinner, she sticks to chapattis, vegetables, and grilled fish. She also includes seasonal fruits, fresh juice, salads, nuts, and dry fruits in her diet. 
17. Gul Panag
A biker, actor, producer, and entrepreneur, Gul Panag may appear to have stopped aging, but actually she is just a fitness enthusiast. 
She starts her day with almonds and walnuts, and for breakfast, sticks to eggs, oats, freshly prepared muesli along with salami. For both lunch and dinner, she takes meat or pulses, with vegetables, and a handful of rice or a small chapatti. She also stays away from refined sugar and fried food items. 
18. Shahid Kapoor
The star who nails intense roles has just as intense a workout routine. 
A strict vegetarian, Shahid Kapoor maintains the 'lean, mean' look, with a strict diet. For his protein intake, he relies on nuts, seeds, legumes, and leafy greens. His balanced diet includes tofu, paneer, soy, brown rice, fresh fruits, and vegetables (like broccoli, kale, etc.). 
Talk about a healthy dose of inspiration!
Find stories on movies and more at ScoopWhoop.com.