Life in India is a lot like our cinema. It begins with no certain plot, has its moments of dance and drama, grows with you but definitely has a lot of sensible teachings along the way. And then life reaches a point where you stop and reflect on your journey. 25 is that year, we say! You may or may not have accomplished much by then, but that's alright, you must have watched some really good cinema!
Here's a list of 25 Bollywood movies you should watch before you turn 25, because each one of them has a lesson for you:
1. Lakshya
Being aimless in life and careless about career is a phase everyone goes through. Having a quarter-life crisis is not so bad either. However, the magic lies in waking up at the right time. Forget everyone else, the real deal is to surprise yourself with your own capabilities and to do something that you yourself never expected to do. After all, this is what 'Lakshya' taught us. To leave one life and live the other!
2. Dil Chahta Hai
There are times when you want the clock to stop. There are times when you don't want to leave a place. There are times when everything just feels right about the company that you have. Such is the gravity of friendship in youth. You don't want to grow old at all. But unfortunately, time waits for no one. 'Dil Chahta Hai' is a coming-of-age story which remains an essential part of everyone's life, simply because it holds true no matter how many times we watch it.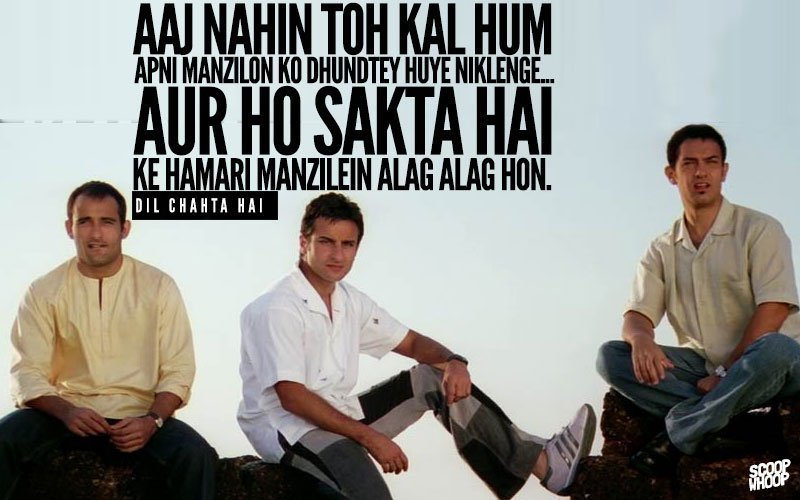 3. Zindagi Na Milegi Dobara
25 is an age when you have lived a quarter of your life, which is more than enough to have explored the world. But what have we actually seen until now? Did we ever quit our jobs, switch off our phones, leave all tensions behind and just travel? No. We've only been planning of this while life passed us by? This 'my bwoy' is a serious problem! We live just once but die everyday at the hands of our mundane lives. May be, it's time to explore the unexplored and let the road decide our destination.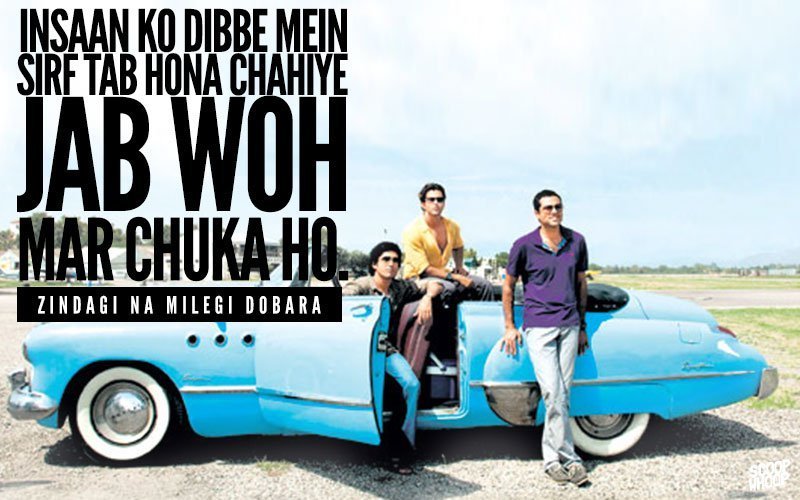 4. 3 Idiots
However embarrassing it sounds, we still have to rack our brains to remember something as simple as the multiples of 12! And this is the biggest flaw in our educational system. We study to learn and not to understand. '3 Idiots' makes us laugh at our own shortcomings, at the Indian education system which is still plagued with the prejudices of money and grades. Education should not be about percentages, cut-offs and degrees and it MUST be available to one and all. This is what 3 Idiots is all about.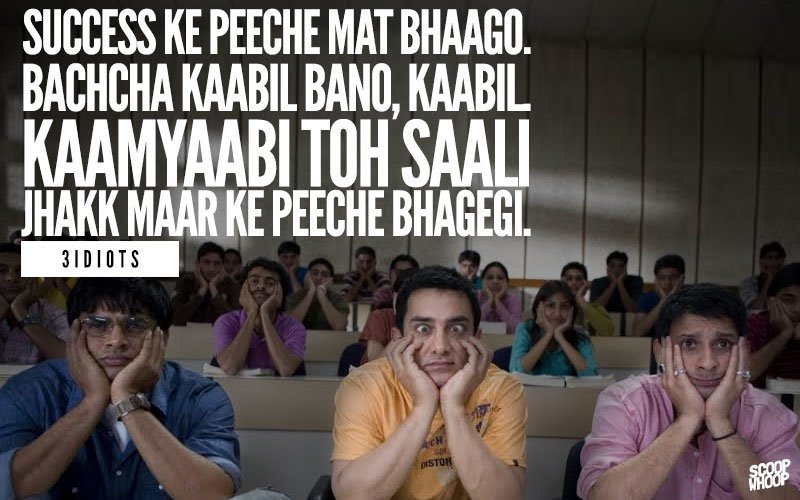 5. Rang De Basanti
20s is a very volatile age group. We get angry at the drop of the hat. Our adrenaline levels are always pumping and our all time favourite punching bag is the system of the country. But what do we actually do to correct this system? Nothing. 'Rang De Basanti' tries to create an environment of increased activism on matters of public interest and throws open a debate: do we want to take matters into our hands or keep crying foul about the inefficiencies of the society?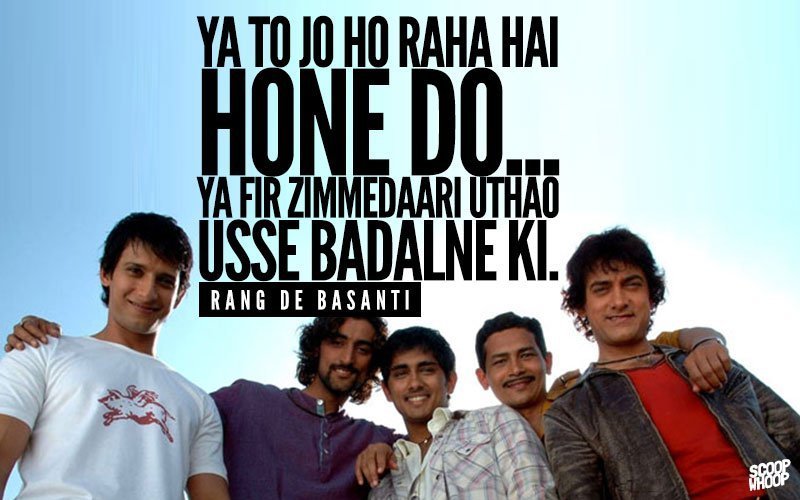 6. Bhaag Milkha Bhaag
When we watch movies like Bhaag Milkha Bhaag, it feels like your comfortable cover has been blown off. At 25, the world feels like a mess. However, some tales are so inspiring that your own struggles begin to look mediocre in front of them. Watching a biopic of a real man who has gone through so much to achieve everything in his chosen vocation, inspires you to keep going towards your goal and give your hundred percent to whatever you do.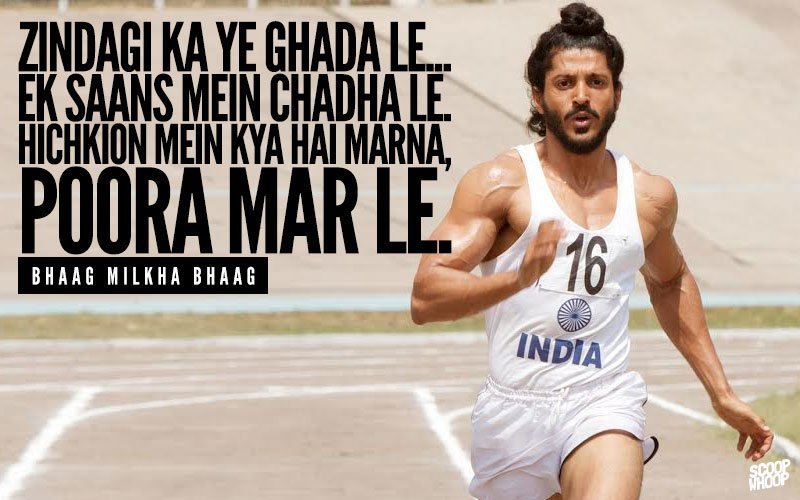 7. Rockstar
If you're 25, you know there can be no better expression of love and pain than music. 'Rockstar' shows the struggles of a talented singer and a fallen superstar and his love torn heart which just can't seem to find peace. Aren't we all a bit like this? We carry hurt and pain in our hearts but what we need to learn is to channelize the disappointments and aggression in life into something constructive. A must watch for all the obvious reasons!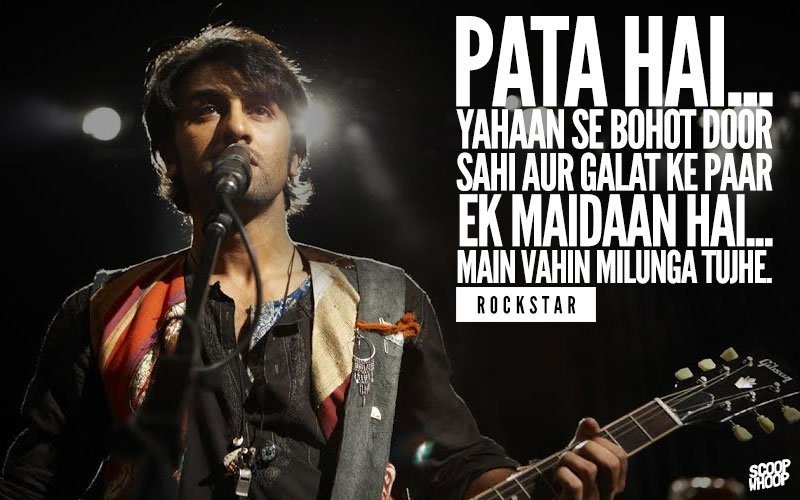 8. Wake Up Sid
Where are we standing in life? Where are we headed? Is this what we always wanted to do in life? Are we satisfied with the life we have chosen for ourselves? Are we even awake? Or are we being washed out by a strong current called life? These questions come back to haunt us later by when some important decisions of our lives cannot be undone. 'Wake Up Sid' urges us to correct our decisions, realise our underfed talents and live life according to our own liking.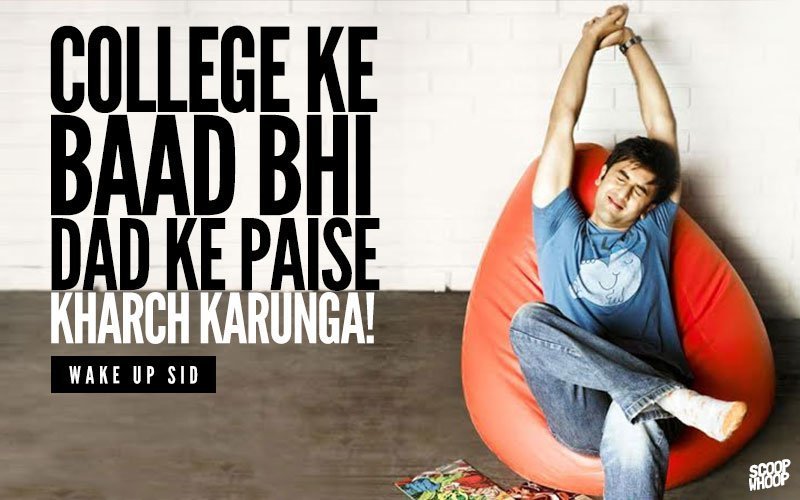 9. Queen
What would happen to you if you hit rock bottom in life? When you're down, the only way to go is up, says 'Queen'. This movie is like a beautiful poem which suddenly makes you feel good about life. It makes its viewers believe that there are people out there you can trust and look up to for friendship and guidance. And, most importantly, if there is no one, you still have yourself! So just go out, and live every single day of your life to the fullest.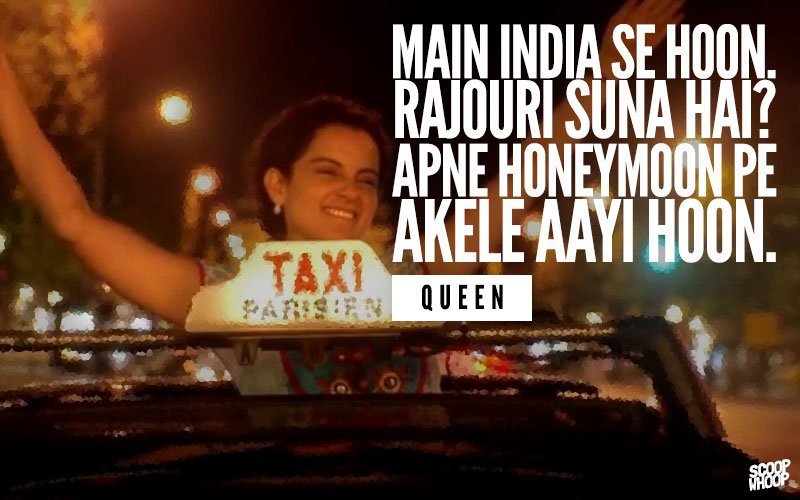 10. Chak De! India
Call it SRK's stellar acting, a beautifully written script or sheer patriotism, there is no chance you could have missed this one. The movie teaches us to rise above religious, regional and emotional prejudices and to play like a team for a common cause! More than anything, this movie also gave India its unofficial anthem in the form of its title track 'Chak De India'.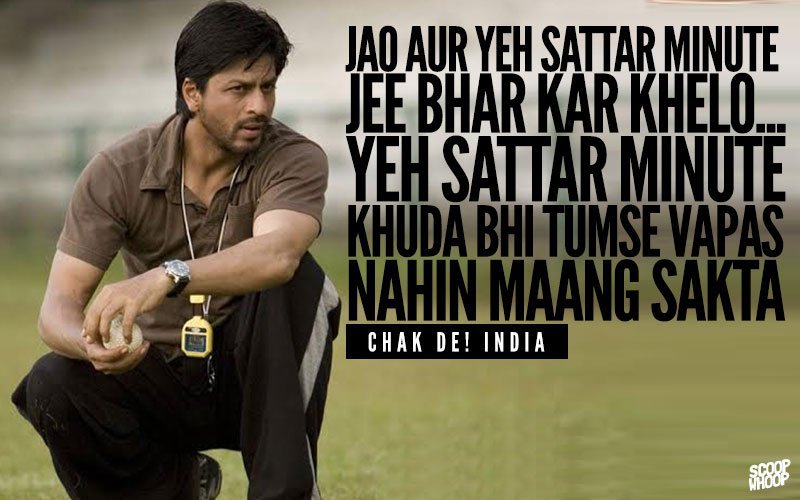 11. Taare Zameen Par
Have we ever wondered why a glass appears half empty to some of us while it looks half full to others? It's just a matter of perception, we say. 'Taare Zameen Par' breaks the stigma attached with the differently abled children and leads us to give them a fair chance. Such movies leave a lasting impact on our psyche and help us immensely in bettering our judgement towards life. And in case, you forgot the message of the movie, just remember, every child is special.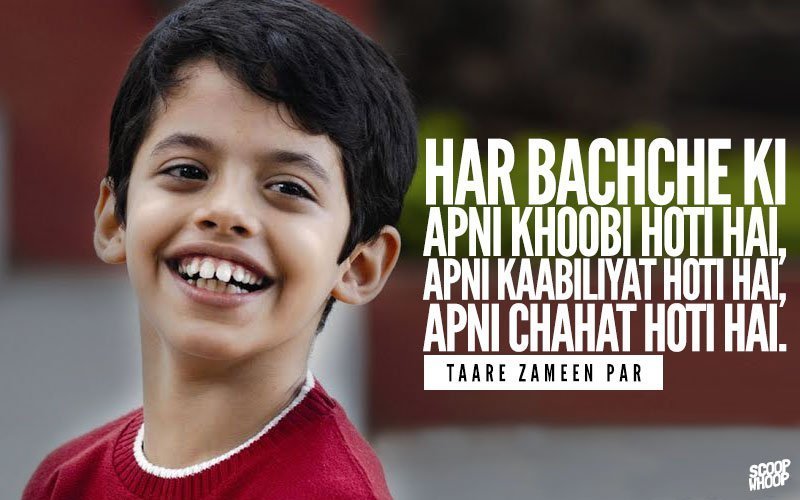 12. Rock On!!
Friends, fights and lots of rock music! A never-seen-before spectacle for a Bollywood movie, 'Rock On' set a new bench mark for Hindi movies. Guided by the feelings of ego and jealousy, we often make many reckless decisions in our youth only to repent later in life. If you too have an unfulfilled passion or a remorse of lost friendship at 25, go after it because it's never too late.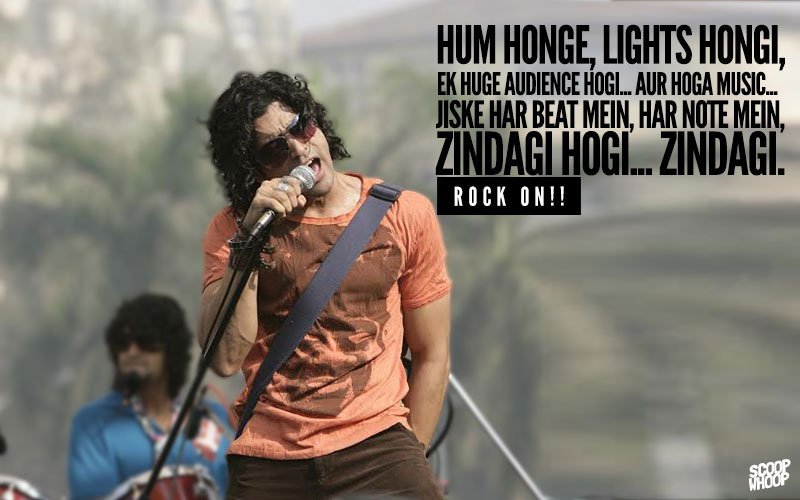 13. Swades
25 is an age when we are at our ambitious best. We have accomplished quite a few things and can see a comfortable and promising future for ourselves. However, how many of us can leave a settled life behind and devote it to the upliftment and betterment of the lives of our rural brethren. 'Swades' is a story of self-less devotion to the country and bringing development at the grass-root level. A must-watch for all who want to contribute to their motherland in their own little way.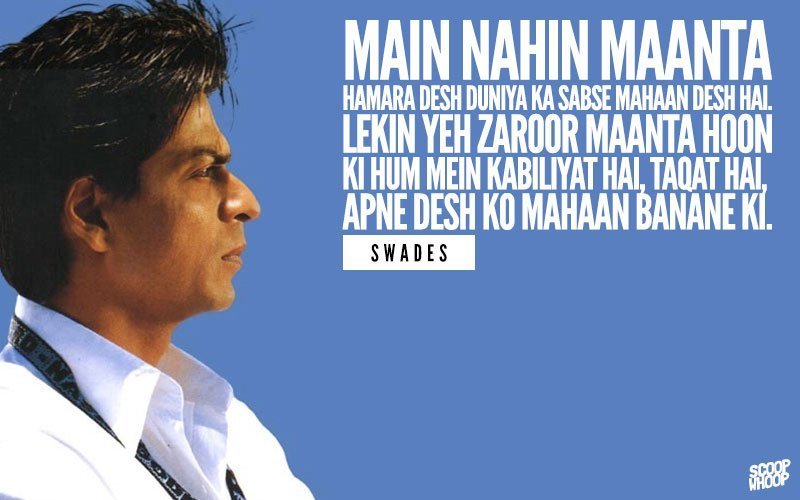 14. Iqbal
There is no bigger defeat in life than succumbing to our own incapabilities and there is no bigger victory than overcoming them. This overwhelming tale of unbelievable self-belief and will power reminds us that our real inspiration lies within us, and once we find that, we should harness it and achieve the unthinkable.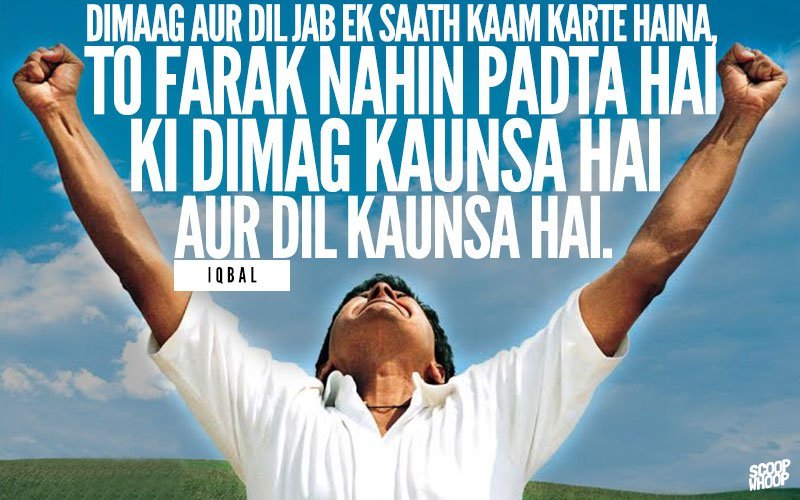 15. Yeh Jawaani Hai Deewani
I can't remember the last Bollywood movie which struck a chord with youngsters as much as YJHD did. Some of us could see our friends in the movie, some of us relived our own journeys, some of us were reminded of our love stories but all of us loved the way Ranbir leaves everything for his passion, only to return as a much more mature and sensible guy. If not for anything else, YJHD is a must watch for its scenic locales and foot tapping music which inspires you to pack your bags and just travel!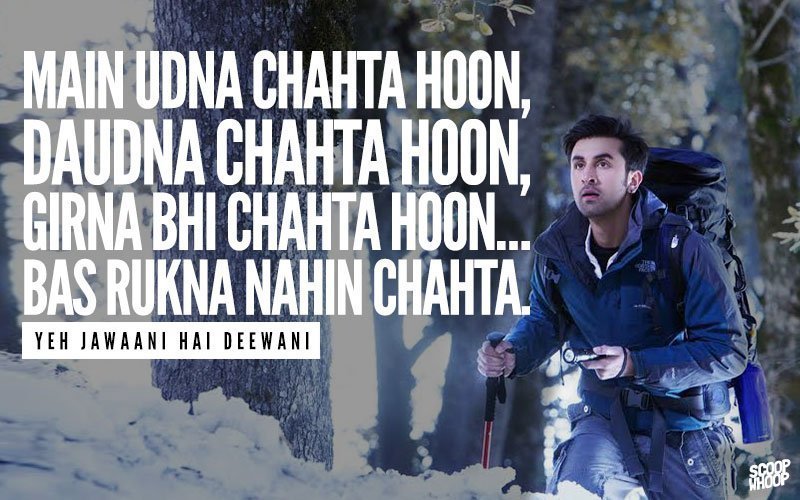 16. Jab We Met
Indian youngsters have been brought up on a staple diet of romance fed to them by veterans such as SRK and Kajol. However, 'Jab We Met' gave audiences not only a fresh romantic couple but an equally beautiful story. The movie depicts how love means different things to different people and that nothing is wrong when two people are in love.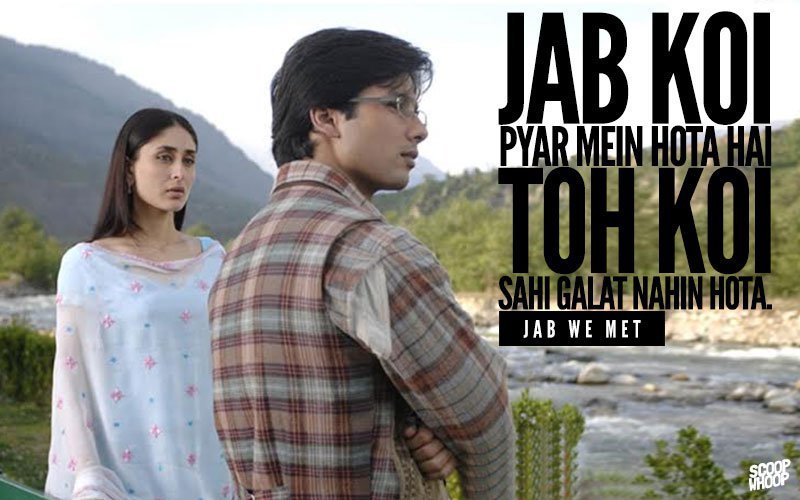 17. Rocket Singh
Admit it! We have all given up on some life-changing idea at least once in our lives because we lacked the courage to make the actual plunge. No wonder we move on with a familiar remorse in our hearts. 'Rocket Singh' teaches us an amazing lesson about self-worth which stresses on the fact that an organisation is only as good as its employees and that taking risks in life is not as bad as it looks initially.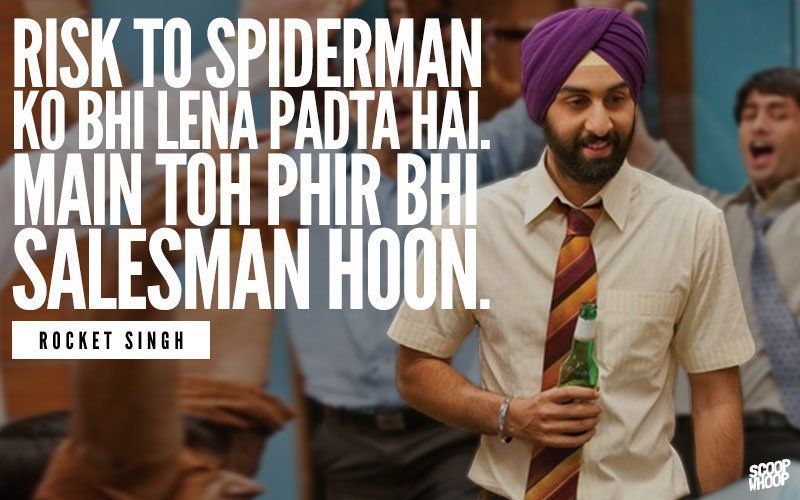 18. Luck by Chance
It's only natural for a young mind to lust after fame and relationships. But can we manage to balance them both safely on our palms? Bollywood is considered as the big-bad-world where people make friends for their own benefit and 'Luck by Chance' gives us a sneak peek into it. The movie almost seems to poke fun of the film industry but with great affection. Most of our youth years are torn between the dilemma of love and career, and the movie beautifully sums up this dilemma with its subtle message that success is best enjoyed with the presence of your well-wishers and not at their cost.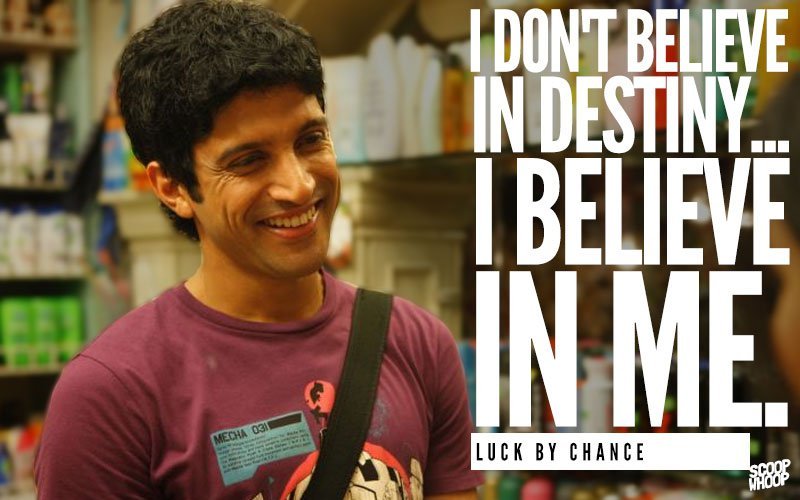 19. Shaitan
Dark, reckless and unforgiving, 20s is a phase where we could be living in denial. We feel grown up and mature, but fail to tame the wild child inside each of us. We meet random people and tend to let them enter our lives too soon. But can they be our real friends? Should we be more mature in our judgement? Can we own up to our mistakes instead of running away from them? 'Shaitan' warns us of this dark side of youth and gives us a lot to think about.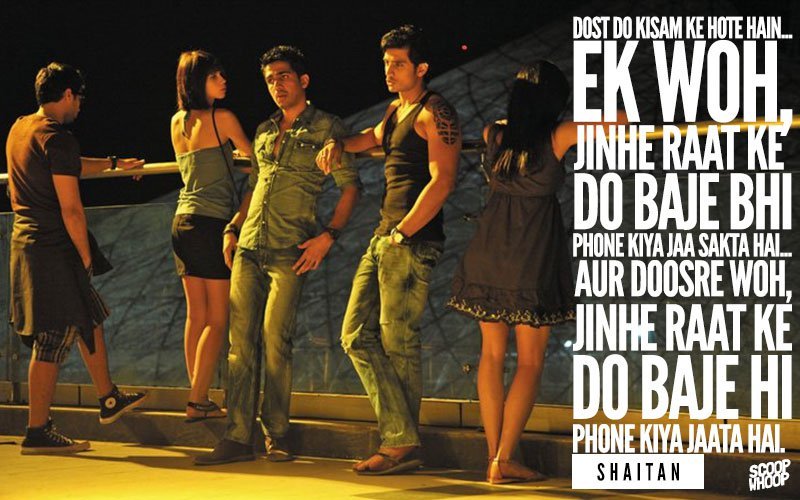 20. Fukrey
If you are in your 20s, chances of you being in a situation where you thought your life has been royally fucked are quite high! And when you are neck deep in shit, you realise that the world is a much more adventurous place to be in as compared to the safe shell you've been living in. Such times teach you the importance of friendship and make you a stronger person. 'Fukrey', in a very light-hearted manner, lets us know that with the help of your friends and a little street smartness, you can manage your way out of any situation.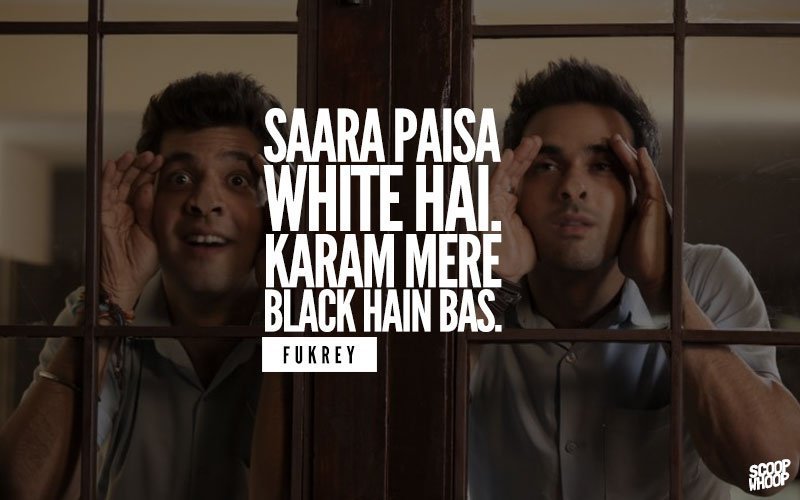 21. Fashion
We all have heard about the big bad world that fashion and film industry are and for the uninitiated, 'Fashion' is a brilliant reference point. 25 is that time of our lives when we are still unsure about everything and anything dark attracts us. No wonder that we are at the peak of our obsession with the fashion world. 'Fashion' the movie is a well-researched sneak peek into the struggles and pressures of modelling and delivers a very important life message: everything that goes up, comes down.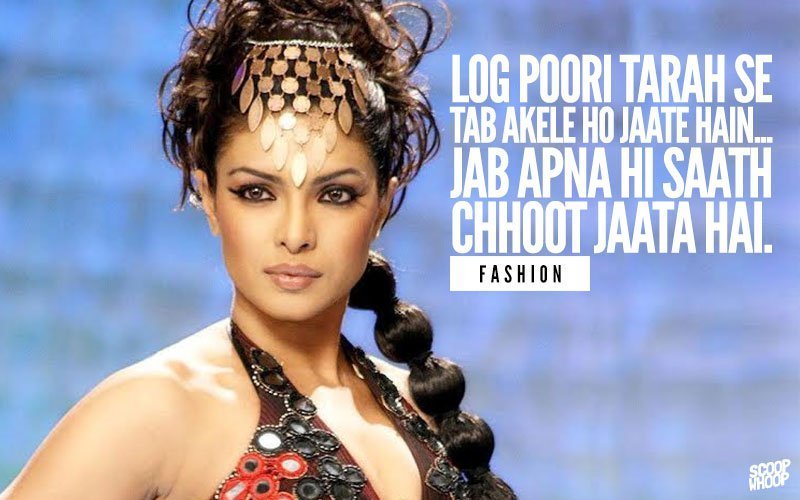 22. Socha Na Tha
When the king of romance, Imtiaz Ali has a story to tell, you just can't miss it. We all have been in and out of relationships and that is what makes this movie so relatable. The emotional turmoil and the helplessness in the matters of that heart have been beautifully depicted in the movie, exactly the reason why it remains so close to the heart of the youngsters.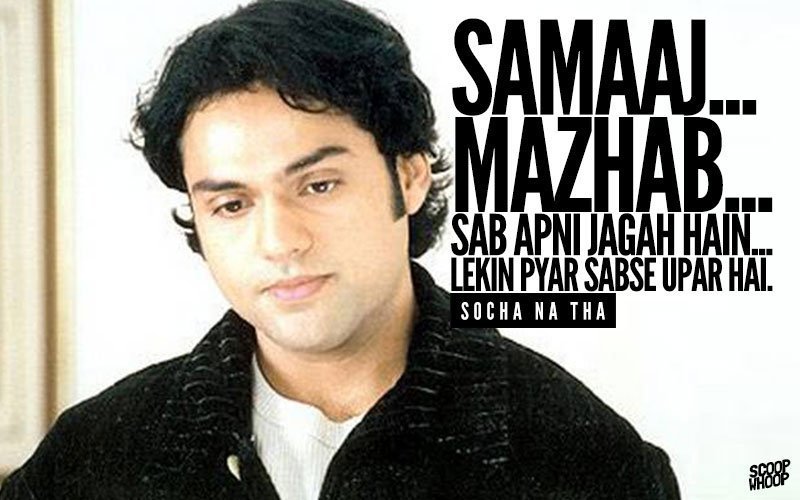 23. Pyaar Ka Punchnama
Life is not always about serious stuff, it's equally about having relationships and having fun, or NOT, in this case! This quirky take on the bachelor life and modern-day couples is a must watch for anyone dealing with a quarter-life crisis. The sleeper-hit aptly showcases the struggles of youngsters who are desperate to find a financial and romantic standing in their lives, but fail miserably on both the fronts, like many of us do at this age. This light-hearted comedy will make your day however many times you watch it.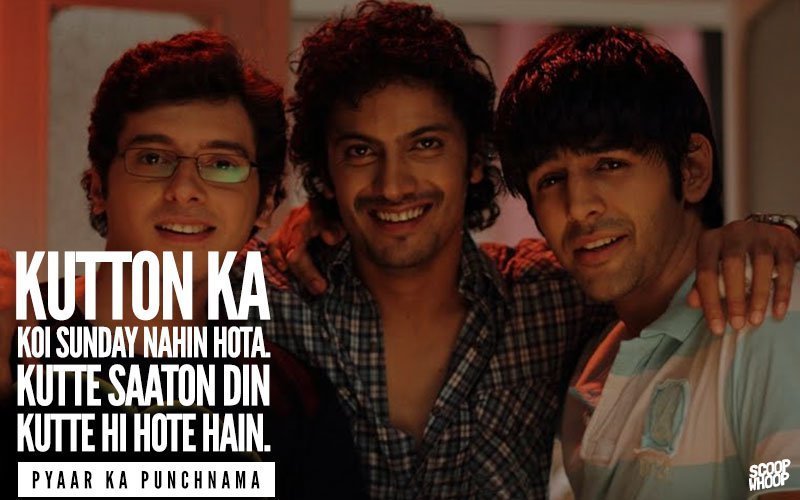 24. Udaan
Udaan is one movie which should be watched by parents and kids together. Dealing with a major problem plaguing the Indian society today, Udaan takes us through the journey of a teen-aged boy forced to compromise on his dreams and take up a conventional path in life. The emotional turmoil that the story depicts, resonates with all of us who have given up on something close to our hearts. The movie gives a very important lesson to its viewers: if you still have that fire burning in you, do not hesitate to take that flight!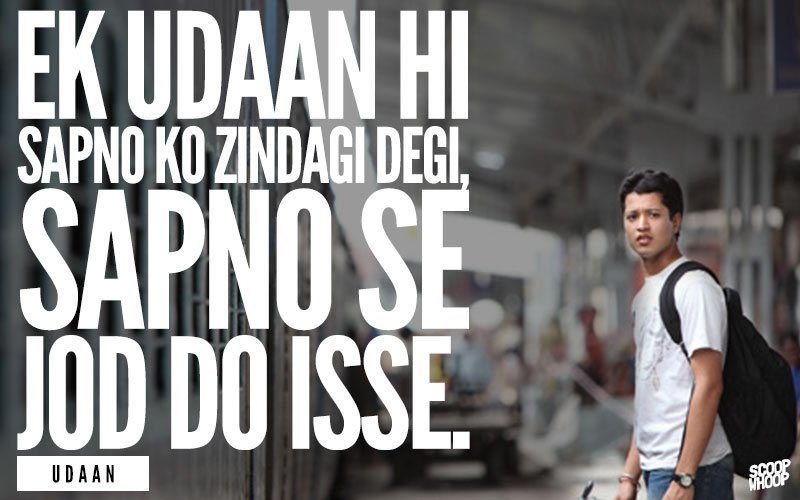 25. Barfi!
What is that one thing we always take for granted in life? Ironically, it's our life itself! 'Barfi' comes as a subtle reality check for all of us who crib about all the trivial issues in life. Even though the protagonist of the movie cannot speak, yet the movie gives a loud and clear message about living life to the fullest despite all the problems and most importantly smile through them!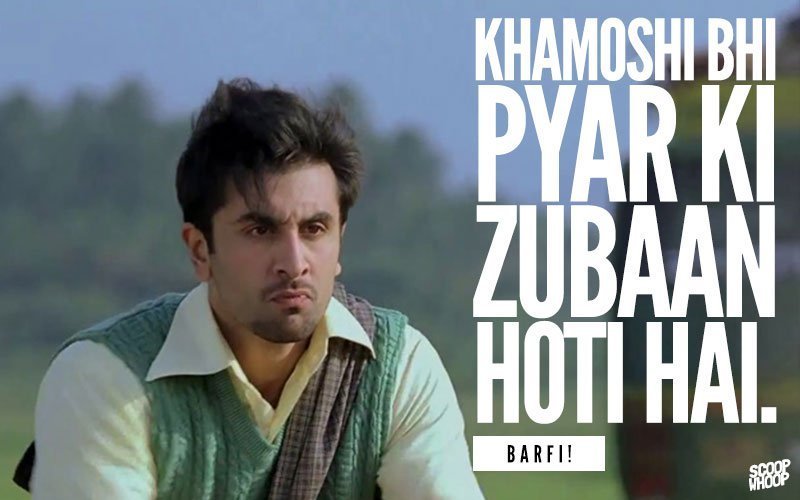 Ready for a movie marathon?