Akshay Kumar is considered the busiest actor in Bollywood because he does the most number of films in a year. No wonder we all loved watching him in Hera Pheri, Welcome, and or even Bhool Bhulaiyaa.
Nonetheless, like other Bollywood celebs, there have been times when Akshay was brutally trolled on social media for some right and wrong reasons. Let's have a look, shall we?
1. When Akshay Kumar remarked that today Prithviraj is only mentioned in a few lines in our history books. He said:
Nobody is there to write about it in our history books. I would like to appeal to the Education Minister to look into this matter and see if we can balance it. We should know about the Mughals but know about our kings also, they were great too:
People quickly pointed out how untrue this opinion was and corrected him with the following Tweets:

2. When people trolled Akshay Kumar's Prithviraj for being factually incorrect. Many pointed out the plot holes in the movie and called it a classic example of life after death.  
3. Apparently, everything he is saying about Samrat Prithviraj is subjected to troll. Akshay requested his fans to not give out spoilers for Samrat Prithviraj, but netizens are like CBSE already did that.
 Also, this happened:  

4. When Akshay Kumar said that 'Tip Tip Barsa Pani' was all about him, people reminded him how no one can replace Raveena Tandon in a yellow saree! We agree. 

5. When netizens pointed out Akshay Kumar's hypocrisy to endorse Vimal Pan masala. People shared an old video of him claiming that celebs should not endorse products like tobacco. Nonetheless, he later issued an apology. 
Oh, wait, someone on Twitter also found this after his apology note. 

6. When people called him out for glorifying manual scavenging which is an illegal practice in India. This is what the tweet said, which was later deleted.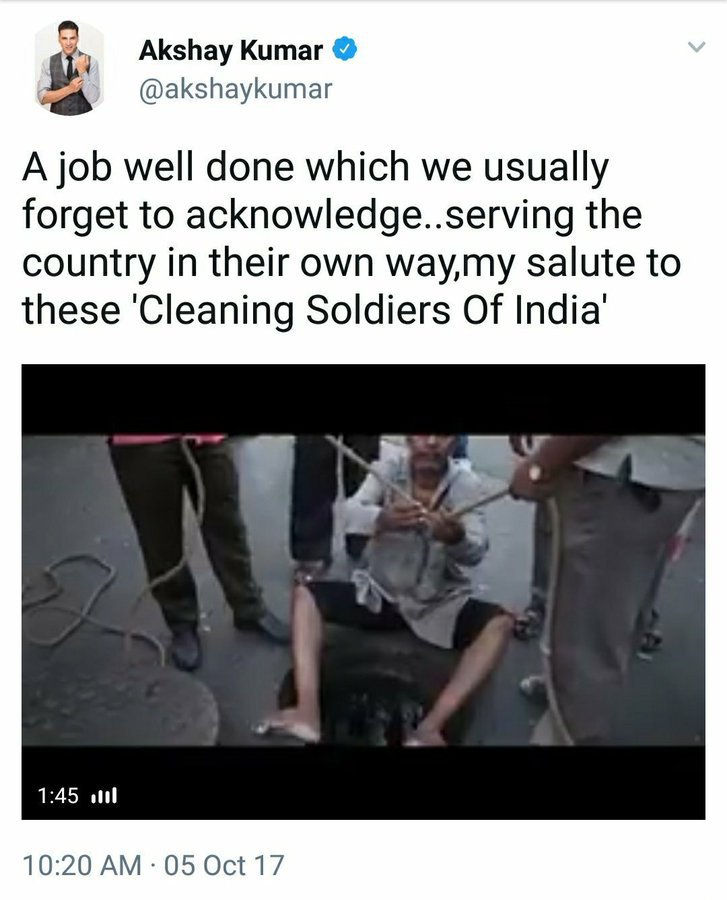 7. When Akshay Kumar thought walking 21 km on a treadmill would be a good idea to understand the plight of rural women. People were clearly pissed: 

 8. When Akshay Kumar was brutally trolled to delete one of his old tweets, in which he criticised the rising petrol prices.

9. When Twitizens called out Akshay Kumar for contradicting statements. He urged people to donate money for the construction of a temple, but fans shared an old clip and called him a hypocrite.

Read more: Not Just Akshay Kumar, Here Are 8 Actors Bollywood Needs To Stop Casting With Young Actresses.