On Sunday evening, the Indian Premier League (IPL) served us two nail-biting matches. The first match between Rajasthan Royals and Sun Risers Hyderabad, and the second match between Mumbai Indians and Royal Challengers Bangalore was a rollercoaster watch. And obviously when the tension in the match is so thick, choosing to cook a meal becomes a second option. A Twitter user highlighted this when he shared a picture of five food delivery executives in an elevator.
Taking to the social media platform, a Twitter user Shubh tweeted "No. of Swiggy guys in the building is directly proportional to how interesting the IPL match is." He had shared the image on April 2 – the day when those crucial IPL matches were being played in Hyderabad and Bangalore respectively.
Take a look at the tweet here.
Shubh's tweet went massively viral and even Swiggy took cognizance of the efforts put in by its delivery executives.
Here's what Swiggy had to say.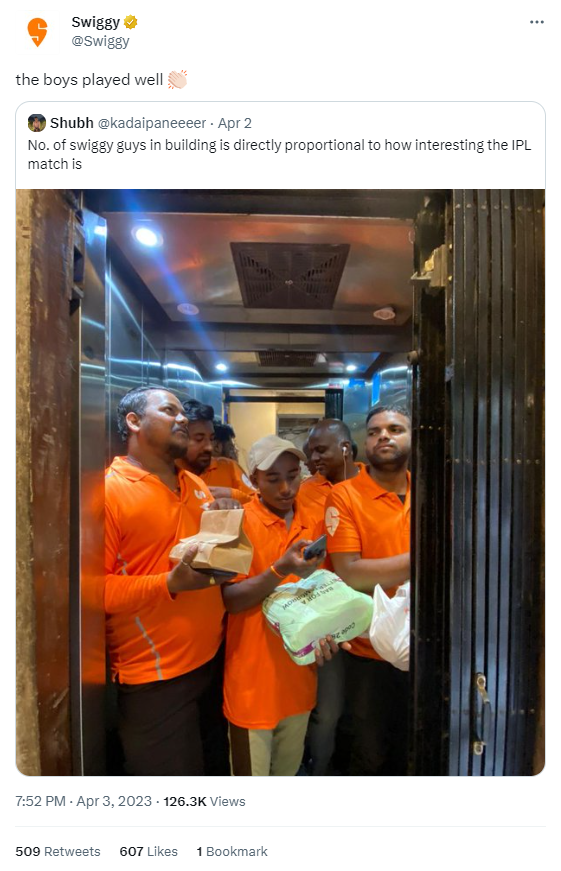 The original tweet fetched over 809K views, 3K likes, and over 1K retweets and comments. People shared how gripping the match was. Many shared how they had also ordered food on that day.
Here's what people on Twitter had to say.
As the IPL season progresses, we will get to see similar other images going viral on the internet.