Diwali, the festival of lights, comes with loads of gifts of love, laughter, and joy. And what better way to start the joyous celebration than with fun-filled Diwali parties? With foot-tapping songs, plentiful drinks, and scrumptious food, there are numerous ways to make your party a memorable one. But this time, go the extra mile and add an extra dose of fun by including Diwali games.
From poker to dumb charades, here are 40 Diwali games that will certainly take your party to the next level. 
Also Read: Punny Diwali Greetings 
Diwali Party Games For Everyone 
1. Diwali Memory Game
A Diwali memory game is a fun activity that involves matching cards or images from memory. You can print or draw Diwali-related images like diyas, rangolis, firecrackers, etc. Make sure you have two identical cards for each image. This game can be played by two people or in a group.
How To Play
1. Shuffle the Diwali-themed cards and arrange them face down in a grid formation on a table. 
2. The first player starts by flipping over two cards to find a matching pair.
3. If the cards they select are the same, the player gets to keep the pair of cards and take another turn. 
4. If the cards don't match then the player must flip them back face down in their original positions, and it becomes the next player's turn. 
5. The game continues with players taking turns trying to find matching pairs.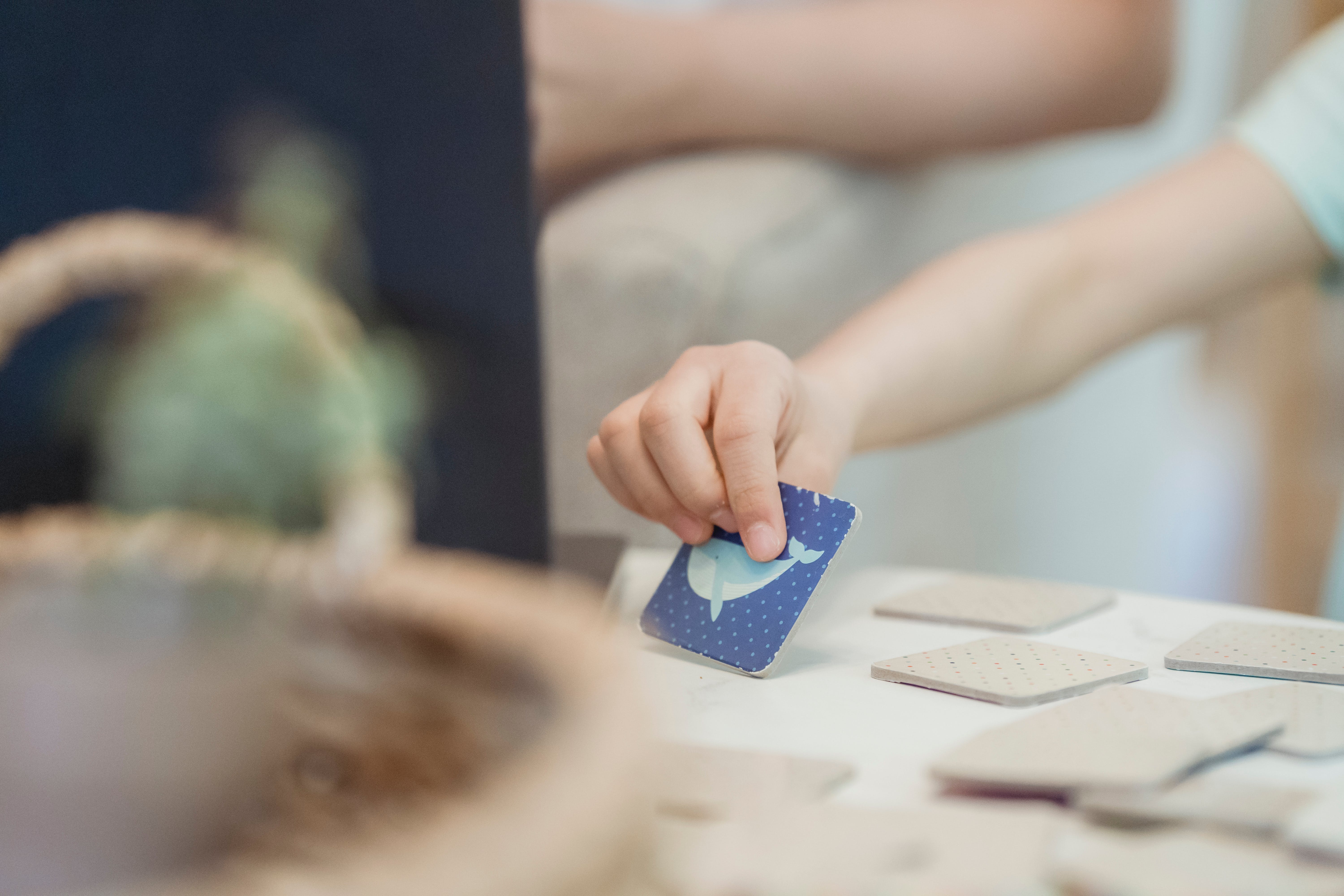 2. Taboo
Add a bit of oomph to your Diwali party with Taboo, a fun and lively game that relies on effective communication and quick thinking. It's a game where players try to get their teammates to guess a word using certain taboo words. 
How To Play
1. Prepare a set of Taboo cards. Each card should have a target word at the top and a list of taboo words and phrases.
2. You can divide the group into two teams. Each team takes turns to guess and describe. 
3. A person from one team picks a card and holds it against his head without looking at it. The other team describes what's written on it using Taboo words.
4. After the turn is over, play passes to the next team.
5. The game continues for a set number of rounds or until all cards are used. And the team with the most points at the end wins.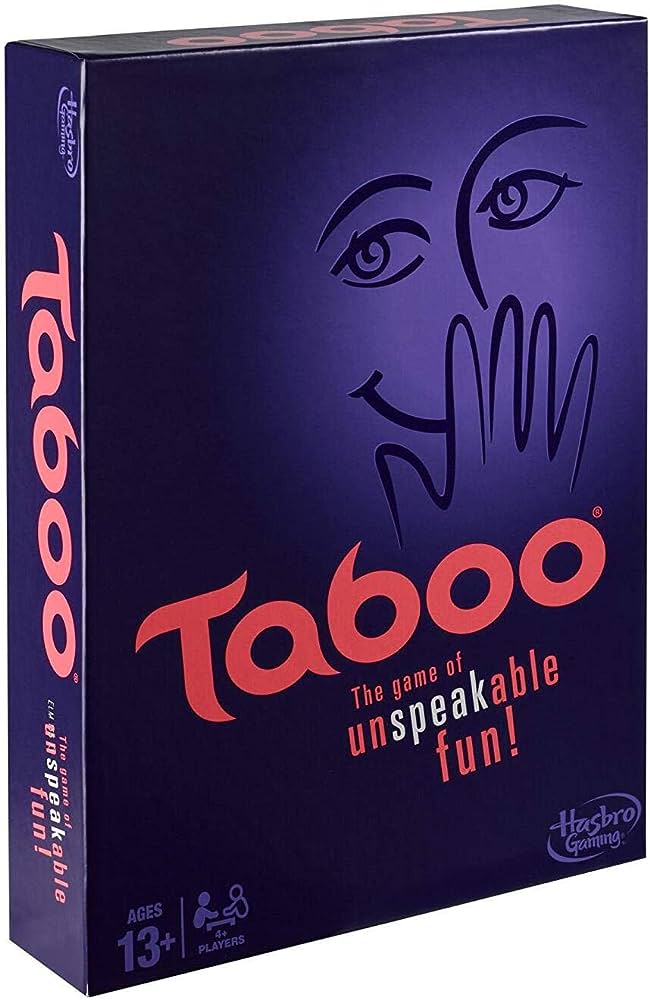 3. Musical Chairs with Diwali Songs
Musical chairs is a classic party game that involves players walking around circles of chairs while music is playing.
How To Play
1. Arrange chairs in a circle facing outward with enough space for players to walk around. 
2. Make sure the number of chairs is one less than the total number of players. 
3. Start the game by playing music. During this, the players will walk around the chairs. As soon as the music stops, players must sit on the chairs. The player who is unable to find a chair to sit in gets eliminated. 
4. Remove one chair and make sure that in each round, the number of chairs is one less than the number of players.
5. The last player standing is declared as the winner.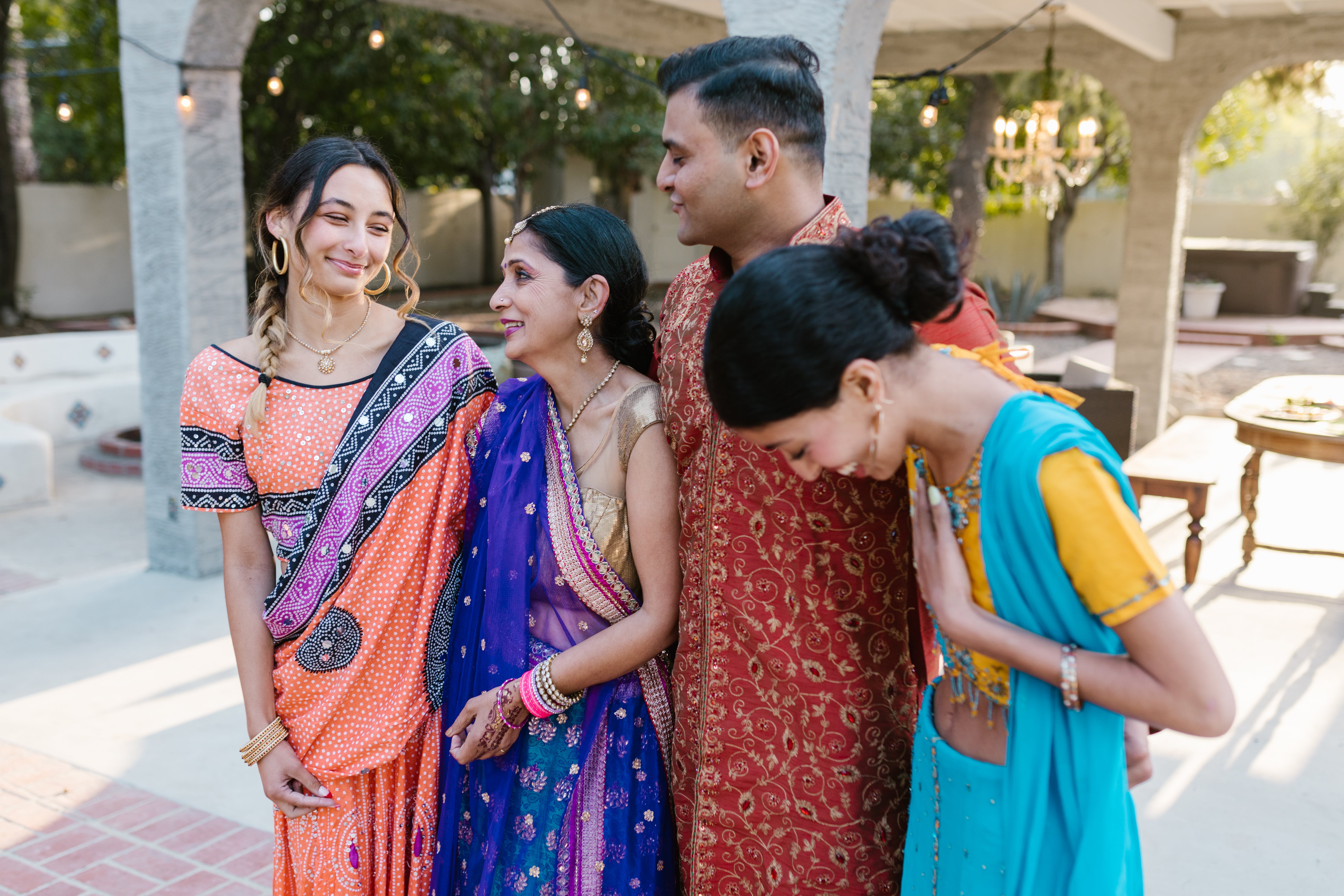 4. Diya Decoration Contest
Dya decorating competition is a way to combine creativity and fun. As you might have guessed, it includes players decorating traditional diya in the most artistic way possible using materials that have been provided to them. 
How To Play
1. Start by prodiding plain diyas. The host can choose different-sized and shaped diyas.
2. Set a designated decorating area with tables.
3. Lay out all the art supplies and tools, ensuring a wide variety of materials for creativity.
4. You can set rules for players and let me explore their creativity without any worry.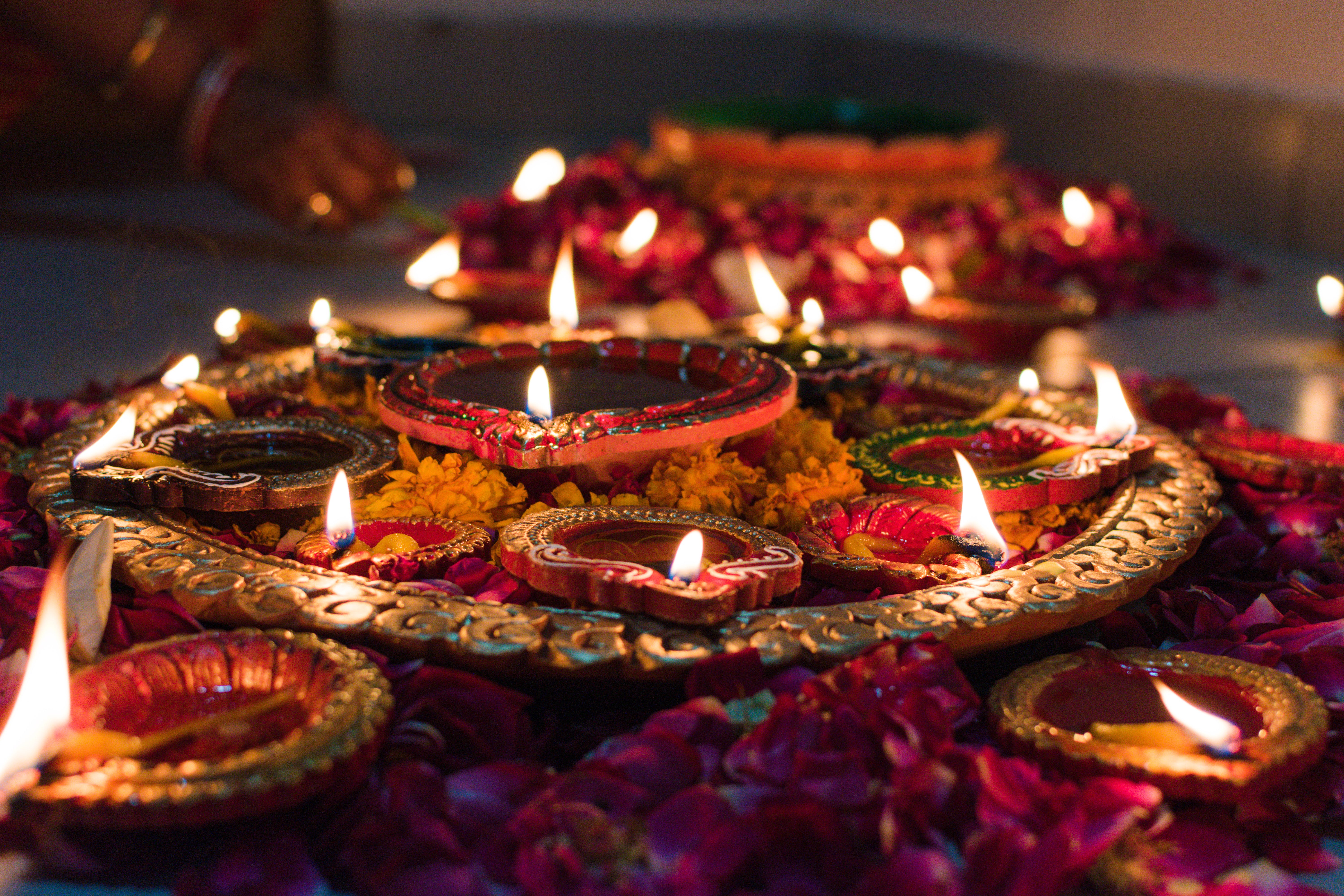 Also Read: Unique house decoration ideas for diwali
5. Diwali Quiz
Test your guests' knowledge about Diwali with a fun and informative quiz. Prepare questions about the history, traditions, and significance of the festival. If not Diwali then you can add exciting more categories of your choice.
How To Play
1. Start by preparing a set of questions related to Diwali or any other category of your liking. 
2. If it's a large gathering, divide them into groups. If it's a small gathering, they can participate as individuals.
3. Decide on the format of the quiz. You can choose between writing the answer down on a sheet, a buzzer system, or any other interactive medium.  
4. Start the game and whoever scores the highest gets an award.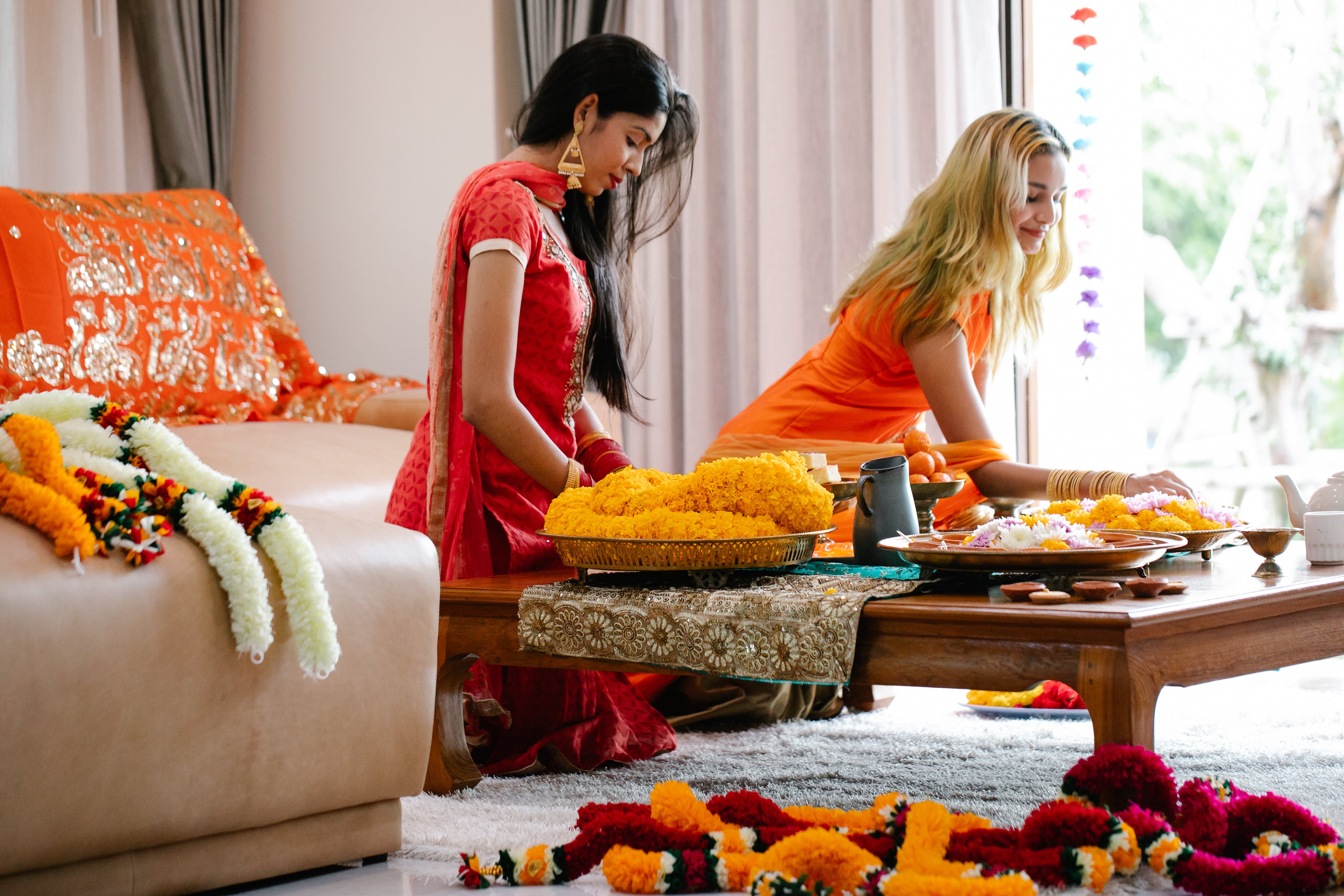 Also Read: Best Diwali Ads
6. Rangoli Design Competition
Jazz up your party with a rangoli design competition. This usually is a creative and colourful way to create intricate and visually appealing designs on the floor. The Rangoli designs can be created using powder, rice, or flower petals. 
How To Play
1. Set up a location for the participants to create rangoli designs. 
2. You can divide people into temas if there's a large gathering or let each player play individually. 
3. Provide participants with materials like colours, powders, rice, flower petals, or any material that can used to design rangoli.
4. Announce theme, time limit, and judging criteria.
5. The person who creates the most beautiful designs wins a prize.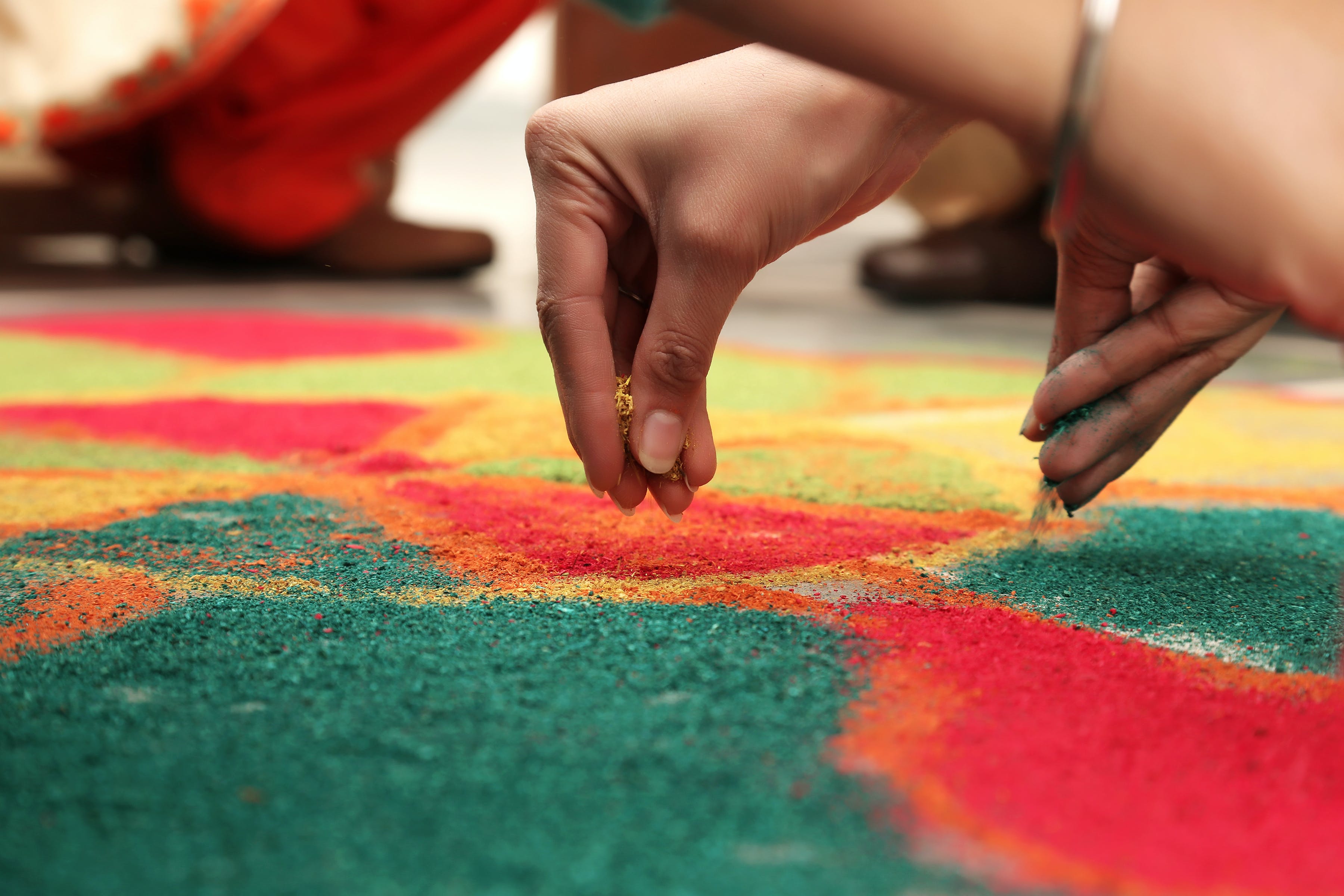 7. Diwali Thali Decoration Contest
As the name suggests, the Diwali Thali decoration contest involves participants decorating traditional thalis(plates) using various visually appealing materials. 
How To Play
1. Provide each participant with plain thalis.
2. Set designated areas for decoration.
3. Provide decorating materials like flowers, colours, paper, glue, etc.
4. Set up a theme, time limit, and any other criteria that you want to set up for the competition. 
5. The person who decorates the thali beautifully as per the given instructions will be the winner.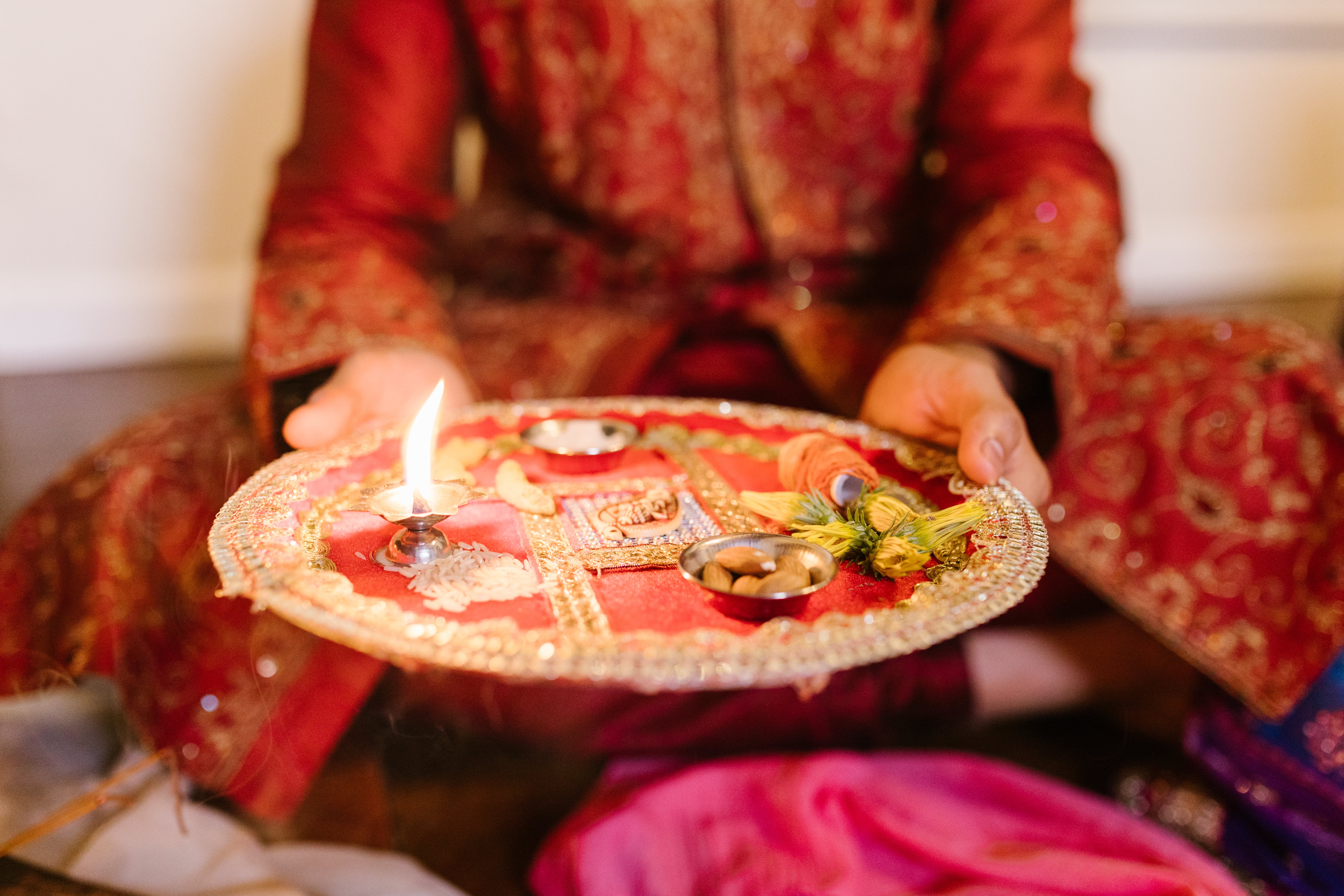 Diwali Games for Large Groups
1. Diwali Treasure Hunt
Bring in some competitive spirit by hosting a treasure hunt at your party. A Diwali treasure hunt adds an element of excitement and teamwork to your celebrations, making it a memorable one for participants of all ages.
How To Play
1. First step, decide where the treasure hunt will take place. It can be either at your house, park or any other suitable venue.
2. Then develop a series of clues that should lead the participants to the next location. 
3. Divide the group into teams and you can ask them to start from different points. 
4. Then ask the teams to follow the clues, solving each one to reach the next location. At each location, they must find a hidden treasure and receive the next clue.
5. Whichever team is successful in finding the clue within the set time shall be declared as the winner.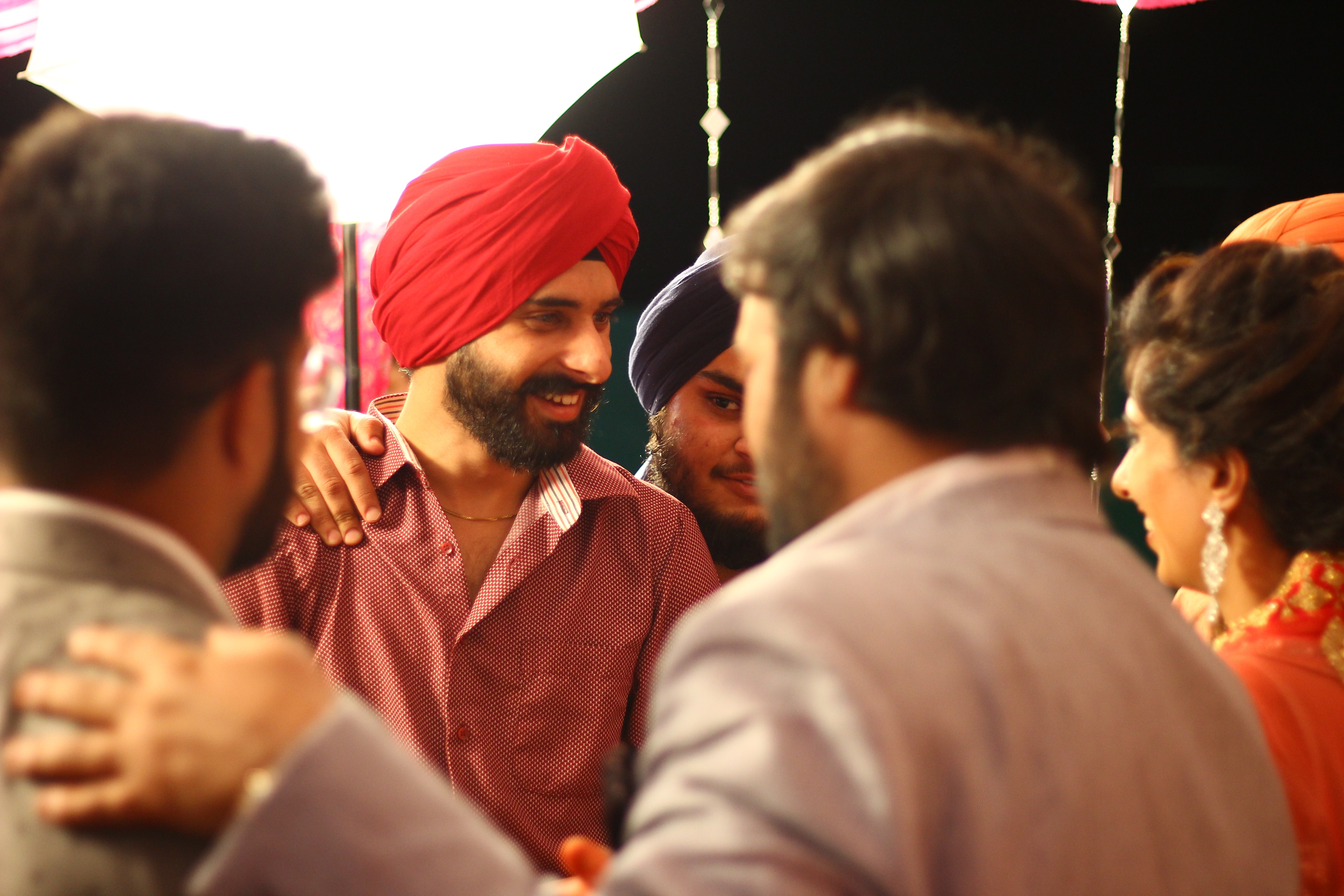 2. Tug of War
Tug of war is a classic team sport that can elevate any party. It requires two teams who compete to pull a rope in opposite directions. The goal is to pull the opposing team across a designated marker or a predefined line.
How To Play
1. Arrange a sturdy rope of appropriate length for the number of participants. Properly mark the centre on the rope. 
2. Divide the teams into two teams. Make sure each team has an equal number of participants.
3. Each team takes an end of the rope, and players spread out along the length of the rope. Each team stands facing the other team. 
4. The team that successfully pulls the other team across the center line is declared the winner.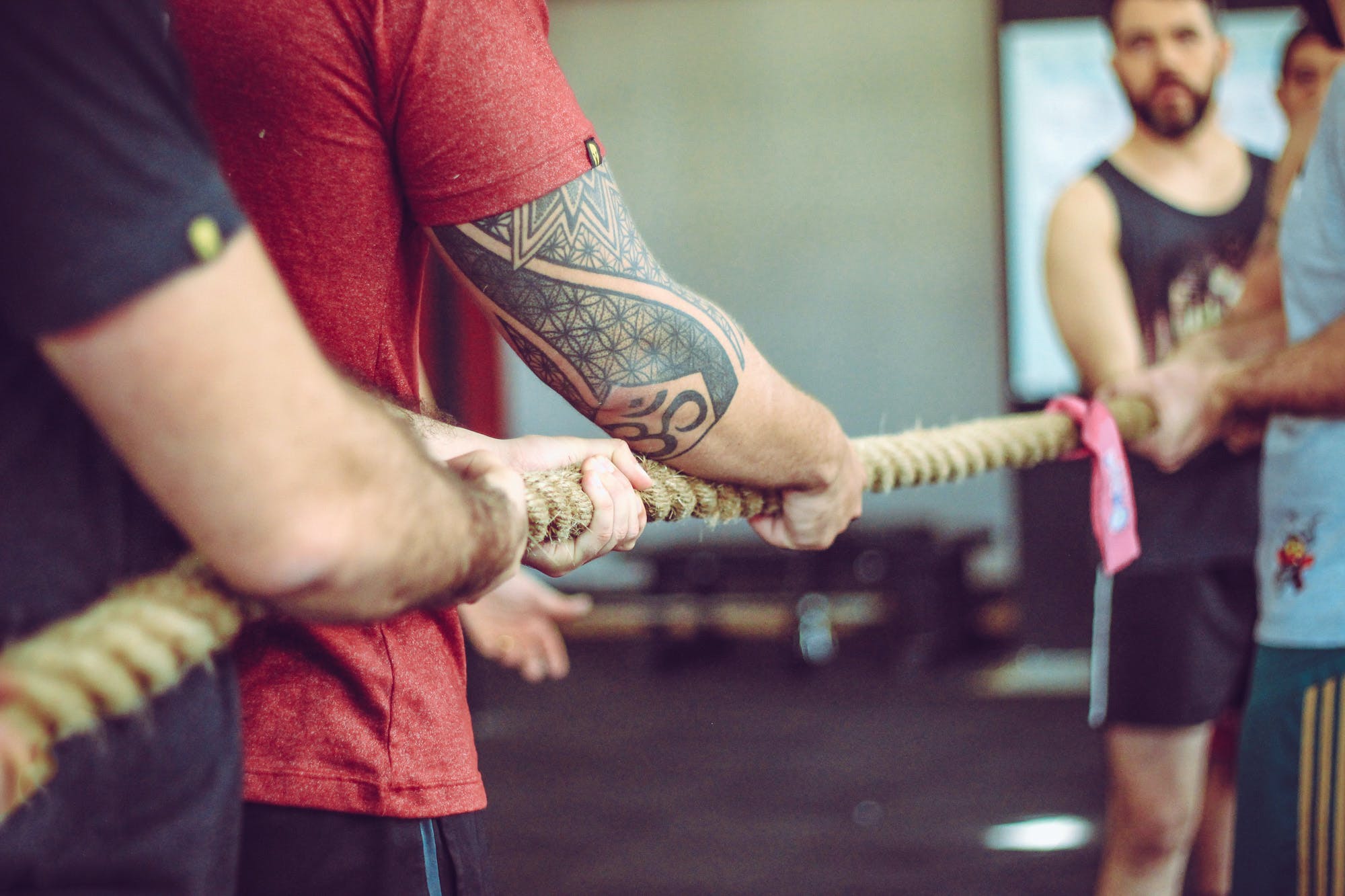 3. Sack Race
A sack race is a fun outdoor game where participants, compete by hopping inside a sack. So include this game in your party for a dose of unlimited fun.
How To Play
1. Arrange large burlap or potato sacks. Make sure that the sacks are in good condition and are sturdy.
2. Choose a flat and open area for the race, ideally a soft surface with grass. 
3. Use cones, chalk, or other markers to set up a race course. Make sure it is a safe and clear path for hopping.
4. Instruct participants to stand inside their sacks with both feet together. Hold the top of the sack with both hands. Then give them a signal for them to start hopping. 
5. The first participant or team to cross the finish line is the winner.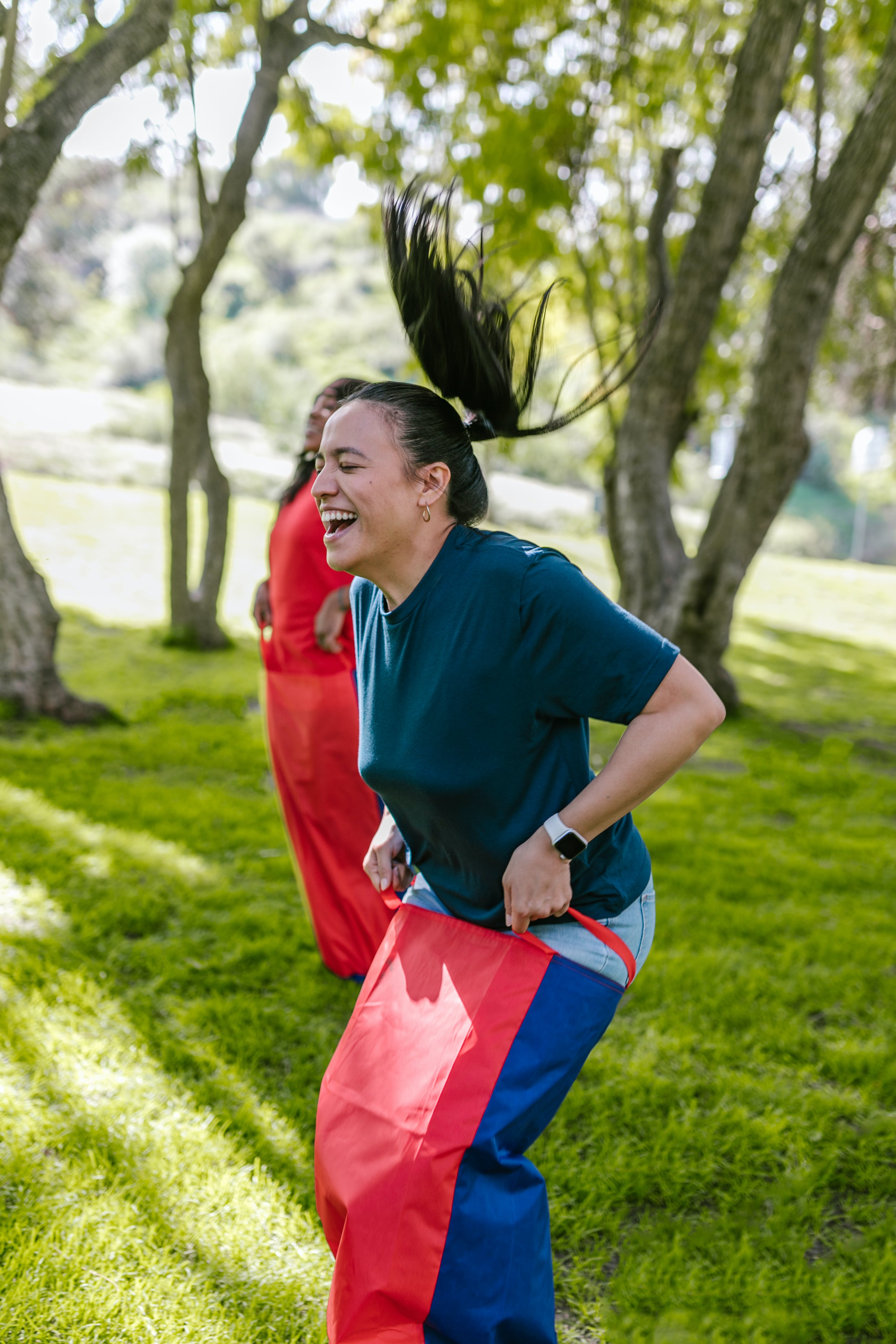 Also Read: Ways To Light Up Someone's Life This Diwali
4. Lemon and Spoon Race
The lemon and spoon race is a simple yet popular game that's often played at picnics or parties. So including the game in your Diwali celebration will definitely make it a memorable and cherished one. 
How To Play
1. Arrange lemons and spoons for the participants.
2. Choose a flat and open area for the race.
3. Divide the participants into equal teams or have them race individually.
4. Designate a starting line where participants will begin the race. Ask them to line up there before starting the race.
5. Give them each a spoon and ask them to balance a lemon on it. 
6. Give them a signal to start the race. Whoever finishes the race first within the given time without dropping the lemon once is declared the winner.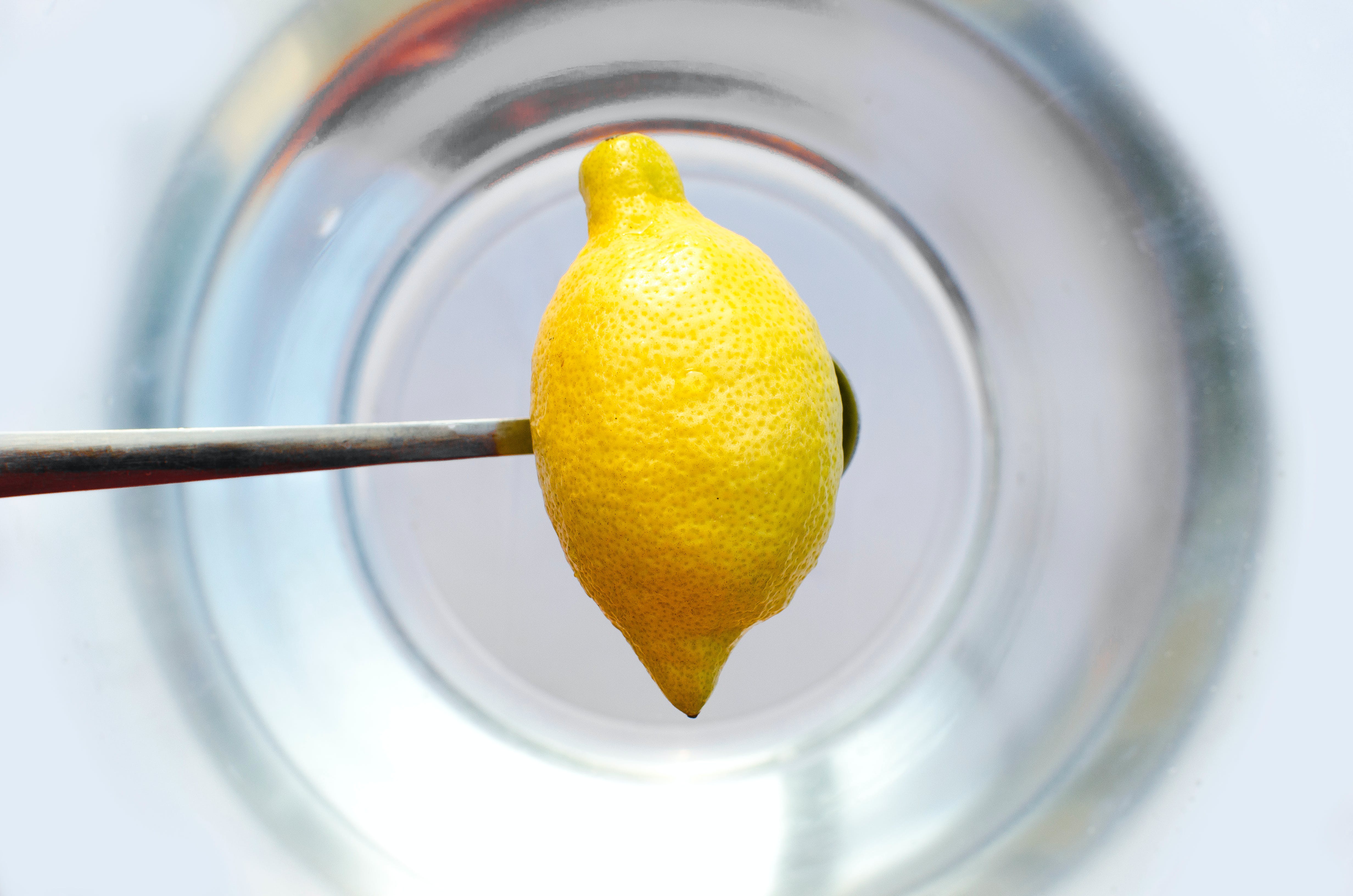 5. Diwali Relay Race
If you missed your childhood and all the fun sporty activities you used to do, then you can definitely add a relay race segment to your party.
How To Play
1. Divide the participants into teams. Ideally, a team can be of two or four people. But make sure each team has an equal number of participants. 
2. Set up a marked course for the relay. Ensure there is enough space for the relay race
3. When the race begins, the first team member runs to a marked area and comes back. Once the person is back on the line, he hands a baton to the other team member.
4. The first team to successfully complete the relay and have all members cross the finish line is declared the winner.
Also Read: Honest Diwali Greetings
6. Diwali Dance-Off
Hosting a dance-off at a Diwali party adds a dynamic and festive element to the celebration. It allows guests to express themselves through dance and celebrate the occasion.
How To Play
1. Create a designated dance area for the participants. 
2. Decide the judging criteria.
3. Then decide whether the participants will dance in teams or individually.
4. Ask them to choose songs from various genres. Set time limits for each performance to keep the dance-off moving smoothly.
5. Declare the winner based on criteria set by the judges.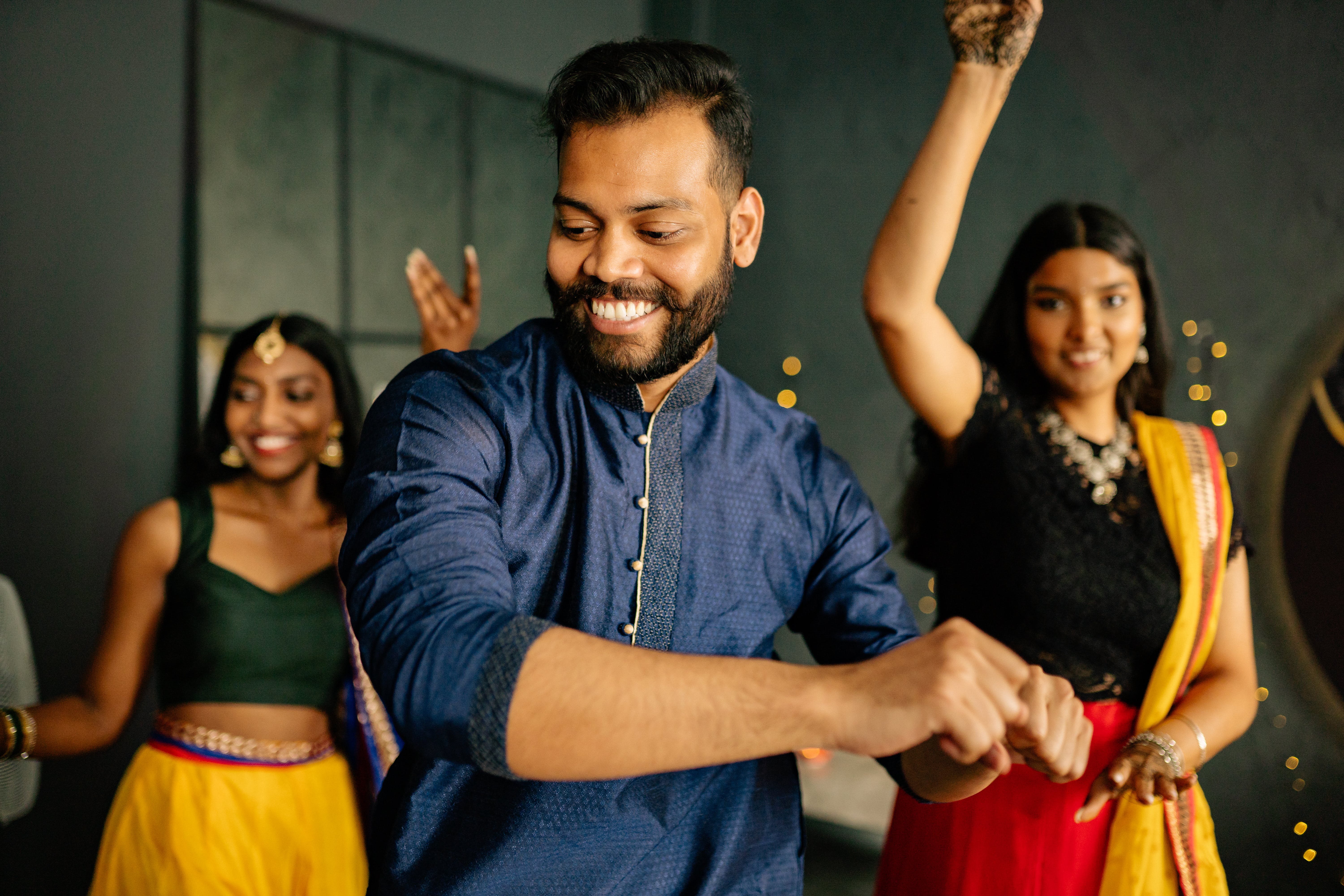 7. Diwali Sports Day
How about hosting a full-fledged sports day for a large group this Diwali? It's a fun way to combine the festive spirit of Diwali with various sports and physical activities. 
How To Play
1. Select a venue that provides enough space for various sports and activities. 
2. Create a list of sports you want to add to your Diwali sports day like cricket, football, badminton, etc. A sack race, relay race, or lemon and spoon race can be part of it too.
3. Make sure to have enough equipment for each of these activities.
4. Arrange gifts and prizes for the winners.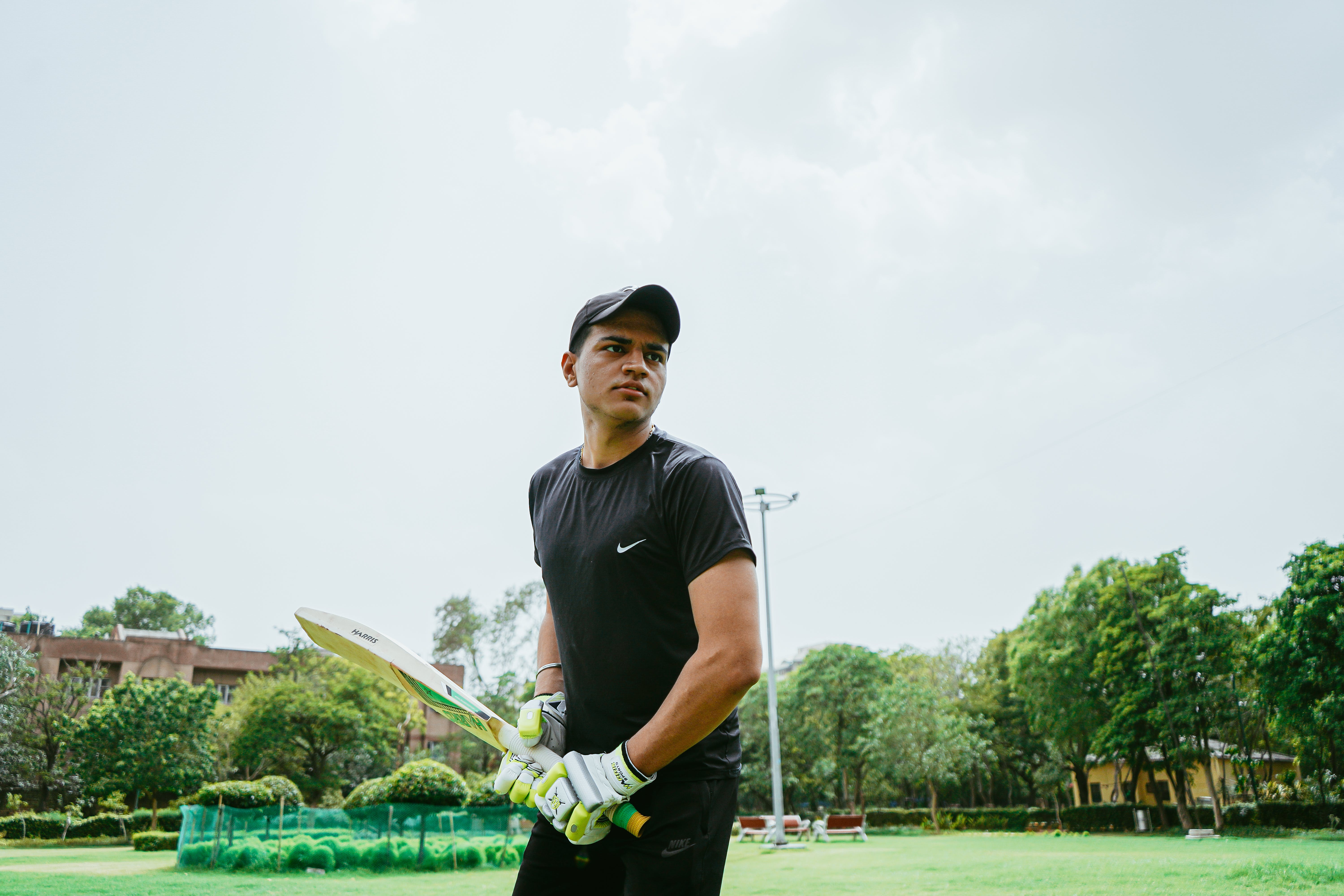 Diwali Games For Adults
1. Never Have I Ever
Never Have I Ever is a popular adult party game that involves players sharing experiences they've never had. The game is a fun way to learn more about each other and can lead to unexpected conversations. 
How To Play
1. Sit in a circle with friends and fellow players.
2. The game starts with one player making a statement beginning with "Never have I ever…" followed by something they have never done.
3. The person who has done the thing takes a sip or puts down a finger. And a person who has never done that thing either doesn't take a sip or put down the finger. 
4. You can add variations, such as allowing participants to share a brief story or explanation for more engagement.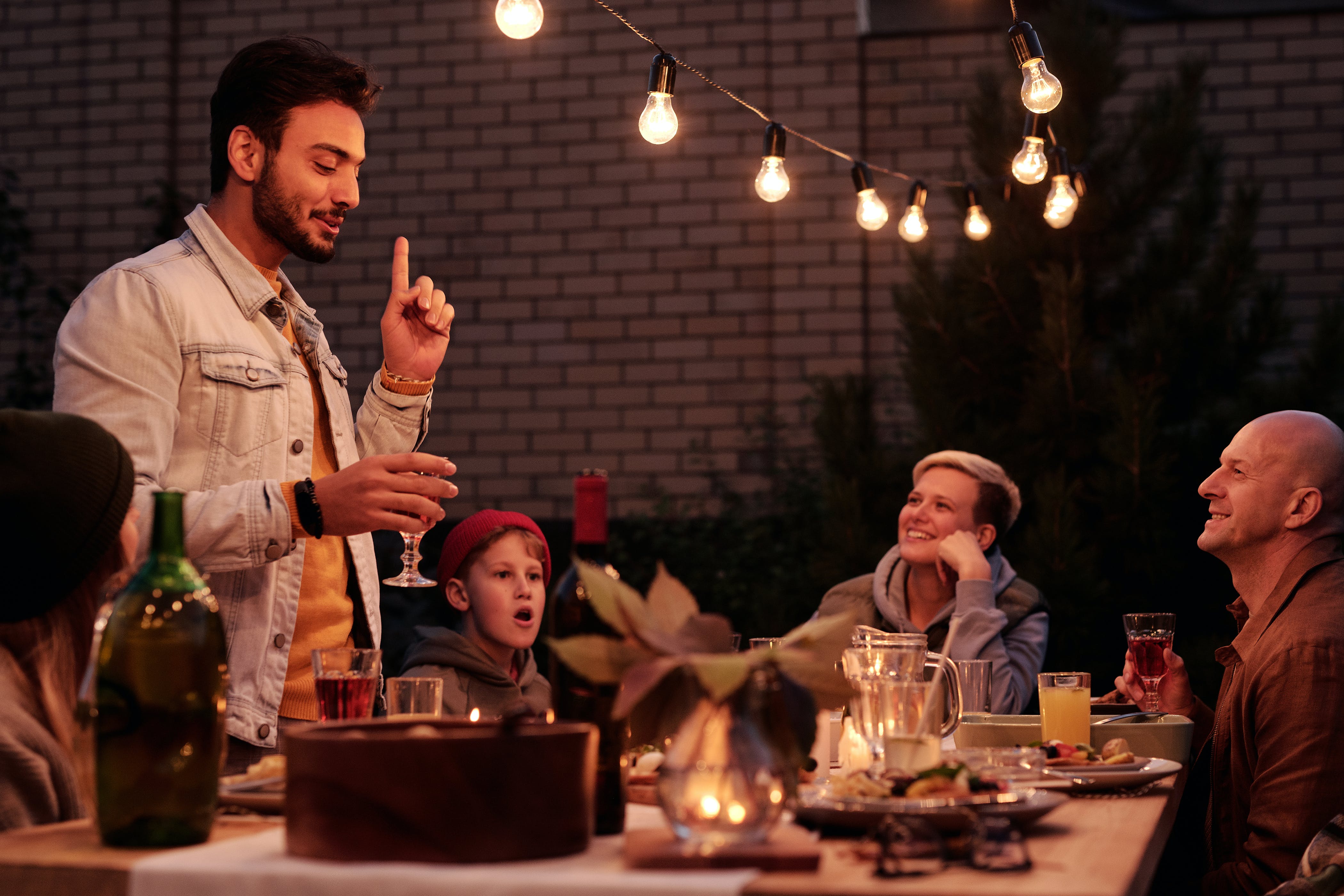 2. Diwali Pictionary
Hosting a game of Pictionary is a fantastic way to bring laughter and excitement to your Diwali celebration. It is a classic drawing game that involves guessing which is both fun and entertaining. 
How To Play
1. Set up a whiteboard, arrange markers or drawing pens, and set of Pictionary cards with words or phrases.
2. Divide players into teams. 
3. Place the set of cards in a commonplace. 
4. The first player then picks up the card and starts drawing the word or phrase mentioned on it without using any letters, numbers, or verbal clues.
5. The team that has the maximum number of right guesses at the end of the game is the winner.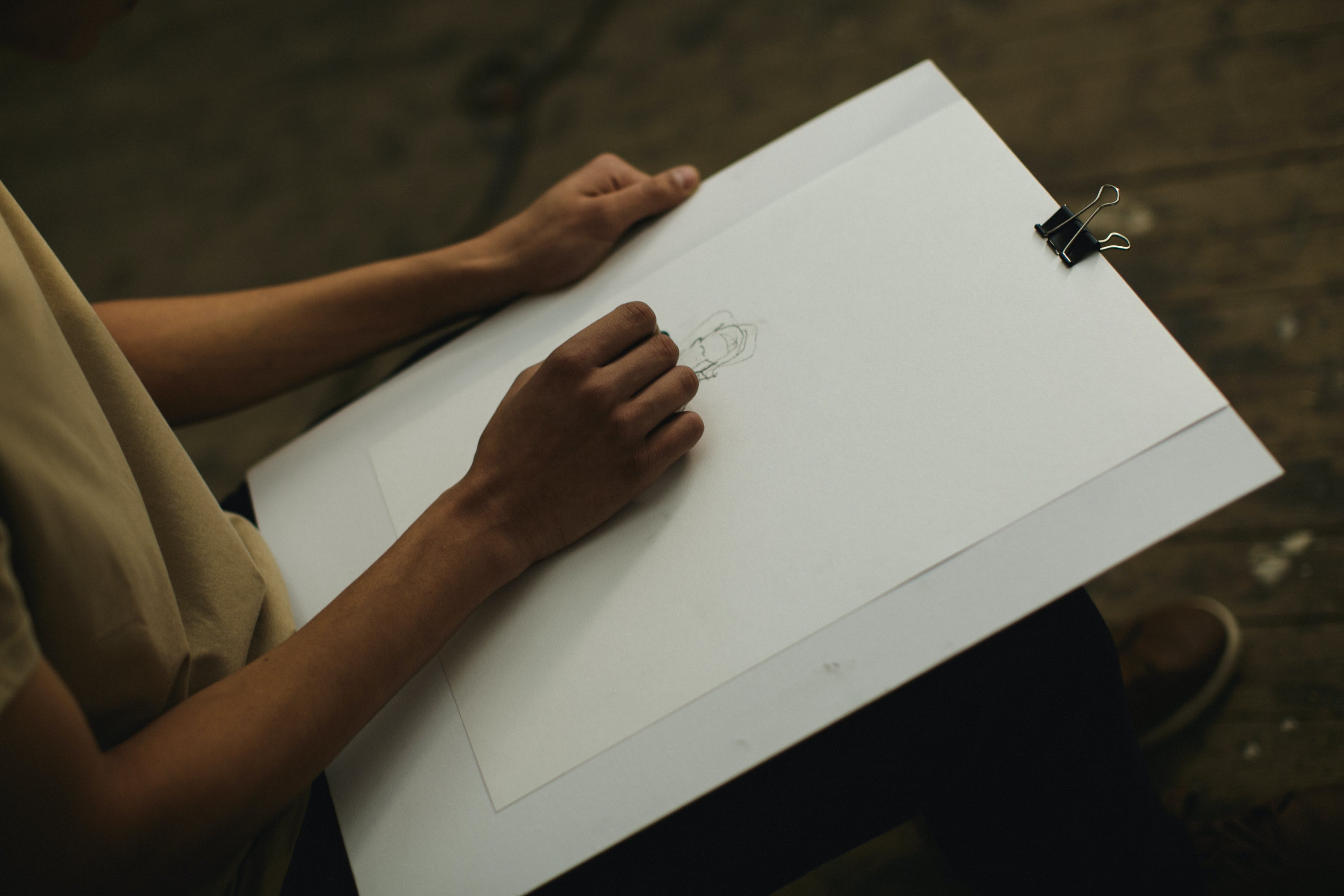 Also Read: Best Fun Drinking Games
3. Diwali Cocktail Making Contest
No Diwali party can be complete without a touch of booze. How about taking a unique route and hosting a Diwali cocktail-making cocktail? It is a creative and festive way for people to showcase their mixology skills by creating unique and different cocktails.
How To Play:
1. Provide a variety of spirits, mixers, and garnishes for participants to use in their cocktails.
2. Arrange all equipment and tools in a designated area. 
3. Set up rules for judging, such as taste, presentation, creativity, and any other criteria.
4. Set a time limit for participants to create their cocktails.
5. Participants present their cocktails to the judges, who taste and score based on the established criteria. Whoever scores the maximum is declared the winner.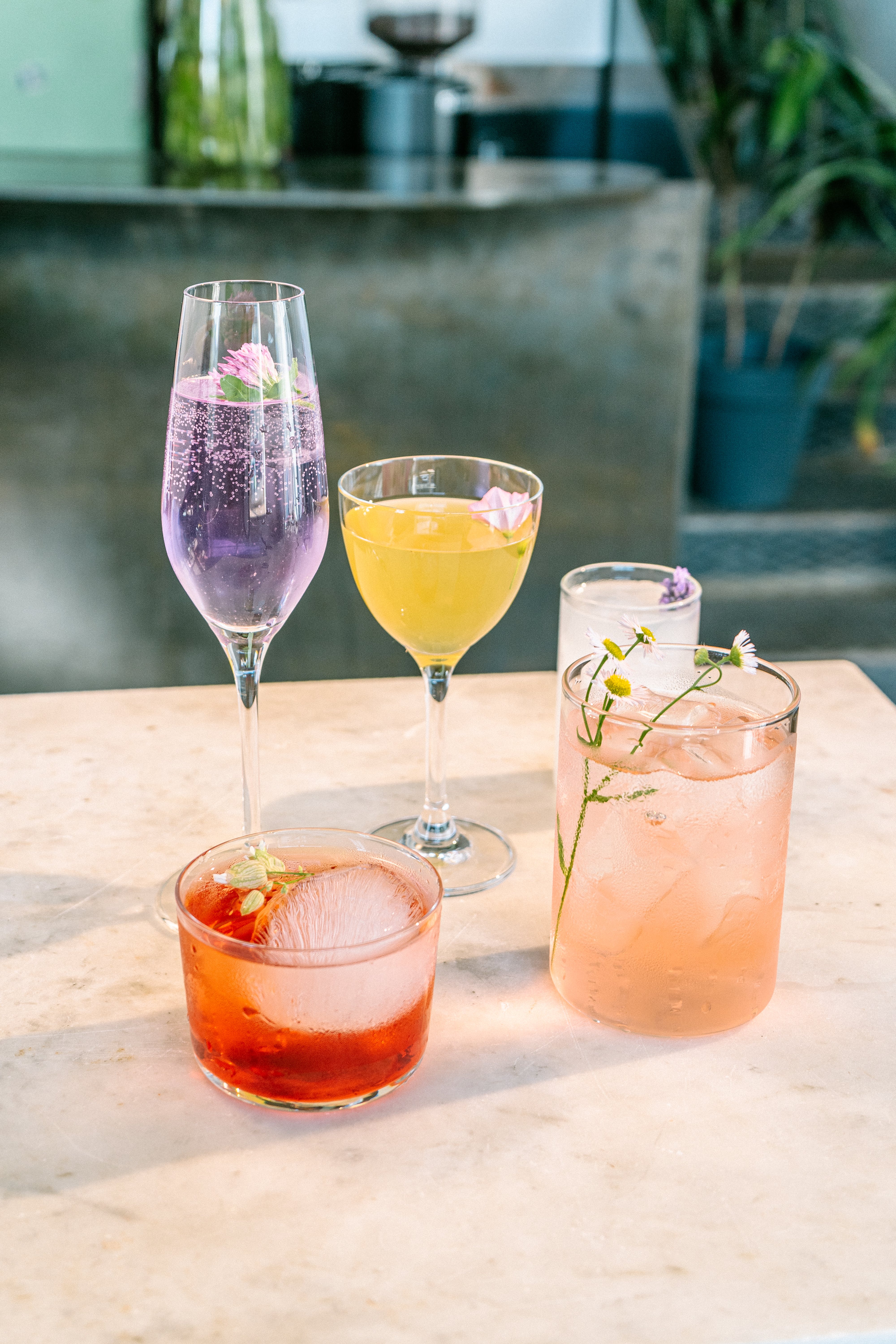 4. Diwali Antakshari
A timeless game, antakshari has been part of our parties, from birthdays to weddings. And so adding it to your Diwali party is a fantastic way to infuse your celebration with music and fun, allowing everyone to enjoy it. 
How To Play
1. Divide the participants into teams. If it's a smaller group, individuals can play.
2. Share a list of songs with participants if you've created one.
3. Begin the game by having one team or player sing a few lines. The last word of their song will be the starting point for the next team or player.
4. Each team or player has a limited time to start singing after the previous team finishes.
5. Award points for each correct song. Whoever has the highest score wins the game.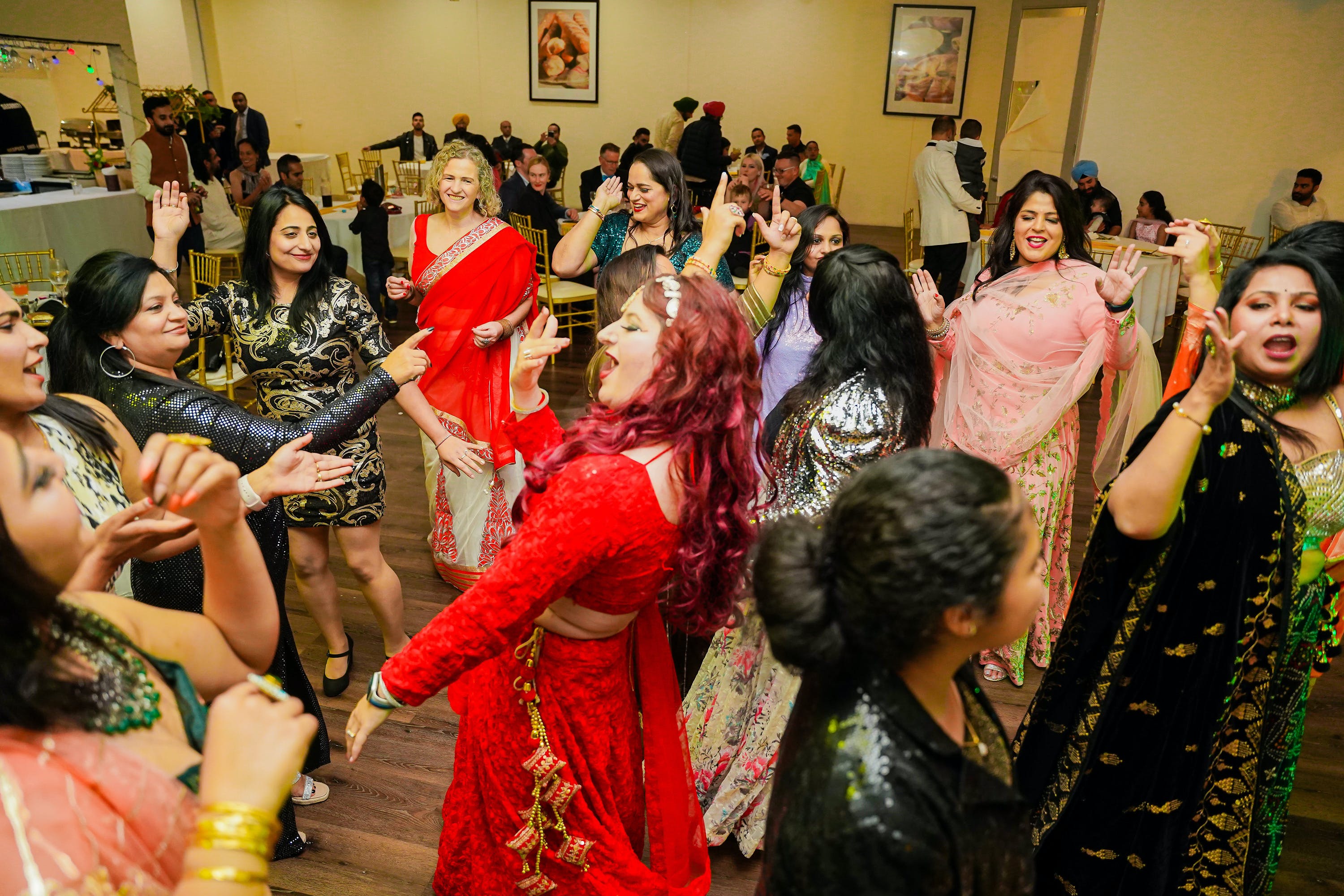 5. Diwali Karaoke
Karaoke is an entertaining way for individuals to sing along to pre-recorded songs. It's a fun activity that can add a little zing to any party and celebration.
How To Play
1. Arrange a karaoke machine with system and microphones.
2. Have a diverse selection of songs and prepare a list.
3. Set up the screen and display the lyrics for the participants to sing along.
4. Have everyone participate in the game, even if they don't know how to sing. The goal is to have fun and enjoy.
5. You can set up prizes for categories like the best singer or best Diwali-themed performances.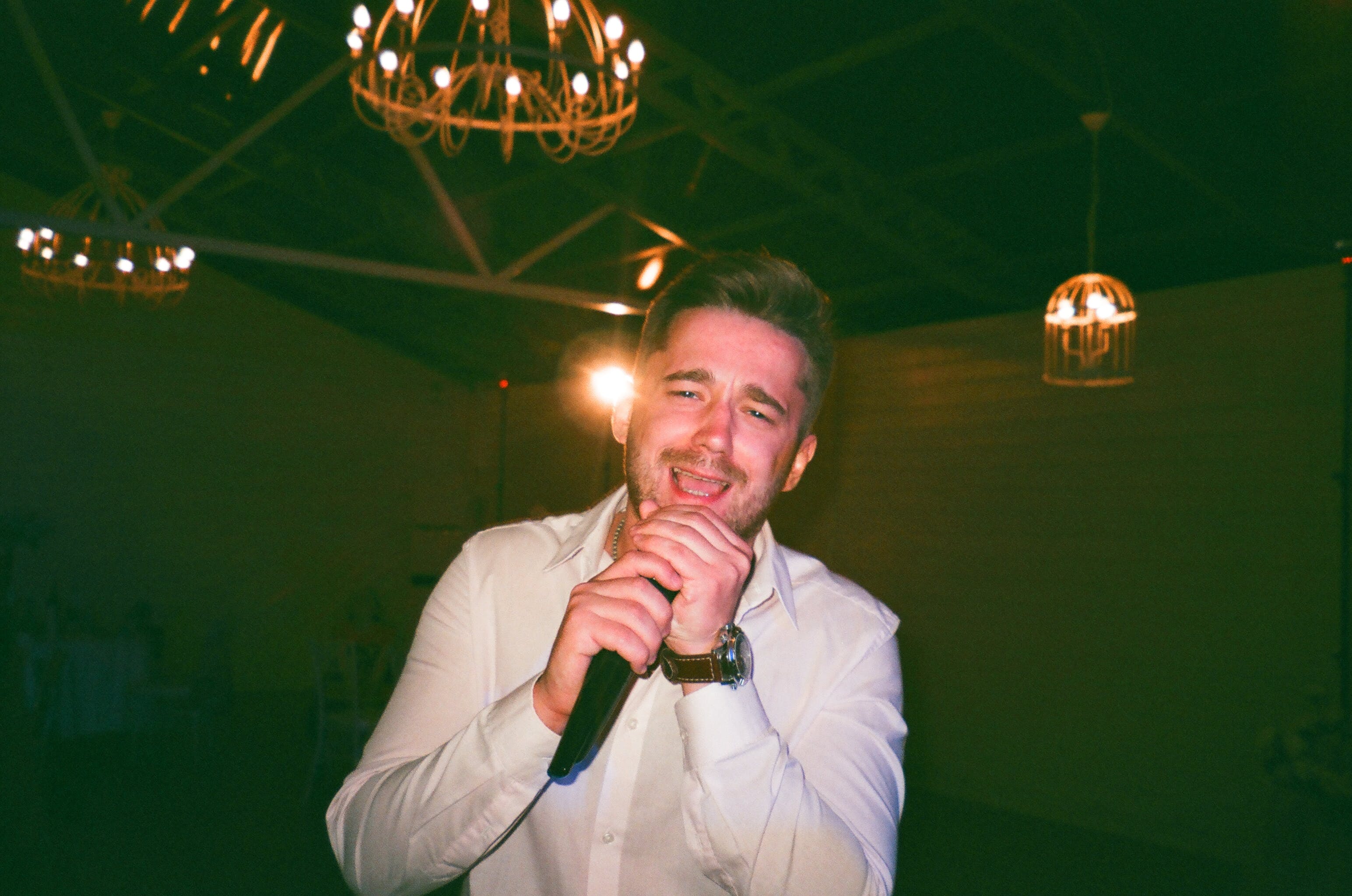 6. Diwali Poker Night
Diwali parties have now become synonymous with poker, and we love it. It is a way for friends and family to come together and celebrate the festival of light with laughter and some luck.
How To Play
1. Have poker sets with cards and chips ready. Make sure you have enough for all players. 
2. Choose a comfortable and well-lit space for the game. 
3. Then use a 52-card deck and each player gets two private cards. Five community cards are dealt face-up in the centre.
4. Players have to aim to make the best five-card hand. It starts with betting rounds using chips. 
5. The player with the best hand or the last remaining one wins after other players have folded. You can even use real money in the game.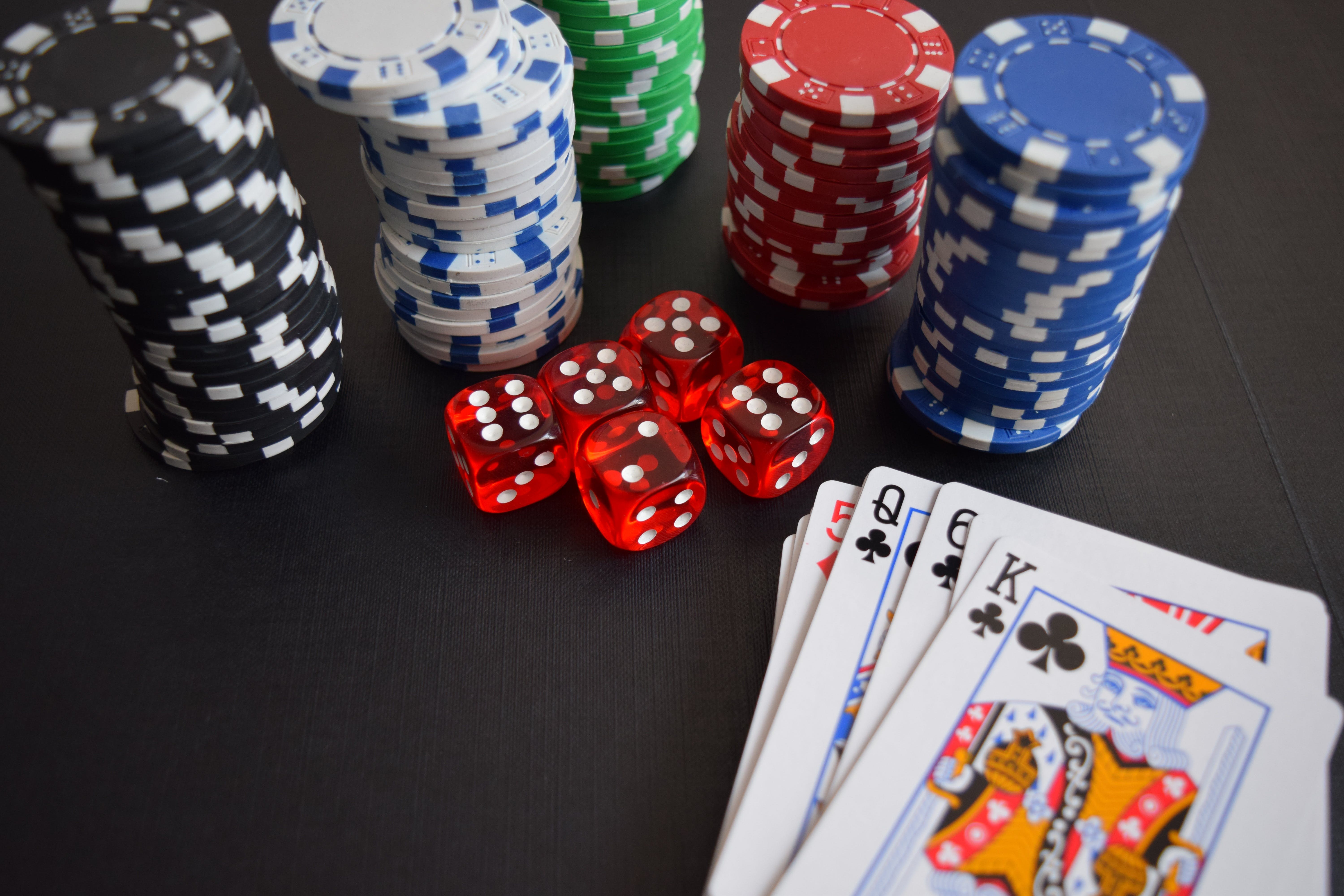 7. Diwali Trivia
Duwlai trivia is a game where participants answer questions related to the festival of Diwali. It's a fun way to show off your festivity knowledge and interact with other guests.
How To Play
1. Create a list of Diwali-themed questions. You can include topics like history, traditions, customs, etc.
2. You can divide your guests into teams or let them play individually. 
3. Then ask them questions either in a verbal form or present them in a written format.
4. Participants then take turns to answer the questions. You can set a time limit for the teams to answer.
5. Whoever has the highest score is declared the winner.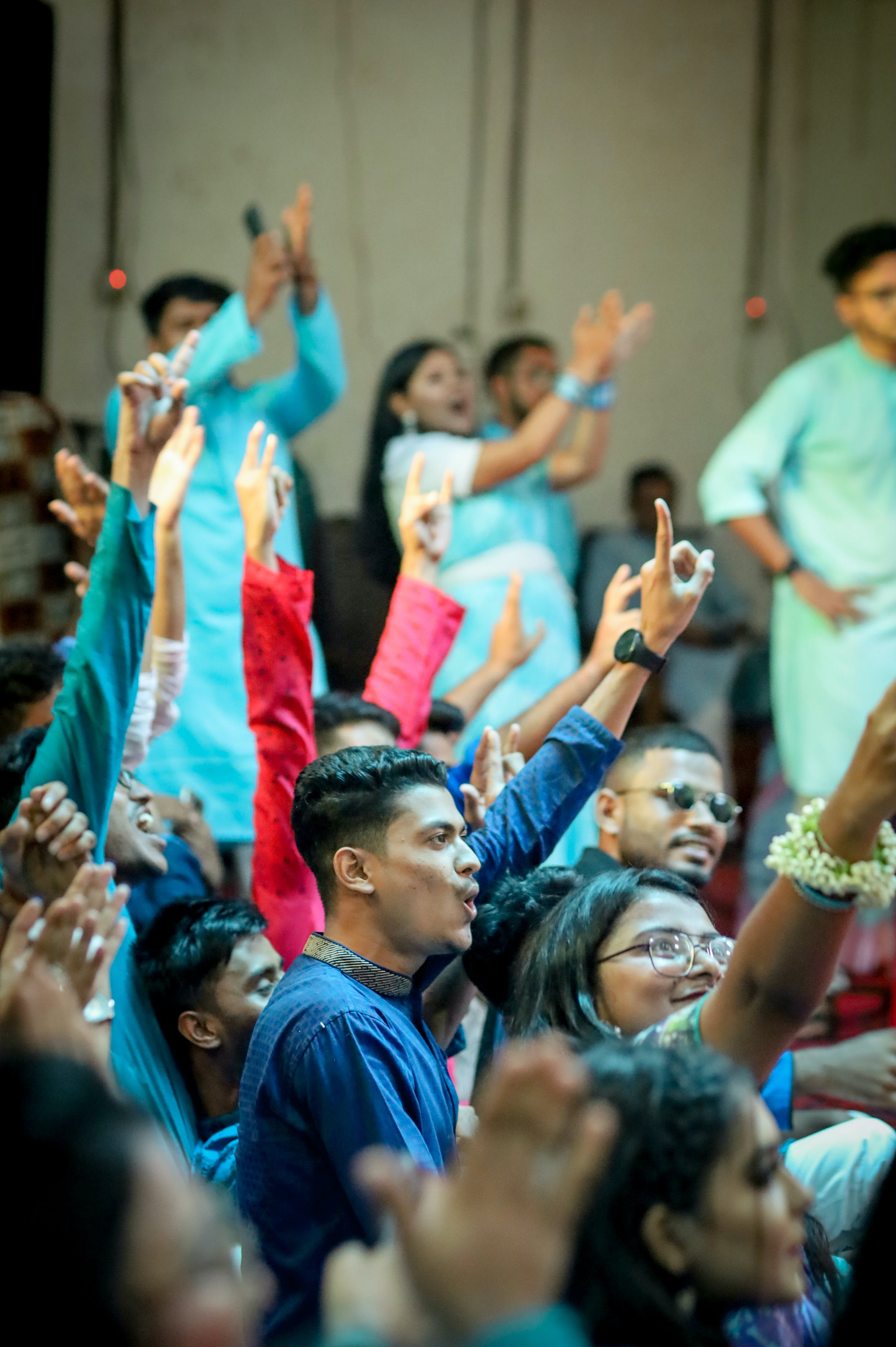 Diwali Games for Kitty Parties
1. Diwali Bingo
Bingo or Tambola is a popular game that's often played during Diwali parties and other social gatherings. It's a simple and entertaining game of chance that involves numbers and prizes. 
How To Play
1. You need Tambola boards with pre-printed numbers and Tombola number tickets or tokens that are printed with numbers corresponding to those on the board. 
2. One person distributes the ticket to players.
3. One person then calls out a number printed on the board and whoever has that number on their ticket cuts it out without telling other players.
4. The person who checks out all the numbers from their ticket shouts 'Bingo' and is declared a winner.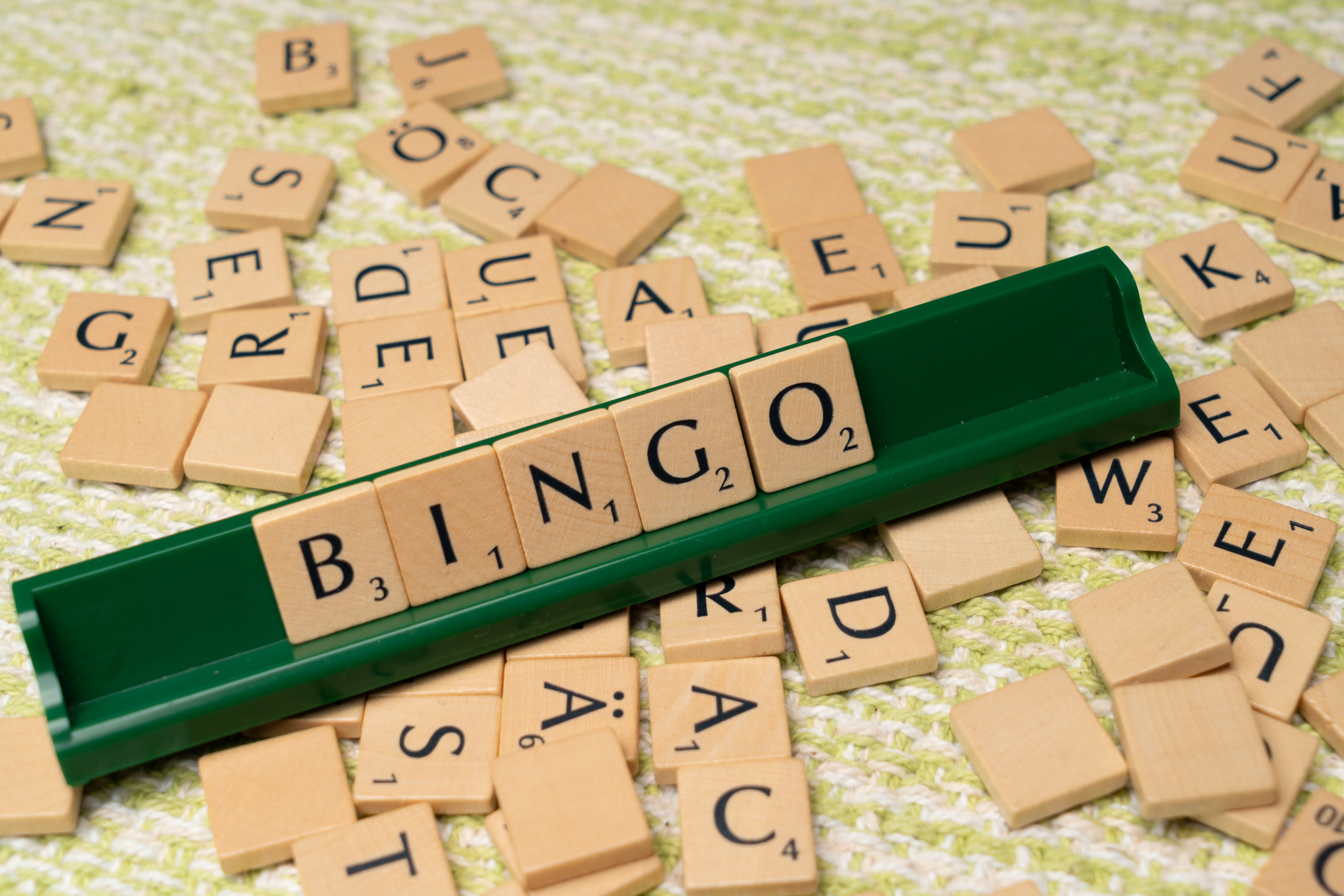 2. Rangoli Design Competition 
What a fun way for the ladies to bring out their creative side. The Rangoli Design Competition will let the participants showcase their artistic skills by creating intricate rangoli designs.
How To Play
1. Start by setting the theme for the competition.
2. Set up a designated space for the rangoli competition.
3. Provide the participants with materials like colours, flowers, rice flour, etc.
4. Set a reasonable time limit for participants to create their rangoli designs.
5. Whoever creates the most beautiful rangoli is declared the winner.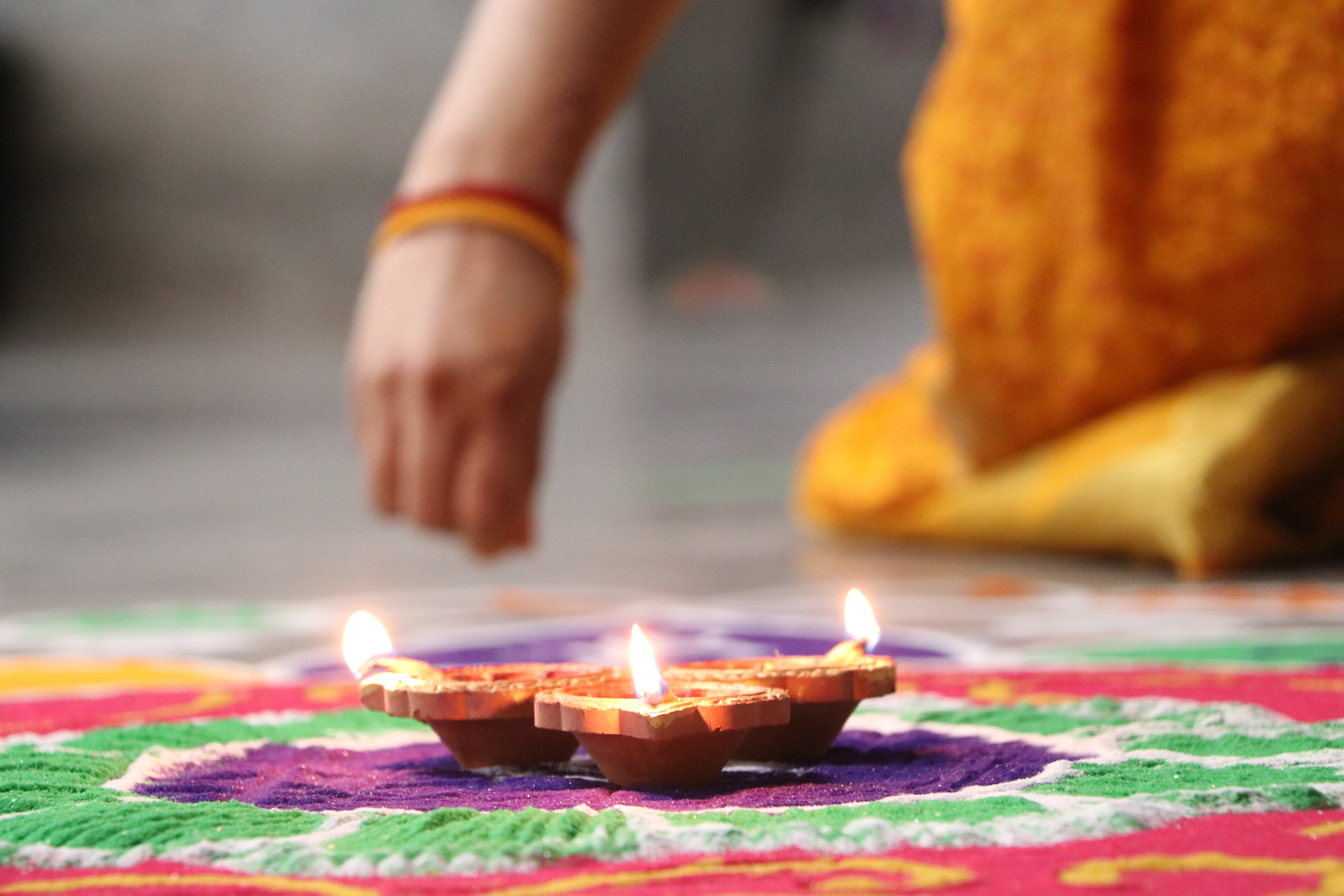 3. Diwali Charades
A classic party game, Charades is versatile and entertaining and can easily be adapted to suit different themes in Diwali. So make your kitty party even more happening by including this game.  
How To Play
1. Prepare a list of movies or words.
2. Divide the gathering into two teams but make sure there are an equal number of participants in each one.
3. Use a timer or stopwatch to limit the time for each round.
4. Then the player from one team picks a chit from the bowl and acts out the word written on it. The team members have to guess the word correctly.
5. At the end of the game, whichever team has the highest right guesses wins.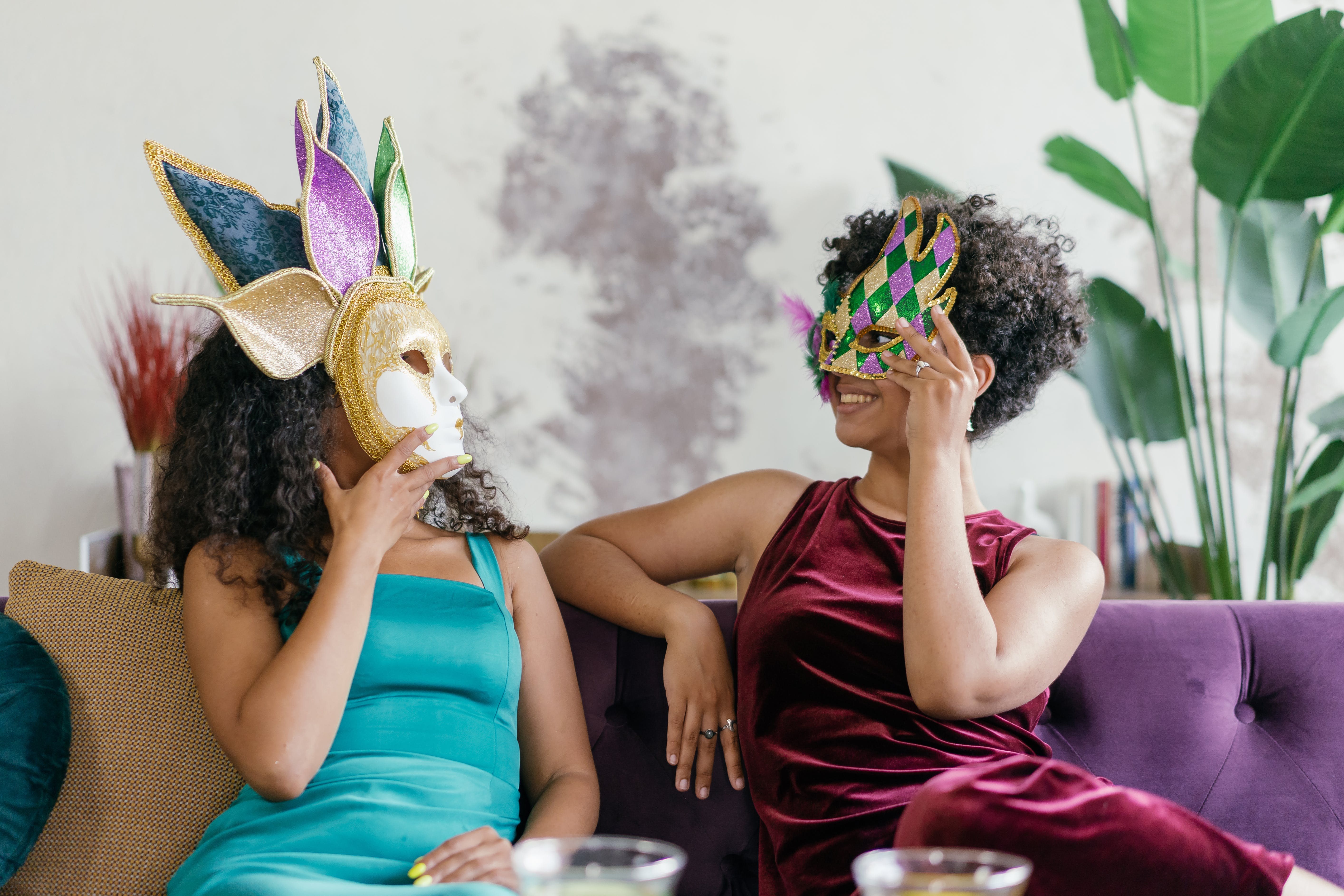 4. Diwali Recipe Exchange
A Diwali recipe exchange is a delightful way to celebrate the festival while exploring the diverse culinary traditions associated with Diwali.
How To Play
1. Ask participants to share their favourite Diwali recipes in advance. The recipe could include traditional sweets, snacks, or any other dishes. 
2. Collect all the submitted recipes.
3. At the party each participant can use their recipe to create a dish. They can talk about the ingredients they used, and their significance, or discuss unique preparation methods.
4.  Arrange for a tasting session where participants can sample the dishes.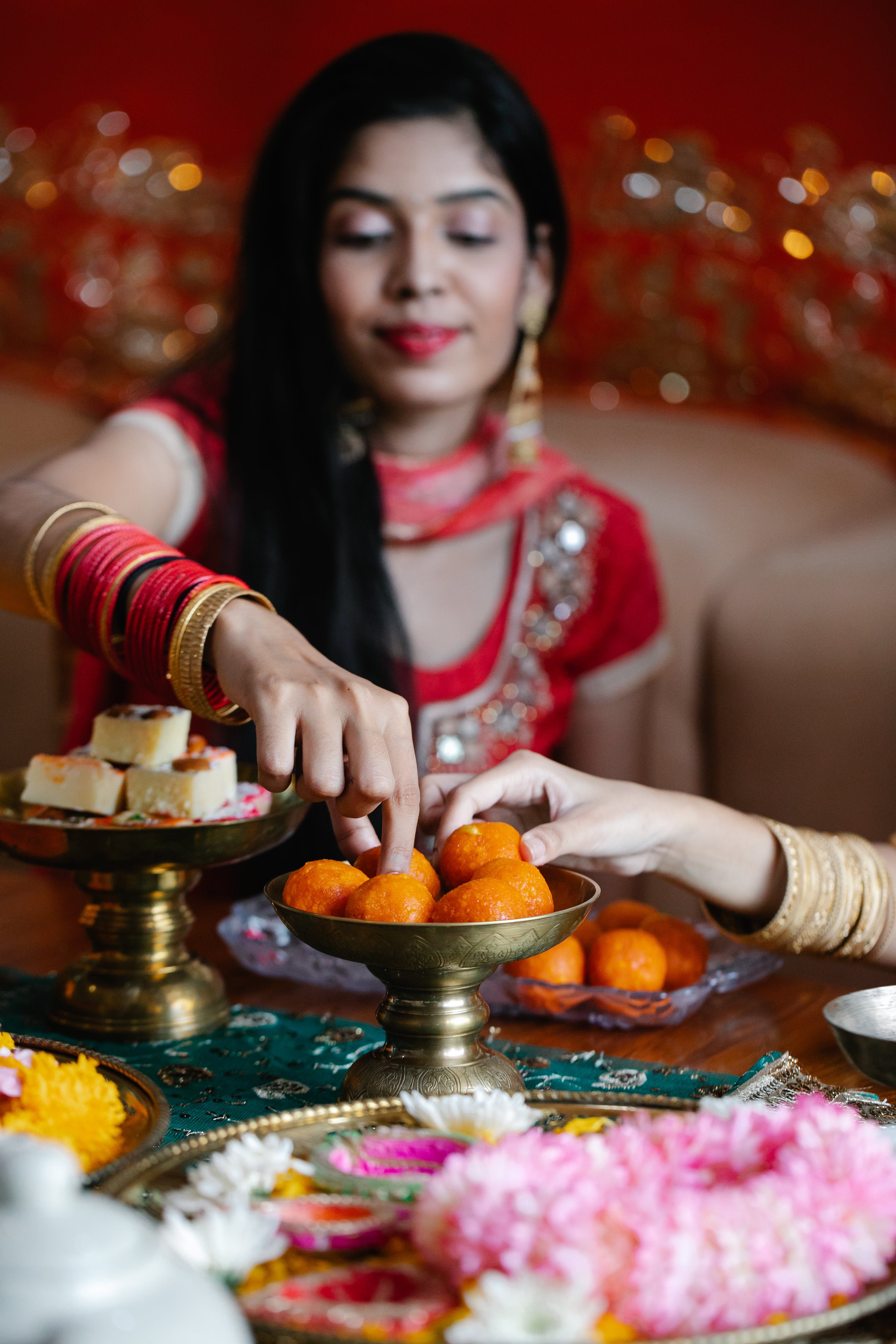 5. Diwali Fashion Show
Everyone loves to wear their most exquisite attire for Diwali kitty parties. So why not make the most of it by hosting an awe-worthy fashion show?
How To Play
1. Arrange an area for the fashion show.
2. Ask each participant to take turns walking down the runway, showcasing their Diwali outfits. Encourage them to get creative and add a flair to their walk.
3. Play traditional or festive music to accompany the fashion show and create a lively ambiance.
4. Decide on the winning categories for the fashion show such as Best Traditional Dress, Most Creative Outfit, Best Walk, etc.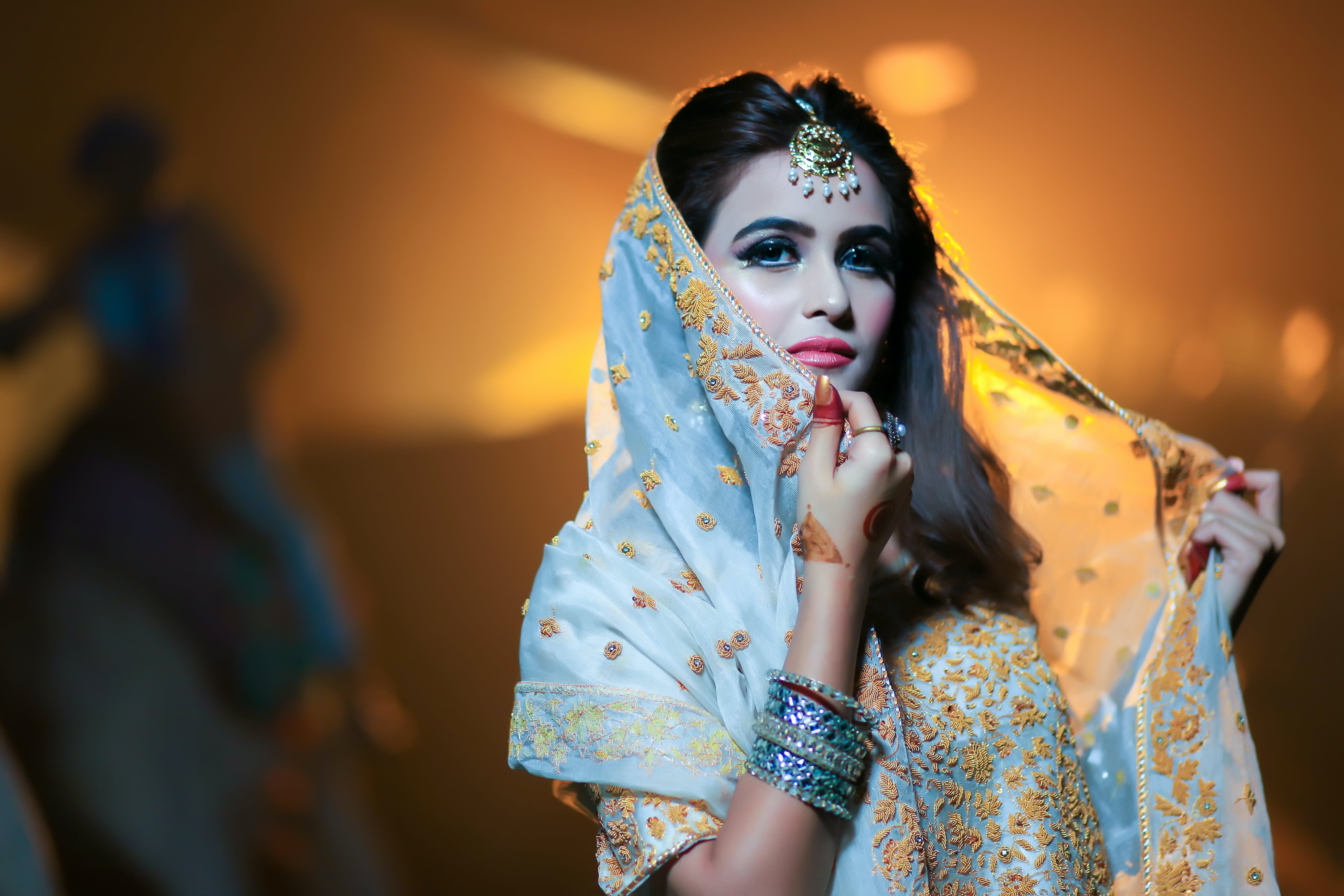 6. Diwali Food Tasting Contest
Don't we all enjoy scrumptious food on Diwali? So take it to the next level and host a food-tasting competition at your Diwali kitty party. The participants can prepare and share their favourite Diwali-themed dishes, allowing everyone to indulge in some mouth-watering dishes.  
How To Play
1. Ask the participants to bring their favourite Diwali dishes. You can ask them to prepare dishes based on pre-defined categories. 
2. Set up tables or any other designated area for the participants to showcase their dishes.
4. Next, allow participants to present their dishes to the judges and attendees. This can include sharing the recipe, explaining the significance of the dish in Diwali celebrations, or any unique preparation methods.
5. Award prizes based on various categories like Best Sweet Dish, Most Creative Snack, or Traditional Main Course.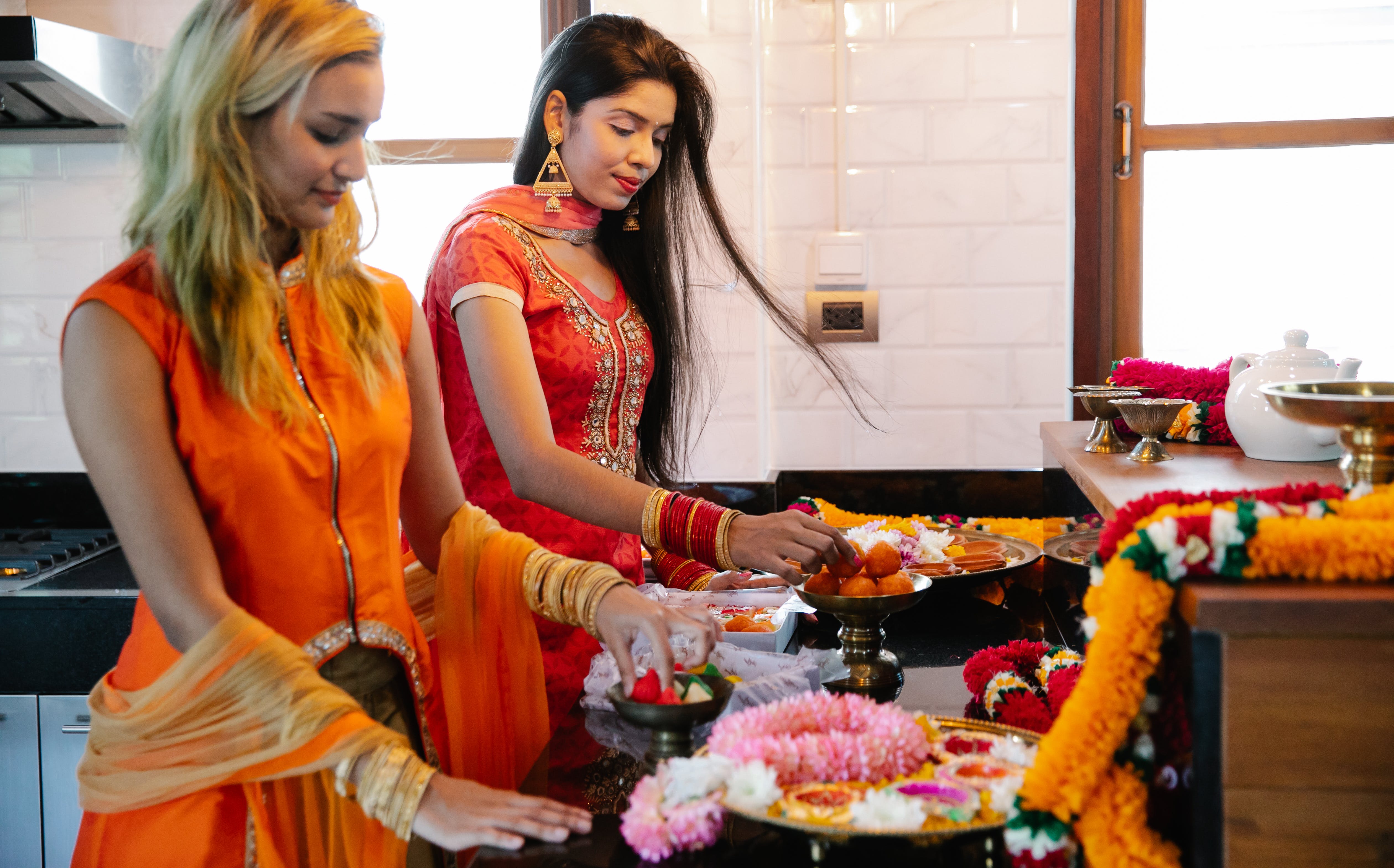 Get ready to laugh your heart out and have a great time with your friends.
Featured Image: Pexels