Cinema is the reflection of society and vice-versa. However, a society has its own deep rooted beliefs and perceptions which trickle down through the ages and become a reference point for generations to come. In such a scenario, is it possible for a piece of art to come and impact your perceptions in a way that you see something in a whole new light?
Well, we say miracles happen, provided you sit through them! Here are 18 hindi life changing movies :-
1. The Lunchbox
If the word sensible had a cinematic meaning, it's got to be The Lunchbox . Irrfan Khan has a special talent of breaking down complex things into very simple and consumable portions which become readily acceptable to the audiences. How else would you explain a conservative society like India loving a movie on extra-marital affair which is what The Lunchbox is all about! The movie beautifully captures the emptiness of two lives and fills it with sweetness with the stroke of some luck. What follows is a pure treat by Nimrat Kaur and Irrfan, literally!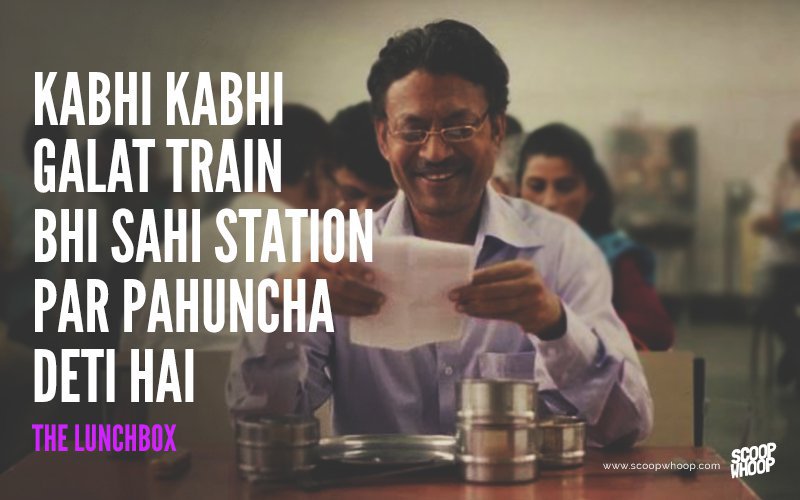 2. Rang De Basanti
Anyone who watches this movie will feel a connect, especially the youth. Aren't our adrenaline levels always pumping and haven't we all discussed the flaws of the system over a cup of steaming chai ? But what have we actually done to fix it? Nothing. Rang De Basanti tries to create an environment of increased activism on matters of public interest and throws open a debate: do we want to take matters into our hands or keep crying foul about the inefficiencies of the society?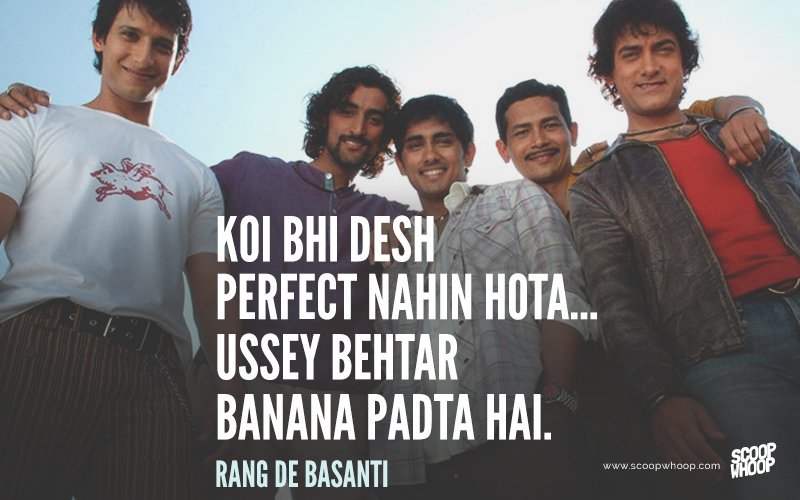 3. Lakshya
Being aimless in life and careless about career is a phase everyone goes through. Having a quarter-life crisis is not so bad either. However, the magic lies in waking up at the right time. Forget everyone else, the real deal is to surprise yourself with your own capabilities and to do something that you yourself never expected to do. After all, this is what Lakshya taught us. To leave one life and live the other!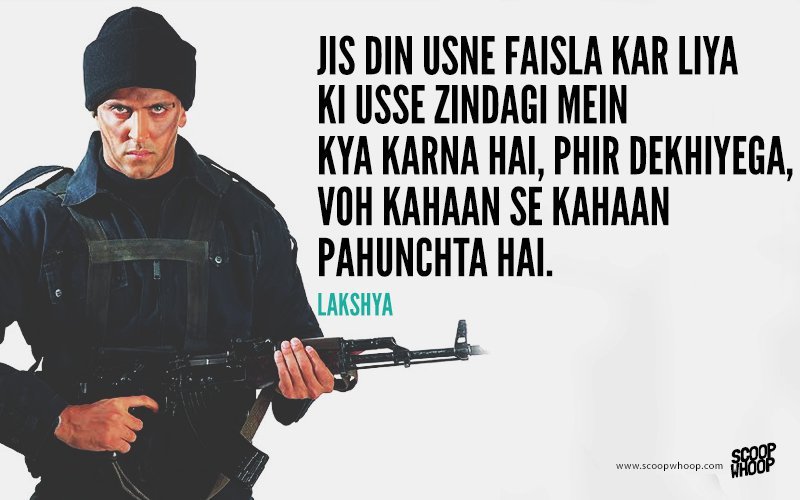 Check Out – Hollywood Movies That Will Change The Way You Look At Life
4. Paan Singh Tomar
While biopics of legendary people always inspire viewers, it takes a movie like Paan Singh Tomar to shake them up to the conditions and tragedies of these stalwarts post their prime. PST is the story of a real-life athlete Paan Singh Tomar, a gold medalist who went onto becoming a dacoit, after the world around him refused to acknowledge him for his accomplishments and kept pushing him down. The USP of the movie lies in the stirring tragedy of PST's life which drives him to seek revenge from the system, for his lost career and life. This one is history in motion.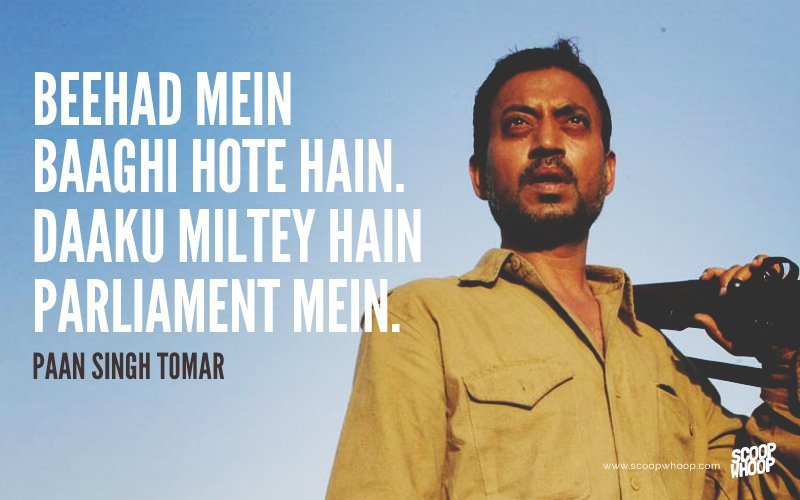 5. A Wednesday
In these times of increased violence and hatred towards each other, aren't we all living an uncertain life which might just end today, at this very moment? But we, the common people, sit quietly like always while our safety becomes a game of ping-pong between terrorists and our government. This film stresses on the importance of a wake-up call to our government to act towards the safety of its citizens. A Wednesday is a stirring message to all common men like me and you to not play vulnerable all the time and come together and ask our system to be accountable to us.
Check Out – Life-Changing Incidents Shared By People On Quora
6. Dil Chahta Hai
There are times when you want the clock to stop. There are times when you don't want to leave a place. There are times when everything just feels right about the company that you have. Such is the gravity of friendship in youth. You don't want to grow old. But unfortunately, time waits for no one and one has to move on in life and live one's own story. Dil Chahta Hai is a coming-of-age story which remains an essential part of everyone's life, simply because it holds true no matter how many times we watch it.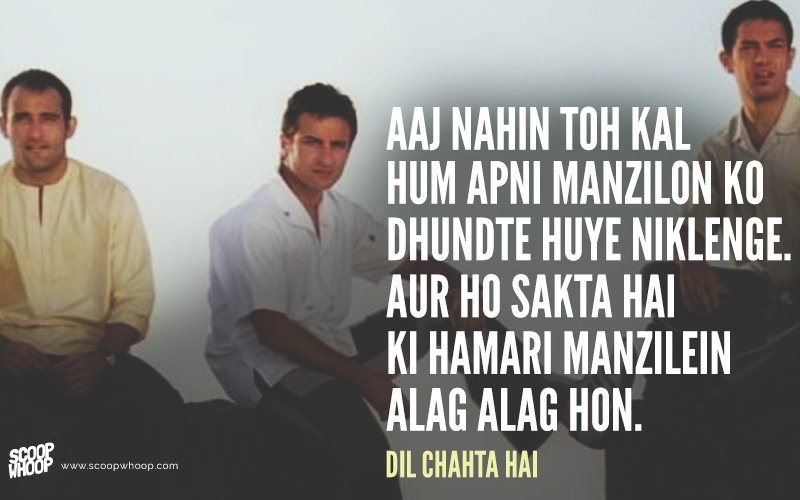 7. Udaan
Easily the most relatable, easily the most convincing. That's why Udaan works and changes your deep rooted perceptions towards a very tender phase of a child's life, teenage. The movie tracks the journey of Rohan, who returns to his home after 8 years of boarding school, only to be welcomed by a disciplinarian father and a half brother.  The beauty of Udaan lies in the way Rohan fights and aims for his dreams rather than being tied down by his father. The movie sends a strong message which says we can become whatever we want in life, all we need to do is give our dreams a little flight.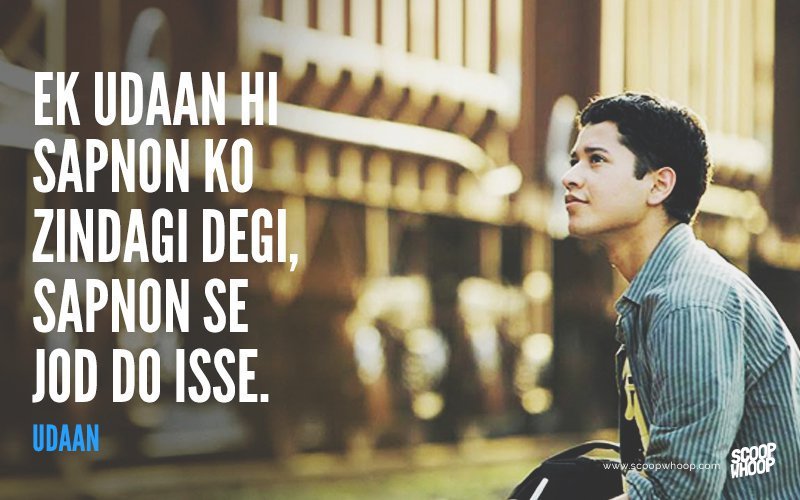 8. 3 Idiots
One of the most favourite activities in India is bashing the education system and its practices. 3 Idiots asks you to bring a change within yourselves before seeking a change in the system. We study to learn and not to understand and this is what needs to change. 3 Idiots makes us laugh at our own shortcomings and at the Indian education system which is still plagued with the prejudices of money and grades. Education should not be about percentages, cut-offs and degrees and it MUST be available to one and all. This is what 3 Idiots is all about.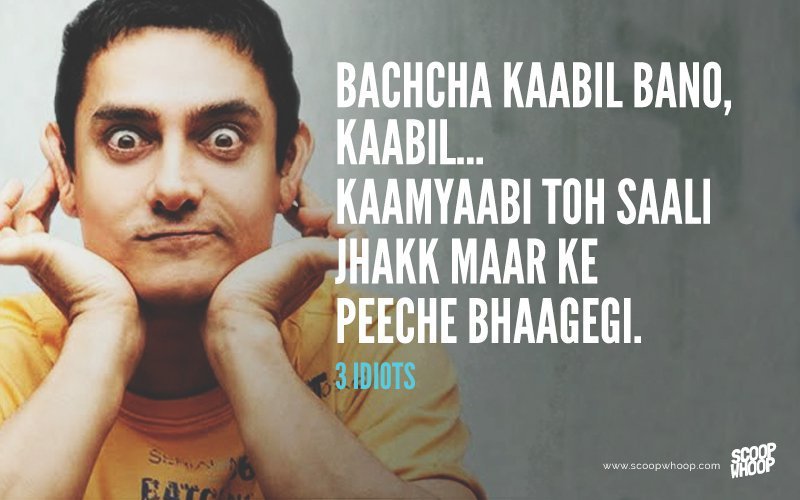 Check Out –  Life-Changing Products That Have Already Been Invented
9. Queen
What would happen  if you hit rock bottom in life? When you're down, the only way to go is up, says Queen . This movie is like a beautiful poem which suddenly makes you feel good about life. It makes its viewers believe that there are people out there you can trust and look up to for friendship and guidance. And, most importantly, if there is no one, you still have yourself. So just go out, and live every single day of your life to the fullest.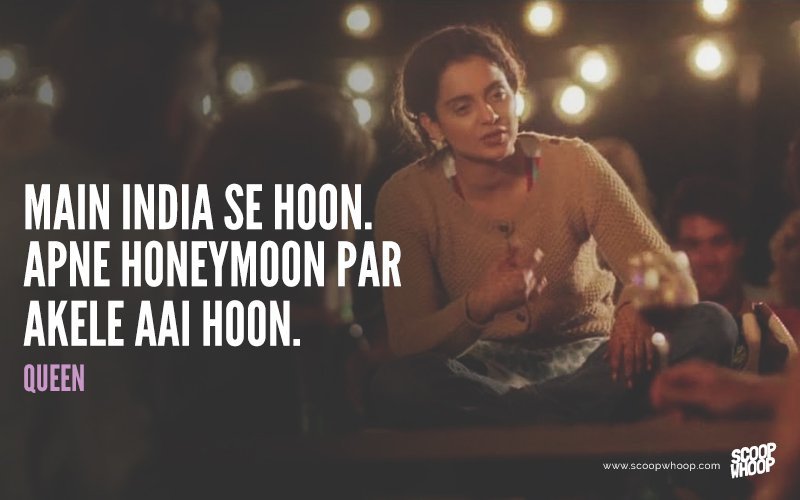 10. Zindagi Na Milegi Dobara
No age is actually too much to go backpacking and explore the world. But what have we actually seen until now? Did we ever quit our jobs, switch off our phones, leave all tensions behind and just travel? No. We keep planning  while life passes us by? This 'my bwoy' is a serious problem! We live just once but die everyday at the hands of our mundane lives. Maybe it's time to explore the unexplored and let the road decide our destination.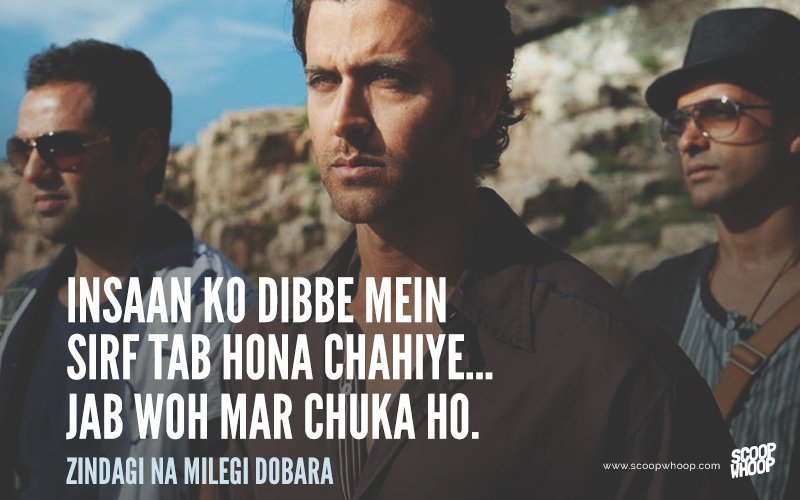 11. Wake Up Sid
Where are we standing in life? Where are we headed? Is this what we always wanted to do in life? Are we satisfied with the life we have chosen for ourselves? Are we even awake? Or are we being washed up by a strong current called life? These questions come back to haunt us later by which time some important decisions of our lives cannot be undone. Wake Up Sid urges us to correct our decisions, realise our underfed talents and live life according to our own liking.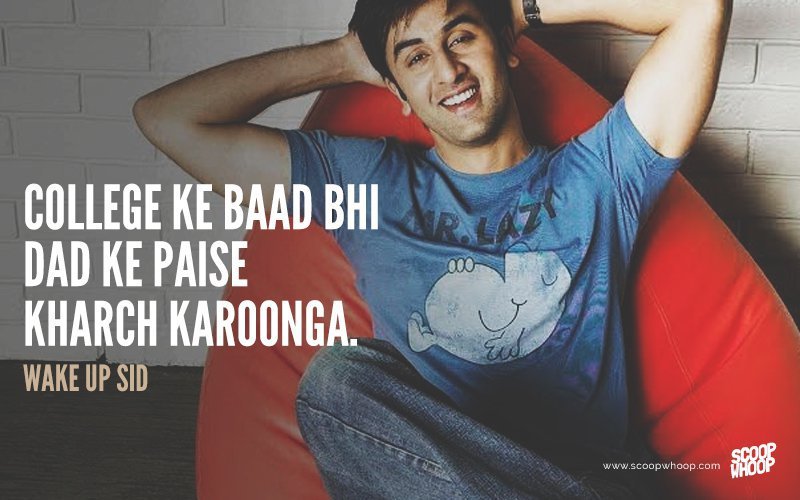 Check Out – Life-Changing Quotes About Love, Life & Peace
12. Margarita, With A Straw
Margarita, with a Straw is a life-altering movie if you can relate to its warmth, that is. We all have grown up sympathizing with the differently-abled people around us, not giving them a chance to feel normal. But Kalki Koechlin as a cerebral palsy patient Laila is a sunshine. The movie beautifully deals with the most intimate physical and emotional needs of a woman with cerebral palsy and makes you feel at ease around Laila and her experiments with her sexuality. You are going to find a different side to you if you manage to soak in Laila's warmth!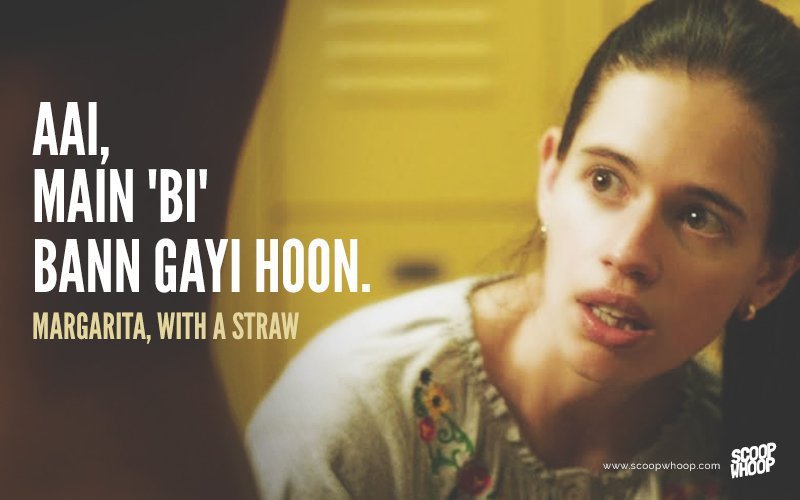 13. Taare Zameen Par
Have we ever wondered why a glass appears half empty to some of us while it looks half full to others? It's just a matter of perception, we say. Taare Zameen Par breaks the stigma attached with the differently-abled children and leads us to give them a fair chance. Such movies leave a lasting impact on our psyche and help us immensely in bettering our judgement towards life. And in case, you forgot the message of the movie, repeat it with us, every child is special.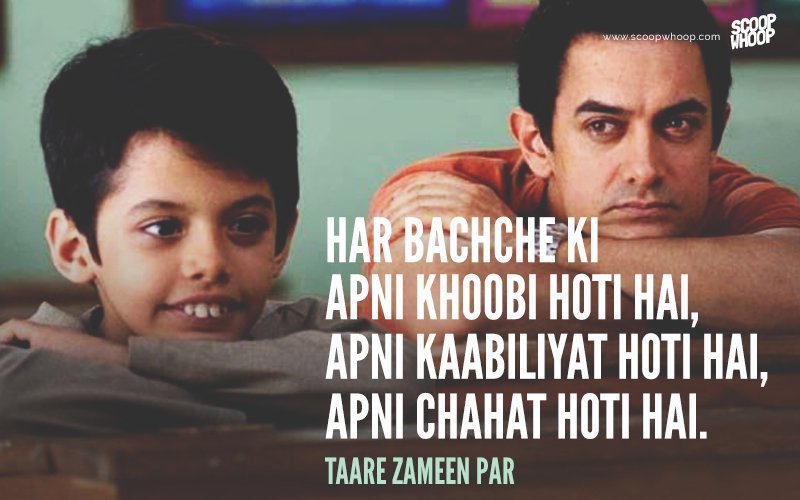 14. Swades
We all want to secure good marks in college, get a high-paying job, if possible settle abroad and live our lives comfortably ever after. However, how many of us can leave this settled life behind and devote it to the upliftment and betterment of the lives of our rural brethren. Swades is a story of self-less devotion to the country and bringing development at the grass-root level. A must-watch for all who want to contribute to their motherland in their own little way.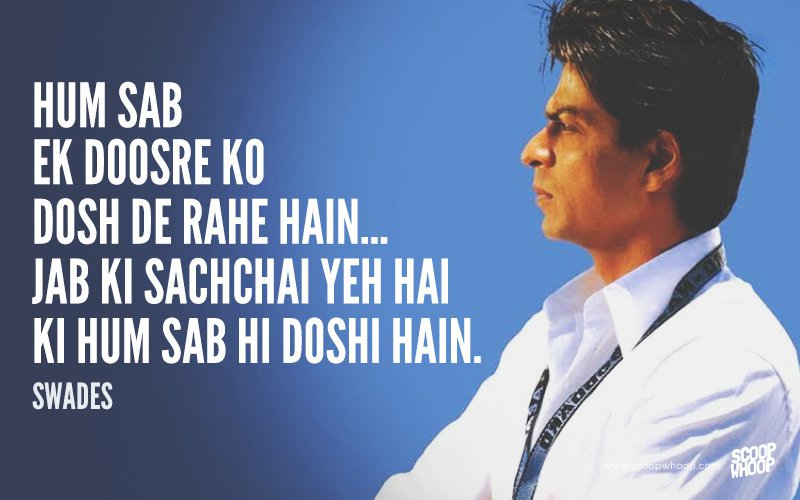 Check Out – Best Inspirational Movies To Watch
15. Luck By Chance
Luck by Chance brings the struggles and cynicism of the film industry to the fore like never before. Most of us are dreamy eyed about the glamour world and think of it as 'the life' to have. Here's where Zoya Akhtar's LBC comes in and takes you to a walk through the backstage of Bollywood. It introduces you to the personalities you never imagined existed and tells you the level of stakes involved in the business, through the eyes of an aspiring actor Vikram (Farhan Akhtar). Consider this your Bible if you see your future in the showbiz.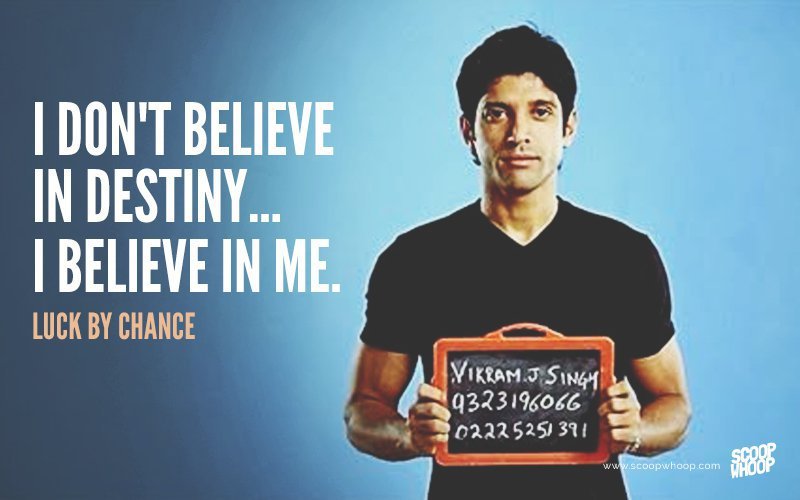 Checkout:   Best Movies to Watch on Your Period
16. Peepli Live
Social satires are very difficult to sit through, simply because they are just too bland and a little too perfect. However, Anusha Rizvi's Peepli Live is a fresh take on the flaws of life in a satirical mood which shakes your perception of the popular media and politics. The movie deals with a rather underwhelming concept of farmer suicides and makes it amazingly marketable with the angle of popular media beautifully thrown in. It's the sheer brilliance of actors like Omkar Das Manikpuri and Raghubeer Yadav that a movie like Peepli Live could dissect the competitive media and indifferent government policies, the way it does.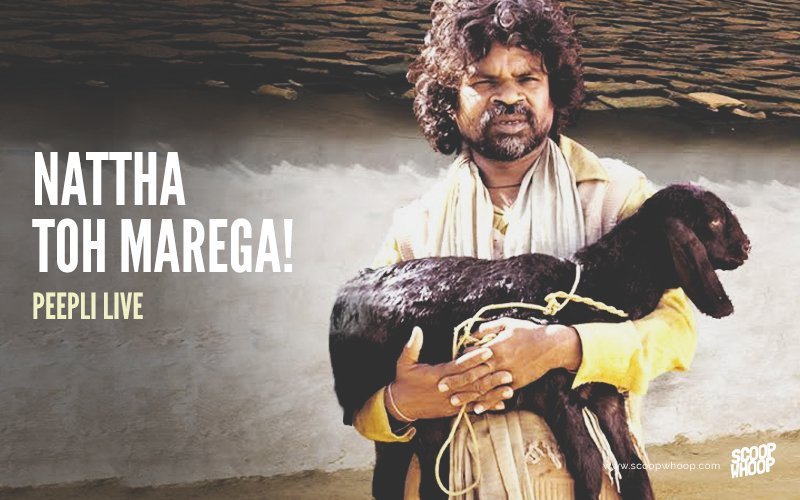 17. Iqbal
There is no bigger defeat in life than succumbing to our own incapabilities and there is no bigger victory than overcoming them. This overwhelming tale of unbelievable self-belief and will power reminds us that our real inspiration lies within us, and once we find that, we should harness it and achieve the unthinkable.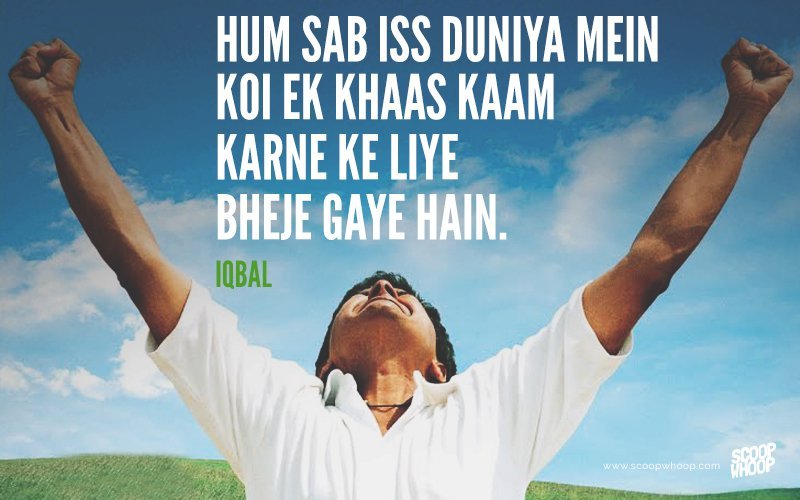 18. Rocket Singh
Admit it! We have all given up on some life-changing idea at least once in our lives because we lacked the courage to make the actual plunge. No wonder we move on with a familiar remorse in our hearts. Rocket Singh teaches us an amazing lesson about self-worth which stresses on the fact that an organisation is only as good as its employees and that taking risks in life is not as bad as it seems initially.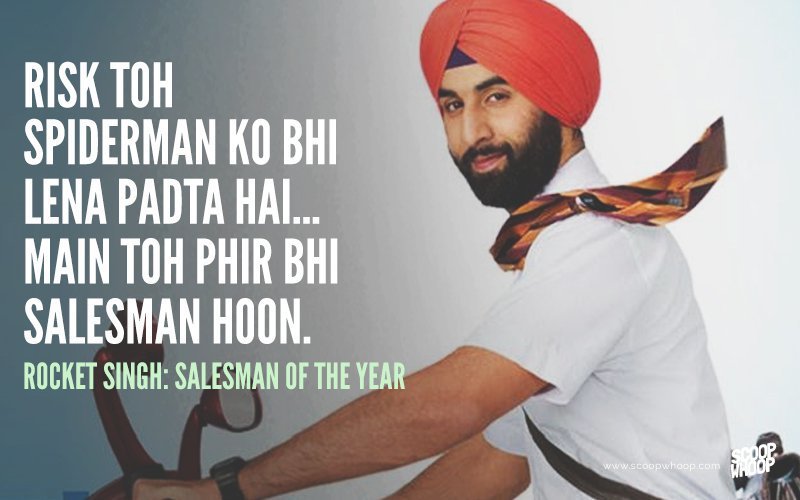 Did you ever think of the world in this way?
Check out – Best Movies on Netflix India