A massive four-lane under-construction bridge that was built over the Ganga in Bihar collapsed on Sunday. This is the second incident that has come to light concerning that bridge.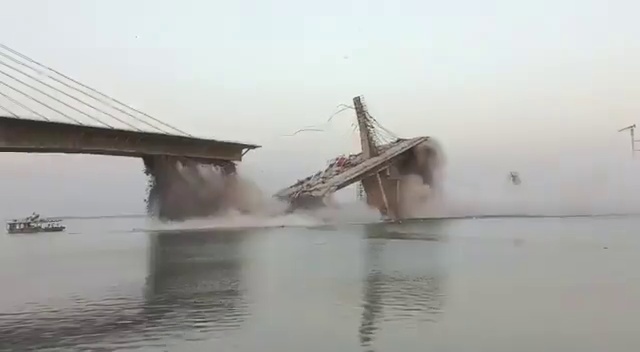 As reported by PTI, the Bihar government said that they deliberately pulled down the collapsed part on Sunday because experts had cited design flaws in the structure of the bridge. The 3.1-kilometre-long bridge was being built by SP Singla Constructions Private Limited at a cost of ₹1,716 crores. When completed it would have connected Aguani in Khagaria district with Sultanganj in Bhagalpur.
Take a look at the shocking video here.
Speaking at a press conference, Bihar Deputy Chief Minister Tejashwi Yadav and Additional Chief Secretary of the Road Construction Department, Pratyay Amrit, said that they deliberately pulled down parts of the bridge after it had collapsed in April last year. The government approached IIT Roorkee to conduct a study.
It's shocking to see that a design flaw came to light after the bridge's construction, that started in 2014, was almost complete. This deliberate demolition of the bridge highlights the poor planning that was implemented by the Bihar government and the construction company. The bridge was expected to be completed in 2019. But the deadline had been extended four times since then.
Here's how people reacted to the incident.
Quite distressing.