Instagram creator and actor Kusha Kapila and her husband Zorawar Ahluwalia recently made the news of their divorce public. Both of them took to their Instagram and shared the news. The news broke the internet and people found it perfectly fine to go ahead and troll Kusha Kapila and even villainize her. Amidst the trolling, Zorawar Ahluwalia has now come out in support of Kusha Kapila.
Taking to his Instagram stories, Zorawar Ahluwalia penned a note. He wrote about the backlash and the vile comments Kusha Kapila is getting and how it was not okay. The trolling and attacks were not only "shameful" but also something that makes him "sad" and "disappointed."
Zorawar Ahluwalia wrote, "We realise we live public lives, but we still hold certain things sacred. Our marriage and respect for each other being one of them. Divorce much like our marriage was a decision we both made together, after much deliberation and thought. It was a tough and painful decision but one we took collectively, for the sake of both of our well-being. What has transpired over the last 24 hours, with Kusha being subject to vile attacks online makes me sad and disappointed. To attack Kusha's character and paint her as some villain is shameful. Let's all please do better."
Take a look at his story here.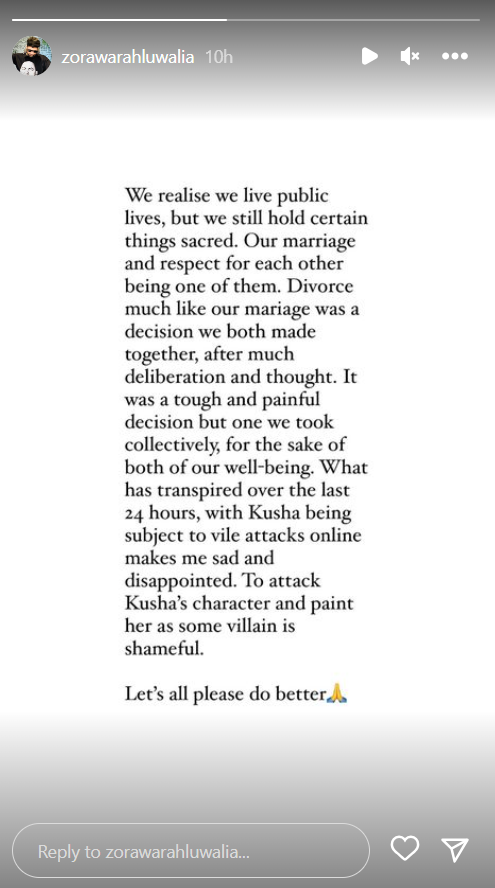 It was only yesterday when Kusha Kapila and Zorawar Ahluwalia took to their Instagram to share the news of their divorce. People dug out an old video where Karan Johar and her were expressing their views on infidelity. It was from that video people started a vicious attack on Kusha Kapila.