After marking his IPL debut, Arjun Tendulkar is slowly proving his mettle in the ballpark. The 23-year-old pacer picked his maiden IPL wicket in the last over and made Mumbai Indians (MI) win the match against Sunrisers Hyderabad (SRH). He took the final wicket and MI won last night's match by 14 runs.
SRH needed 20 runs in the last six balls. Arjun delivered yorkers and took the wicket from Bhuvneshwar Kumar in the last over of the match. This was possible after Rohit Sharma handed the most important last over to Arjun. Arjun's performance was lauded by many.
Sachin Tendulkar congratulated MI for their win and shared a witty message for Arjun. He tweeted, "A superb all-round performance by Mumbai Indians once again. Cameron Green impressed with both bat & ball. Ishan & Tilak's batting is as good as it gets! The IPL is getting more interesting every day. Great going boys! And finally, a Tendulkar has an IPL wicket!"
Throughout the match, Sachin Tendulkar had all sorts of emotions watching his son play for MI. During the last over as Arjun was bowling, Sachin looked rather tense inside the dressing room. When the match ended, he could not stop beaming with pride.
Sara Tendulkar took to her Instagram stories and shared snippets from the match. In one of her stories, she shared a picture of Arjun Tendulkar from the post-match interview and wrote, "Waited so long for this day." Another story showed her watching the match highlights just to see her brother display his skills.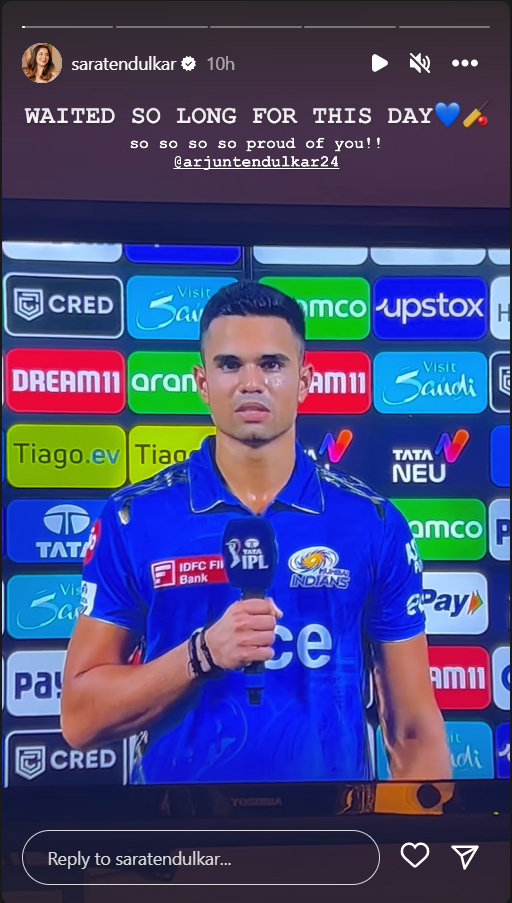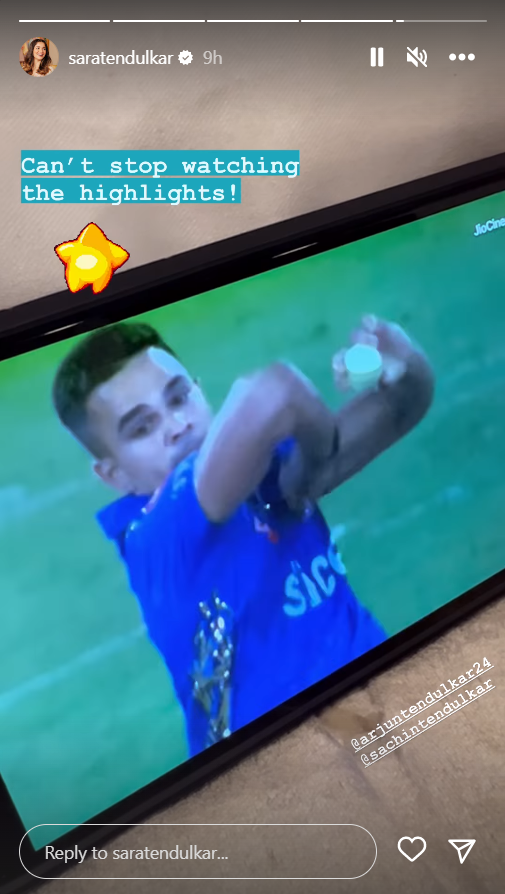 At the post-match interview, Arjun said, "Obviously it was great getting my first IPL wicket. I just had to focus on what was in hand, the plan and executing it. Our plan was just to bowl wide and get the long boundary into play, make the batsman hit it to the longer side." He also added,
I love bowling, I am happy to bowl anytime the captain asks me to and just stick to the team plan and give my best.
Captain Rohit Sharma lauded Arjun's performance in the match. He was impressed by his skills. At the presentation ceremony, he said, "It's quite exciting to play with Arjun. Life has come a full circle. Arjun has been a part of this team for three years. He understands what he wants to do. He is quite confident as well. He is clear in his plans. He is trying to swing the new ball and bowl yorkers at the death."
The rise and rise of Arjun Tendulkar.